Hive Meetup #5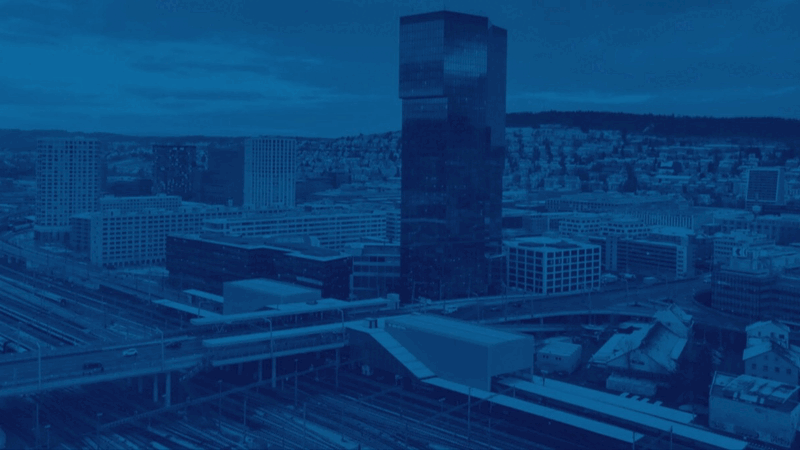 Flyer by @baqabond
Introduction
Citizens of the Hive!
In a place where ownership, self sovereignty and liberty plays and important role, Switzerland really stands out when it comes to crypto regulations. It is and has been test ground for new ideas like basic income, various trials and could possibly become a hot spot for the adoption of payments like HBD for goods and services.
True value is shaped within people defined by communities and not through being subjects of dept fuelled economic conditioning through central or corporate planing.
After the 4th monthly Swiss Hive Meetup, we now have our next date scheduled for Thursday the 24th of February 2022. We're excited to announce that the home for Digitale Gesellschaft/Digital Society, Linux User Group / ", Chaos, Computer Club / ", Verein für Mechatronische Kunst / Association for Mechatronic Art aka the Bitwäscherei gave us another slot for our monthly Swiss Hive Meetup at their space.
@baqabond just made the above new flyer, for which we are all really grateful. 20% beneficiary rewards from this post go to him.
Our previous event n the 25th of January was attended by @leosoph and @blue.rabbit all the way from Bodensee, @lucynch all the way from Lucerne, @lmn-manna all the way from Bern, @sickjamez , @leladrowl , @majinmeph ,@baqabond, @mangodjango , @option2-e , @b4phom3t , @clau-de-sign, @miraicastel and @macaaron, who manages a repair lab on the first floor and someone I really like to engage with a lot lately. Everyone received a Swissness and Zürich Badge for attending this live physical meeting.
Others who attended previous meetings, whom we'd love to see again are @bakro44, @bamiadeleke, @acroamanic, @amadeusthiemann, @smoothoperating, @bensworld and @janaliana at our next one.
For a more elaborated review on our previous meeting check out Fourth Round of Swissness.

Next Meeting
During our last meetup, we had covered a few points, but didn't get the opportunity for practical application. The on boarding took some space and we plan to make groups for newbies and execute a sequence with breaks and comfortable and engaging segments. This time, a program with sections that will leave enough time for exciting conversations. One that really shows new comers what the hive blockchain is actually all about. We will also give people a visual idea of how intuitive and practical hive is. Conversations that tend to take rather abstract technical directions will be left for discussions at the end.
For our next meeting we will try to cover how to manage your keys and take a look at the Hive Keychain. We will go through various front ends, then look at mainly peakd, show formatting options and discuss a mark up format using a projector. It is advisable to bring your laptop. Even if you just have your phone, that's fine.
The idea is that everyone should be able to easily create a post by themselves after we went through all the details.
Possible one on one sessions will be provided on other days in an open space on demand.
In case you have trouble finding the location, just call or text me @yangyanje on Telegram.
@achim03, @zuerich, @almi, @carolineschell, @hivelander, @baqabond, @ivansnz, @neece, @needapencil, @felander are as always welcome to join as well.
Zürich Badge
For being physically present, we award Badges on peakd, namely the Zürich Badge


and the Swissness Badge

. Our vision is to expand this to other Swiss cities. Our community is open to anyone for participation. You can just reach out to us on Discord at the Swiss Hive Community, or get in touch with us on the Swiss Hive Community on Telegram. We also created a Swiss Honours Badge and are excited to possibly further continue at the ZWZ building. We are looking forward to creating an open space in Zürich for everyone from the hive, from anywhere in the world. Welcoming web3 technologies and their philosophy, we'd like to invite you to experience the countless use cases it already provides and experience it's potential.
Swiss Hive Community
The Swiss Hive Community is an initiative that started with all the above mentioned hive users as a common effort. It's an endeavour to further gatherings, exchange and promote fun meetings amongst users of the hive blockchain in Switzerland. This community is open to anyone and should serve as a space for a local hive community in Switzerland to meet and plan more future events. Anyone in the world is highly welcome. For newcomers to the hive blockchain, it could guide as an introduction and assist in growing the Swiss Hive Community and fostering camaraderie. We aspire to create a space and accompany new users on their journey as responsible actors on our blockchain. Hive is an open source blockchain run by a community of exceptional developers, creators and publishers of original content with it's own payment gateway and two cryptocurrencies. Hive and Hive Backed Dollar. Everyone on hive is self sovereign owner of private keys to their own cryptocurrency account. With core values, such as freedom, liberty, censorship resistant, borderless, permissionless, hive has a specialised use case, offering excellent tokenomics built by people, for people.
If you are sick of being a product of facebook and you care about data ownership, free speech and the core original values of decentralisation and community governance, then hive might be a solution for you.
If you believe in a future where corporations don't penetrate in every aspect of our lives, then here is your opportunity to experience an alternative.
Event Details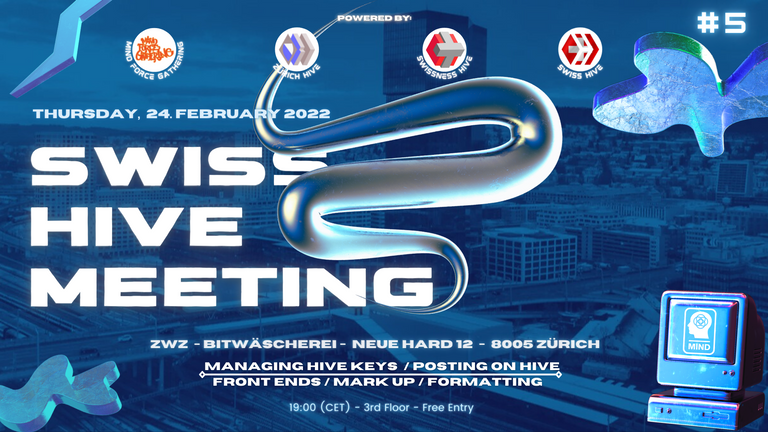 | | |
| --- | --- |
| Name: | Swiss Hive Meeting #5 |
| Date | Thursday 24th February 2022 |
| Time | 19.00/07.00pm |
| Location | Bitwäscherei, ZWZ Neue Hard 12, 8005 Zürich, 3rd Floor |
| Carry | Laptop or Phone (optional) |
| Organisers | @sandymeyer, @yangyanje, @miraicastel, @baqabond |
Feel free to use the Swiss Hive Community banner below as your footer if you have already received the Swissness or Swiss Hive Badge.
I also started a Group called Hive Rocks for artists, rock art collectors and treasure hunters.
Thank you for Reading
Best Wishes
Rane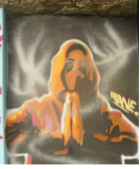 Vanishing
Dong Chang 东厂
aka Rane

None of the three
"Nothing is wrong, it's nobody's fault; only you can save yourself"
-
@yangyanje

Feel free to tip Wallets for support:
Bitcoin
3Mvofn1VynU168DuYtMsDqnUMSw7nQ8JEQ
---
Ethereum, XDAI, Polygon, Binance Smart Chain...:
0x0398edefB9d18A6a7c9fe573bdeedB7797283Ae5
---
Tezos:
tz1iSv5gWfPqUqaGChhfX8Vj3yquj36fad2Y
---
Cosmos:
cosmos1l66z8kxxgvftw7cprz5dlzvzm4tyefhrvm3w03
---
Solana:
9AmMfaerhNgsz2maByDUGrPMKYQRVeYQXJvCe9n48Fti
---
Terra
terra1m7q65zpa8y2zamjxqtnt43tprm36utkckdqf3a
---
Osmosis
osmo1l66z8kxxgvftw7cprz5dlzvzm4tyefhryqz7er
---


Member of the Swiss Hive Community. Here's the curation project.


Feel free to delegate Hive Power to @badge-107955 to support the Swiss Hive

Supporter of the Lotus Community

Join the Herbal Hive Community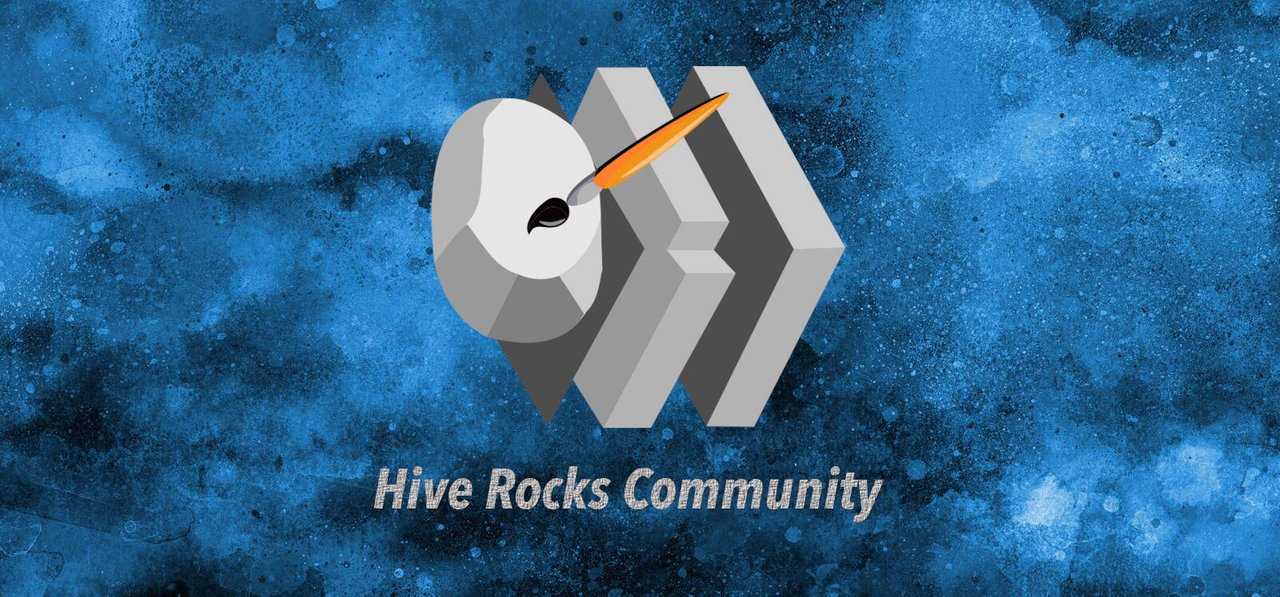 Admin at the Hive Rocks Community

Odysee
Twitter

---
---