A Simple Vegan Pizza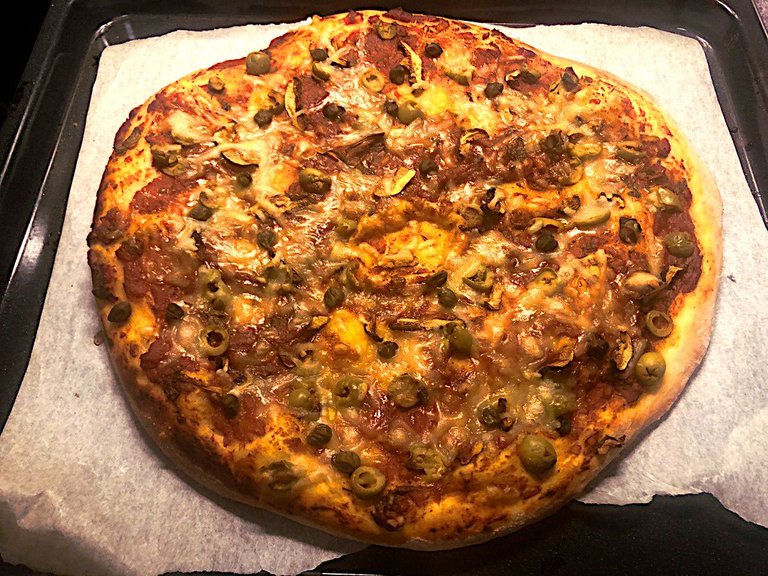 2021, Switzerland, Iphone 8
Introduction
From Roti to Bread
More than one and a half decades ago, like several times before, I once again tried deviating from otherwise set paths by changing my geographic location, embracing alternative exposure. That means avoiding the 9-5 mould that would condition to the ways and traditions of a one view society, which always seemed so strange to me since a child growing up all around the world with a global state of mind. A great opportunity to experience more versatility, but still being surrounded by something familiar, I decided to to go the motherland. India!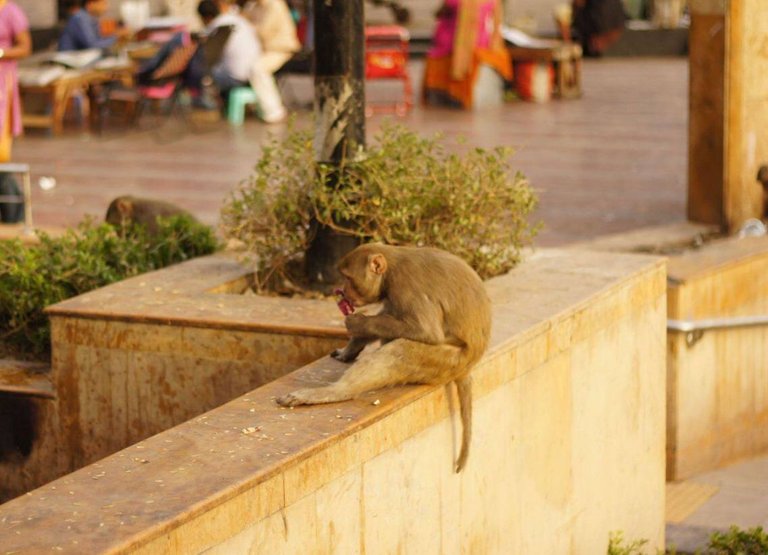 2012, Canaught Place New Delhi- Monkey eating Ice Cream, Sony NEX VG 10, 50mm f/1.8 Lens
Not once, but several times upon returning to Zurich, I ran back to India because there was some unfinished business, something missing or something I needed to go back for. Maybe something I needed to take care of? Or some mystery that lied hidden in these mystical lands, rich in culture. Yes, I am one of those hippie dudes from the west that loves yoga and thinks that once you've been to India, you will have attained enlightenment. ...What? You haven't been?
Just Kidding!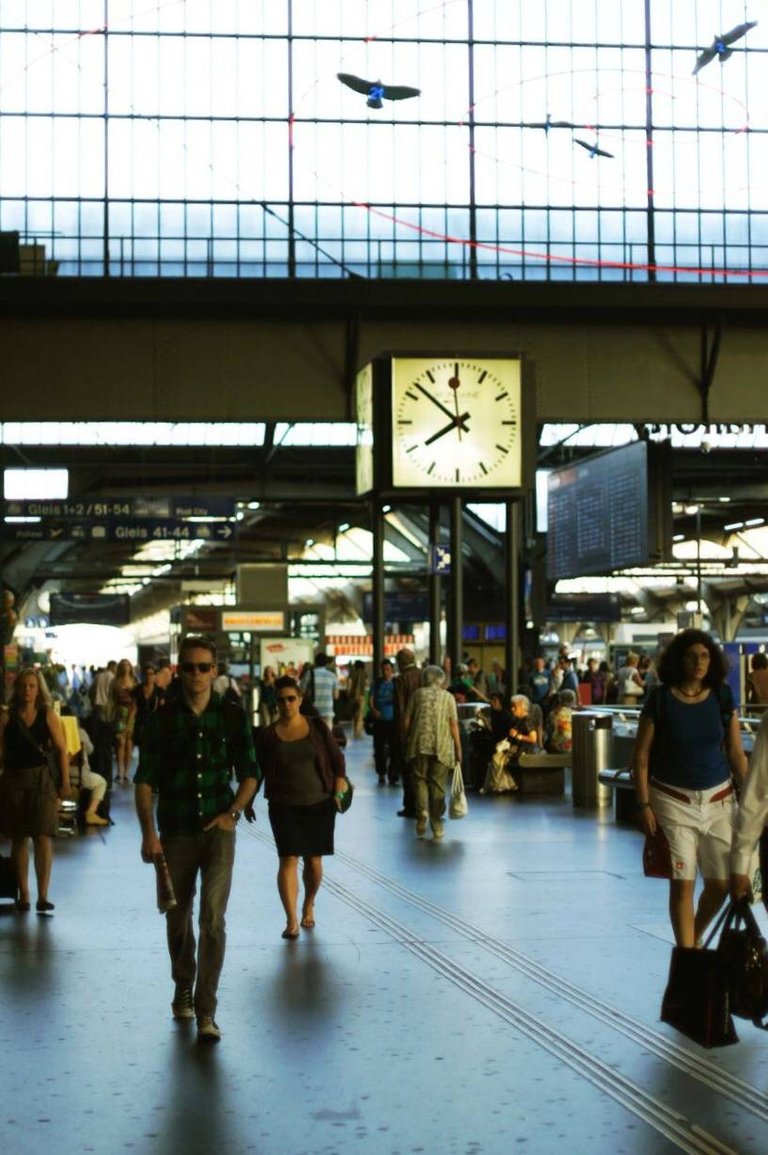 2013 - Zurich Main Station, Sony NEX VG 10, 50mm f/1.8 Lens
One of the things that I missed most in India, was the bread we get here in Switzerland. I mean almost every local Bakery had exceptional kinds of breads. At least one bun that had it's special intricacies in how it's baked. In India at a time before L'Opéra, I just couldn't bare the toast bread anymore. Even when I was living in the US, the bread tasted awful.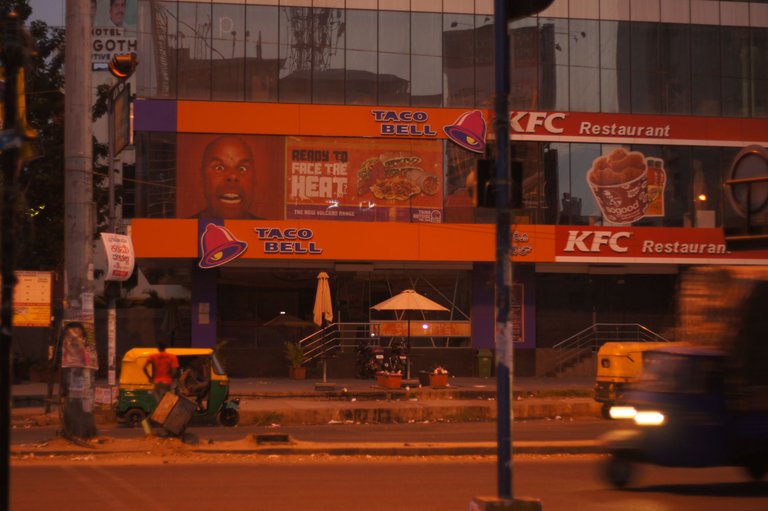 2012, Bangalore - American Corporations taking over, the rise of western consumerism in India, Sony NEX VG 10, 50mm f/1.8 Lens
So, I got an oven and started baking bread every day. Experimenting with local yeast and flour, I also tried making sour yeast. I used simple whole wheat flour and sugar to form my own batches. I ran a Guesthouse for a while, where I'd wake up at around 5am just to knead a dough with some yeast and make sure it would rise an hour later by putting in in my oven at 25°C. I set an alarm and went back to sleep. An hour later, I'd put the dough in the oven at around 06.20 am and slide that bread in the oven. 45min later the whole ground floor smelled like freshly baked bread. Since I could time the oven I slept until around 7 to grab some breakfast.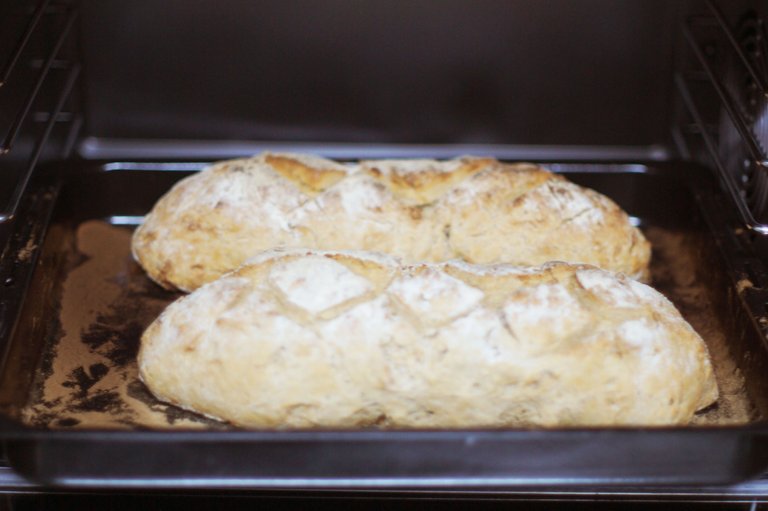 2014, New Delhi - Bread Made by our cook at guest house a few years later Sony NEX VG 10, 50mm f/1.8 Lens
I had many more adventures in that guesthouse. How I got there sounds pretty much like a story out of a comic...More about it in another post.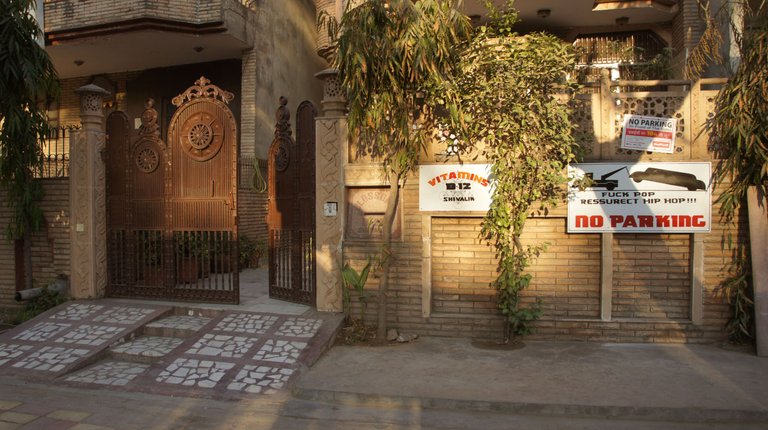 2014, New Delhi - Guest House with hand painted Boards. Sony NEX VG 10, 18-200mm Lens
Now it's time for the Pizza:

Pizza Recipe
Ingredients:
700g White Flour

1 TBS Sugar

1 TBS Salt

12.5g Yeast

3-4 TBS Extra Virgin Olive Oil

Water

Olives

Kapers

Mushrooms

Italian Herbs(Dry), Oregano, Thyme (Fresh)

Pealed Tomato (Sauce)

A bit of Red Wine (optional)

3 Cloves of Garlic

Boullion

Black Pepper

Vegan Cheese (Melt)
Process
Iphone 8. Vegan grated Melt and Kapers
There are various Cheese alternatives out there. I personally don't really like most of them. I usually leave out the melt(Ch**se) or add very less for the visuals.
Step One
At 700g flour to Bowl, add 12.5g Yeast, Sugar and Salt, then add 3-4 TBS of Olive Oil. Now add Water and knead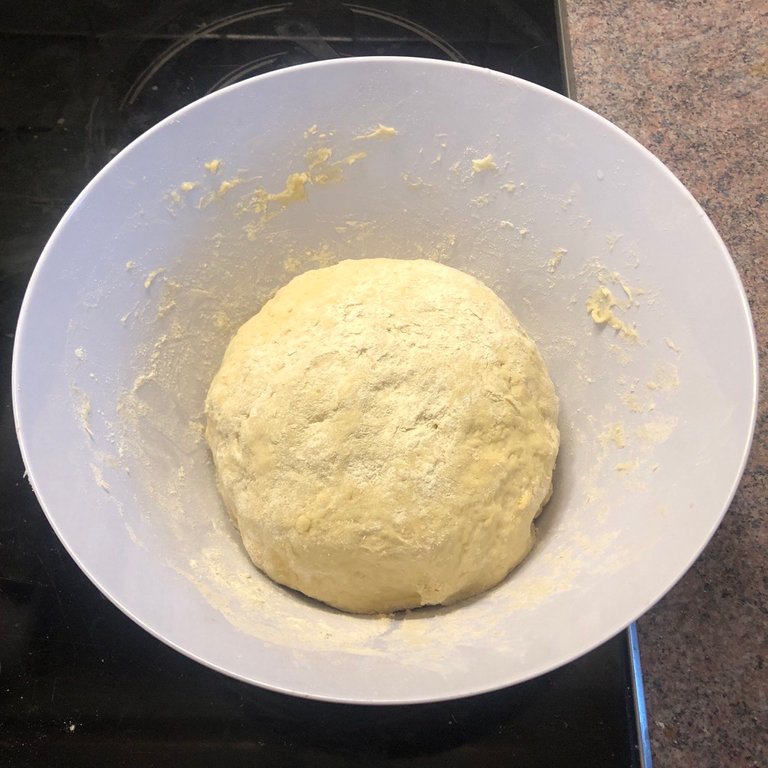 Make sure the knead uses as much water as possible in order to make the dough soft. It takes time to get a hang of it. Try adding very little flour if it gets to wet.
Step Two
Place a cloth that is moist on top of bowl and make sure to place it somewhere where it's at least 22-25 Degrees Celsius. In this case I put the oven on 25°C.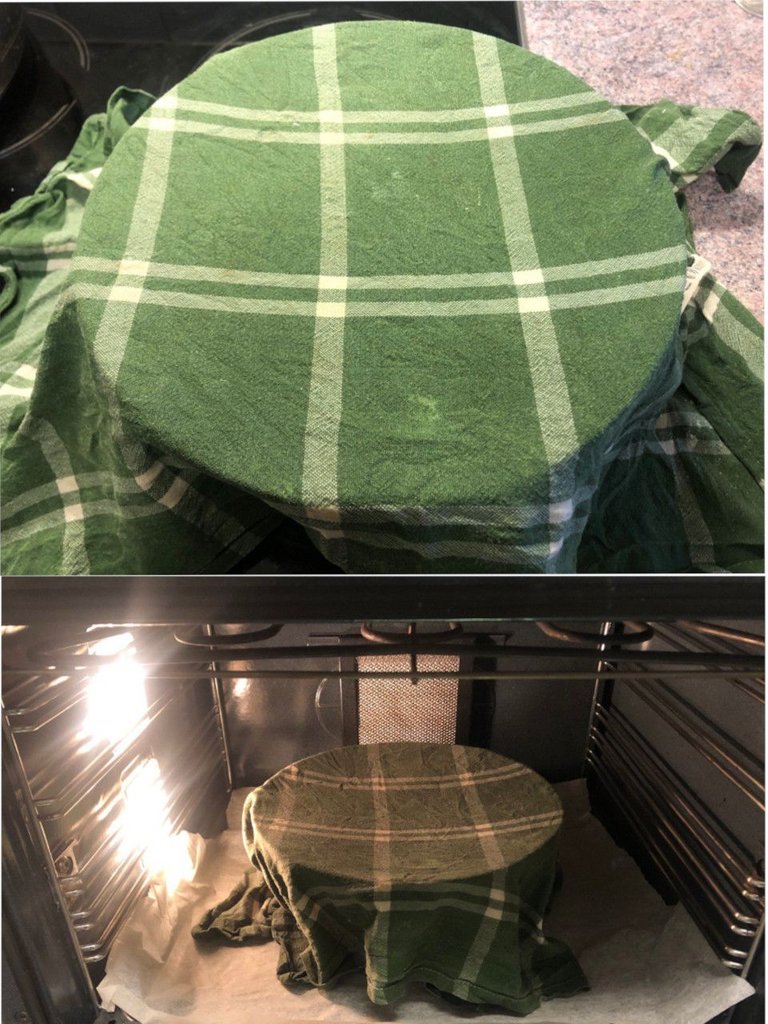 Leave in the oven for at least 45 min.
Meanwhile:
Step Three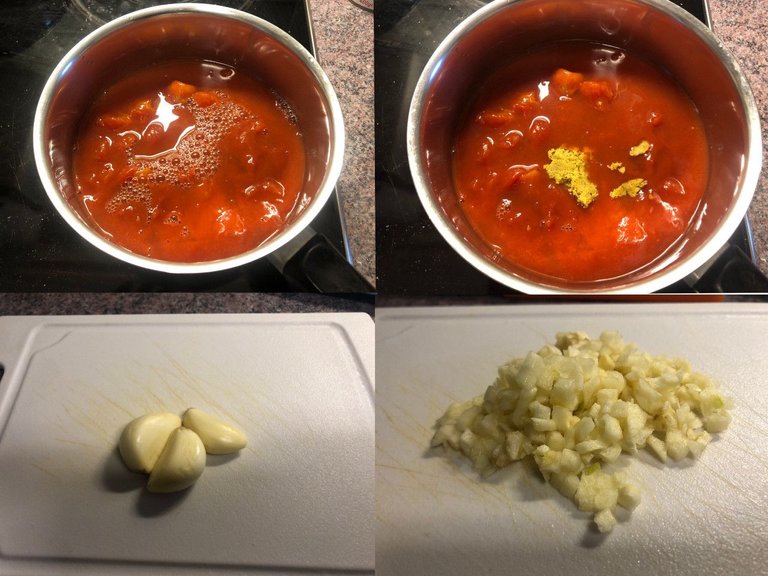 Add Tomato Sauce (pealed tomato) to pan, then add a bit of Bouillon. Cut three cloves of garlic brunoise.
Step Four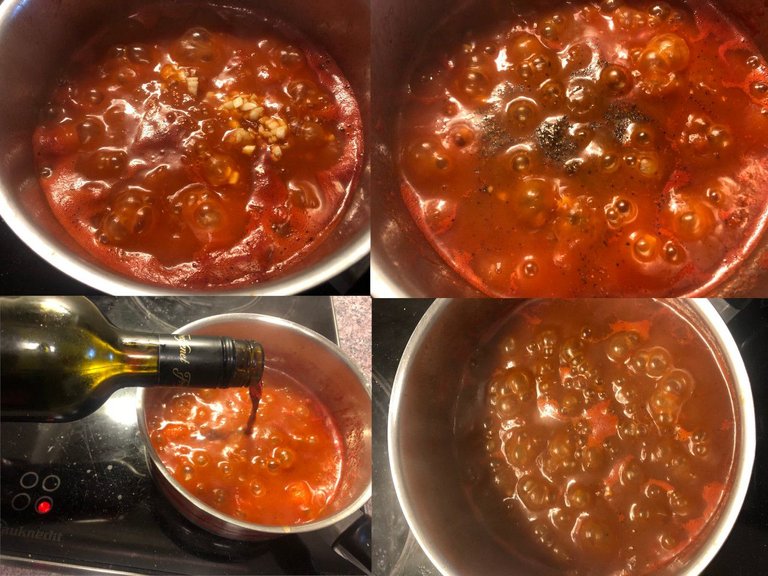 Once the Tomato is heated, add garlic, cook and add some black pepper. Once the sauce thickens, add Red Wine and maybe a bit more olive oil and continue to cook on low heat.
Step Five
Cut olives in slices and set aside.
Prepare herbs and add to already cooked tomato Sauce. Make sure Tomato Sauce is slightly cooled down. Mix herbs.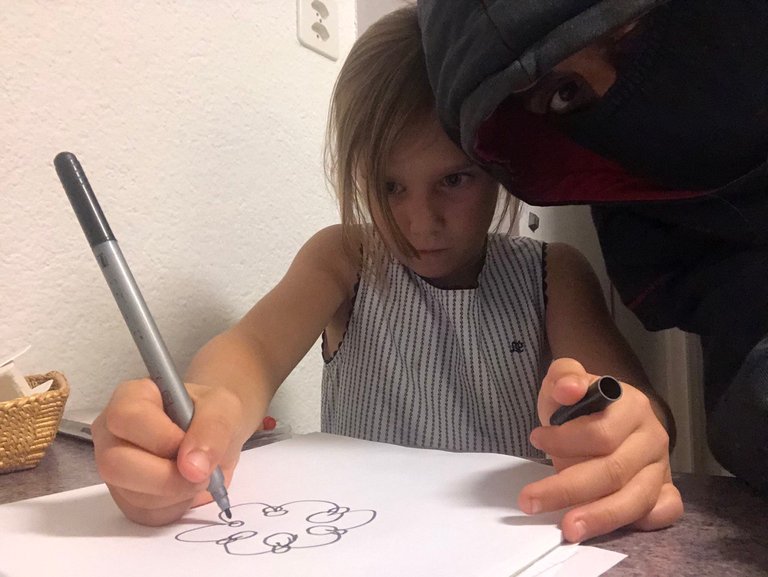 Make sure to involve some kids. Most kids love pizza. It can also be something fun and creative to prepare. While doing it, one can spur lots excitement and instill passion to have fun with them while cooking or baking.
Step Six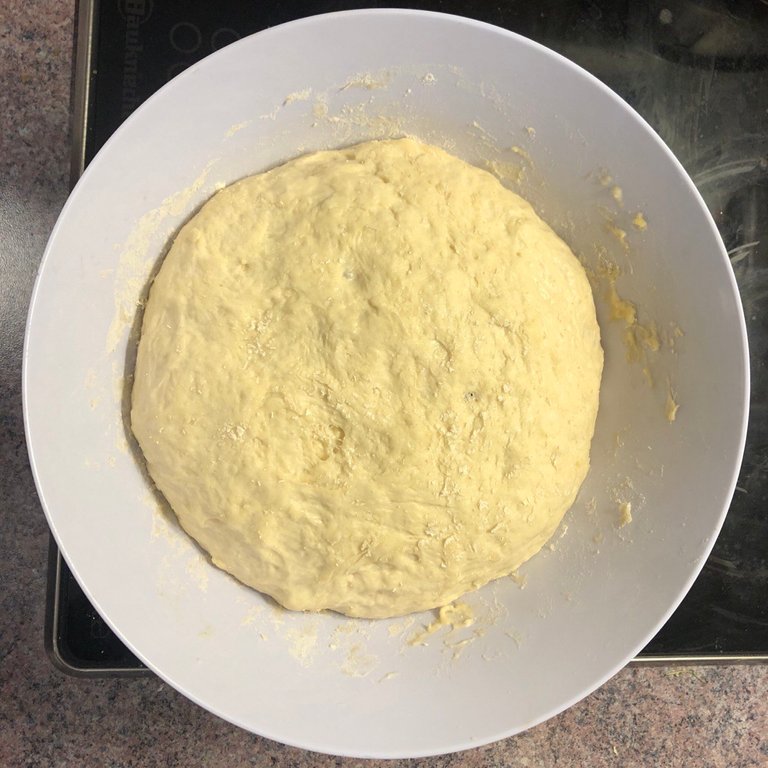 Get the dough out of the oven that was heated 25°C.
Use some flower to roll out the dough so it does not stick to the surface. Try to get it even, not like me.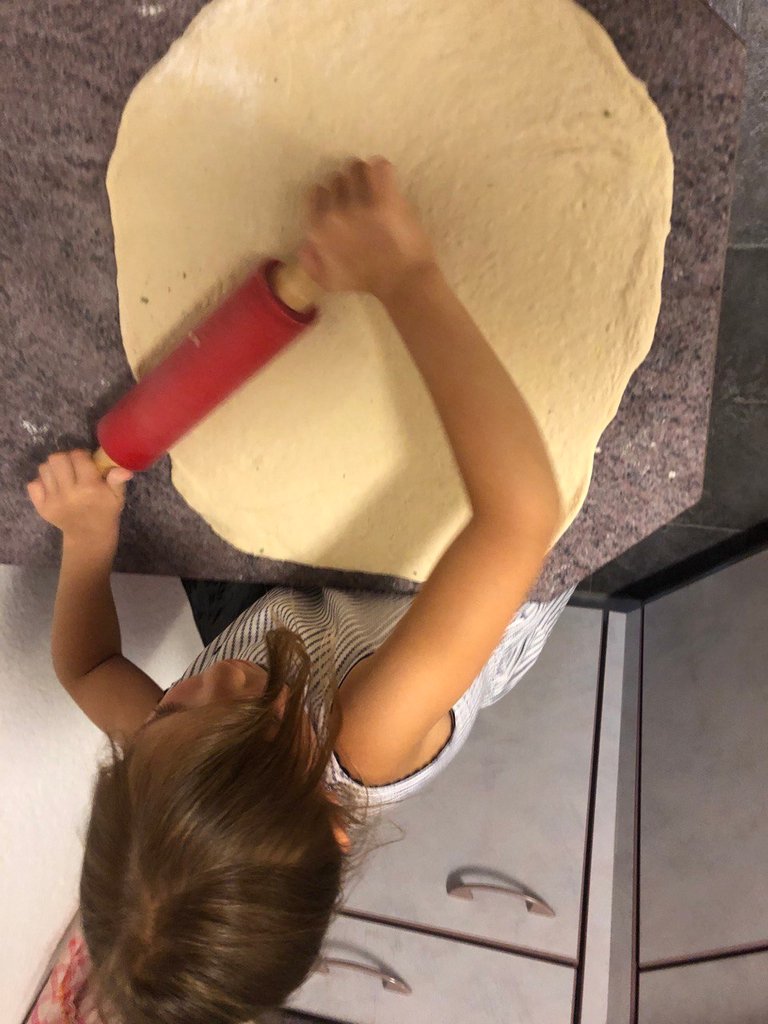 Even the kid can do it all by herself. She's a six year old.
Step Seven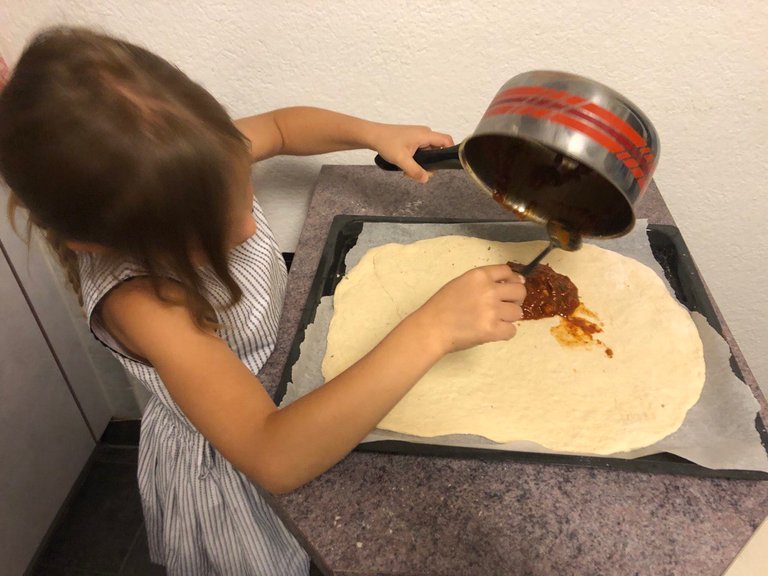 Add the Sauce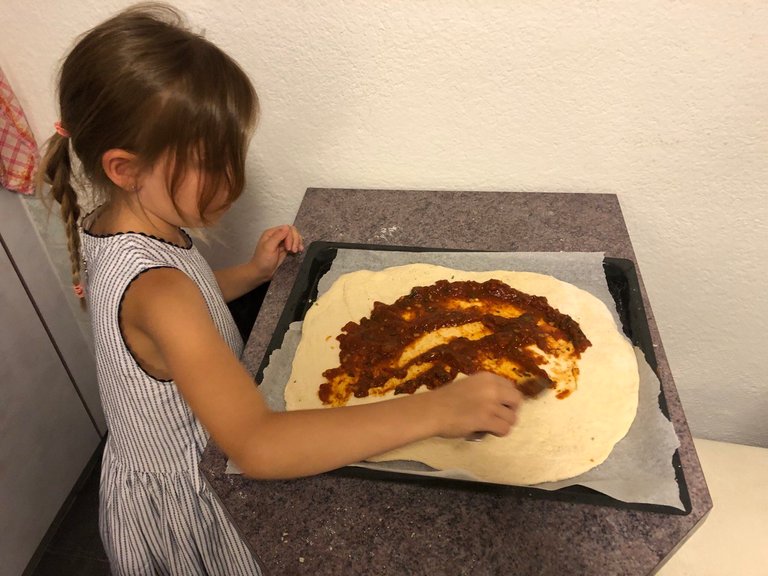 Use a TBS to spread the Sauce
Step Eight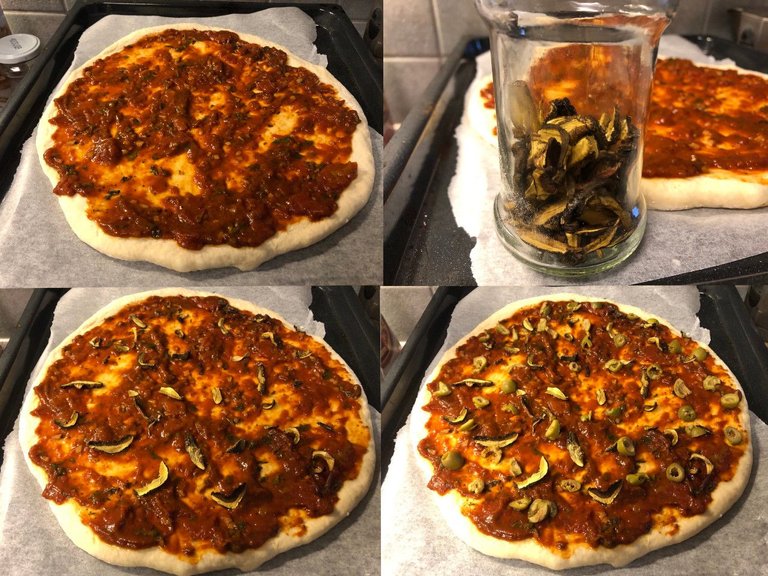 Add the mushroom, olives, kapers. The mushroom I added was dehydrated Xerocomellus Crystenteron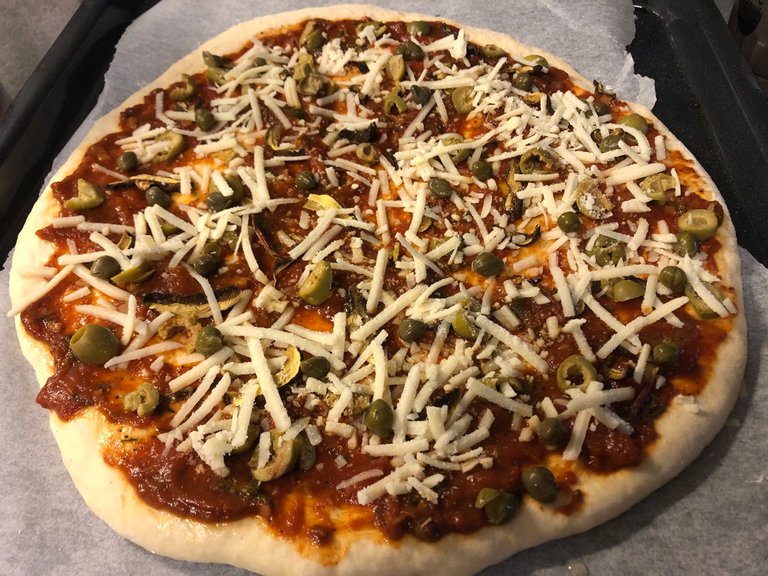 Add the melt(Ch**se)
Step Nine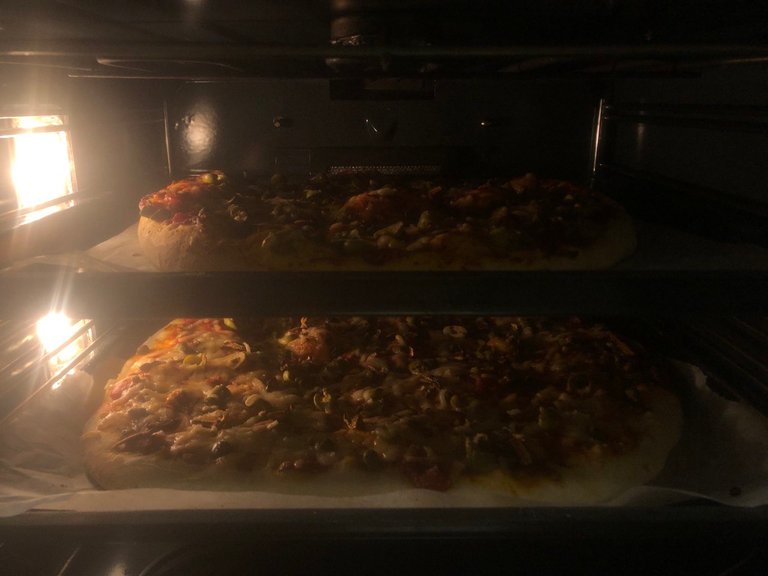 Put it in the oven. Top and bottom heat or circulating air at 200-220°C. Bake for 15 min and set a timer.
et voila: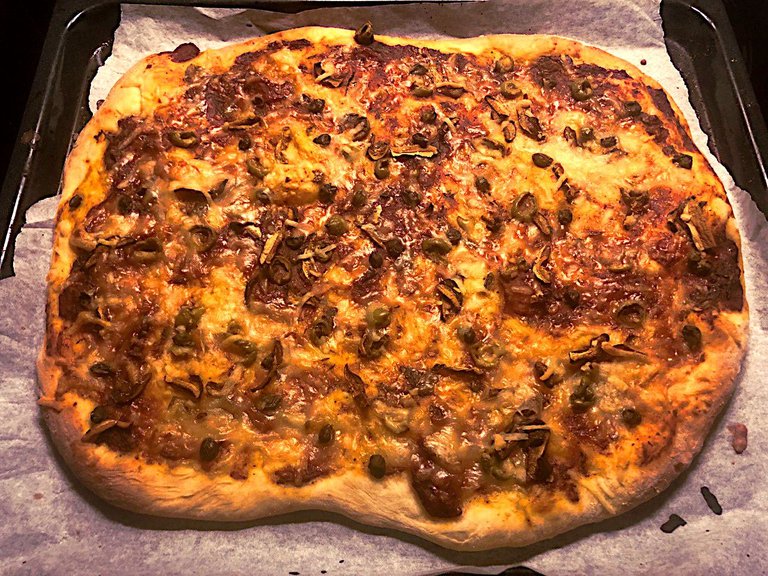 Here are all my previous recipes, always vegan in case you feel like trying something else: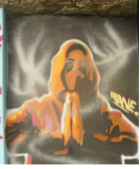 "The will is infinite and execution confined... the desire is boundless and the act a slave to limit" - William Shakespeare

Join the holistic health economy on hive!

Meditate with the Hivemind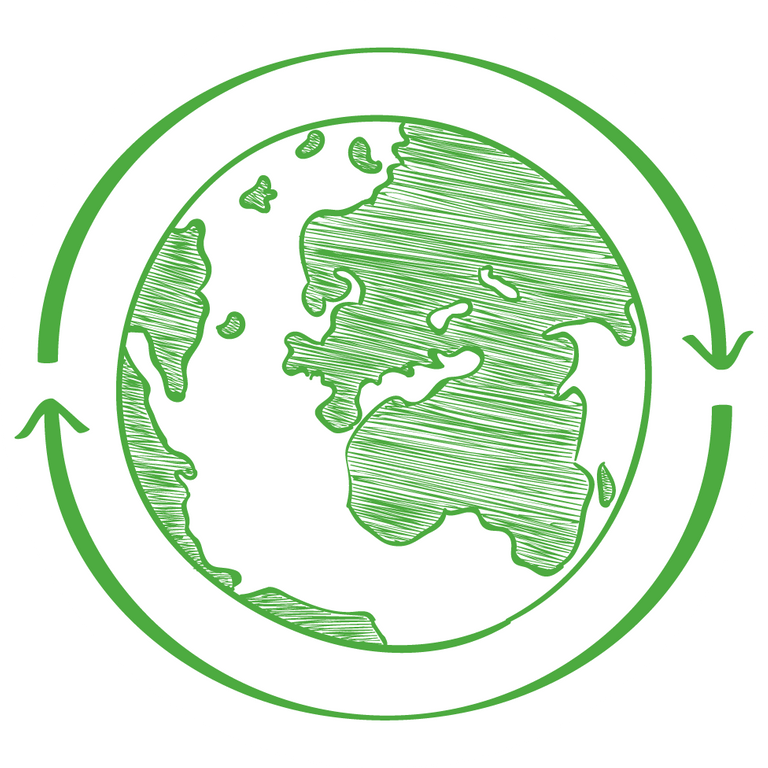 Visit cleanplanet.io
Instagram
Odysee
Twitter

---
Originally posted on Yang Yanje. Hive blog powered by ENGRAVE.
---
---