Outdated shortwave radio, but it suits me / 時代遅れの短波ラジオ、でも私には似合ってる (ENG/JPN)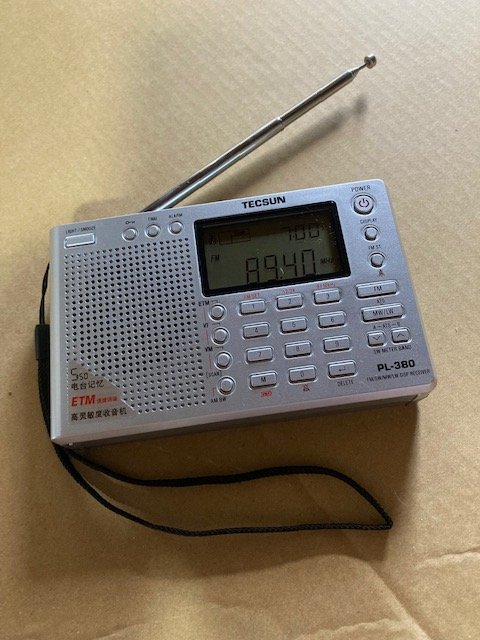 (ENG)
(The photo is a radio receiver I bought.)
Nowadays, there may be few people who listen to shortwave radios. In fact, few people may even listen to radio broadcasts with a radio receiver. Nowadays, you can listen to domestic radio stations on your computer or smartphone using radiko and other services. Even small radio stations around the world can be listened to via the Internet.
In the past, there were many kinds of radio receivers. Some people may have had radios that fit in their pockets, or boom boxes that could record to cassette tapes. Then there were radios that could receive shortwave signals. They ranged from compact ones to full-blown radio-like ones. One of the main features of shortwave was that you could listen to broadcasts from outside Japan, unlike medium wave (NHK Radio 1, etc.) and FM (J-WAVE, etc.).
When I was a small child, listening to such distant foreign broadcasts, called BCL, was a big hit.
One day, my father found an old tube radio discarded in the neighborhood and when he set it up, he was able to receive the radio. From there, I listened to shortwave broadcasts from all over the place.
At that time, I often listened to broadcasts that often included radio waves from neighboring countries, such as Beijing Broadcasting Corporation (now China International Broadcasting Corporation), Moscow Broadcasting Corporation, Radio Korea (now KBS WORLD Radio), and Korean Central Broadcasting Corporation (now Voice of Korea). I also listened to the BBC and DW (Deutsche Welle) Japanese language broadcasts, and I faintly remember listening to a live broadcast of the wedding of Prince Charles and Princess Diana. I tried to find the audio from that time on the Internet, but
The only thing I could find was the beginning of the announcement in Japanese at .
After that, the Japanese language shortwave broadcasters in many countries had their budgets cut, and the Japanese language broadcasters such as BBC and DW also disappeared. Nowadays, we can pick up information on the Internet, and the maintenance cost of transmitters and antennas for shortwave broadcasting is enormous, so I guess they are the first to cut the budget. Even in the former Soviet Union, now Russia, which used to be known as the eastern part of the country, the Moscow Broadcasting Company used to broadcast with powerful radio waves for a long time, but now it has stopped broadcasting in Japanese on shortwave and medium wave and only transmits over the Internet.
It is not only international shortwave broadcasting that is being cut, but also domestic medium wave broadcasting. In many countries around the world, medium wave broadcasting has already been replaced by FM broadcasting or eliminated. In Japan, it has been decided that the majority of commercial AM broadcasting will be shifted to FM by 2028. The main reason for this is to survive by shifting to FM broadcasting, which has lower transmission costs, since the commercial AM companies are struggling financially due to a sharp decline in advertising revenue and cannot afford to update their aging AM transmission facilities. It is sad to say that this is the trend of the times.
In this way, I'm wondering if someone could use the vacant frequencies of medium wave and short wave for broadcasting.
It is much easier and cheaper to broadcast on Youtube. I'm not very good at talking. ......
In the meantime, I bought a radio receiver that can receive shortwave signals after a long time. It's a Chinese manufacturer, but it's cheap (about 5700 yen. It's cheap (about 5,700 yen, though I actually got it cheaper because I used my points) and has good performance. I immediately tried listening to shortwave broadcasts from neighboring countries. While listening to them, I have been thinking about the meaning of shortwave broadcasting now.
(JPN)
(写真は私が購入したラジオ受信機です)
今は、短波ラジオを聴く人は少ないかもしれない。それどころか、ラジオ受信機でラジオ放送を聴く人も少ないかもしれない。今はradiko などを使って国内のラジオ局はパソコンやスマートフォンで聴ける。世界の小さなラジオ局だって、インターネット経由で聴くことが可能だ。
昔はラジオ受信機にも色々なものがあった。ポケットに入るラジオや、カセットテープに録音できるラジカセなど、持っていた人もいるかもしれない。そして、短波が受信できるラジオ。コンパクトなものから、本格的な無線機みたいなものまであった。短波の大きな特徴は、中波(NHKラジオ第一など)やFM(J-WAVEなど)と違い、日本国外の放送が聴けることにあった。
私が小さかった頃は、BCLといって、こうした遠い外国の放送を聴くのがブームだった。
ある日、父が近所で古い真空管ラジオが捨ててあるのを拾ってきてセッティングすると、ラジオが受信できた。そこから私はあちこちの短波放送を聴いた。
当時は北京放送(現・中国国際放送局)、モスクワ放送、ラジオ韓国(現・KBS WORLD Radio)、朝鮮中央放送(現・朝鮮の声)など、近隣諸国の電波がよく入る放送をよく聴いていた。でも、それから頑張ってBBCやDW(ドイチェ・ベレ)の日本語放送も聴いた。BBCの日本語放送では、チャールズ皇太子とダイアナ妃の結婚式の中継を聴いたのをかすかに覚えている。当時の音声がネット上にないか探してみたが、
に冒頭の日本語アナウンスが残っているのしか見つからない。
その後、各国の日本語短波放送は予算をカットされて、BBCやDWなどの日本語放送もなくなってしまった。今はインターネットで情報が拾える時代だし、短波放送は送信機やアンテナの維持費が莫大なものになるから、真っ先に予算カットになるのだろう。いわゆる東側と呼ばれた旧ソ連、現ロシアでさえ、かつてはモスクワ放送が長時間強力な電波で放送していたのに、今は短波や中波による日本語放送をやめてネット発信のみになった。
カットされるのは国際向け短波放送だけでなく、国内向け中波放送もそうである。既に世界各国で中波放送がFM放送などに置き換えられたり廃止されたりしている。日本でも民放AM放送の大半は2028年迄にFMへ移行することが決まった。広告収入の激減で民放AM各社は財政的に苦しく、今後必要となる老朽化したAM送信設備の更新に対応できないので送信コストの安いFM放送に移管することにより生き残りを図るのが主な理由である。時代の流れとは言え、悲しい限りである。
こうやって、中波や短波の空いた周波数を、誰か放送で使ってくれないかなと思っても、
Youtubeで発信する方がはるかに簡単で安上がりである。私はトークなんて苦手だし……。
そんな中、久しぶりに短波が受信できるラジオ受信機を買った。中国メーカーだが、安くて(5700円ぐらい。私は実際はポイントを使ったからもっと安く買ったが)性能もいい。早速近隣諸国の短波放送を聴いてみた。これを聴きながら、今短波放送をする意味は何なのか、考える日々である。
---
---