Oops, posted it twice. Been too long...Thought I Would Say "Hello"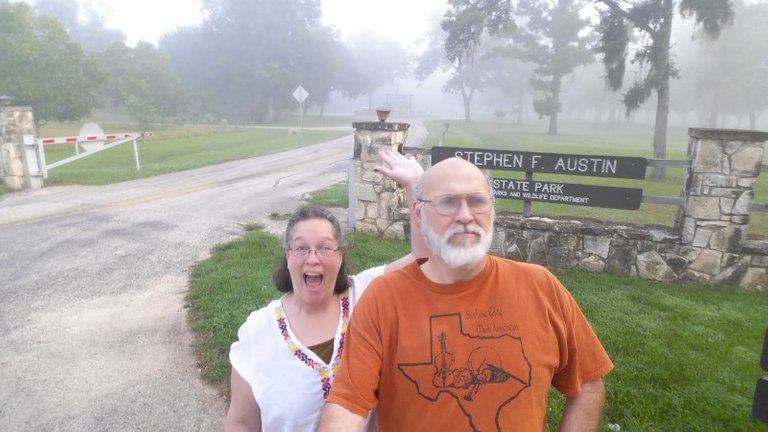 The two of us at Stephen F. Austin State Park in Texas.
oops I posted it twice! I have been away from Hive too long!
Hello everyone. It has been a while since I had shown my face. Actually it has been eight months since I told you all anything or how things were going. I apologize for that, but life is like a flooded creek; moving quickly and full of insane currents.
The Pulaxy River near Glenrose, Texas, in flood stage.
Scott is doing well health wise and loving his new position with the company he has been with for twelve years. He has had a few hiccups health wise but we are working on the eating and daily exercise so that is helping; he's not happy about the veggies, but he's eating them. The one thing he wanted me to tell you all is this, "Even if you are young, watch your health. It can go downhill before you know it."
My reaction to the icy road on the Million Dollar Highway in Colorado.
Because he works so hard at his current position, Scott has not been able to do much photography, but he has been going through some of his older photos and reworked some and discovered some new gems. Playing with one a video he had taken from one of our trips, he created an amazing photo. The video was taken at Rough Lock Falls in the Black Hills of South Dakota. He wanted a photograph of milky colored water, but because the daylight was so bright he was not able to do a photo like this at that time. It was a project that has been on his to do list for a while.
He says, "Last year Ren and I stumbled across a very nice waterfall while exploring the Black Hills National Forrest. I was able to get some good photos. I also shot some video. One of the things I like to do when photographing moving water is to take some longer exposures. The moving water blurs together and the surrounding landscape is not moving so it creates a nice "milky" effect in the water. Without a good ND (blocks out light) filter, which I don't have, you can't always do the longer exposure. If things are too bright then the sensor gets too much light and the photo won't come out.
"There are tricks and hacks that will let you work around this and simulate the result of a long exposure. This afternoon I sat down and figured out how to do one of them. I took the video posted here and exported it as a series of PNG still photos, then loaded those photos into Photoshop and blended them together. This is as if I had taken a 3.3 second photo. I'm pretty happy with the result."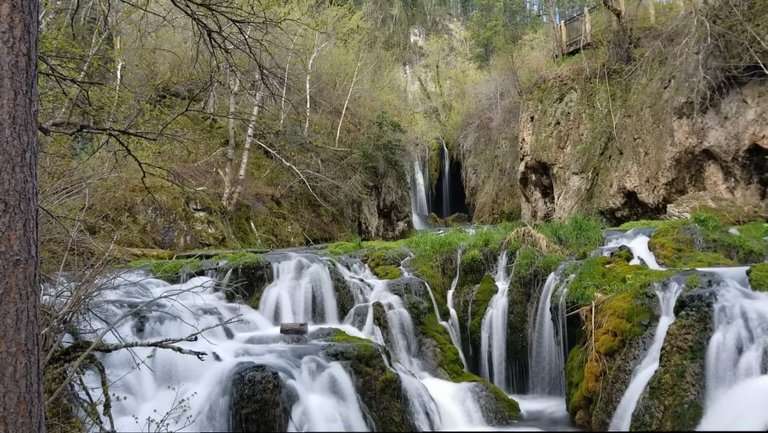 Rough Lock Falls in Black Hills National Forest, South Dakota.
What have I been doing? I have been focusing on our website
Cross County Travelers
. I am trying hard to get it just perfect. Learning on the job is always a difficult thing, but boy do you learn a lot! I am still making videos and enjoy making them. Recently I found some old footage I had taken with plans to make an "instructional" video but never got around to doing it. I finally put it together using a new style of editing work. It was fun and I think I did well. What do you think?
Shopping at Aldi and getting ready for a roadtrip!
Over the past few months I had been doing a lot of sewing so Scott bought me a new sew machine. It works wonderfully and I have been making so many things, but quilts are my favorite so far. I am also trying turn my quilt/sewing hobby into a money maker. Not sure if it will ever take off, but I am going to try. There are so many amazing shirts at the thrift store that make wonderful quilts! Wouldn't you like to have one of them?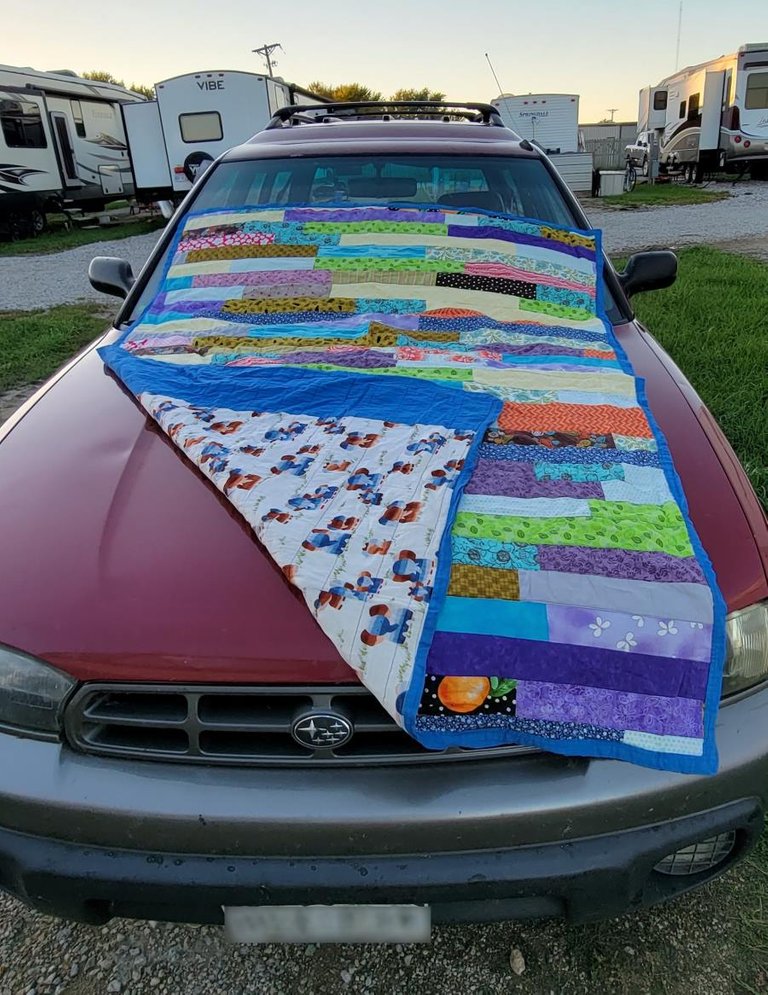 Just a simple little strip quilt to keep someone warm.
After Cordie passed a year ago in April, I didn't know if I would ever be able to handle another puppy. However, we really missed having a cuddle buddy when we traveled. Hence our new friend Trip the Traveling Tribble Dog. He is 3/4 Shish Tzu and 1/4 Pomeranian and 100% fluffy! I questioned his breeding at one point because he looks a lot like Sam the Sheepdog from the cartoon
Mornin' Ralph; Mornin' Sam
by Warner Brothers. But he has been such a sweetheart.
Weighing in at 15 pounds, he will be six months in less than two weeks. Scott had remembered what having a puppy was like, but I had forgotten! So we have had our hands full with the potty training, leash training, and just plain training! Turns out Trip is extremely smart and out smarts me often. He is definitely very different than Cordie was. She was more laid back and loved to sleep in the hammock. This fellow does not like the hammocks at all and he has become Scott's dog for the most part. They just adore each other and Scott has become so ready to play with the dog when he gets home from work.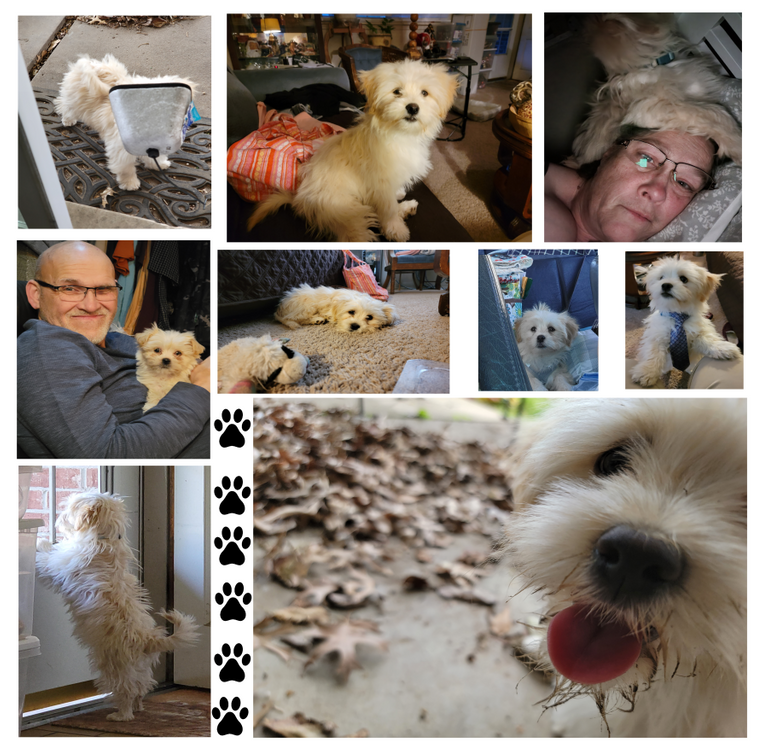 Trip has made life a little more fun for sure!
We are actually still collecting counties here in the lower 48 states. Our county count is 714! Although we are not moving as much as we were in Colorado, we are still working hard at getting a few each month. Our goal is to focus a bit more and collect more county courthouses as we do the runs. It has enabled us to meet some amazing people as well. You know how much I like meeting people; Trip enjoys meeting them even more than I do!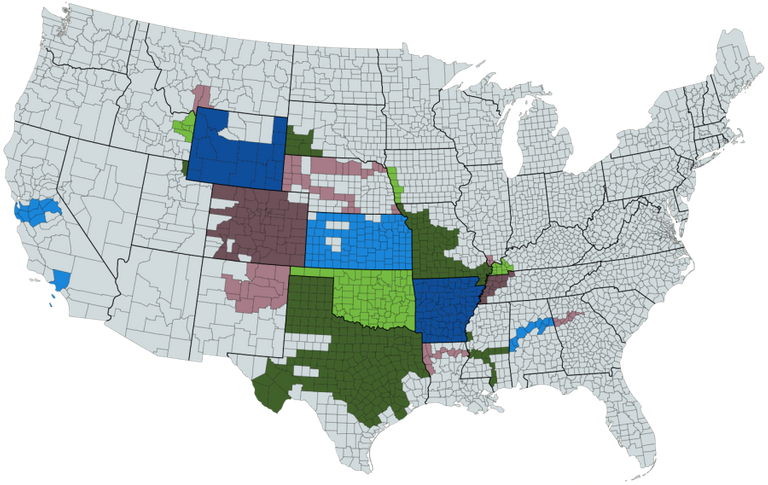 We use Map Chart for making out county collecting maps. Here you see all 714 counties we have collected so far.
Even though we are not around much in the community as we were, we think about you all often. I do hope you think of us as well. We miss the Terminal and all of the friends we made here so know you are being thought of often.
Thank you so much for taking the time to read our blog posts.

We appreciate it so very, very much!






---




* My posts may occasionally contain affiliated work-related links because our Cross County Travels website
and our YouTube channel are also our accounts.

* The photographs on our posts are taken with my own camera
and with Scott's help!

* Blog graphics such as various "flyers" will be cited at each occurrence.

* Clipart used are from https://www.cleanpng.com/
and/or https://pixabay.com/.

* While the Bitmoji Characters of Scott & Ren are from Bitmoji,
the compilations are my own.

* All words and images are mine (unless otherwise indicated),
and can also be found on my various social media accounts:

OUR FACEBOOK

OUR WEBSITE
cross mentions are spreading the word.

---









---
---