Surpise! We Are Quitting RV Live - Part 2 0f What Momma Wants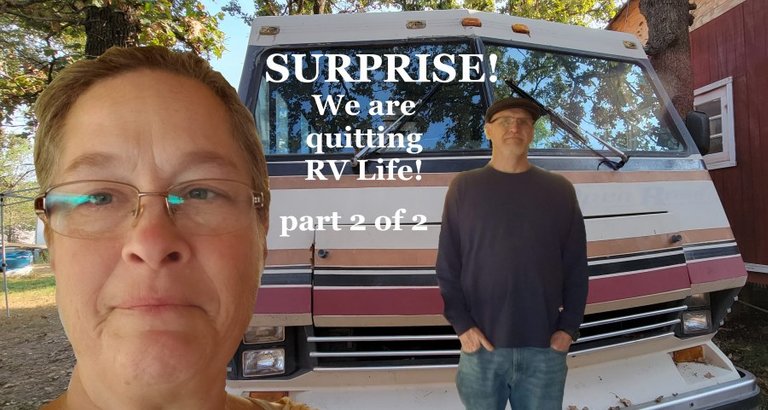 After the two weeks of extreme heat here in Missouri and all the leaking in the RV, we decided it was time to find another place to be. Because the motorhome is so old (1990) and has some major ugly issues, we were not able to locate another RV park who would welcome us in. It is actually a thing that happens to too many RV owners with a rig over 10 years old. You can find out more from the Travel Awaits article

Why Your RV May Be Too Old For RV Parks

. Yes it is upsetting, but that is RV Life unfortunately.



This meant we needed to find a house or an apartment to move into. Unfortunately, housing prices here in the U.S. have just sky rocketed because of inflation (as everywhere else) and the houses in the rental market cost way more than we are willing to spend. The apartments, even though we wanted a two bedroom were not any better with their prices. I know I was really getting frustrated and poor Scott had to deal with my frustrations. I was becoming angry, depressed, and down right whiney. He was such a good sport though; as he usually is.
While looking through some "For Rent" ads online, I came across this: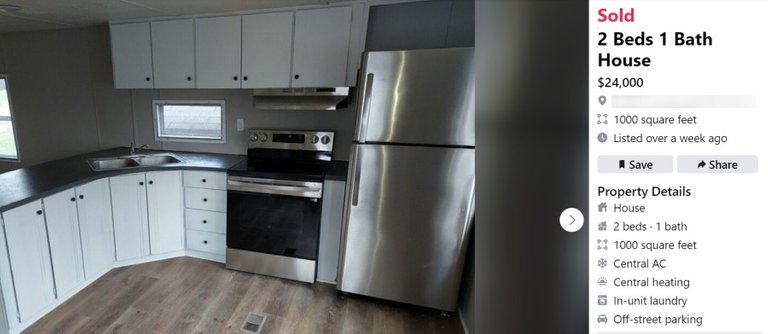 Screenshot from Facebook Marketplace by the company selling the House
Of course the ad didn't say "SOLD" at all, but the rest of what the ad showed.



The ad continued to say:
We have a Newly Remodeled Manufactured Home for sale for $24000.

This home has been completely remodeled and is like new!

It is also available on a financing program which breaks down as follows:

$305 a month home payment

$400 lot rent

$75/month insurance/taxes

$780/month TOTAL.

This was within the price range were were wanting ($700-$900/month rent), it was a LOT closer to his work (eight miles to his work and six miles home) which was a total of less than 30 minutes travel time, and the mobile home park had excellent reviews! We decided we needed to go take a look.




I scheduled a viewing and we met there with a couple of friends of ours who could point out the bad issues. This helped us see not only the good things, but gave us another perspective on potential problems. The viewing was only supposed to be 30 minutes but when no one showed up for their viewings after us, we stayed for almost two hours checking out EVERYTHING. And we checked it all: water faucets, hot water, air conditioning/heating unit, doorbell, floors, and even going onto the roof to check out how it looked.




Yes, there were a couple of issues, but over all, they are fixable. Plus this was the same floor plan we loved when we lived near Tulsa in 2019. It was only a little smaller than the 1,500 sq ft in that place; this place was 1,000 sq ft and we were thrilled. The air conditioner worked well, the water was not nasty, and there were no leaks.




Scott checks out the new appliances in the kitchen.




The mobile home has a brand new refidgerator, stove unit, and air conditioner/heating unit. However, we will be replacing the sink & faucet, putting in a half dishwasher, and getting a small chest freezer as soon as we can. The part I love the most about the kitchen though is the huge window that is perfect for hanging plants and some plant shelves. I can almost see the plants and decorations in the window now! Can't you?




Artwork: Cacti by Pooky; Hanging Plant (left) Genoooo.;

Hanging Floral Basket by Merey and; Hanging Lamps (left) Swanice.

Being an "open" concept, the living room area flows well from the kitchen area. It will also hold large corner desks, the

black IKEA 4x4 shelf

, a treadmill, our two

IKEA Poang armchairs

with footstools, and Trip's toybox. About the only thing we will need to add to the livingroom is a special seating place for Trip. I think this armchair from IKEA would do the trick!




Wait, Scott says, "No, just no."




Down the hall is the first bedroom. It is rather small (10'x10'), but it is the perfect size for our two hammock stands and hammocks. Why the smallest room for us to sleep in? If all you do is sleep, why do you need more space? We will need to get a bed for Trip because he does not like the hammock like Cordie did. It just amazes me how different dogs can be from one another. Cordie regularly demanded we go to bed so she could sleep in the comfort of my hammock; however, Trip wants nothing to do with it! Strange for sure.




Such a small room. Trip looks huge in it! The corner photo is

sweetheart Cordie; such a hammock loving dog.




Further down the hallway, we have the laundry area. We will need to get a washer and dryer set, but that just means we have to take the time to look at the second hand places and online. They are easy to come by so I am not too concerned with that. Because there is a bar above, we are planning to take the doors down and turn them into folding doors so that we can access the whole space. At first I thought about taking the bar down, but it can be used to hang a curtain to hide our unfolded laundry and the stench that clothing carries when you wear them. Since it is just the two of us, it keeps laundry off the floor!




It is just a notch in the hallway, but it will work wonderfully!




Just after the laundry room is the bathroom. I am so excited that there is a full bathroom in this place! I have been living with a curtain up for a bathroom wall and no shower! We have been going to the shower house here at the RV park! Not only do you have to make sure you have enough quarters for the water, but you have to make sure there are not washers going! It is a bit of a shock when there is no hot water!




It looks so much bigger than it really is in this photo.

However, it is not down the road from us, so I'm not complaining!




Anyway, the bathroom has the typical toliet, shower, and sink. There are the under cabinets and, surpisingly, two really deep cabinets. If I were a kid, those would be a great place to hide for hide-n-seek. However, I will be needing to come up with storage organization ideas so nothing gets pushed back to the forgotten spaces.




This will make a great sewing/guest room. I am sure I will get a lot accomplished!




The final bedroom is at the end of the hall. It is definitely larger than the other room at 10' x 12' and will be a multipurpose room. Because I am needing a sewing room to work on the handmade business I want to create, I will be turning this into that very room. However, it will also have to be a guest room so when my mother comes to visit before she moves, and other people come to spend time with us. I will need to put some type of bed for the space and am thinking about doing the

Hemnes daybed

because I can put a plank of plywood over the three "walls" and create a working space. The bedding can go into the drawers as can the guest's clothing items. Put on a lot of large pillows and it will make a nice cozy place to just relax on.




I will need to create a work area and some shelves and I figure I can do something with a desktop or two and two or three cube shelves from IKEA. The Ikea Hacker has a great set of ideas on using these very items. You can see their ideas

HERE

. All that I would need at that point is a comfortable chair and side table for the guest part of the room. Maybe another Poang armchair.




Even with 75 families within this community, there was nothing

"trashy" about it. It was well kept and very pleasent to visit.




We also checked on the community it was located in. It was clean, no unkept yards, all of the other homes looked in good shape, and the streets were well maintained. This was a huge yes for us so we contacted the real estate agent and started the application process. Over the past week, we have driven through the neighborhood at different times to see what we found overnights, early mornings, evenings, and on the weekends at different times. It was a nice, quiet, little community.




We close on the house next week. We are thrilled with this and even more so because we will be able to get my mother into the community as well. They have all prices and are very encouraging of those who are on Social Security. Mom has already looked into one of the manufactured homes that will be coming open within the next six months. Looks like she will be our neighbor. I so love this; she will be close by so I can be there to help her and still have all the independance she needs.




Thank you so much for taking the time to read our blog posts.

We appreciate it so very, very much!









---




* My posts may occasionally contain affiliated work-related links because our Cross County Travels website
and our YouTube channel are also our accounts.

* The photographs on our posts are taken with my own camera
and with Scott's help!

* Blog graphics such as various "flyers" will be cited at each occurrence.

* Clipart used are from https://www.cleanpng.com/
and/or https://pixabay.com/.

* While the Bitmoji Characters of Scott & Ren are from Bitmoji,
the compilations are my own.

* All words and images are mine (unless otherwise indicated),
and can also be found on my various social media accounts:

OUR FACEBOOK

OUR WEBSITE
cross mentions are spreading the word.

---












---
---