Macabre Mocha Melody
Sadly, I have not been about as much as I would like of late. Starting a side hustle along with being a full time parent and having a full time job is a time consuming endeavour. Going on vacation for a week really caused havok with any schedule I may have had, too. Alas. I plug forward.
Today is National Macchiato Day! The tl/dr of a macchiato is an espresso with milk. To celebrate, I have put together, in true Skeleton Brew style, the Macabre Mocha Melody.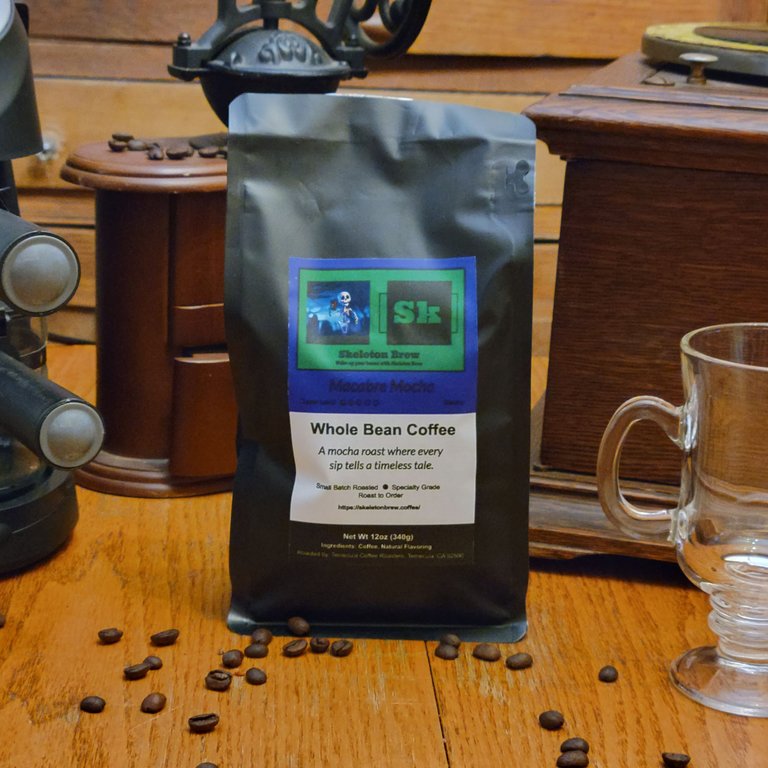 Macabre Macchiato Melody
Ingredients:
1 cup of Skeleton Brew's "Macabre Mocha" roast coffee, brewed as espresso
1 tablespoon of caramel syrup (optional)
A dash of vanilla extract
1/2 cup of frothy milk, steamed
Cocoa powder for garnish
Directions:
Step 1: The Macabre Base
Brew a strong espresso using Skeleton Brew's "Macabre Mocha" roast. The dark and mysterious beans will set the stage for your macchiato experience.
Step 2: The Caramel Whisper
If you choose to add sweetness, stir in the caramel syrup to the brewed espresso, letting it whisper secrets of indulgence into your cup.
Step 3: The Vanilla Veil
Add a dash of vanilla extract to the espresso, weaving a vanilla veil that adds depth to the flavors.
Step 4: The Milk Macabre
Steam the milk until it's frothy but still liquid, then pour a small amount over the espresso, letting the milk dance on the surface like a phantom.
Step 5: The Cocoa Crypt
Dust the top with cocoa powder, adding a touch of the cocoa crypt that hints at the complex flavors within.
Step 6: The Macabre Moment
Sip the Macabre Macchiato Melody with reverence, allowing the layered flavors to transport you to a world of coffee elegance.
Step 7: Toast to the Macabre
Raise your cup and toast to the macabre, reveling in the unique journey that only Skeleton Brew's "Macabre Mocha" can provide. Cheers to the mastery of the macchiato!
---
(c) All images and photographs, unless otherwise specified, are created and owned by me.
(c) Victor Wiebe
---
Blind Skeleton


Online Radio! 24x7 of OTR classics:
Live shows:
Three Tune Tuesday Live Stream: 12:00pm (noon) EST
Electric Dreams Live Stream: 2nd and 4th Wednesdays, 8:30pm EST
---
The Skeleton Brew coffee shop is open!
---
---