TDP: A State of Mind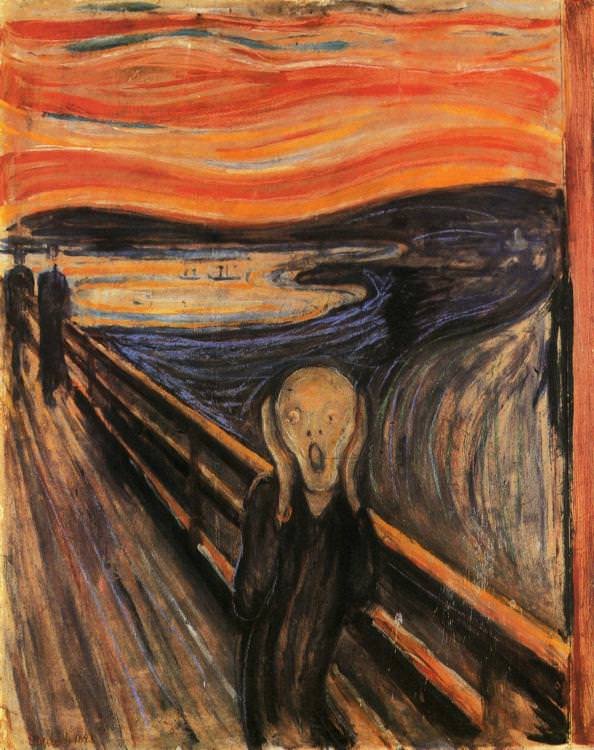 (source: http://www.edvardmunch.org)
Being an adult isn't easy. It isn't. I remember being a child and desperately waiting to grow old enough to be considered an "adult" so I wasn't encumbered by other people's rules. Oh how little I knew.
The only thing worse than being an adult is being a teenager. It is incredibly difficult to be a teenager. It was difficult when I was a teenager about 100 years ago, and it's certainly difficult now in the age of instant-everything and the non-stop, ever-seeing eye of social media.
It's hard.
Growing up, I grew to hate the word just. The word just, as a verb, is one of my least favourite words ever. I am not referring to the adjective just, as in justice, but the verb, as in just do .
Not only do I not like it, I hate it. Loathe it. Despise it with all my being. Using the word "just" to "encourage" anyone to do anything absolutely minimizes, and greatly trivializes, the efforts that the person may have in performing the action that follows it. I've been on the receiving end of it enough that I'm about ready to punch the next person who says it right in their smug face.
"Just go to sleep." Well, I can't, I've got insomnia and I'm suffering abnormal stress.
"Just get your homework done." I'd love to, but I'm super-stressed and can't focus.
And so on. The second of those two answers, when given to either of my parents, would be answered with "What do you have to be stressed about? You're just a kid."
Just. Fuck. Right. Off.
I've been reminded about my hatred of that putrid word a lot lately. Several weeks ago my son was re-admitted into the day-program - outpatient program - at a local hospital to help him fight off some depression. Depression serious enough to give him some suicidal thoughts. It's a difficult thing as a parent to live through. It must be far more difficult for him. I also suffer depression, though not to that extent. I've been through days where the thought of getting out of bed and having to face the world is the absolute worst thing in the world; I've had those days where it seems like nothing matters, and I've had those days where the warm, comforting thought that puts me to sleep is the one that reminds me that, one day, all will pass, and all struggling will come to an end. It isn't a thought that made me want to die, but it has been a comforting thought that gave me peace of mind.
Now, imagine having those thoughts when you're a teenager and going through all the bullshit that teenagers already go through. And then imagine having your grandmother tell you to "just get over it."
Right.
I hate that word.
When she said that to my son I was ready to pull him away and never let her see him again. I didn't, of course, but had a talk to my son afterward. No ones emotions should be trivialized. Ever.
It has been a long few weeks. I like to think that I spend time with my children already, but I think I've noticed that I could do better; he and I have spent a lot of time together lately, whether it's simply going out for a drive to calm down, or going shopping and then spending the day playing card games. There are days that I've wanted to tell him to give me some room and let me be, but I suspect that his depression has a whole lot to do with loneliness and feelings of inadequacy, inferiority, and low self-esteem. The only thing I can think of that I can do to help him is spend time with him, even if it means foregoing my other activities. Priorities.
So my Hive activities are limited as we navigate through some turbulent life-waters, and I've yet to decorate for Halloween (my favourite time of year), but the payout is worth it, or will be worth it. Stress is high, but manageable.
I ordered a couple pizzas for dinner the other day and was a little perturbed to find a rather expensive 'delivery fee' tacked on the bill in addition to a customary tip. Seeing it was nearly enough to make me cancel the order, but I was really not interested in making dinner that night (laziness won out, I suppose), so the order was sent. The delivery person delivered on a bicycle, not a car, and I remember being a little annoyed about that, too - not that he was delivering on a bicycle, which I actually appreciate, but that I paid a delivery for it. When he came up the steps I recognized him; he's a nice young gentlemen who used to work at a local grocery store before it went out of business, and I realized that this is what he's doing to try to make ends meet. Paying a little extra suddenly didn't really matter anymore; I was actually happy to do it to help him out, even just a little bit.
It's nice to do something nice for people at random. One never knows what they might be going through.
p.s., this was intended to be a #thoughtfuldailypost #tdp for @wesphilbin, but I completely forgot to put the tags in. I even forgot to put a subject line in. Oops.
---
(c) All images and photographs, unless otherwise specified, are created and owned by me.
(c) Victor Wiebe
---
About Me
Amateur photographer. Wannabe author. Game designer. Nerd. 
General all around problem-solver and creative type.

My Favourite Tags

---
---