THE TRUTH ABOUT SANTA CLAUS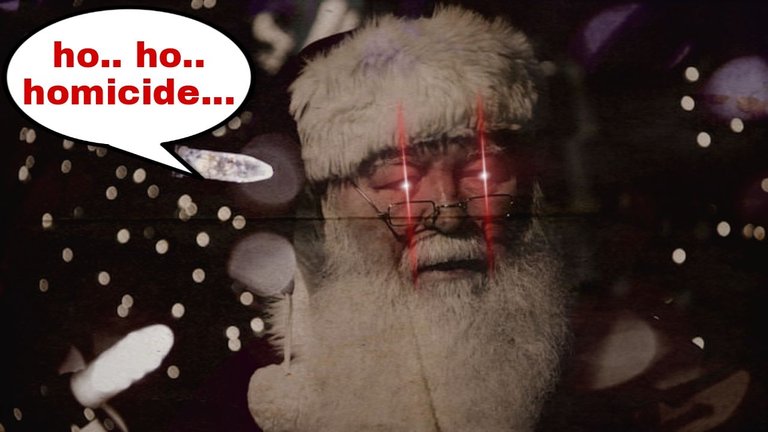 Edited with PicsArt
Original image source
Christmas day.
The designated birthday of Jesus Christ,
A time for festivities and celebration,
A time for capitalism love to thrive and one of the most popular holidays in history.
It is a special day celebrated by billions all around the world.
And even though this day is meant to be all about Jesus, there is one other fellow that's just as associated with Christmas as Jesus is.
And that fellow is the saintly, the sensational, the spectacular spider m- SANTA CLAUS.
Santa Claus is known by different names depending on when you're from...
Some people call him Father Christmas, some call him saint Nick, but it's still the same guy.
When you think about Santa Claus, what words pop into your mind?
Merry
Jolly
Cheerful
Fat
Well those are the words that normal people are supposed to associate Santa Claus with...
But I'm not a normal person...
And that is why I know the truth!
And that truth is what I'll be sharing with you today.
I wanted to release this on Christmas day but I know it might ruin the day for y'all.
And I didn't want to do that. I'm abnormal, not heartless.
But now that Christmas has passed and the jolly old man has gone back to his house to hibernate for the next year, I think this is the perfect time for enlightenment.
This is not for the faint of heart. If you can't handle the truth, it's best you leave now.
And for those of you that are left, I commend you.
Come with me as it is time for the breakdown.

THE TRUTH
Before we begin, a little summary about Santa Claus.
Santa Claus is known as a being that travels around the world on the night of Christmas eve, delivering presents to children.
He is known to fly through the sky on a sleigh pulled by magical reindeer and he enters houses through the chimneys and drops the gifts.
He lives in the north pole with his wife and his multitude of elves that help him manufacture the toys that he gives out.
Santa is generally perceived as a kind hearted and jolly man that probably needs to lose some weight.
And now that we have some background to work with,
I will proceed to prove exactly why Santa is not the jolly old fellow y'all think he is and why he should not be trusted.

CASE 1 - THE GIFTS
As I mentioned in the summary, Santa is a guy known for giving gifts to kids all around the world.
Now that might seem sweet and wholesome,
until you break down the logistics,
which is what I'm about to do now.
Let us ignore where he gets his materials and equipment from and just focus on the number.
There are approximately 2 billion children in the world right now, which equates to 2 billion gifts, or let's say 1 billion for the good kids only.
This means, the elves which are his main workforce have only 364 days (minus Christmas) to manufacture 1 billion toys.
That's 2.7 million toys a day!
I don't care how many elves he has or what kind of magic he uses, this is blatant abuse of labour!
If you think Amazon overworks their workers, check out Santa's workshop.
Santa is definitely a toxic employer and this is just one of the reasons why he is sus.
CASE 2 - CRIMINAL BEHAVIOR

How exactly does Santa enter the houses to drop the gift?
Well the answer is very simple.
Trespassing.
Santa breaks into our homes to drop the gift.
And I don't care how sweet he is, that's criminal behavior.
Can't he just drop the gift in the mailbox or throw it into the compound or something.
Must he enter?
This means Santa has committed several counts of breaking and entering and also trespassing.
No way a guy like that is a good person.
CASE 3 - SUSPICIOUS LOCATION
Why does Santa stay at the North Pole?
Some people might say privacy, but I think the answer is much more obvious.
He's staying there to hide from the authorities.
He himself knows that he's a criminal, and he figured that the only way to get away with his shady activities is to go to somewhere where the police will never be able to get to him – the North Pole.
CASE 4 - NICE LIST AND NAUGHTY LIST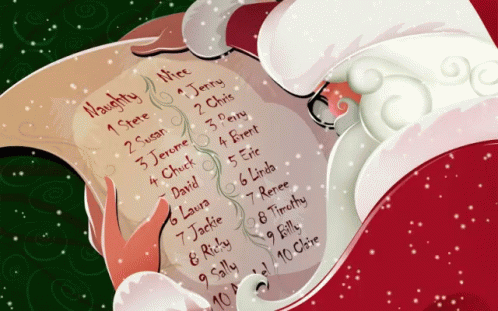 Basically the nice and naughty lists are documents that show every child in the world and whether they have been good or bad.
For example: if a child bullies other kids, that child is probably on the naughty list because bullying is bad.
and let's say a child obeys his parents,
that child is probably on the nice list because obeying your parents is good. Unless your parents ask you to bully a child. In that case, obeying your parents is bad.
It's confusing, I know,
but basically,
Good kids are on the nice list and they get gifts and bad kids are on the naughty list and get nothing.
My question is...
how exactly does he know which kids are nice and which kids are naughty?
The only way he can know is if he's observing the kids all year long.
Think about the implications of that,
Santa watches 2 billion kids everyday of the year...
Yup...
Santa might be a pedophile.
CASE 5 - SOURCE OF POWERS
He has flying reindeer,
He travels to at least a billion homes under 24 hours,
He makes about a billion toys a year,
He is immortal,
He can fit through chimneys even though he is confirmed as fat.
How can he do all these things.
the answer is simple,
WITCHCRAFT.
Santa practices dark magic and that's why he's able to do all these things.
That also explains his costume of red.
What does the colour red have to do with Christmas?
Think about it.
All holidays that have a colour have a reason why that colour is associated with them.
Red and pink are associated with Valentine's day because they are colours of love and romance.
Green is associated with st Patrick's day because it is a national colour of Ireland.
Black is associated with Halloween because it symbolizes darkness and creepiness which is the whole vibe of Halloween.
But red and Christmas?
what exactly screams red about Christmas?
Nothing.
Santa only wears red because that's his wizard colours.

CONCLUSION
I'm not accusing Santa of being a bad person, I'm just saying he needs to be investigated that's all.
Our children need to be safe and if Santa is a potential criminal,
we must take action now.
That's why I'm petitioning for Santa to be replaced by Ironman.
At least there's a high possibility I'll get a PS5- I mean a high possibility that our kids will be safe.
So yeah,
Be suspicious of Santa and Merry 2 days after Christmas.
Thank you for reading.
Stay Buzzing,
Maximus✍🏾
---
---