Where Is Marina? My Entry For The Ink Well Prompt #31 and FLASH FICTION CONTEST!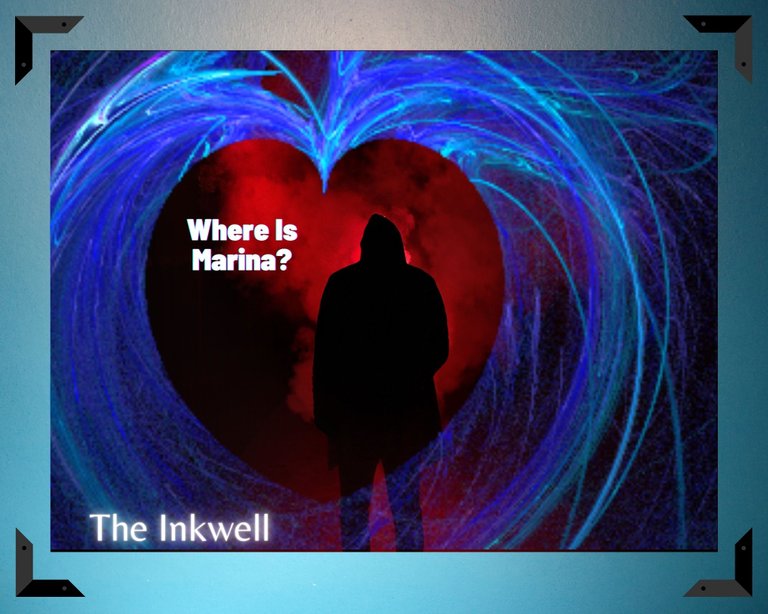 "Hello, Sir. Have you found my daughter yet? My name is Sheila Cogges."
"Sorry ma'am, I don't have any updates."
"How could you lose her?!?!"
"The foster family said she left in the middle of the night. She didn't even leave a note. No one knew where she was going. Or that she planned to leave. Why would a ten-year-old do that?"
"I don't know. Maybe she was trying to come home, and got lost. My baby..." she broke down, sobbing.
"I need to go now, ma'am. I will call you the moment we hear anything."
Click.
Marina looked up, wondering where she was. Oh yes, in the park. Under a tree. The click was from the nearby path, probably a bike.
"I sure miss my mom, but it won't be safe to go home for a couple more days. They'll look for me there."
Marina had been placed in a foster home by Child Protection Services when a neighbor mistakenly thought she was being abused by her single mother.
"It's my fault I'm in this mess! If I hadn't lied to the babysitter about being allowed to watch Stephen King's The Shining, I never would have had that nightmare. Then I never would have shrieked in the middle of the night, waking up the whole building."
Angry at herself, she brushed the dirt off of her clothes. She got in line at the nearby street vendor. "There's my mom over there. I'll have a hot dog, fries, and a shake please."
"That's fine, little lady. Just send her on over when you can."
Marina ate by the duck pond on the other side of the park.
Meanwhile Sheila was at home, distraught and on her knees beside her bed.
"What have I done, dear God? Whatever it is, please don't punish Marina. Punish me instead. Just let my baby girl be safe."
Marina spent the rest of the day at the mall. Nobody paid any attention to her.
"Maybe I can sleep in here tonight. It should be warm and safe. It was a really bad idea staying in the park, what if someone found me?"
Near closing time, she squeezed into a clothes rack, invisible even from a few inches away. Marina knew that she would have to stay there after the store was locked up. There would be a guard, and security cameras.
"I'll just lay down, it's not that bad. I can take a few of these dresses to sleep on, the ring will still be plenty tight to hide me."
"Let's just wax the floor, then we can get an early start on Shoe City."
"Sounds good. Why clean it if it's not dirty?"
"Oh no, I forgot about the cleaners!" Marina thought, alarmed.
After a long day of looking for a hiding place, Marina hadn't found any good options. "Maybe I should go home tonight. It would be so nice to sleep in my own bed."
She yawned, trying to decide how to spend the final hours of her ordeal. "I think I will take the walking trail Mom and I use every Sunday afternoon after church. It should be quiet at this time of night, and once I finish it will be getting dark."
"I'll sit and watch the fish in the pond, just like Mom and I always do. Then it will be time to go home. Home! Dorothy was right, there's no place like home!"
She dozed off, then was jarred wide awake by a hand resting on her shoulder. She bolted upright, and the hand fell away. She leaped back, but the man in the white tee shirt and sweat pants didn't move an inch.
"Are you lost, Miss?"
"No. I'm fine, Sir. I'll be on my way now. It's getting dark."
"Yes I noticed. A young lady such as yourself shouldn't be out here alone."
"Thank you, but I'm fine. I shouldn't even be talking to you."
"Very smart, it's never a good idea to talk to strangers. How about if you go on your way? I will stay in sight, but I won't try to get close to you. Would that be alright?"
Marina weighed her options. He was close. Too close, he could catch her easily. This would be an opportunity to put some distance between them.
"I guess so, but not too close."
"It's a deal, Miss."
Marina bolted, and didn't look back until she was on the steps of her own apartment building. With her hand on the door, she chanced a look. He was standing about a hundred feet away, waiting. He smiled and waved. She went in.
"Marina! Where have you been?!?!?! I have been worried sick." sobbed Sheila into her daughter's hair.
"I had to hide, if I came straight home they would have just taken me again. I'm sorry I scared you."
Knock knock knock
"Who is it?" said Sheila in a tearful voice.
"It's Detective Sanderson. Please open the door."
When she looked out of the peep hole, she saw a man in a white tee shirt and sweat pants, holding a badge. Her daughter had disappeared. She sighed and opened the door.
"Mrs. Cogges?"
"Yes?"
"I believe I found your daughter. And that she is now home. May I talk to her, please? I promise not to take her anywhere."
"Marina. Can you please come here for a minute?"
"I'm already here." said a voice from behind the curtains.
"Your actions just confirmed what I guessed all along. But I still need to hear your story. If you promise to stay here, when the time comes both you and I will talk to the judge together."
"It's a deal!" Marina said, smiling for the first time since she had been taken.
This is a 100% power up post
Prompt used: no one knew where she was going
Cover image is from Canva, using their gallery and some of my original artwork
---
---