Squid Game: Netflix's resounding success.

This publication was also written in SPANISH and PORTUGUESE.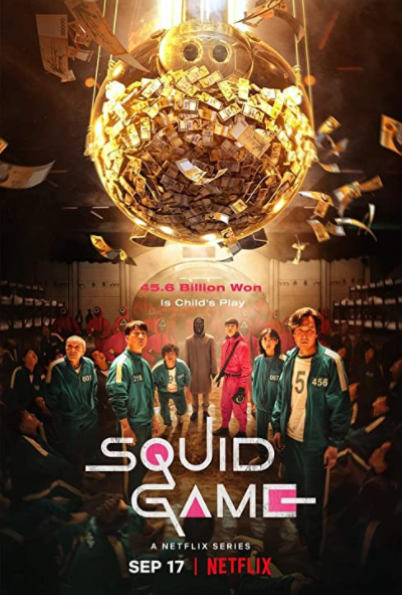 IMDb
Although I haven't watched this TV series yet, I've been reading many articles about how popular this Asian project has become. Literally, it is a real "fever" within the entertainment world of TV series and within the trajectory of Netflix, this is the most watched product in its history so far. It's all a matter of perspective (I personally know a lot of people who hated this TV series or found it too boring), but the fact is, good or bad, it hooked a lot of people's attention.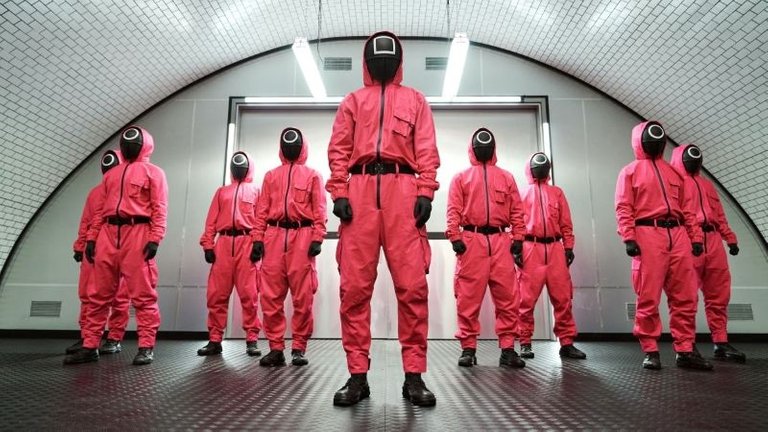 CNN
In the dystopian plot, a group of strangers is in a vulnerable financial situation and to try to live a better life, they accept to participate in a deadly competition in exchange for a million dollar prize. Nothing is so original in terms of synopsis (I myself have watched many films with very similar themes), but the strongest points of the series exist and are being extolled in many texts out there (I still need to watch and certainly later write my review ). Netflix has found another "hen that lays golden eggs" this year.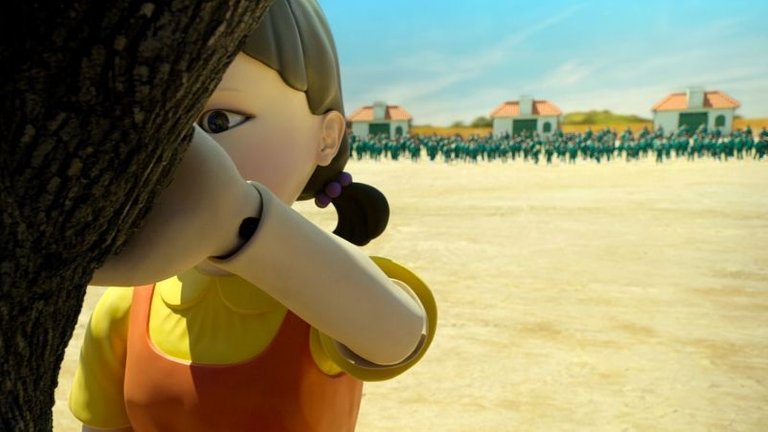 Variety
Round 6 debuted on the streaming channel about four weeks ago and has been watched by no less than 111 million viewers. The success of this TV series is undeniable and made Netflix take a new step towards the Asian market: investing around U$ 500 million in South Korean productions this year alone (and this figure could certainly be even more significant in 2022, depending on the success or failure of upcoming movies and TV series that will have an Asian label). The future for this market is very promising.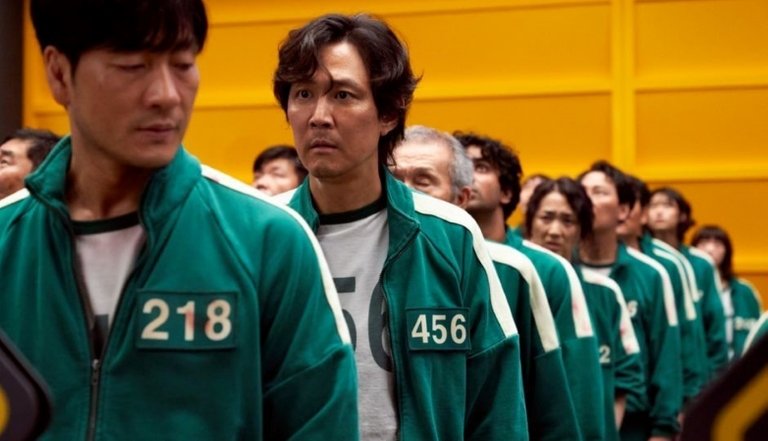 CNET
Amidst mistakes and successes that are causing some controversy in the real world, the TV series created by Hwang Dong-hyuk and starring by Lee Jung-jae is a real phenomenon because it occupies the current position of the most watched TV series on Netflix and it is not an ordinary feat, because no other. The streaming channel's product had achieved such a high mark and be so acclaimed and popular in such a short time. All of this brings the spotlight to Asian power in making the entertainment world an even more competitive, more plural, more democratic and more meaningful place.
---
El juego del calamar: El rotundo éxito de Netflix.
Aunque todavía no he visto esta serie de televisión, he estado leyendo muchos artículos sobre lo popular que se ha vuelto este proyecto asiático. Literalmente, es una verdadera "fiebre" dentro del mundo del entretenimiento de las series de TV y dentro de la trayectoria de Netflix, este es el producto más visto de su historia hasta el momento. Todo es una cuestión de perspectiva (personalmente conozco a mucha gente que odiaba esta serie de televisión o la encontraba demasiado aburrida), pero el hecho es que, para bien o para mal, llamó la atención de mucha gente.
En la trama distópica, un grupo de desconocidos se encuentra en una situación financiera vulnerable y para tratar de vivir una vida mejor, aceptan participar en una competencia mortal a cambio de un premio de un millón de dólares. Nada es tan original en cuanto a sinopsis (yo mismo he visto muchas películas con temáticas muy similares), pero los puntos más fuertes de la serie existen y están siendo ensalzados en muchos textos por ahí (todavía me falta ver y ciertamente luego escribir mi reseña ). Netflix ha encontrado otra "gallina que pone los huevos de oro" este año.
La sexta ronda debutó en el canal de transmisión hace unas cuatro semanas y ha sido vista por no menos de 111 millones de espectadores. El éxito de esta serie de televisión es innegable e hizo que Netflix diera un nuevo paso hacia el mercado asiático: invirtiendo alrededor de U$ 500 millones en producciones surcoreanas solo este año (y esta cifra ciertamente podría ser aún más significativa en 2022, dependiendo del éxito). o el fracaso de las próximas películas y series de televisión que tendrán un sello asiático). El futuro de este mercado es muy prometedor.
En medio de errores y aciertos que están causando cierta polémica en el mundo real, la serie de televisión creada por Hwang Dong-hyuk y protagonizada por LeeJung-jae es un fenómeno real porque ocupa el puesto actual de la serie de TV más vista en Netflix y no es una hazaña ordinaria, porque ningún otro El producto del canal de transmisión había logrado una marca tan alta y había sido tan aclamado y popular en tan poco tiempo. Todo esto lleva la atención al poder asiático al hacer del mundo del entretenimiento un lugar aún más competitivo, más plural, más democrático y más significativo.
---
Round 6: O sucesso retumbante da Netflix.
Apesar de eu ainda não ter assistido a esta série de TV, eu já venho lendo muitos artigos sobre o quão popular este projeto asiático se tornou. Literalmente, é uma verdadeira "febre" dentro do mundo do entretenimento das séries de TV e dentro da trajetória da Netflix, esse é o produto mais assistido da sua história até então. Tudo é uma questão de perspectiva (eu particularmente conheço muitas pessoas que odiaram essa série de TV ou que a acharam entediante demais), mas o fato é que sendo boa ou ruim, ela "fisgou" a atenção de muitas pessoas.
Na trama distópica, um grupo de desconhecidos está em uma situação financeira vulnerável e pare tentar viver uma vida melhor, aceitam participar de uma competição mortal em troca de uma premiação milionária. Nada é tão original em termos de sinopse (eu mesmo já assisti muitos filmes com temáticas muito semelhantes), mas os pontos mais fortes da série existem e estão sendo exaltados em muitos textos por aí (eu ainda preciso assistir e certamente depois escrever o meu review). Netflix encontrou mais uma "galinha dos ovos de ouro" este ano.
Round 6 estreou no canal de streaming há mais ou menos quatro semanas e já foi assistida por nada menos do que 111 milhões de telespectadores. O sucesso desta série de TV é inegável e fez a Netflix dar um novo passo em direção mercado asiático: investir cerca de U$ 500 milhões em produções sul-coreanas somente neste ano (e certamente este valor pode ser ainda mais significativo em 2022, a depender do sucesso ou do fracasso dos próximos filmes e séries de TV que terão um selo asiático). O futuro para este mercado é bastante promissor.
Entre erros e acertos que estão causando algumas controvérsias no mundo real, a série de TV criada por Hwang Dong-hyuk e estrelada por Lee Jung-jae é um verdadeiro fenômeno porque ocupa o atual posto de série de TV mais assistida da Netflix e não é um feito qualquer, porque nenhum outro produto do canal de streaming havia conseguido uma marca tão alta e ser tão aclamado e popular em tão pouco tempo. Tudo isso traz os holofotes para o poder asiático em fazer o mundo do entretenimento um lugar ainda mais competitivo, mais plural, mais democrático e mais significativo.
---
---