Empty heroes in an attention-starved society.

This publication was also written in SPANISH and PORTUGUESE.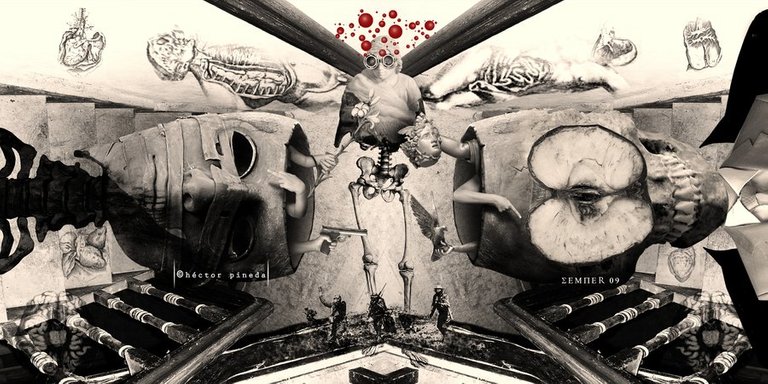 DeviantArt
Whenever I see someone who until then was an anonymous person gaining instant fame and becoming a celebrity with "meteoric rise" (or in other words: a sort of hero / heroine to a specific group of people anywhere in the world) due to their unimportant achievements, I notice how millions of people still have an increasingly less demanding frame of reference for what it is to be inspired by someone else.
A very clear example is YouTubers who choose specific niches that are easily persuasive to act, because it is apparently easier to captivate a young audience that still doesn't have a wider world reference, but the adult audience can also suffer from the same problem... But they do it by choosing their own choices. A very clear example in this second situation are the winners of social reality shows, such as Big Brother.
Stop for a few seconds and think: What impacts do these "heroes" and "heroines" have on your life? In summary, I always see them as empty representations about the longings of a society that is lost and, in its essence, does not have the most immersive reference on what it really is to be a representation of influence in the aspects of collectivity. Today it is very easy to become a celebrity... But what are they really for?
Among so many famous people who do not add any kind of positive and useful value (these are the people who have more weight and relevance in the world that is driven by stupid things), there are many people who try with every effort to stand out for the right reasons and don't get the status of "heroes" that is given by those who are supposed to be inspired by them. This strikes me as an inversion of values ​​of worrisome proportions.
---
Héroes vacíos en una sociedad hambrienta de atención.
Siempre que veo a alguien que hasta entonces era una persona anónima ganando fama instantánea y convirtiéndose en una celebridad con un "ascenso meteórico" (o en otras palabras: una especie de héroes / heroínas para un grupo específico de personas en cualquier parte del mundo) debido a su poca importancia. logros, noto cómo millones de personas todavía tienen un marco de referencia cada vez menos exigente para lo que es estar inspirado por otra persona.
Un ejemplo muy claro son los YouTubers que eligen nichos específicos que son fácilmente persuasivos para actuar, porque aparentemente es más fácil cautivar a un público joven que aún no tiene una referencia mundial más amplia, pero el público adulto también puede sufrir lo mismo. problema... Pero lo hacen eligiendo sus propias decisiones. Un ejemplo muy claro en esta segunda situación son los ganadores de reality shows sociales, como Big Brother.
Detente unos segundos y piensa: ¿Qué impacto tienen estos "héroes" y "heroínas" en tu vida? En resumen, siempre las veo como representaciones vacías sobre los anhelos de una sociedad que se pierde y, en su esencia, no tiene la referencia más inmersiva sobre lo que realmente es ser una representación de influencia en los aspectos de la colectividad. Hoy en día es muy fácil convertirse en una celebridad... ¿Pero para qué sirven realmente?
Entre tanta gente famosa que no aporta ningún tipo de valor positivo y útil (estas son las personas que tienen más peso y relevancia en el mundo que se deja llevar por estupideces), hay muchas personas que intentan con todo esfuerzo destacarse. por las razones correctas y no obtienen el estatus de "héroes" que se les da a quienes se supone que se inspiran en ellos. Esto me parece una inversión de valores de proporciones preocupantes.
---
Heróis vazios em uma sociedade carente de atenção.
Sempre que eu vejo alguém que até então era uma pessoa anônima ganhando uma fama instantânea e se tornando uma celebridade com "ascensão meteórica" (ou em outras palavras: uma espécie de herói / heroína para um grupo específico de pessoas em qualquer lugar do mundo) devido as suas conquistas sem importância, eu noto o quanto milhões de pessoas ainda tem um referencial cada vez menos exigente sobre o que é se inspirar em outro alguém.
Um exemplo muito claro são os YouTubers que escolhem nichos específicos de fácil persuasão para agir, porque é aparentemente mais fácil cativar um público jovem e que ainda não tem um referencial de mundo mais amplo, mas o público adulto também pode sofrer do mesmo mal... Só que eles fazem isso optando por escolhas próprias. Um exemplos bem claro nesta segunda situação são vencedores de reality shows de convivência, como Big Brother.
Parem por alguns segundos e pensem: Quais são os impactos que esses "heróis" e "heroínas" tem na sua vida? Em síntese, eu sempre os vejo como representações vazias sobre os anseios de uma sociedade que está perdida e em sua essência, não tem o referencial mais imersivo sobre o que realmente é ser uma representação de influência nos aspectos de coletividade. Hoje é muito fácil ser tornar uma celebridade... Mas para que elas realmente servem?
No meio de tanta gente famosa que não agrega nenhum tipo de valor positivo e útil (essas são as pessoas que tem mais peso e relevância dentro do mundo que é movido a coisas estúpidas), estão muitas pessoas que tentam com todo emprenho se destacarem pelos motivos corretos e não conseguem o status de "heróis" que é dado por quem supostamente deveria se inspirar neles. Isso me soa com uma inversão de valores de proporções preocupantes.
---
Posted via proofofbrain.io
---
---