Hit or miss - Illumination edition
Hello movie lovers.
Currently everyone and their mother are talking and acting upon the latest Leofinance trend then there's me eating lots of popcorn and watching cartoons.
Am I unapologetic about it? Well I proudly am.
Anyway I just concluded seeing the latest Minion movie - "The rise of Gru" and this is my honest take on it.

First off, to sum it up the movie basically entails the minions and their mini villain boss Gru. It may sound super boring writing it this way but i tell you it was the total opposite!
Here are four green flags I absolutely loved about the movie after watching.
The Plot.
Like I mentioned earlier, the movie is all about the minions and their mini boss Gru added with their problematic choices.
A storyline that was meant to be simple and straight to the point turned out to be complex and difficult, well the minions are involved so I did not expect any thing less.
They always happen to cause havoc, mostly unexpectedly but you can never get mad at their charming little self.
The story line just made sense with a gripping plot twist, Gru was to impress his favorite villain team but ended up being in a life threatening fight with them.
Thanks to his minions of course for their usual wreak of havoc that cost him a battle with his mentors but eventually it turned out to be a blessing in disguise as he managed to acquire friendship with a better villain.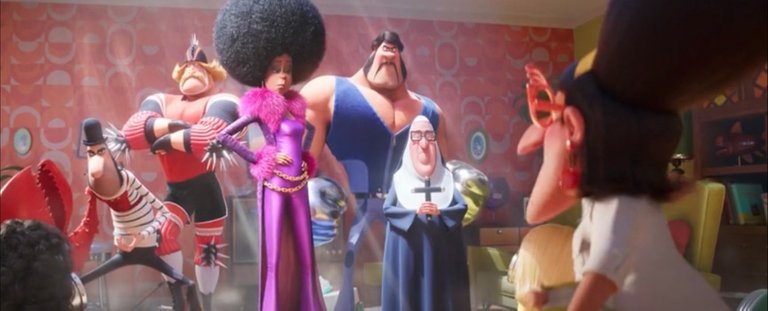 The voice over.
Something about their accent and the tone of their voice was definitely a highlight of this movie.
How is it possible that I could barely understand a word they said but I enjoyed listening to them talk.
At the beginning, I noticed a Spanish accent but a few minutes in they switched to Italian then at another point it was the mixture of both with a little bit of gibberish English.
I don't know what the writers had but the creativity in this movie is off the roof.
The voice actor(s) of the minions definitely killed it, I'm unsure of how it works or if it's natural or computer formed but the tone, accent and speed of the voice was just too good.
The comedy.
Never have I seen a family animation comedy that has made me genuinely laugh.
I thought it was going to be a regular cartoon comedy but something about this movie made me giggle all through. In fact as soon as I finished this one I went ahead to re watch the first minion movie released in year 2015 and it still cracked me up.
A particular scene I deemed my favorite in this movie was where the minions went to learn Kung fu skills to aid them save their mini boss. My gosh did that scene make me laugh!
The Kung fu movement with their tiny legs and pea indestructible bodies was just too hilarious, the kicks, flips and their silly looking facial expressions with their miniature body was so satisfying and fun to watch.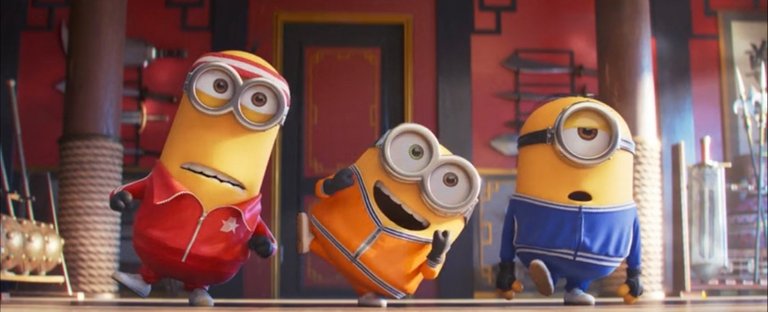 In order to avoid spoilers, I'll have to stop here.
In summary of it all, this movie is a big hit in my books. It is my most preferred animated movie of 2022 as it was so pleasing, very comical and 100% worth my while
Asides adult cartoon sitcoms, I think this is the first animated movie I've written a satisfactory review on. Again, so worth it.
If I could I would rewatch this movie again and again, oh wait I sure can!
A 9.5 out of 10 star rating, I highly recommend.
Have you already seen this movie? What are your thoughts?
all images are screenshot while watching unless sourced otherwise.
---
---