Backlight nature in photographs [ENG/ESP]
It has been a while since I posted in this great community, but I never cease to be interested and amazed by our beautiful nature, which is present in every corner no matter where we are, in the cities or in an ecosystem where nature predominates, and in this case I present 5 photographs, under a different perspective of capturing the natural elements, as in this case nature in the city.
As well as this first photograph, where I took advantage of the location of the sun to capture the backlight, it is my intention for these photographs to capture the silhouettes of these natural figures, as is the case of these palm trees centered in the photographic frame, to highlight much more their figure, which for me is a beautiful postcard, by the contrast that is captured in the figure by the same backlight.
Tenía tiempo que no publicaba en esta grandiosa comunidad, pero nunca dejo de tener interés y asombro por nuestra hermosa naturaleza, que hace presente en cada rincón sin importar donde estemos, en las ciudades o en un ecosistema donde predomine la naturaleza, y para este caso presento 5 fotografías, bajo una perspectiva diferente de captar los elementos naturales, como en este caso la naturaleza en la ciudad.
Así como esta primera fotografía, donde aproveche la ubicación del sol para capturar el contraluz, es mi intención para estas fotografías captar las siluetas de estas figuras naturales, tal como es el caso de estas palmeras centrados en el encuadre fotográfico, para resaltar mucho más su figura, que para mí es un postal hermoso, por ese contraste que se capta en la figura por el mismo contraluz.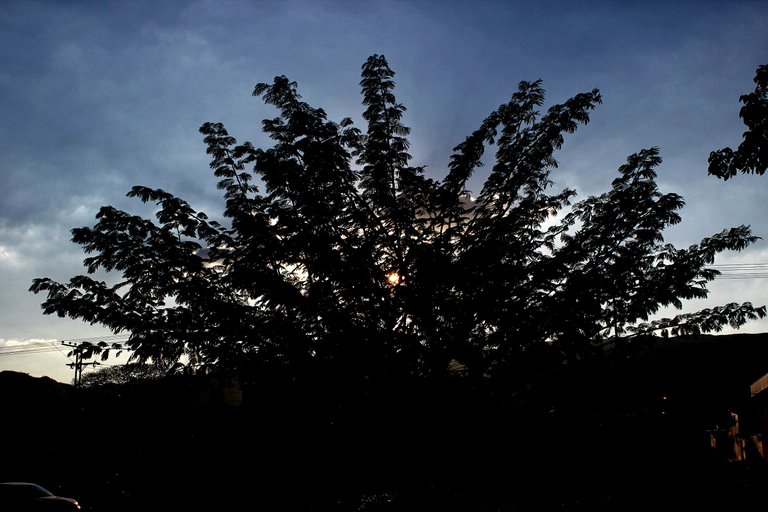 With the same backlit technique, I captured this image of a lush bush, which I wanted to counteract with the background of the sky, with that blue tone and a little twilight, because of the time of day in full sunset. In this way the figure of the bush stands out in the foreground, creating a shadow or figure of its subtle silhouette.
As I mentioned the background, we can appreciate the difference between the tonalities between the bush with a darker tone, the sky between lighter shades of white, blue and the faint yellow by the soft rays of the sun's glow during the sunset.
Con la misma técnica en contraluz, capté esta imagen de un arbusto frondoso, que lo quise contrarrestar con el fondo del cielo, con ese tono azul y un poco crepuscular, por la hora del día en pleno ocaso. De esta manera se resalta en primer plano la figura del arbusto, creando así una sombra o figura de su sutil silueta.
Aparte como mencionaba el fondo, se aprecia la diferencia entre las tonalidades entre el arbusto con tono más oscuro, el cielo entre unas tonalidades mas claras entre blanco, azul y el tenue amarillo por los suaves rayos del resplandor del sol durante el atardecer.
Just like the first cover photograph, I composed this photograph with a close-up shot, where we can appreciate this series of palm trees, which are not the same palm trees of the first photograph, since it was taken in different locations, and of course taking advantage of the location of the sun, to capture the backlight of this image.
In addition to the above, the image also highlights the contrast of the palm trees in the foreground and background, but without losing importance, the striking shapes of the clouds, with a very beautiful appearance that denotes their formations in the sky.
Al igual que la primera fotografía de portada, esta fotografía la compuse con plano conjunto, donde apreciamos esta serie de palmeras, que no son las mismas palmeras de la primera fotografía, ya que fue en locaciones diferentes, y por supuesto aprovechando la ubicación del sol, para captar el contraluz de esta imagen.
Ademas de lo dicho anteriormente, también en la imagen se destaca el contraste de las palmeras en primer plano y un segundo plano pero sin perder importancia, lo llamativo de las formas de las nubes, con un aspecto muy hermoso que denota sus formaciones en el cielo.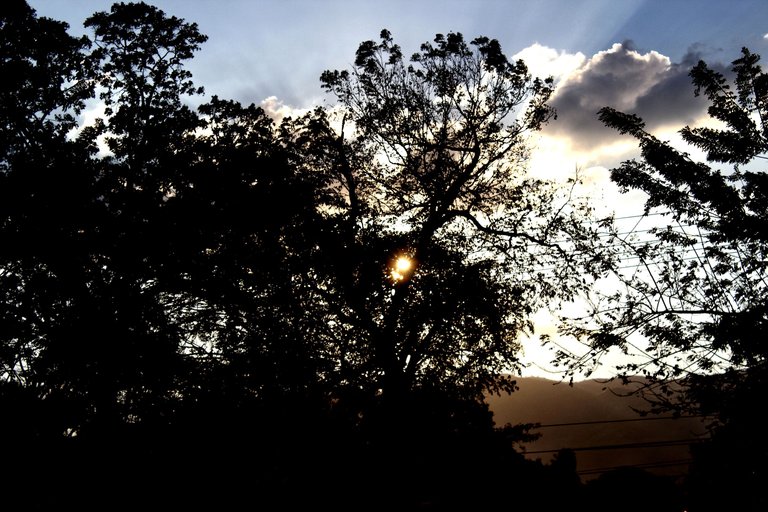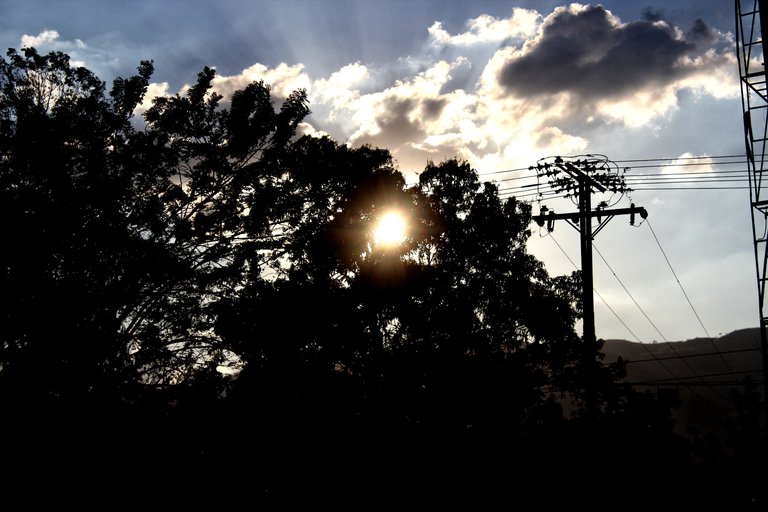 And finally, I show these two photographs, with the same objective of the backlight, but I also wanted to highlight the presence of the sun, so we see in the two photographs, that small entry in the photographic frame, where the sun is present, as if it were a small light, like a firmament that is part of this image.
Therefore, this was the objective in making this type of photographs, where I included the natural element between trees, palm trees and bush, with a different perspective with respect to the lighting, creating that aspect of backlight, in order to highlight the silhouettes of these natural elements, which personally are images that I like very much, for its more minimalist and simple aspect, but at the same time very beautiful and striking.
All photographs are my own and were taken with a Canon T3i camera.
Y por último, muestro estas dos fotografías, con el mismo objetivo del contraluz, pero también quise resaltar la presencia de sol, por lo que vemos en las dos fotografías, esa pequeña entrada en el encuadre fotográfico, donde el sol se hace presente, como si fuese una pequeña luz, como un firmamento que forma parte de esta imagen.
Por consiguiente, este era el objetivo en hacer este tipo de fotografías, donde incluí el elemento batural entre árboles, palmeras y arbusto, con una perspectiva diferente con respecto a la iluminación, creando ese aspecto del contraluz, para así resaltar las siluetas de esos elementos naturales, que personalmente son imágenes que me gustan mucho, por su aspecto más minimalista y sencillo, pero a su vez muy hermoso y llamativo.
Todas las fotografías son de mí autoría y fueron tomadas con una cámara fotográfica Canon T3i.

---
---