Realicemos estiramientos antes de ejercitarnos.💕 Let's stretch before exercising.

Hola amigos de #HIVE
Hello hive community💕
---
Un saludo muy cordial y lleno de amor a la comunidad de @fulldeportes, el día de hoy me dedique a realizar unos estiramientos antes de mi rutina de ejercicios, así que hoy vamos activarnos de esta hermosa y linda comunidad 🏋️
A very cordial and full of love greeting to the community of @fulldeportes, today I dedicated myself to do some stretching before my workout routine, so today let's get active of this beautiful and nice community 🏋️
---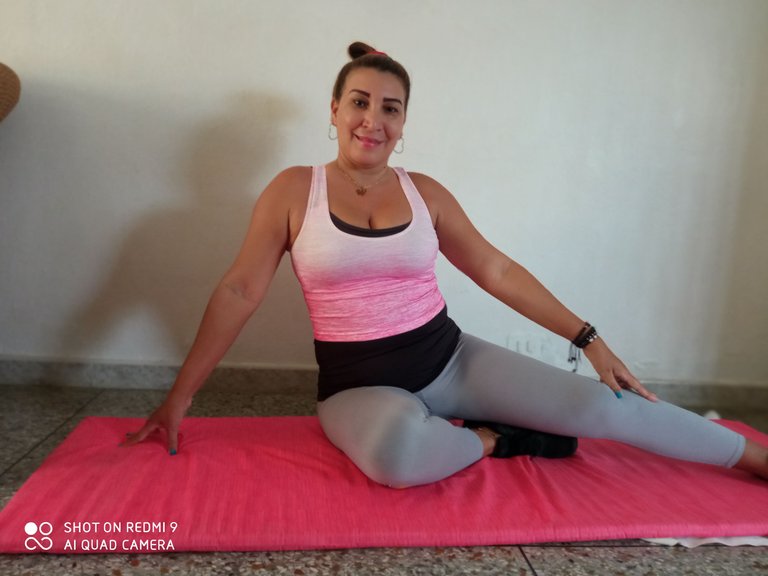 Estirar es uno de los ejercicios más importantes tanto antes como después de practicar deporte. porque mejora la circulación, favorecen el oxígenos de los músculos y articulaciones y también combate el stress que podamos acumular, lo que también reduce el dolor muscular después del entrenamiento.
Stretching is one of the most important exercises both before and after practicing sports, because it improves circulation, favors the oxygenation of muscles and joints and also combats the stress that we can accumulate, which also reduces muscle pain after training.

Estos ejercicios 🏋🏾‍♀️🏋🏾‍♀️🏋🏾‍♀️ en realidad lo podemos realizar en un lapso de 30 🕑🕑 desde la comodidad de nuestro hogar🏠🏠🏠
Ejercicios de estiramientos, cuello, espalda, brazos y piernas:
1- Estiramiento sentada: Me senté en el suelo con las piernas cruzadas o con los pies apoyados en el suelo, alarga el brazo derecho al lado de la rodilla derecha. Seguidamente coloque la mano izquierda en la parte superior de la cabeza y lentamente incline la cabeza hacia la izquierda aplicando un poco de presión para aumentar el estiramiento, durante 30 segundo de cada lado.
Seated Stretch: I sat on the floor with my legs crossed or with my feet flat on the floor, lengthen my right arm next to my right knee. Next place the left hand on top of the head and slowly tilt the head to the left applying a little pressure to increase the stretch, for 30 seconds on each side.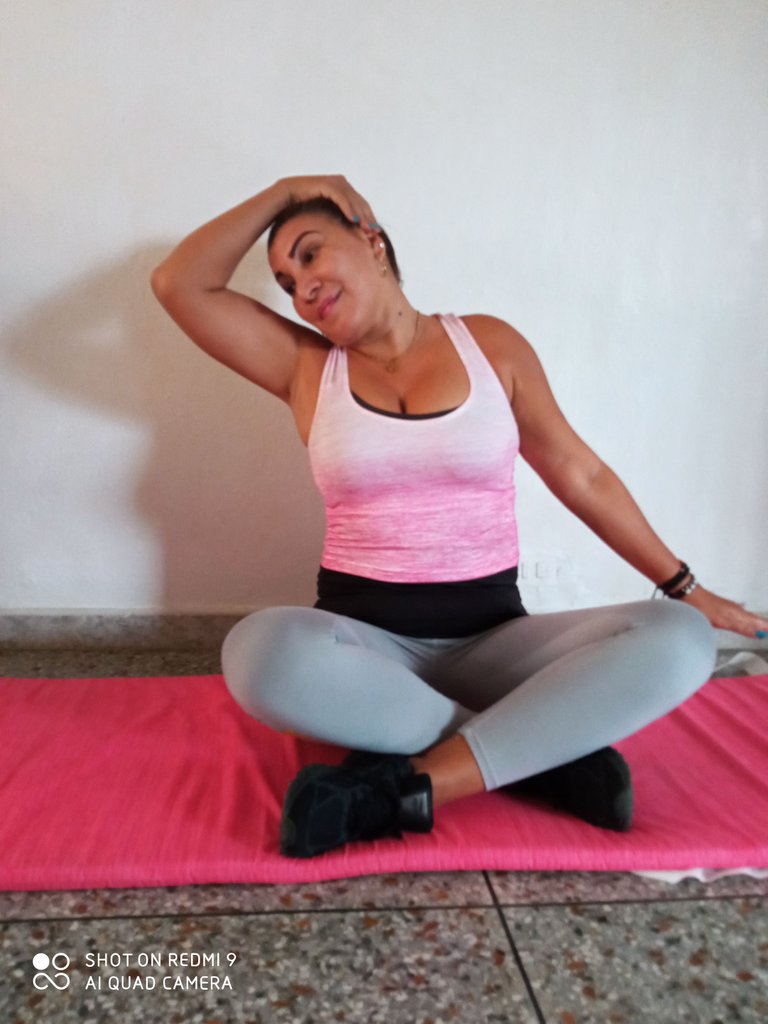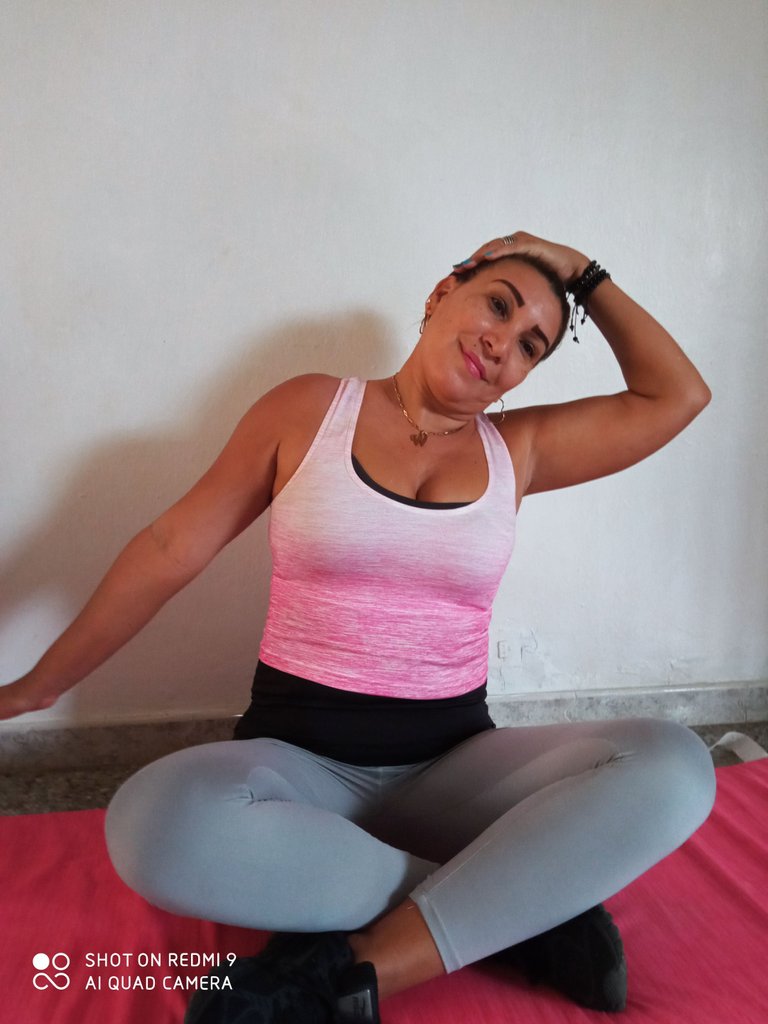 ---
2- Estiramiento hacia abajo: Seguí Sentada como en el ejercicio anterior y entrelaza ambas manos detrás de la cabeza. Con la espalda recta y las caderas firmes en el asiento, comienza a presionar suavemente las manos hacia abajo, metiendo la barbilla hacia el pecho y presionando poco a poco hacia abajo, durante al menos 30 segundos.
Downward Stretch: Continue sitting as in the previous exercise and interlock both hands behind your head. With your back straight and your hips firmly in the seat, begin to gently press your hands downward, tucking your chin toward your chest. and gradually pressing downward, for at least 30 seconds.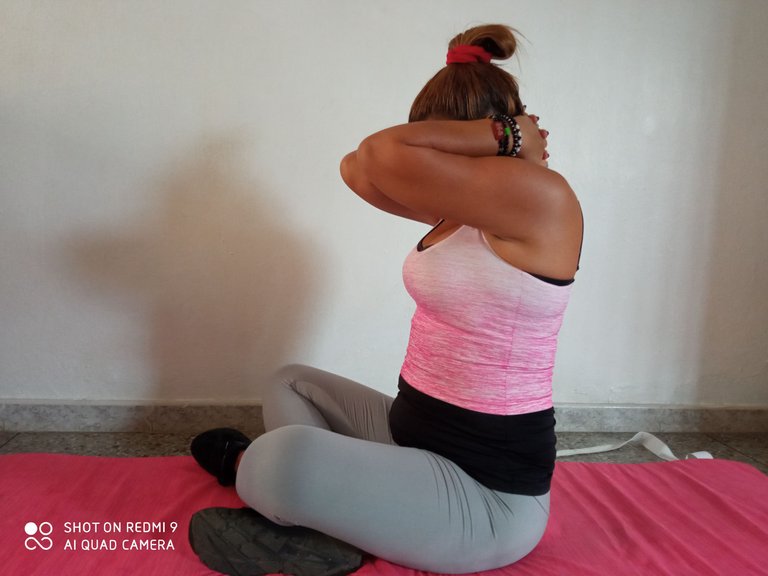 3- Pecho abierto: me senté sobre tus talones inclinándome hacia atrás y apoyándome sobre las manos. Luego presiona el suelo con las manos para levantar el pecho, arquear la espalda. Para intensificar el estiramiento baja la cabeza para atrás, manteniendo por 30 segundos, luego levanta la cabeza y el torso.
Open chest: I sat on your heels leaning back and leaning on my hands. Then press the floor with your hands to lift your chest, arching your back. To intensify the stretch lower your head back, holding for 30 seconds, then lift your head and torso.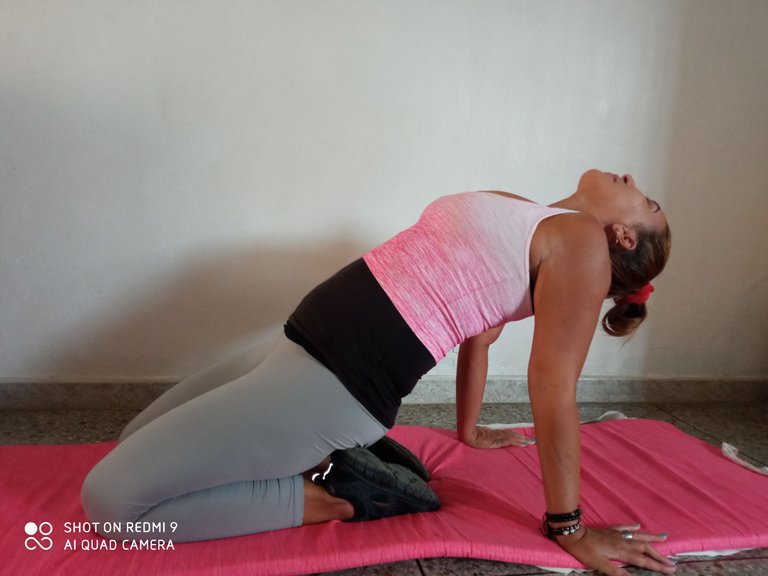 ---
4- Estiramiento por detrás de la espalda: Ahora me puse de pie y con los pies a la distancia de la cadera, relaja los brazos a los costados. Pasa tus manos hacia atrás y toma las muñecas por detrás de la espalda. Con la mano derecha para enderezar suavemente el brazo izquierdo y tira un poco de ella hacia afuera, durante 30 segundos.
4- Stretch behind the back: Now stand up and with your feet hip distance apart, relax your arms at your sides. Reach your hands back and take your wrists behind your back. With the right hand to gently straighten the left arm and pull it a little outward, for 30 seconds.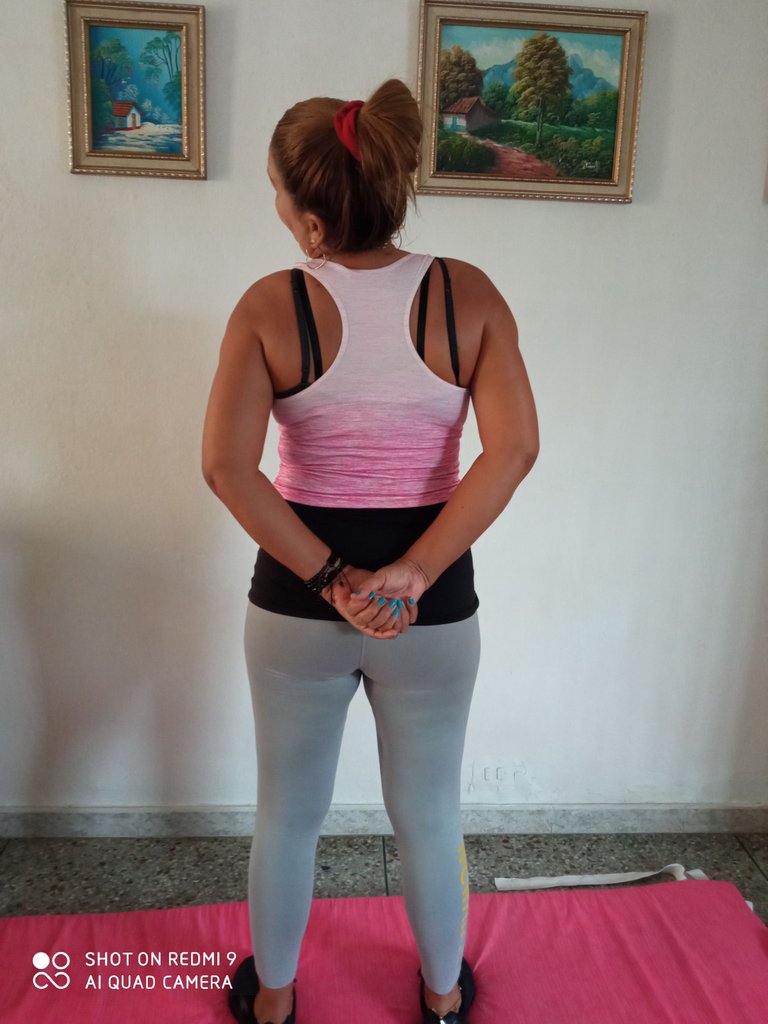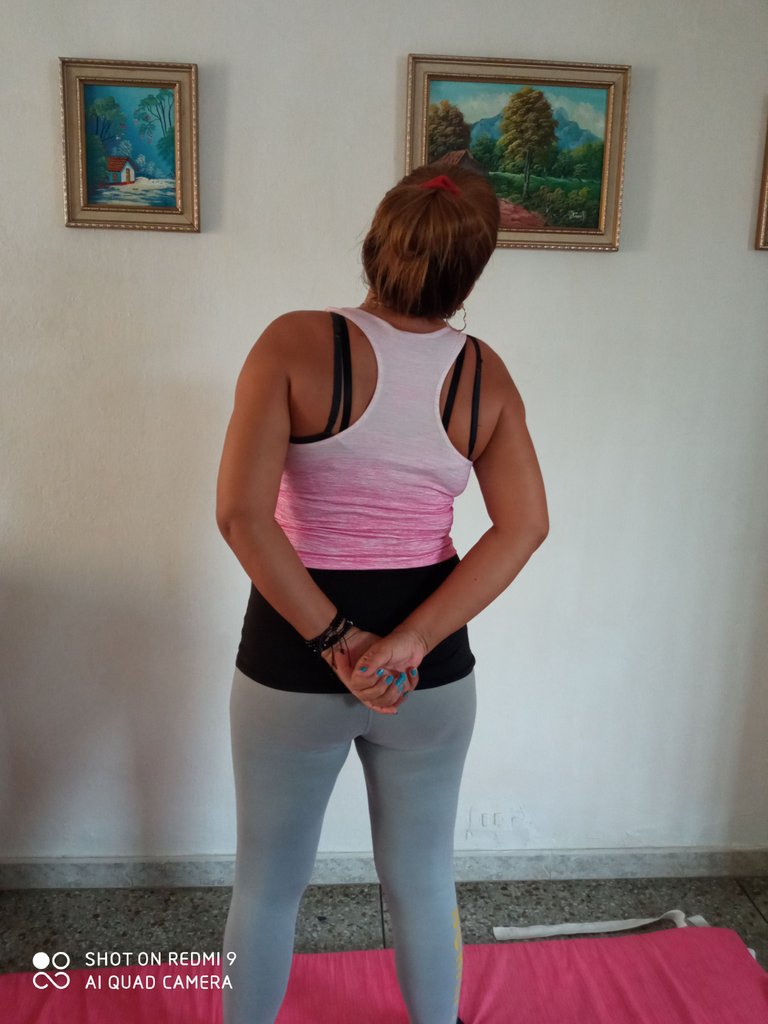 ---
5.-Estiramiento de pierna y espalda : Me senté y con una pierna estirada hacia delante y la otra recogida hacia atrás, con la espalda estirada hacia arriba y ahora estire el brazo hasta tocar la punta del pie que tienes estirado. Intenta tirar el pie hacia ti, baje lo más que puede hasta donde te sientas cómoda.
5.- Leg and back stretch : I sat down and with one leg stretched forward and the other pulled back, with the back stretched upwards and now stretch the arm until it touches the tip of the foot you have stretched. Try to pull the foot towards you, lower as low as you can to where you feel comfortable.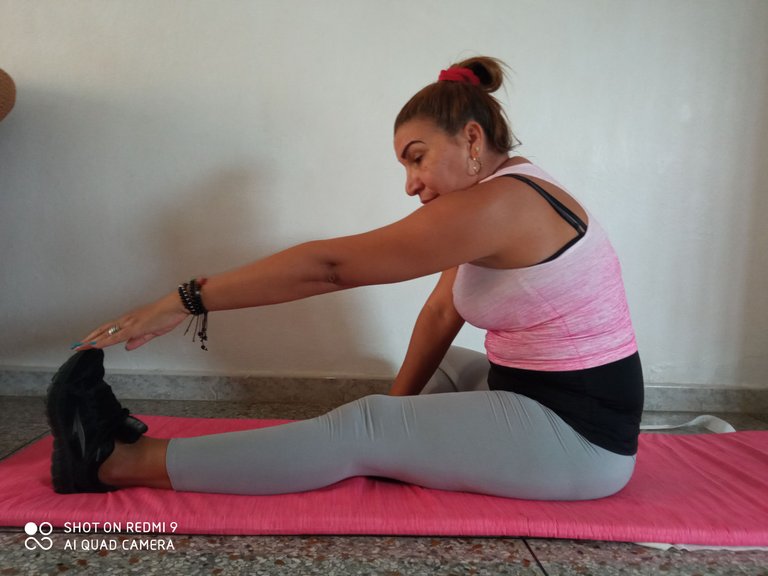 ---
6-Pose del niño: Me coloque de rodillas e incliné hacia adelante hasta apoyar las manos con la misma separación que tienen tus hombros. Arquea la espalda y lentamente lleva tus caderas hacia atrás hasta apoyar los glúteos sobre los talones.
6-Child's Pose: I got down on my knees and leaned forward to rest my hands the same distance apart as your shoulders. Arch your back and slowly bring your hips back to rest your buttocks on your heels.
---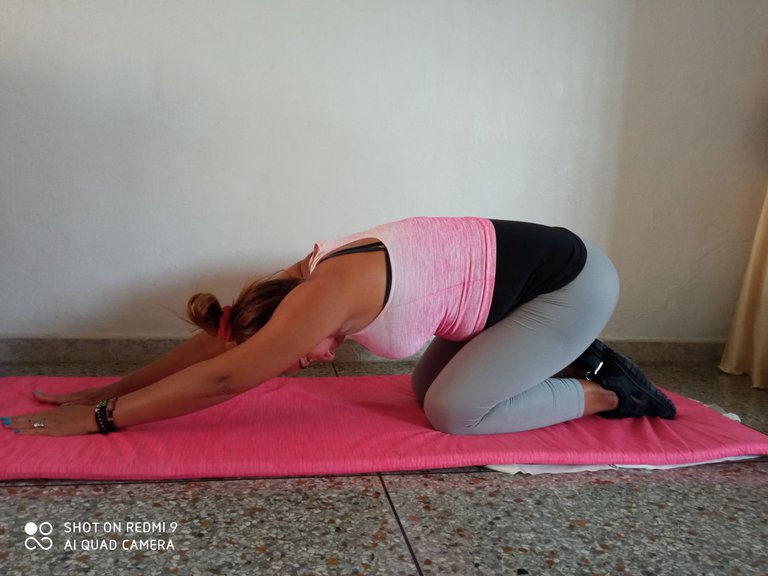 7-Media luna: Me senté con una pierna estirada hacia un lado y la otra en dirección a tu ingle, con la espalda debe estar correctamente erguida. Me Estire lateralmente moviendo el brazo opuesto a la pierna estirada hacia esa pierna, con el brazo debe ir por encima de la cabeza y el otro debe intentar tocar el tobillo.
7-Half Moon: I sat with one leg stretched out to the side and the other in the direction of your groin, with the back should be properly erect. I Stretch laterally moving the arm opposite to the straight leg towards that leg, with the arm should go above the headand the other should try to touch the ankle.
---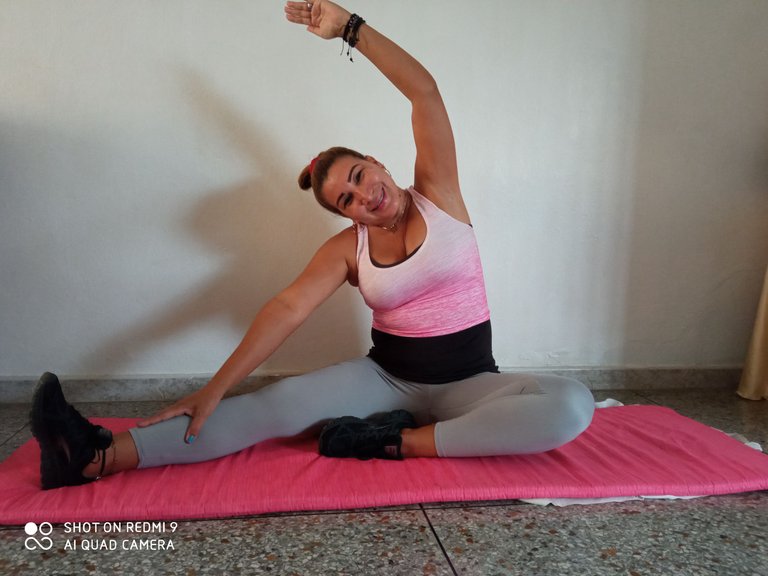 8- Postura de la cobra: Me acosté boca abajo y presione las palmas contra el suelo a la altura de los hombros. Usa los músculos de tu espalda para elevar la cabeza y el torso superior, luego usa los brazos. Estire los brazos, arquea la sección torácica de tu columna vertebral, mirando.
8- Cobra pose: I lay on my stomach and press my palms against the floor at shoulder level. Use your back muscles to lift your head and upper torso, then use your arms. Stretch your arms out, arch the thoracic section of your spine, looking.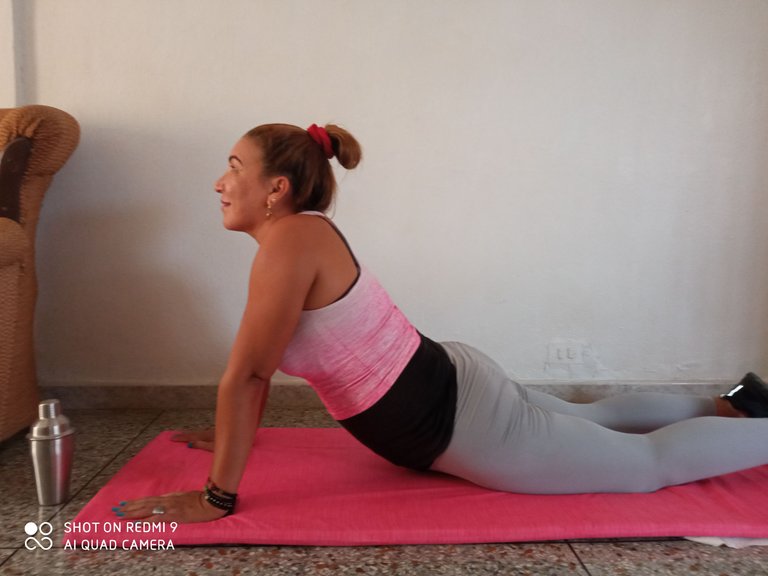 ---
9-Estiramiento lateral del hombro: Estire el brazo atravesando el cuerpo e hice una ligera presión sobre él para aumentar el estiramiento del músculo. Repite el ejercicio con el otro brazo.
9-Lateral shoulder stretch: Stretch the arm across the body and put light pressure on it to increase the stretch of the muscle. Repeat the exercise with the other arm.
---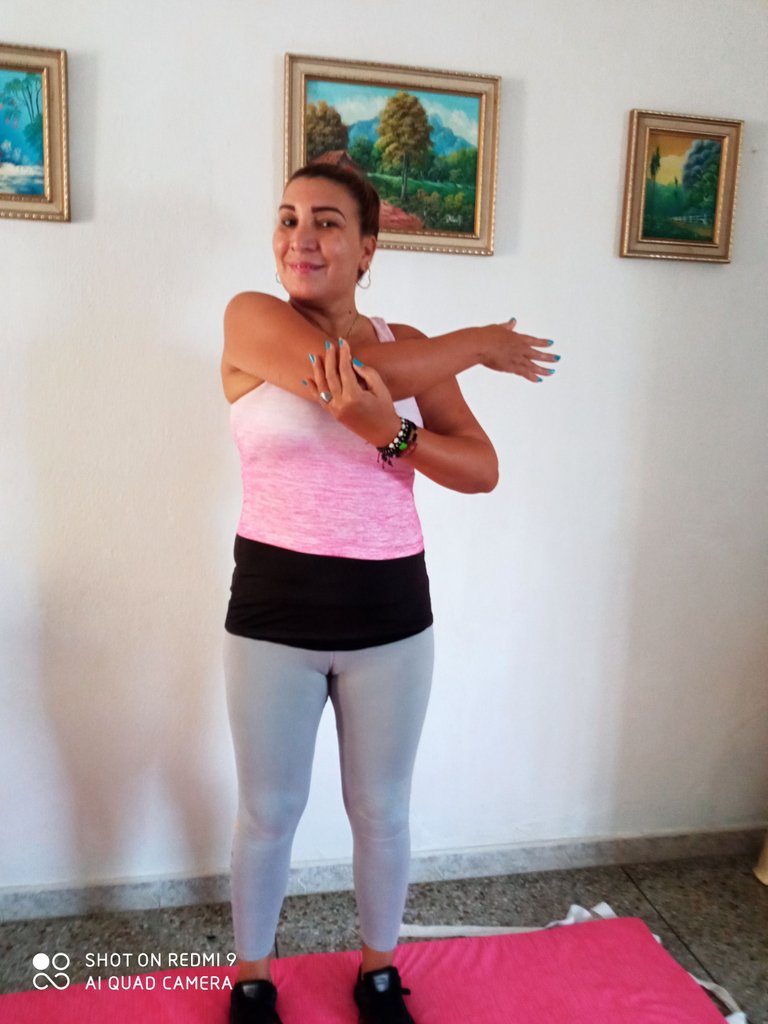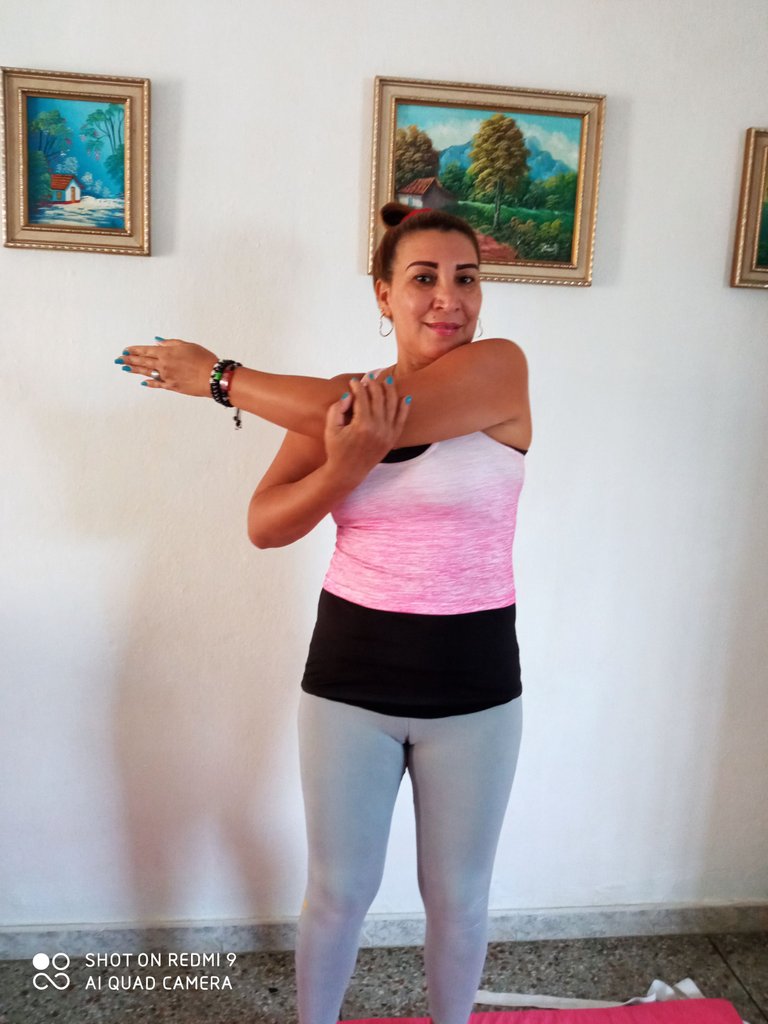 ---
10-Estirar piernas: Me coloque de pie con las piernas totalmente estiradas lleve una pierna hacia el glúteo con la ayuda de las manos para lograr que el talón toque el glúteo.
10-Stretch legs: I stand with my legs fully stretched and bring one leg towards the buttock with the help of my hands so that the heel touches the buttock.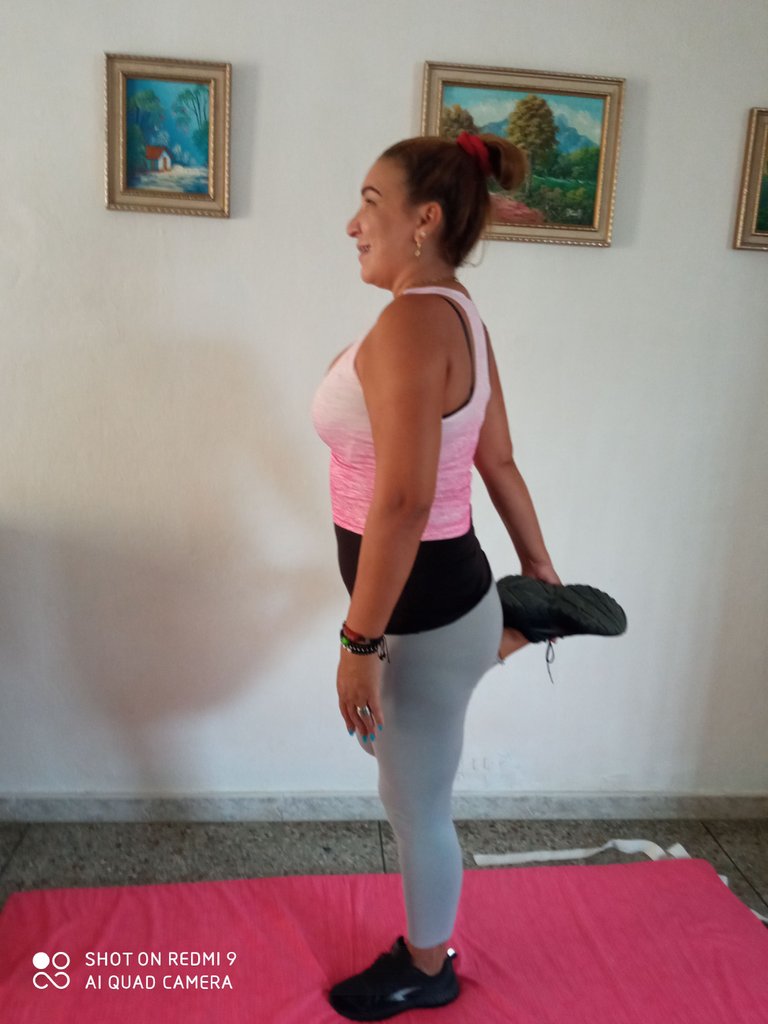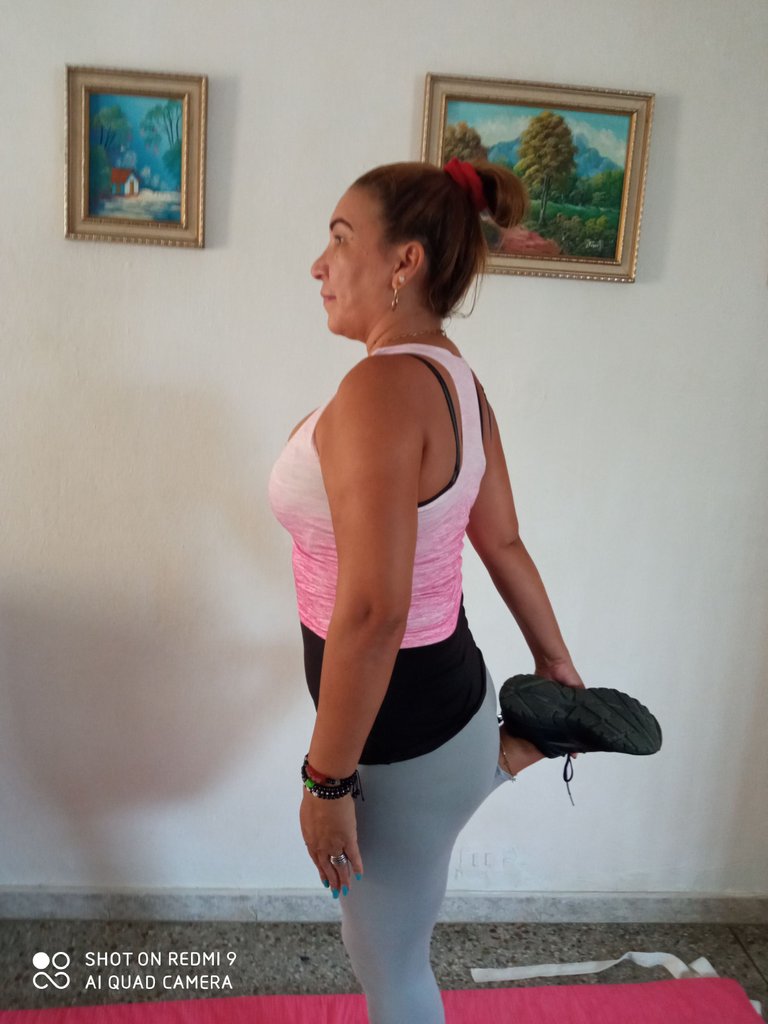 ---
Será hasta una nueva oportunidad donde traiga mis rutinas de ejercicios, las cuales me hacen sentir saludables, y llena de energías positivas, recuerden si al deporte no al sedentarismo.
It will be until a new opportunity where I bring my exercise routines, which make me feel healthy, and full of positive energy, remember yes to sport not sedentary.

Todas las fotos son de mi propiedad y fueron tomadas con mi teléfono celular Xiaomi redmi9.
---
---
---