[ESP/ENG] ✨ Story time// Preparing hallacas with my family✨

✨ Storytime ✨...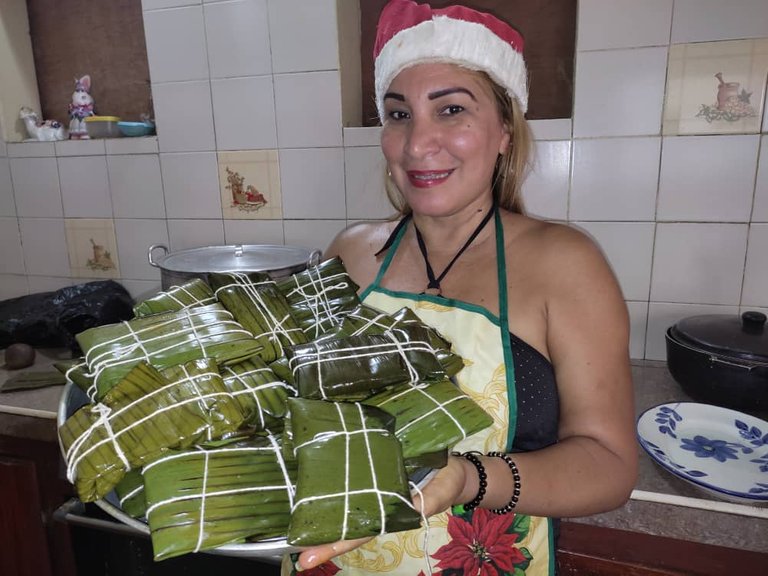 " Día de almuerzo delicioso hallacas ". Cumaná,Sucre,Venezuela
Hoy es domingo, inicie mi día temprano, ya que tenía un compartir familiar para preparar hallacas con mis hermanas
@daysiselena
,
@theresa16
y mi sobrina
@lucianav
, para nuestro almuerzo, abriendo la navidad, ya que es el plato típico de mi país en esa época, me aliste y desayuné.
Today is Sunday, I started my day early, as I had a family sharing to prepare hallacas with my sisters @daysiselena, @theresa16 and my niece @lucianav, for our lunch, opening Christmas, as it is the typical dish of my country at that time, I got ready and had breakfast.
---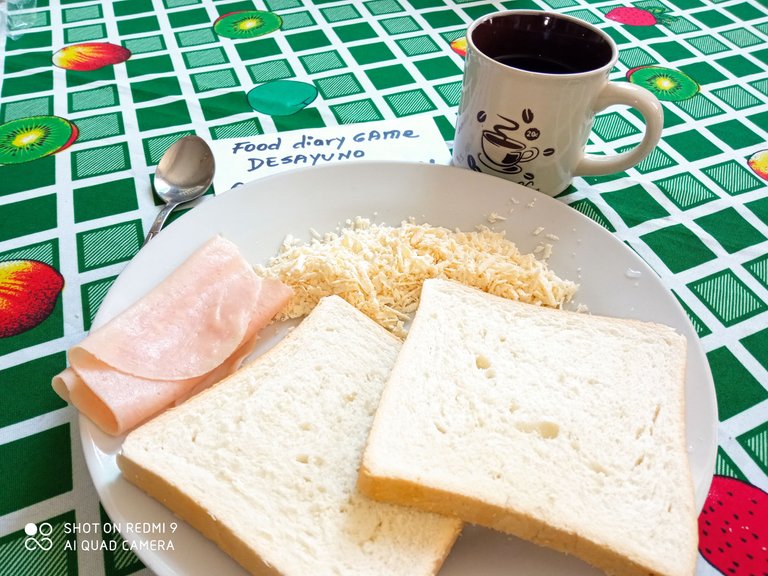 Desayuno "Pan con queso requesón y jamón con café" por @wendyth16, Cumaná,Sucre,Venezuela
---
A las 10 de la mañana mis hermanas me estaban esperando para la preparación de las hallacas, el día anterior habíamos guisado la carne y empezamos a prepara los demás ingredientes, para las hallacas necesitamos carne de res y de cerdo guisada, harina de pan, hojas de plátano, hilo pabilo y para el relleno huevos sancochados, pimentón rojo en juliana, cebollas finamente picadas, pasas uvas, aceitunas, aceite de onoto y ya esta todo listo para empezar la preparación.
At 10 o'clock in the morning my sisters were waiting for me to prepare the hallacas, the day before we had stewed the meat and started to prepare the other ingredients, for the hallacas we need stewed beef and pork, bread flour, banana leaves, wicker twine and for the filling boiled eggs, red pepper in julienne, finely chopped onions, raisins, olives, onoto oil and everything is ready to start the preparation.
---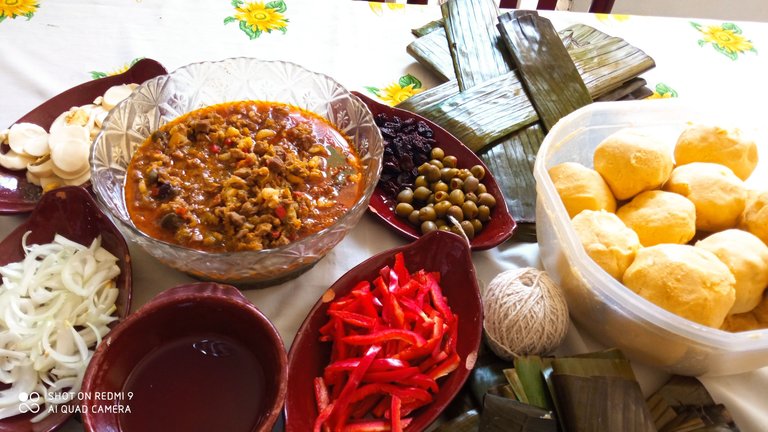 Ingredientes para las hallacas, por @wendyth16, Cumaná,Sucre,Venezuela

---
Las hallacas son deliciosas y es el plato típico de mi país que engalanan las mesa del venezolano, me encanta su preparación que no es nada fácil, porque requiere de un proceso, ya que lleva muchos ingredientes, cada uno de los integrantes d e mi familia tiene su función, y es lo que hace de especial este plato culinario, ya que refleja la unión y compartir familiar.
The hallacas are delicious and is the typical dish of my country that adorn the table of the Venezuelan, I love its preparation is not easy, because it requires a process, as it takes many ingredients, each of the members of my family has its role, and that is what makes this culinary dish special, as it reflects the union and family sharing.
---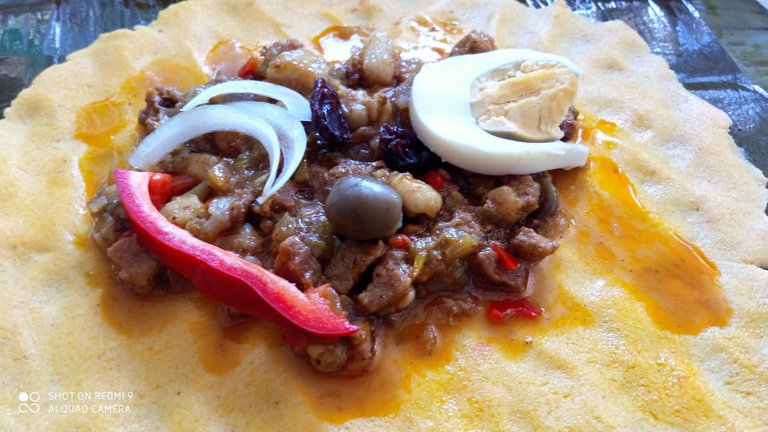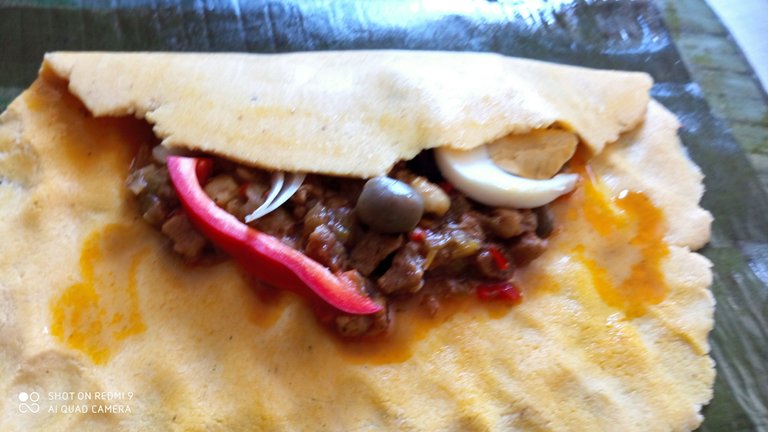 ---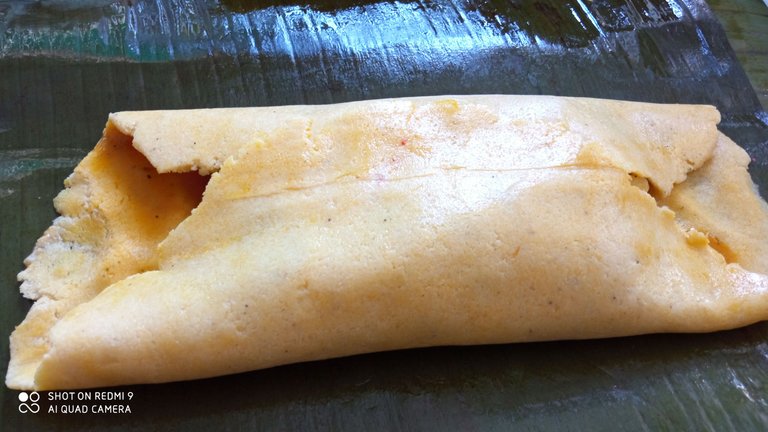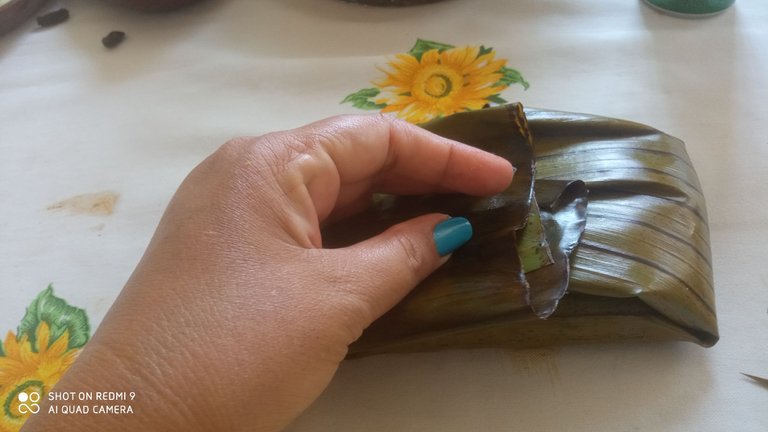 ---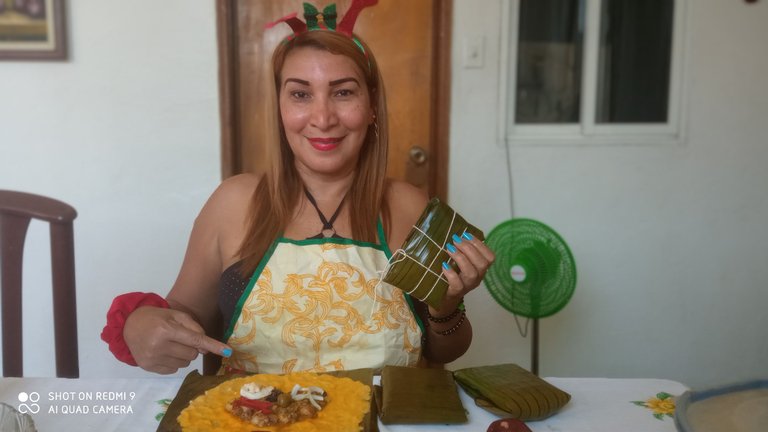 Preparando las hallacas, foto por @wendyth16 Cumaná,Sucre,Venezuela</sub
---
Para su preparación primero se coloca una bola de masa, en la hoja de plátano previamente cubierta de aceite de onoto, luego se aplasta y se le va agregando los ingredientes como la carne, la cebolla, pimentón, aceituna, pasas y huevo, luego se envuelve en la hoja y se amarra con el hilo pabilo. Finalmente en una olla con agua caliente se ponen a sancochar por media hora.
To prepare it, first place a ball of dough on a banana leaf previously covered with onoto oil, then flatten it and add the ingredients such as meat, onion, paprika, olives, raisins and egg, then wrap it in the leaf and tie it with a string. Finally, in a pot with hot water they are boiled for half an hour.
---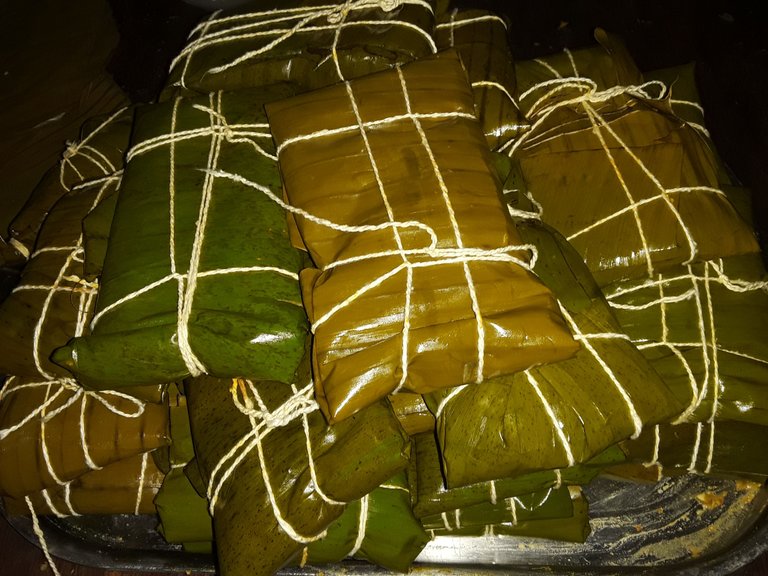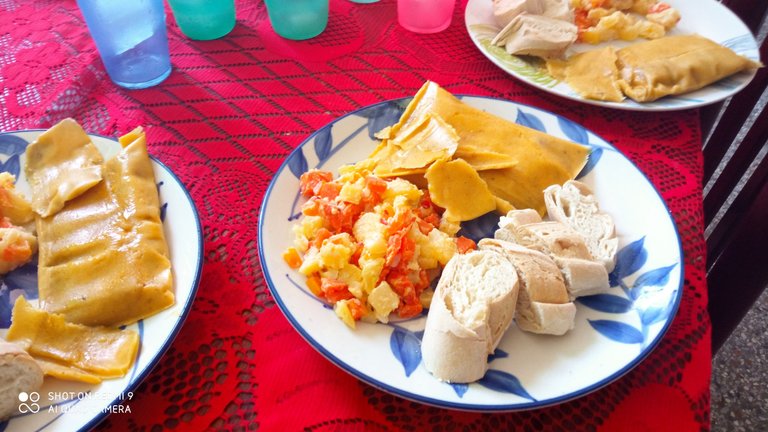 ---
Con mis hallacas, foto por @wendyth16 , octubre 2021, Cumana,Sucre,Venezuela
---
Ahora a disfrutar en familia esta rica comidas como son las hallacas, la acompañamos con ensalada y pan, luego hicimos un brindis.
Now to enjoy with the family this delicious food such as hallacas, we accompanied it with salad and bread, then we made a toast.
---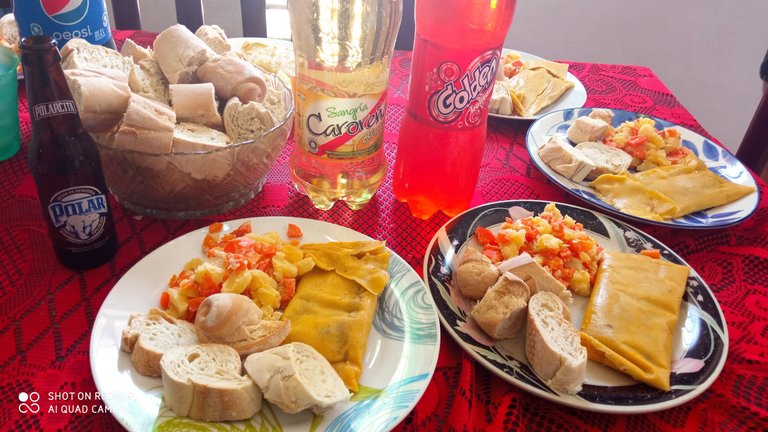 ---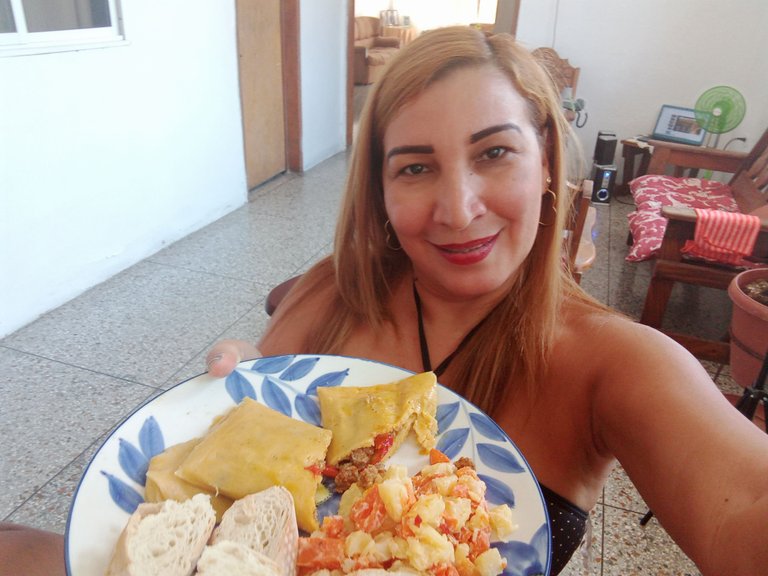 ---
Una vez listas se sirven y se acompañan con pan y ensaladas, en otra ocasión, también con el famoso pernil. A la 1.00 servimos los platos para nuestro disfrutamos de las hallacas en unión familiar.
Once they are ready, they are served and accompanied with bread and salads, on another occasion, also with the famous pernil. At 1:00 a.m. we serve the dishes for our family to enjoy the hallacas.
---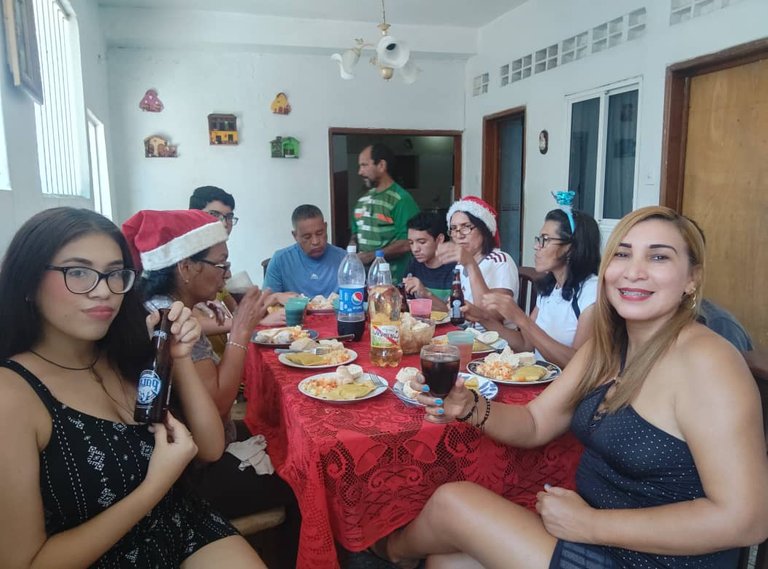 Disfrutando de las hallacas con mi familia, foto por @wendyth16 , 17 octubre 2021,
---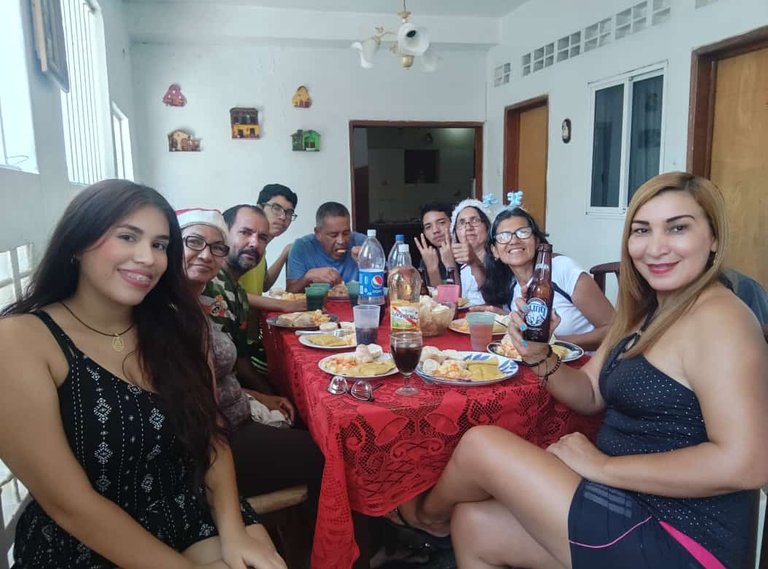 ---
Todas las fotos son de mi propiedad y fueron tomadas con mi teléfono celular Xiaomi redmi9.

---
---