6 gastronomic meals of my country part 2 💖 // 6 comidas gastronómica de mi país parte 2💖

💖 Hola amigos de #HIVE 💖
Hi friends of HIVE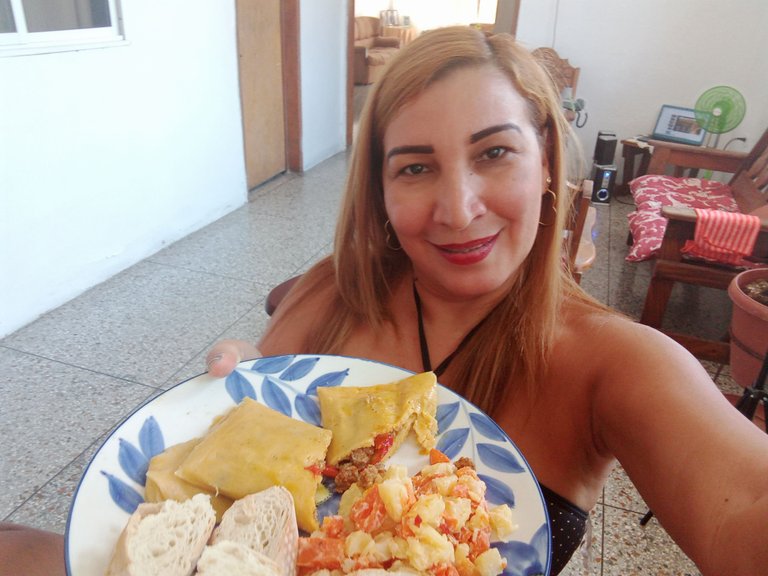 ---
Con mi Hallaca, foto de mi propiedad , octubre 2021, Cumaná,Sucre,Venezuela

---
Hoy entusiasmada en expresar seis comidas gastronómicas de mi país. Existen muchas comidas típicas que llaman nuestra atención ya sea por su sabor, ya que es colorida, gustosa, exótica y con mucha sazón, es realmente variada y deliciosa, así que ya me dio hambre con tanta comida de mi país que adoro consumir.
Son muchos los platillos que degustar, quizás se hace corto, pero estos son algunos de los mejores platos típicos de Venezuela.
Today I am excited to express six gastronomic meals of my country. There are many typical foods that call our attention either by their flavor, as it is colorful, tasty, exotic and with lots of seasoning, it is really varied and delicious, so I already got hungry with so much food from my country that I love to eat.
There are many dishes to taste, maybe it is short, but these are some of the best typical dishes of Venezuela.
---
Las hallacas
---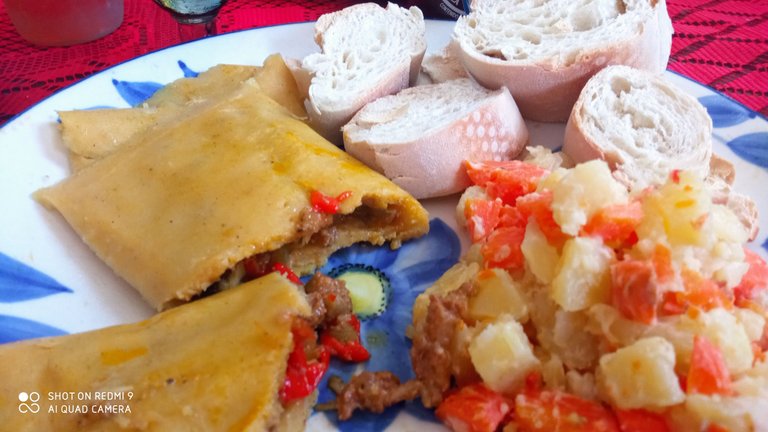 ---
Me encantan las hallacas, y todos los ingredientes que lleva. Esta obra maestra culinaria es el más tradicional de los platos que adornan las fiestas navideñas, acompañada de ensalada de pollo, pernil y pan de jamón. La hallaca es parte importante de la celebración, se intercambian, se regalan, se venden, por lo tanto en las fiestas navideñas para el venezolano no puede faltar la tan exquisita hallaca. En mi hogar la preparamos con mucho entusiasmo y cada uno ayudamos a en su preparación.
I love hallacas, and all the ingredients it contains. This culinary masterpiece is the most traditional of the dishes that adorn the Christmas holidays, accompanied by chicken salad, pork leg and ham bread. The hallaca is an important part of the celebration, it is exchanged, given as a gift, sold, therefore, during the Christmas holidays, Venezuelans cannot miss the exquisite hallaca. In my home we prepare it with great enthusiasm and each one of us helps in its preparation.
Las Empanadas
---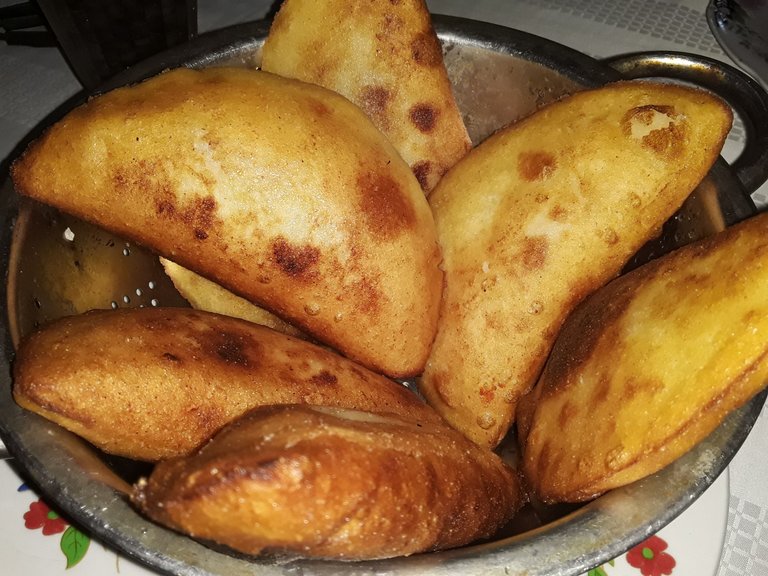 ---
Es una de las delicias de nuestra gastronomía a mí me encanta comer empanadas sea en el desayuno o cena, es a base de harina pana y rellena de pescado, carne, queso o pollo desmenuzado, se fríen y se comen calienticas, en mi cuidad hay muchas ventas artesanales de esta crujiente comida además al comerlas podemos echarle una crema o la famosa Guasacaca.
It is one of the delights of our gastronomy, I love to eat empanadas either for breakfast or dinner, it is made of flour and stuffed with fish, meat, cheese or shredded chicken, they are fried and eaten hot, in my city there are many artisan sales of this crunchy food and when we eat them we can add a cream or the famous Guasacaca.
Los tequeños
---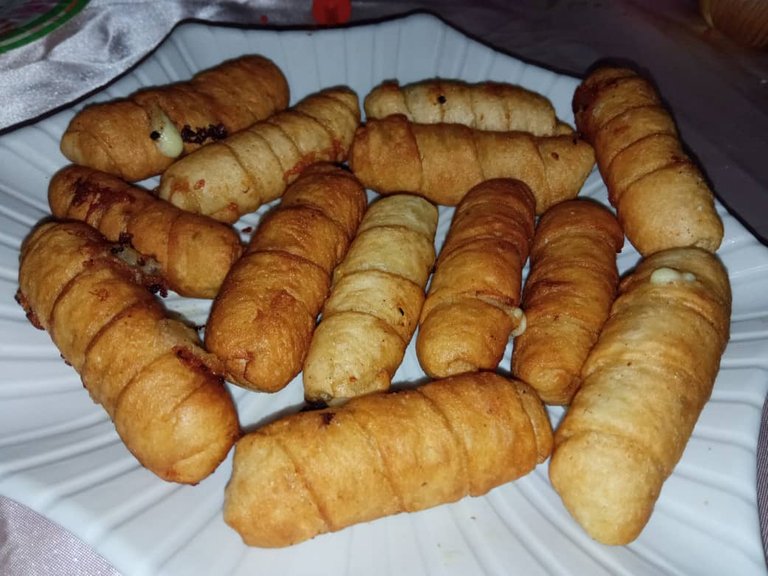 ---
Los tequeños son palitos de queso envueltos en una masa suave, que al freírlos son crujientes y sabrosos, además fáciles y rápidos de preparar. Son tan popular en mi país, que siempre esta presente en todas las celebraciones de mi país.
Tequeños are cheese sticks wrapped in a soft dough, which when fried are crunchy and tasty, as well as easy and quick to prepare. They are so popular in my country that they are always present in all the celebrations in my country.
---
Hervido de pescado
---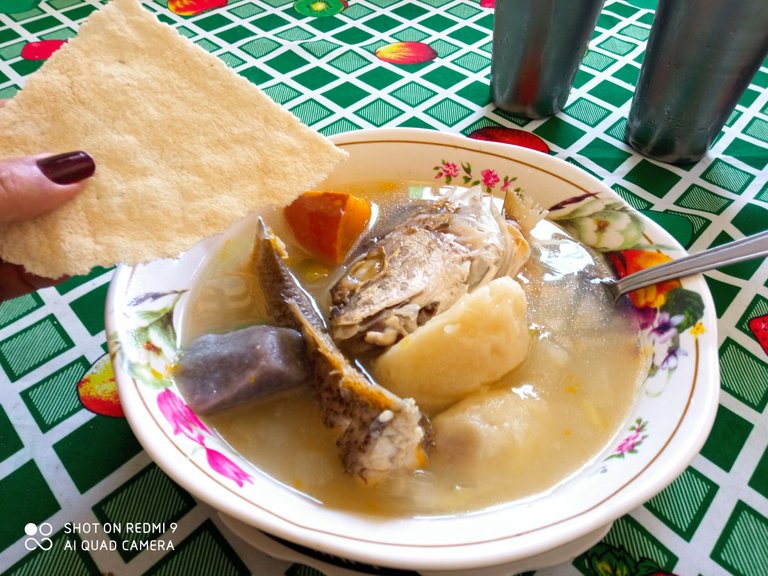 ---
Los hervidos es un caldo mezclado con verduras y pescado. Cabe resaltar que: Como buena Cumanesa, que me encanta el pescado! Cumaná es una zona costera ubicado en el estado Sucre- Venezuela en ella puedes encontrar una gran variedad de especies de pescados frescos, ya que es una región donde unas de sus actividades económicas es la pesca. Por lo tanto es muy común prepara este hervido y deleitarse con su sabor.
Hervidos is a broth mixed with vegetables and fish. It is worth noting that: As a good Cumanesa, I love fish! Cumaná is a coastal area located in the state of Sucre- Venezuela where you can find a great variety of fresh fish species, since it is a region where one of its economic activities is fishing. Therefore it is very common to prepare this boiled fish and enjoy its flavor.
---
Las mandocas
---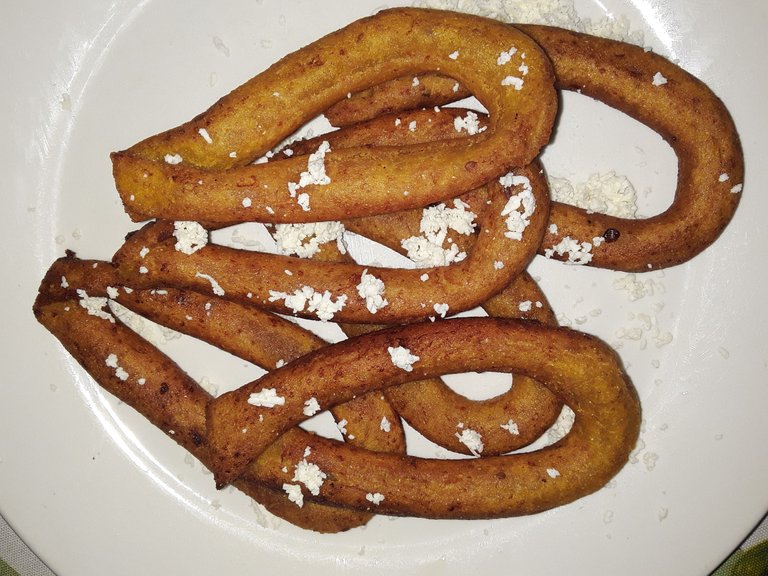 ---
Las Mandocas son una receta típica del Zulia, uno de los estados más poblados de Venezuela. Su textura es parecida a la de las empanadas venezolanas y puedes distinguirlas adonde vayas por la forma de pétalo o lágrima que se les da al cocinarlas. Se pueden consumir como desayuno, aperitivo o para picar a cualquier hora. También adoro comerlas en un desayuno.
Mandocas are a typical recipe from Zulia, one of the most populated states in Venezuela. Their texture is similar to that of Venezuelan empanadas and you can distinguish them wherever you go by the petal or teardrop shape they are given when cooked. They can be eaten for breakfast, as an appetizer or as a snack at any time. I also love to eat them for breakfast.
El pabellón criollo
---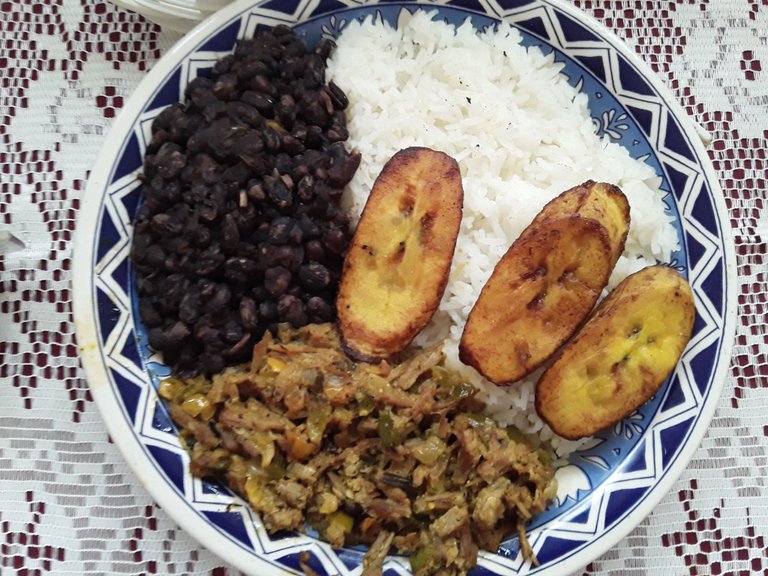 ---
Para culminar presento el plato emblemático de mi país, el pabellón criollo que nos representa esta compuesto de arroz blanco, carne mechada, caraotas y plátanos fritos, es un plato bien resuelto que destacando al máximo su color, aroma y sabor. Me encanta este plato en un almuerzo familiar.
To culminate I present the emblematic avocado of my country, the pabellón criollo that represents us is composed of white rice, shredded meat, beans and fried plantains, it is a well resolved dish that highlights its color, aroma and flavor to the maximum. I love this dish in a family lunch.
---

Todas las fotos son de mi propiedad y fueron tomadas con mi teléfono celular Xiaomi redmi9.
---

---
---