Rest In Peace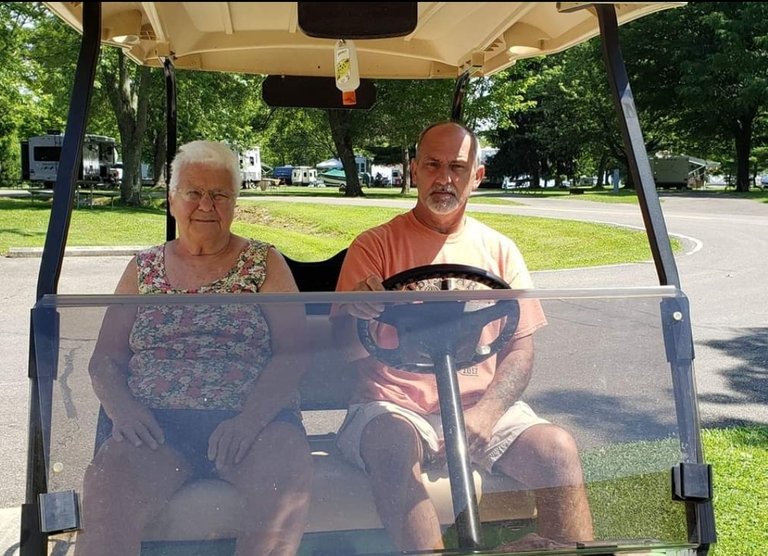 Aunt Faye and Cousin David from Facebook
I missed the funeral of my cousin, Connie, and my Aunt Faye last year. The Pandemic dug it's claws deep into the soil of humankind. The reaction of the powers-that-be further exacerbate the problems we all face. Stir in ever changing boundaries and slap the "science" label loosely on the new rules and watch as the world inhale, but not exhale. We perpetually hold our breath; for what, exactly?
Connie was my older cousin. I used to write letters to her back when it was fashionable and long distance phone calls cost a small fortune. She was a writer who shared her stories with me much like I share mine with you.
Aunt Faye organized the yearly family reunions. I used to stay weekends or even a whole week in the summer in the country with my cousins who lived next to Gramma and Grandpa. Grandpa and Gramma had horses. Aunt Faye owned a spider monkey that used to throw his poop out of his cage for spite.
Neither Connie or Aunt Faye died of covid19, but because of the pandemic they were denied visitors and died quietly. Close family only were allowed to attend the funerals.
These have been trying times. I miss the things once taken for granted regarding freedoms to make choices for oneself that once weren't even pondered over; because they were "givens."
I'm thankful that most of my family have come through, so far. I don't fear death and I'm not a stranger to grief, yet I refuse to fear it or cower in submission to others who feel it their place to make my choices to protect me. I refuse to be bullied to submission or guilted into compliance.
There are definitely things not worth dying for.
This is my five minute freewrite using prompt: funeral hosted by @mariannewest.
My Twitter handle is:
@wandrnrose7
Please find me there ❤
---
---