My Rising Star Progress : Reached My First 100K STARBITS 🎉+ Open 12 Packs + GIVEAWAYS Some Cards & 5000 STARBITS 🎁 🎊 (+ HIVE From This Post Rewards)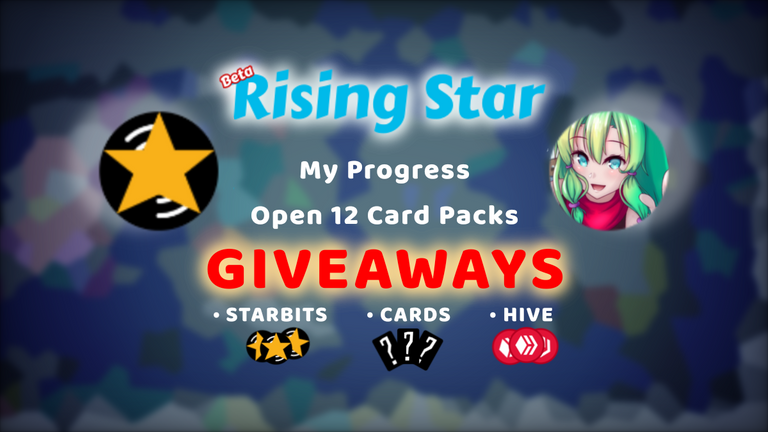 Happy New Year 2022 (for those who celebrate it). In "
My Rising Star Progress
" this time, I want to hold GIVEAWAYS for the first time as a celebration of New Year's 2022 as well to celebrate my first 100k STARBITS achievement (I need more than 1 month to reach that target).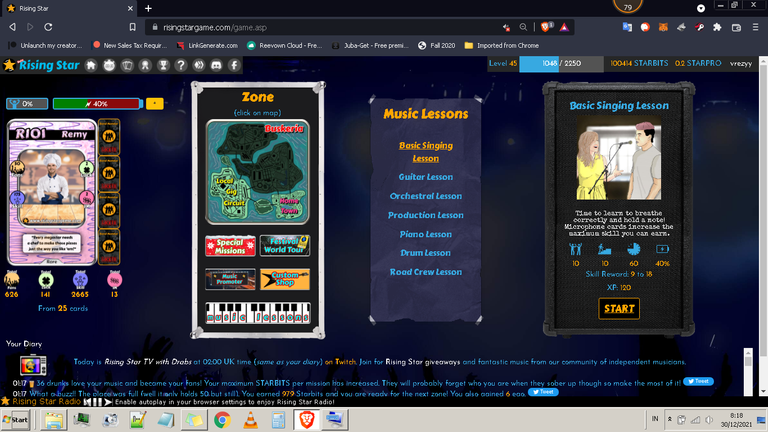 My First 100K STARBITS at lv 45

Open 12 Packs
The 100K STARBITS I got earlier then I bought 12 Card Packs (1 Card Pack for 10K STARBITS, so I got an additional 2 Card Packs)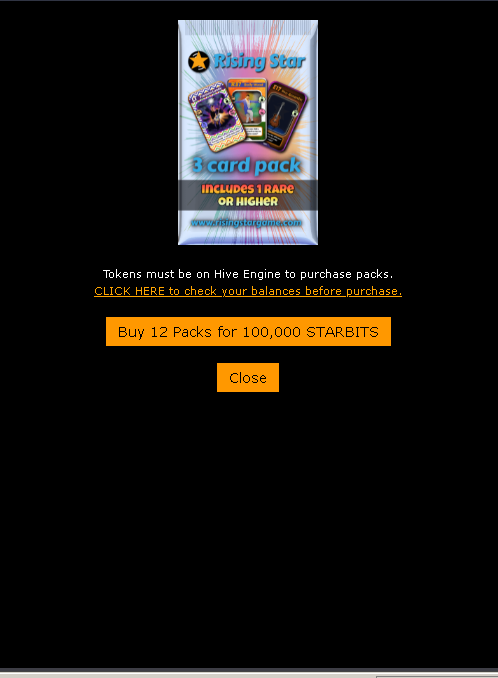 And this is the result I got from opening 12 Card Packs
click on the image for more details
I didn't get any Epic or Legend cards😣 (Should I buy 12 Card Packs using HIVE to get Epic or Legend Cards?).
The card that I got the most was R121 Benson as many as 4 pieces. However, this card is not included in the Giveaways list because the number of Skills is greater than the number of Fans.

GIVEAWAYS
This is the first Giveaways I'm holding and I want to make these Giveaways as lively as possible. Therefore, I would like to give away some of the cards I just got from opening 12 Card Packs (actually I had to reduce the number of Fans to be able to suppress Ego so as not to go past 0%)
In addition to the card, I also want to give STARBITS which I got after purchasing the Packs until the payout time of this post and some HIVE (not HP) that will be obtained from this post with the help of @reward.app
Giveaways Lists
2 "52 Trisha" (Common Card), for 2 winners (1 each)

2 "58 Millie" (Common Card), for 2 winners (1 each)

1 "R123 Carlito" (Rare Card)

1 "R125 Rentaw" (Rare Card)

1 "R115 Microlight" (Rare Card)
Currently, this card is in Market (to reduce Ego which has passed 0%). If this card is sold before Payout time arrives, the prize will be given in the form of STARBITS (I will take 10006 STARBITS from the sale)

1 "Pizza Box" (Booster Card)

5000 STARBITS / winner
If I get more than 10K STARBITS when Payout time comes, then I will give 5000 STARBITS to 2 winners (as well as for multiples)

(Optional) 1 HIVE for each winner
This prize is included as an optional prize because there is a possibility that this post will get Downvotes.

HIVE is taken from author reward (so I will only get HBD or 50% of author reward on this post). The more Rewards this Post gets, the more winners will be.
Giveaways Terms
I want to spread this GIVEAWAYS as far as possible so that it is visible to those who are not HIVE users. And for those of you who are not HIVE users, there are some additional requirements so that you can participate in this GIVEAWAYS.
Have a HIVE account (to take part in STARBITS & HIVE GIVEAWAYS)

RISING STAR players (to take part in cards GIVEAWAYS)

Write your HIVE (for HIVE and STARBITS GIVEAWAYS) or RISING STAR (for cards GIVEAWAYS) usernames in the comments provided.

I will write down each GIVEAWAYS prize in the comments, and write your Username by replying to the comments according to the GIVEAWAYS that you are participating in.

Each participant is free to participate in whatever GIVEAWAYS are available in the comments.

If you follow more than one GIVEAWAYS, you just need to write your username in one GIVEAWAYS and Upvote in other GIVEAWAYS.

(optional) Upvotes, Reblog, Tips, Share
Upvotes, Reblogs, Tips, Shares are optional, the decision is yours. This will only affect the HIVE that this post gets. If the HIVE obtained later is less than 2, then the HIVE GIVEAWAYS will be cancelled.

Upvote only on original posts (not cross-posts)

Example of how to write a message when you want to spread this post on Social Media (you can also modify this message according to your own way)

"For those of you who want to take part in this GIVEAWAYS, you need an HIVE Account and Rising Star. and you can get it here >> (Use your Referral Link for HIVE or Rising Star registration)"

This is so that you can get Rewards from people who join through the Referral Link that you share. Also as a token of my gratitude for helping spread this GIVEAWAYS.

CLOSING
If you have questions, criticisms, or suggestions about this GIVEAWAYS, please write them in the comments. Since this is my first time holding GIVEAWAYS, there is a possibility that I made a mistake or confused the readers.
Because I'm using @reward.app in this post, Curators are entitled to get a portion of the Author Reward as well (for now it's still the default, 4%. But if the Reward for this post is high, maybe i'll try changing the % to make it more)
For those of you who haven't joined @risingstargame, you can use this link (RISING STAR). (BUT if you know about this GIVEAWAYS via social media, please use their link)
And thank you to those of you who have taken the time to read and enliven this GIVEAWAYS. See you at the next GIVEAWAYS (which I don't even know when it will be again)

Special thanks ;
@risingstargame
@thepeakstudio for dividers
@reward.app (@acidyo and @cardboard) because of this, I got the idea to add HIVE to the GIVEAWAYS list

---
---