Reunámonos en Valencia,Venezuela este Jueves 05 de Mayo!! [ENG/ESP] || Hive Creators Day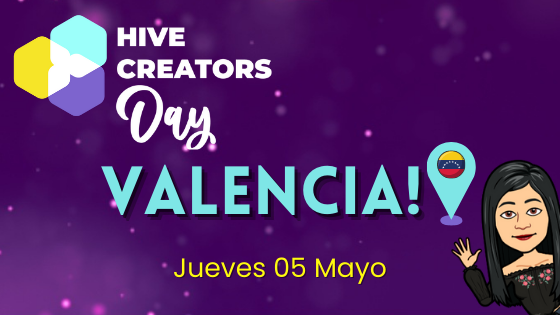 ---
Let's Get Together! || Vamos a Reunirnos!
---
This post is both in English and Spanish, puedes it directamente al español dando click AQUI

Valencia here we come!
Before I moved to Jumanji (el Tigrito, Edo Anzoátegui) I used to live in a town near Valencia City, in the state of Carabobo Venezuela, I really didn't think I would say this but I miss it like A LOT! But hey you do stupid stuff for love like moving across the country to a small town away from your family and friends, but…. Anyways…. That is so not the subject of this post, I will be going back to my home town near Valencia, this next week (my sister is having a baby yay!) so I though well since I will be in town I should try and meet the Hivers there! And that is how it was born Hive Creators Day in Valencia – Venezuela!!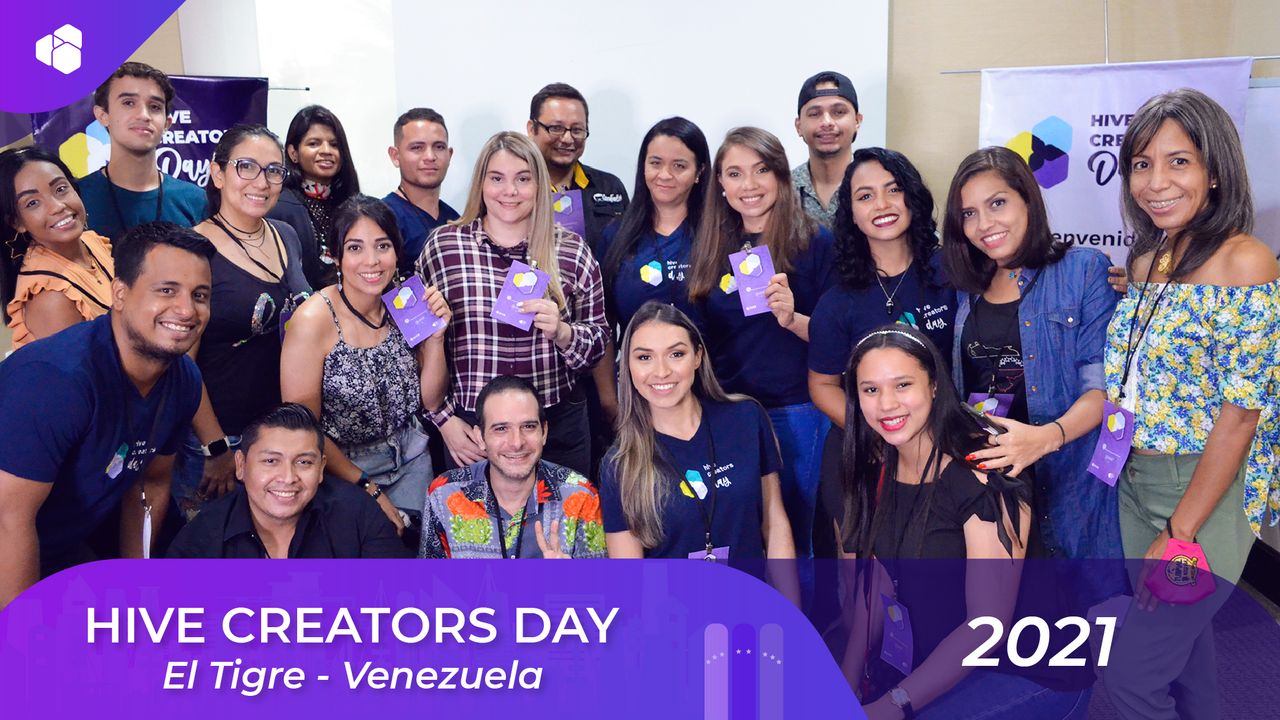 source @hivecreatorsday
Hive Creators Day
This is a meetup created by the always amazing @samgiset, she started it with an online meetup on discord, then move on to a real-life event in the town where we live (Jumanji) where I was invited to be part of and was proud to represent @nftshowroom in it.
The event is focused on content creators, onboarding new users, and allowing old users to interact and learn some tips and tricks to be successful content creators on our Blockchain.
Since Sam wants the event to go big she is planning to do it in several cities in our country (that is why I asked to do it in Valencia!) and go international first in Cuba with the help of @hivecuba and later who knows the idea is that this type of events should be done in every country where there is a hiver.
---
Why Meeting?
To be honest, I'm an introvert in real life and I hate public speaking, (yes even tho I' am a lawyer I hate public speaking) but I love meeting Hivers in real life, I wish we could all go to the next Hive Fest and get together but well Covid and the fact that we are poor LOL makes meeting internationally hard, so, for now, I will have to settle on meeting people in my own country! I have been part of the blockchain for more than 4 years now so, I have shared with you all for a long time, and putting a face to the words I read while curating makes it fun! Also, every opportunity to onboard new users is amazing and I think teaching about Hive in person makes a huge difference from doing it online.
When and Where?
📍 Well like I said in the city of Valencia, in the Carabobo state in Venezuela, the more specific location (that is already booked and paid for) will be disclosed in the next post by @hivecreatorsday.
📅⏰ Save the day! May 5th 2022, at 2.30 pm (Venezuelan Time) full schedule to be posted on the full announcement post by the Hive creators day account so go follow them!
Who can be part?
ALL hivers who are in the city or near and want to attend should contact me, at @samgiset or @soy-laloreto and let us know, we have limited sits available in the conference room that we will be using so is important to confirm your attendance in advance,
You can find us at
The Hive Meetup Discord server or in telegram at the Hive En Español group or obviously in the comment section of this post.
I will let you know more about the event in upcoming posts!

Españól
¡Valencia allá vamos!
Antes de mudarme a Jumanji (el Tigrito, Edo Anzoátegui) vivía en un pueblo cerca de la ciudad de Valencia, en el estado de Carabobo, Venezuela, realmente no pensé que diría esto pero lo extraño TANTO! Pero bueno, haces cosas estúpidas por amor, como mudarte al otro lado del país a un pequeño pueblo lejos de tu familia y amigos, ok... este…. Ese no es el tema de este post, regresaré a mi ciudad cerca de Valencia la próxima semana (¡mi hermana va a tener un bebé!) Así que pensé que debería aprovechar y conocer a los Hivers allí! Y así nació Hive Creators Day en Valencia – Venezuela!!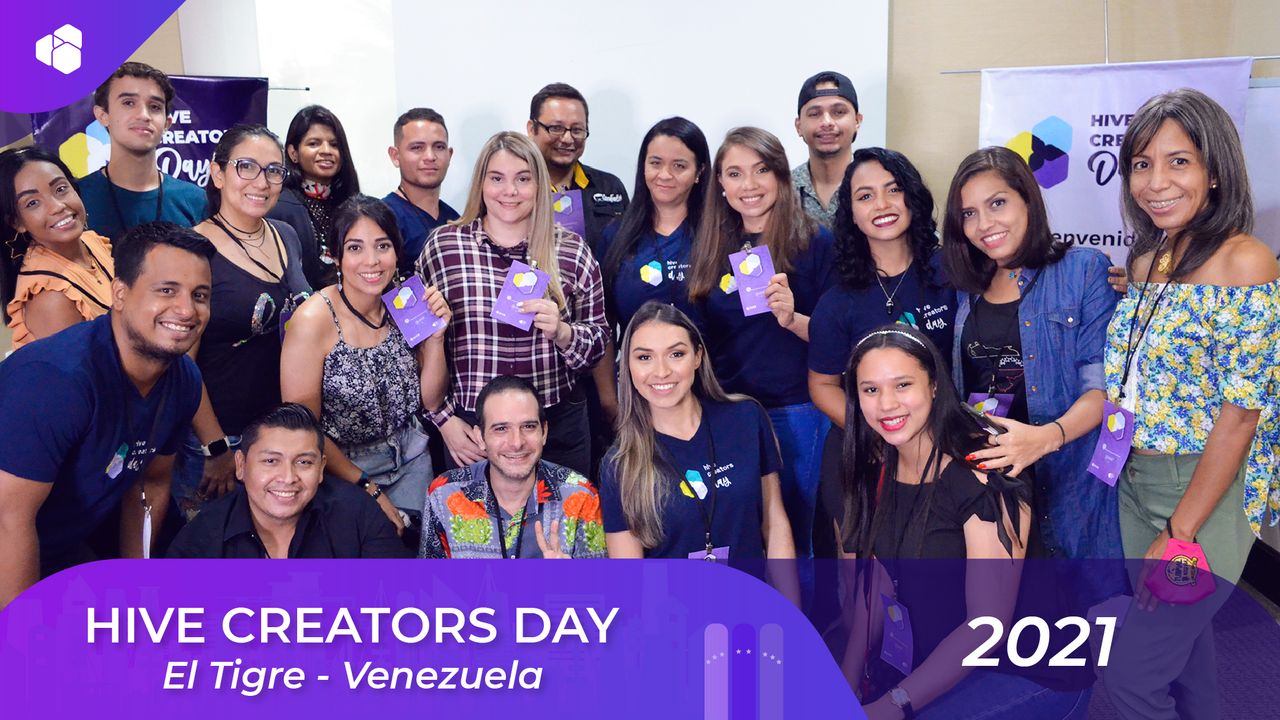 source @hivecreatorsday
Hive Creators Day
Esta es una reunión creada por la siempre increíble @samgiset, ella comenzó con un meetup en discord, luego pasó a un evento presencial en la ciudad donde vivimos (Jumanji) donde me invitaron a ser parte y orgullosamente represente a @nftshowroom en él.
El evento se centra en los creadores de contenido, incorpora nuevos usuarios y permitiendo que los usuarios antiguos interactúen y aprendan algunos consejos y trucos para ser un creador de contenido exitoso en nuestra Blockchain.
Como Sam quiere que el evento crezca y se expanda está planeando hacerlo en varias ciudades de nuestro país (¡por eso pedí hacerlo en Valencia!) e internacionalizarse primero en Cuba con la ayuda de @hivecuba y después quién sabe la idea es que este tipo de eventos se deben hacer en todos los países donde haya un hiver.
¿Por qué reunirnos?
Para ser honesta, soy introvertida en la vida real y odio hablar en público (sí, aunque soy abogado, odio hablar en público), pero me encanta conocer a Hivers en la vida real, desearía que todos pudiéramos ir al próximo Hive Fest y conocernos pero bueno el Covid y el hecho de que seamos pobres jajaja hace que sea difícil viajar internacionalmente, así que por ahora tendré que conformarme con conocer gente en mi propio país! He sido parte de la cadena de bloques durante más de 4 años, así que he compartido con todos ustedes durante mucho tiempo y poner cara a las palabras que leo mientras curo contenido lo hace divertido. Además, cada oportunidad de incorporar nuevos usuarios es fantastica y creo que enseñar sobre Hive en persona marca una gran diferencia a hacerlo en línea.
¿Cuando y donde?
📍Bueno como dije en la ciudad de Valencia, en el estado Carabobo en Venezuela, la ubicación más específica (que ya está reservada y pagada) se dará a conocer en la próxima publicación de @hivecreatorsday.
📅⏰¡Guarden el dia! 5 de mayo de 2022, a las 2:30 p.m. (hora de Venezuela) ¡El cronograma completo se publicará en la publicación del anuncio completo de la cuenta del día de los creadores de Hive, así que ve a seguirlos!
¿Quién puede ser parte?
TODOS los hivers que estén en la ciudad o cerca y quieran asistir deben comunicarse conmigo, @samgiset o @soy-laloreto y avisarnos, tenemos asientos limitados disponibles en la sala de conferencias que usaremos, por lo que es importante que confirme su asistencia. por adelantado,
Puedes encontrarnos en
El servidor Hive Meetup Discord o en Telegram en el grupo Hive En Español u obviamente en la sección de comentarios de esta publicación.
---
¡Les dejaremos saber más sobre el evento en próximas publicaciones!

---
As always, thank you very much for reading me and
I hope to read your comments!
---
Picture Credits: All images are of my property unless said otherwise, the emojis are made with Bitmoji.com & Icons with icons8
---
Proud Member and Supporter of The Minnow Support Project, If You Are Not Yet on The Community What Are You Waiting For?? CLICK below!!!

---
Are you a Mom or a Dad? Of a human or a Cat or a Dog or of anything? Join us in our Community!

---

For Mom life, life style, Cooking & More, please go to @victoria.bsb
---
😗 Follow me on my Other Social Media...❗️⬇️⬇️⬇️⬇️
---
---