Regresan las clases! Ven Aprender de Hive y Crea Tu Cuenta! [ESP/ENG] || The Hive Classroom

---
Ven a aprender Hive desde 0
---

Hi guys! we are back with a new round of classes of the basic but more important topics for new users to know about Hive before they even start on the chain.
¡Hola chicos! Estamos de regreso con una nueva ronda de clases de los temas básicos pero más importantes para que los nuevos usuarios conozcan Hive incluso antes de comenzar en la blockchain.
---
Making Free accounts || Creando cuentas gratis
With the increase in the demand for new accounts comes as always, the difficulty in finding them for free (hiveonboard, ecency and 3speak services are sometimes out of tickets to make new accounts) so we are left with easy and quick pay options to make new accounts or … users who have more than 5000 HP can too make new accounts using their RC, peakd as always being the awesome frontend that helps make this easier on the wallet.
So, I will be personally creating new accounts for free for all those participants who attend the classes and show interest in learning to be a good hiver.
Con el aumento de la demanda de nuevas cuentas, viene tambien la dificultad de encontrarlas gratis (hiveonboard, ecency y 3speak a veces se quedan sin tickets para su creación) por lo que nos quedan opciones de pago fáciles y rápidas para hacer nuevas cuentas o... los usuarios que tienen más de 5000 HP también pueden crear nuevas cuentas usando su RC (fácilmente desde la wallet peaked), como yop!.
Asi que, estaré creando nuevas cuentas de forma gratuita para todos los que asistan a las clases y muestren interés en aprender a ser un buen hiver.
The classes || Las clases
As always, I had to drag other Hivers to help me with this because I can't possible do this alone, @ilazramusic @laloretoyya @elizabeths14 and @eddiespino are the best to learn from and I only pick the best of the best for this classes.
We will go from the most basic knowledge of what is Hive and how it works to make and format their first post, finally we will be making accounts to those who show that they deserve them xD
Como siempre, tuve que arrastrar a otros Hivers para que me ayudaran con esto porque no puedo hacer esto solo, @ilazramusic @laloretoyya @elizabeths14 y @eddiespino son los mejores para aprender y solo elijo lo mejor de lo mejor para esto. clases
Iremos desde lo mas basico que es Hive y como funciona hasta hacer y formatear su primer post, finalmente estaremos haciendo cuentas a los que demuestren que se las merecen xD

How to be part of this? || Cómo participar?
We don't have rules to be part of the initiative this time around just that you join the classes, be respectful of one and another, and of the coach giving the lesson.
If you are an experience Hiver already you can bring a new user or even better someone who doesn't even have an account yet so they can start from scratch and make their account with us.
No tenemos reglas para ser parte de la iniciativa esta vez, solo que te unas a las clases, sean respetuosos con los demas y con el coach dando la clase.
Si ya eres un hiver con experiencia, puedes traer un nuevo usuario o incluso mejor a alguien que aún no tiene una cuenta para que pueda empezar de cero y abrir su cuenta con nosotros.
Where || Donde?
The Hive Classroom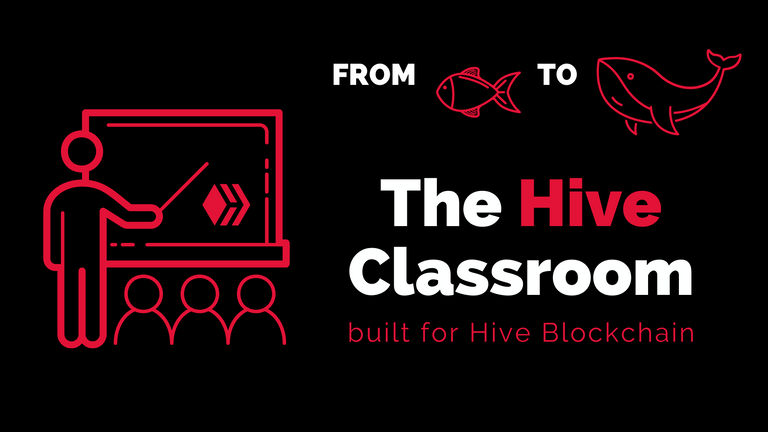 Is where the classes will take place, we have created this discord server for the sole purpose of hosting Master Classes, talks and just teaching sessions about Hive in general.
Join the discord server link right below to attend the different classes and activities.
Es donde se llevarán a cabo las clases, hemos creado este servidor de discord con el único propósito de albergar las Master Classes, charlas y sesiones de enseñanza sobre Hive en general.
Únete con el link de discord abajo para participar en las distintas clases.
---

The schedule || El cronograma
All week we will have new classes so make sure to keep up with the schedule and not miss one.
toda la semana tendremos distintas clases, abajo esta el cronograma para que no se pierdan ninguna.
---
| # | Día | hora | Tema | Coach |
| --- | --- | --- | --- | --- |
| 1 | lun | 1PM | Qué es Hive y Cómo funciona? | Victoriabsb |
| 2 | mar | 7PM | Ecosistema de Hive | eddiespino |
| 3 | mié | 5PM | Comunidades y etiquetas | laloretoyya |
| 4 | jue | 5PM | Markdown | ilazramusic |
| 5 | vie | 5PM | Fuentes y contenido libre de uso | elizabeths14 |
| 6 | sáb | 1PM | Reglas escritas y no escritas de Hive | Victoriabsb |
| 7 | dom | 5PM | Repaso y creacion de cuentas | |

---
As always, thank you very much for reading me and
I hope to read your comments!
---
Picture Credits: All images are of my property unless said otherwise, the emojis are made with Bitmoji.com & Icons with icons8
---
Proud Member and Supporter of The Minnow Support Project, If You Are Not Yet on The Community What Are You Waiting For?? CLICK below!!!

---
Are you a Mom or a Dad? Of a human or a Cat or a Dog or of anything? Join us in our Community!

---

For Mom life, life style, Cooking & More, please go to @victoria.bsb
---
😗 Follow me on my Other Social Media...❗️⬇️⬇️⬇️⬇️
---
---