Es Hoy! Es Hoy! Veámonos en Valencia! || Hive Creators Day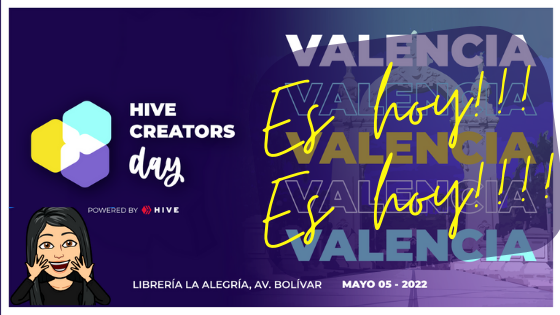 ---
Hive Creators Day Valencia
---
This post is both in English and Spanish, you can go to english directly by clicking HERE

AHHH es hoy! es hoy!!! tengo nervios sere sincera, cuando fui parte del evento en la ciudad del Tigre me daba nervios hablar en public porque aja soy asi, pero esta vez los nervios son como distintos mas fuertes no solo por hablar en public si no por la organización. @samgiset es una maravillosa organizadora y lo piensa todo y @soy-laloreto ha conseguido todo todito fue la mejor decision pedirle nos ayudara en este evento yo siempre con las mejores ideas de a quien pedirle ayuda JAJAJAJA.
Aun asi me da nervios ¿por qué? no se, me imagino es porque he estado super full y no he podido dedicar mi tiempo 100% a la preparación de todo? mi hermana tuvo a su bebe hace dos dias y he estado de enfermera y ayudanta y aunque esto fue la razón principal para venir a Valencia realmente y planear hacer un evento Hive es una locura que se me ocurrio casi que a ultima hora =) igual quiero todo quede perfecto pero espero que asi no todo salga perfecto si nos divirtamos y logremos conocer a otros hivers y unir a nuevos usuarios con una base de lo que es Hive y como funciona, hasta ayer solo quedaban 2 puestos en la lista de asistencia, dado que es un salon de conferencia pequeño teniamos los cupos limitados, pero si tu estas en la ciudad o cerca, dejanoslo saber anotandote en el enlace que esta abajo para que tratemos de incorporarte al evento!
¡Recuerda que puedes ser parte del evento!
¿Cuando y donde?
📆05 de mayo de 2022,
📍Lugar: Ciudad de Valencia - Venezuela
Habitación en Librería La Alegría
Avenida Bolívar Norte
⏰Horario: 14:30 a 16:30
¿Quién puede ser parte?
TODOS los hivers que estén en la ciudad o cerca y quieran asistir solo deben registrarse al evento Aquí
¡Recuerda que es GRATIS!
Dado que Hive Creators tiene una propuesta activa que puede apoyar votando aquí -> https://peakd.com/me/proposals/217, esta y otras reuniones estarán cubiertas por ella y permitirá que sea gratuita para todos los asistentes.

English
---
AHHH it's today! is today!!! I'm nervous I'll be honest, when I was part of the event in the city of el Tigre I was nervous about speaking in public because that's how I am, but this time the nerves are stronger not only because of speaking in public but because of the organization. @samgiset is a wonderful organizer and thinks of everything and @soy-laloreto has gotten everything we need. It was the best decision to ask her to help us in this event. I always have the best ideas of who to ask for help HAHAHAHA.
Still makes me nervous, why? I don't know, I imagine it's because I've been super full and I haven't been able to dedicate my time 100% to preparing everything? My sister had her baby two days ago and I have been a nurse and helper to her and although this was the main reason for coming to Valencia really and planning to do a Hive event was a crazy though that occurred to me almost at the last minute =) I still want everything to be perfect but I hope that if everything is not perfect, we still manage to have fun and get to know other hivers and join new users with a base of what Hive is and how it works, until yesterday there were only 2 places left on the attendance list, given Since it is a small conference room, we had limited seats, but if you are in the city or nearby, let us know by signing up at the link below so that we can try to incorporate you into the event!
Remember that you can be part of the event!
When and Where?
📆May 05, 2022,
📍Venue: City of Valencia - Venezuela
Room at Librería La Alegría
Bolivar Norte Avenue
⏰Time: 02:30 PM to 04:30 PM
Who can be part?
ALL hivers who are in the city or near and want to attend you just need to register to the event Here
Remember is FREE!
Since Hive Creators has an active proposal that you can suport voting for it here -> https://peakd.com/me/proposals/217 this and other on the works will be cover by it and will allow for it to be free to all attendees.

---
As always, thank you very much for reading me and
I hope to read your comments!
---
Picture Credits: All images are of my property unless said otherwise, the emojis are made with Bitmoji.com & Icons with icons8
---
Proud Member and Supporter of The Minnow Support Project, If You Are Not Yet on The Community What Are You Waiting For?? CLICK below!!!

---
Are you a Mom or a Dad? Of a human or a Cat or a Dog or of anything? Join us in our Community!

---

For Mom life, life style, Cooking & More, please go to @victoria.bsb
---
😗 Follow me on my Other Social Media...❗️⬇️⬇️⬇️⬇️
---
---