Concurso de Arte con 1000 HIVE en Premios Para Artistas & Coleccionistas🔥|| Celebrando los 10,000 NFTs Vendidos en NFT Showroom!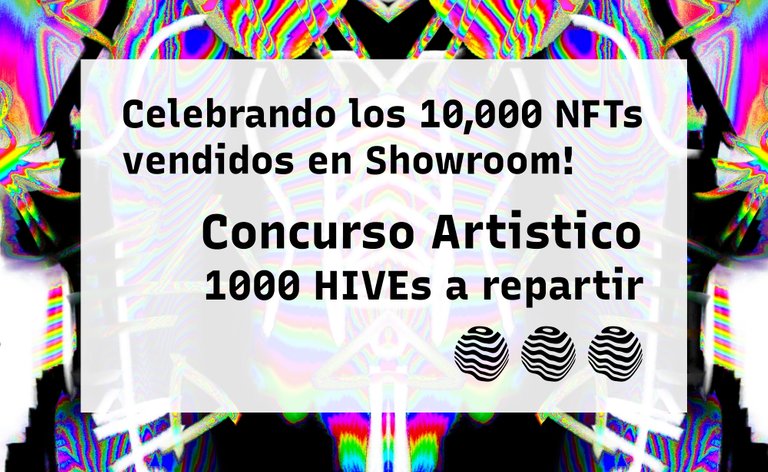 ---
Traducción oficial del original Celebrating 10,000 NFTs sold on NFT Showroom! Art contest with 1000 HIVE in prizes for artists and collectors🔥
---
Estamos orgullosos de anunciar que esta semana NFTShowroom alcanzó un hito muy emocionante, 10.000 NFTs vendidos por los artistas en la plataforma!
Las ventas totales hasta ahora son poco más de 250.000 dólares (420,000 HIVEs) y estamos a punto de alcanzar 1500 artistas verificados!

Para celebrar estamos llevando a cabo un concurso de arte con premios para los artistas y coleccionistas!
REGLAS Y REQUISITOS
Cualquier artista que este verificado para tokenizar en NFTShowroom puede presentar 1 NFT para su consideración.
Para Participar:
Tokenize en NFTShowroom una obra de arte en y añada #NFTSR10K a las etiquetas de su token, para que pueda ser encontrada a través de la página de búsqueda
El arte puede ser de cualquier tema, estilo o medio (imagen fija, GIF, MP4, pista de audio)

El arte debe ser presentada antes del 21 de octubre de 17:00 EST

Lo ideal es que realize un tweet con su participacion, añada #NFTSR10K como etiqueta y nos taguee @nftshowroom para que podamos dar Retweet, pero no es obligatorio.

Animamos a los artistas a dejar sus participaciones en el canal dedicado de nuestro servidor de discord # NFTSR10K
EVALUACIÓN y SELECCIÓN
Los ganadores serán seleccionados por un panel de jueces que no son elegibles para participar en el concurso.
REGLAS Y REQUISITOS PARA COLECCIONISTAS
Los coleccionistas son una parte vital de la plataforma y queremos darles la oportunidad de participar en el concurso. Cada coleccionista de un NFT de #NFTSR10K podra contar con 1 entrada por cada HIVE gastado en dicho NFT. Los ganadores serán elegidos por un sorteo al azar 1 semana después de la fecha límite del concurso de arte. (28 de octubre de 17:00 EST)
PREMIOS
ARTISTS:
1er lugar 250 HIVE
2do & 3er lugar 125 HIVE c/u
El concurso tendrá una duración de 4 semanas para presentar el arte, cerrando el 21 de octubre, 17:00 EST.
---
COLECCIONISTAS:
1 coleccionista ganara 250 HIVE
2 coleccionistas ganaran 125 HIVE c/u
28 de octubre de 17:00 EST es la fecha límite para la recogida de estas obras de arte para ser considerados elegibles para el sorteo.
---
---


---
Picture Credits: Logo and art of cover is property of @nftshowroom, all other images are of my property unless said otherwise, the emojis are made with Bitmoji.com & Icons with icons8
---

For Mom life, life style, Cooking & More, please go to @victoria.bsb
---
😗 Follow me on my Other Social Media...❗️⬇️⬇️⬇️⬇️
---
---