La importancia de la flexibilidad en la danza aérea. / The importance of flexibility in aerial dance.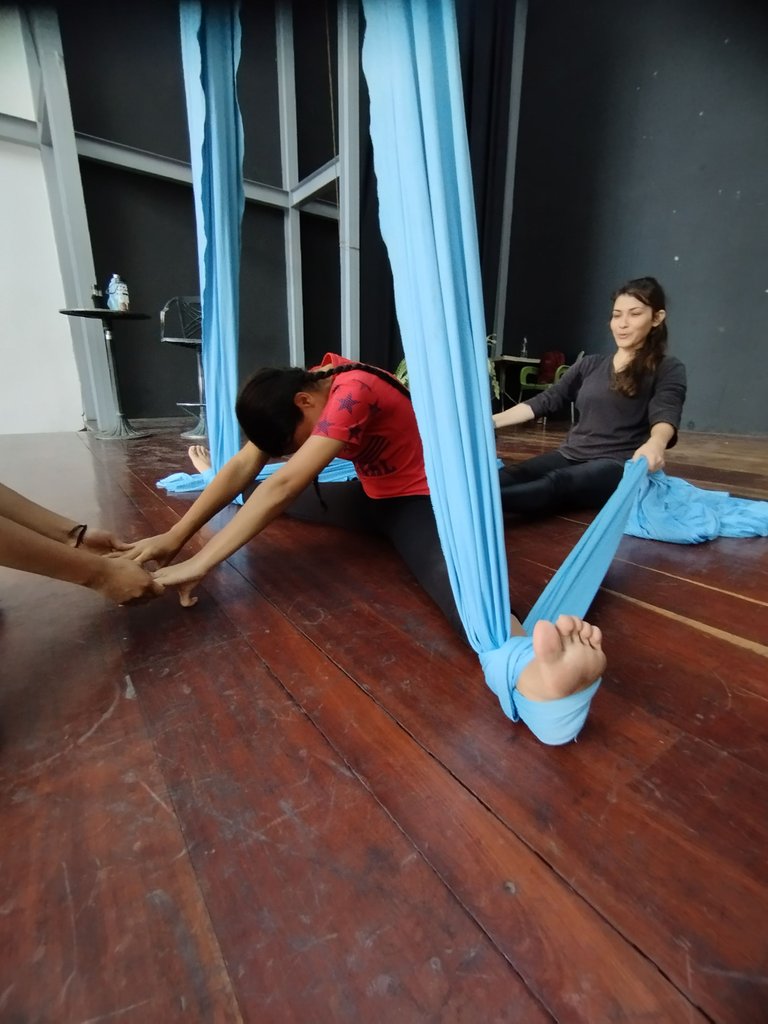 "La flexibilidad es la cualidad que permite la máxima amplitud del movimiento en cada articulación, mejora la calidad del movimiento y su eficacia biomecánica" (Stewart y Rewt, 1986; Van gyn, 1986; Einsingbach y Cols 1989; Pozo 1998, citada por De la Reina y Martínez, 2003:131)
"Flexibility is the quality that allows the maximum amplitude of movement in each joint, improves the quality of movement and its biomechanical efficiency" (Stewart and Rewt, 1986; Van gyn, 1986; Einsingbach and Cols 1989; Pozo 1998 , cited by De la Reina and Martínez, 2003:131)
---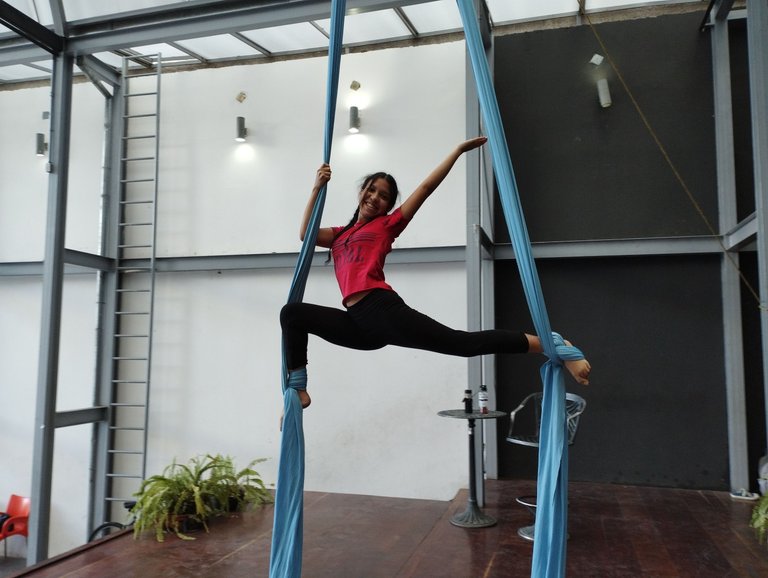 ---
Hola comunidad. Hace un tiempo les hablaba mucho sobre la importancia de hacer actividades físicas, bien sea yoga, telas aéreas o danza aérea, artes marciales,etc. Está vez les compartiré acerca de la importancia de hacer flexibilidad. El cuerpo como vehículo de nuestra alma, ese que nos acompaña en este viaje lleno de experiencias y aprendizajes , hay que cuidarlo , así como a nuestra mente. Mente sano, cuerpo sano.
Hello community. Some time ago I talked a lot about the importance of doing physical activities, be it yoga, aerial fabrics or aerial dance, martial arts, etc. This time I will share with you about the importance of flexibility. The body as a vehicle of our soul, the one that accompanies us on this journey full of experiences and learning, we must take care of it, as well as our mind. Healthy mind, healthy body.
---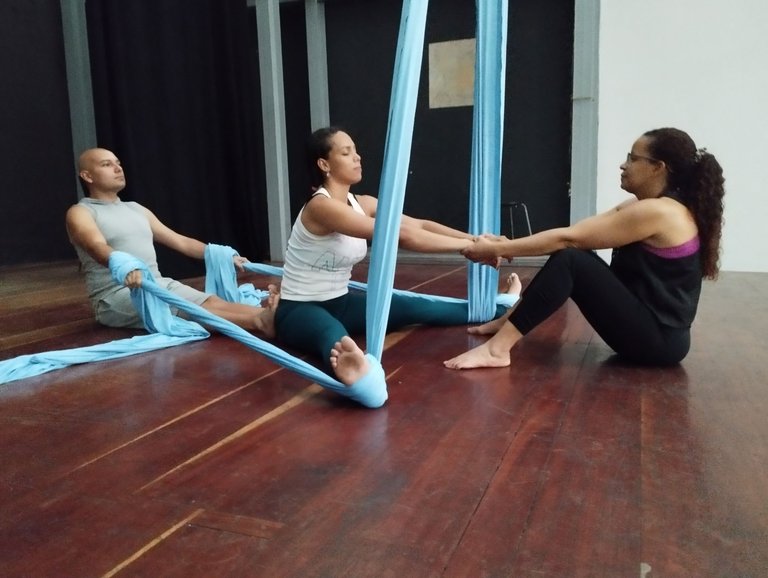 ---
Hace unos meses he retomado impartir clases de telas aéreas y eso me ha llevado a estudiar mucho más. Está vez les hablaré de la importancia de la flexibilidad , aunque ciertamente les hable específicamente en como nos beneficia en la tela, también es importante acotar que nos aporta beneficios en otras disciplinas.
A few months ago I resumed teaching aerial fabric classes and that has led me to study much more. This time I will talk to you about the importance of flexibility, although I will certainly talk specifically about how it benefits us on the web, it is also important to note that it gives us benefits in other disciplines.
---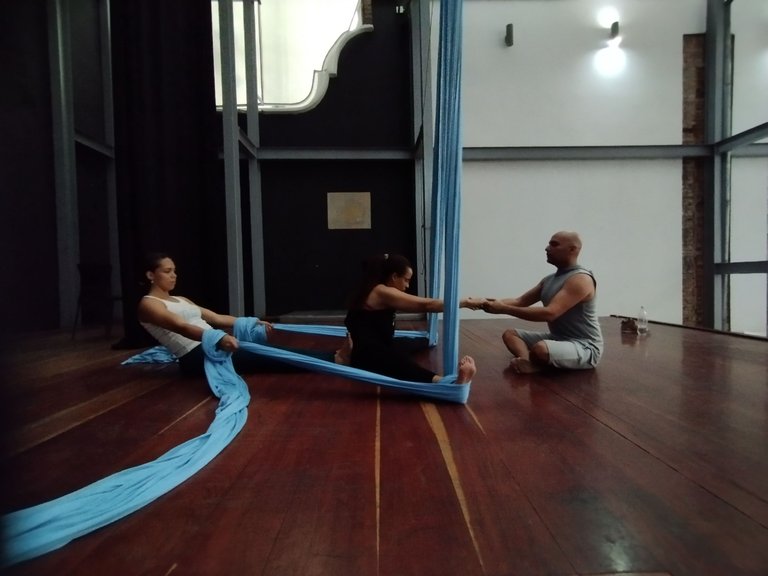 ---
Según Hahn (1988) la flexibilidad tiene tres componentes:
According to Hahn (1988) flexibility has three components:
Extensibilidad muscular: Capacidad de estirarse del músculo.
Muscular extensibility: Ability to stretch the muscle.
Elasticidad muscular: Capacidad del músculo de volver a su estado natural luego de ser estirado.
Muscular elasticity: Ability of the muscle to return to its natural state after being stretched.
Movilidad articular: Recorrido máximo de las articulaciones hasta encontrarse con sus topes óseos.
Joint mobility: Maximum travel of the joints until they meet their bony stops.
---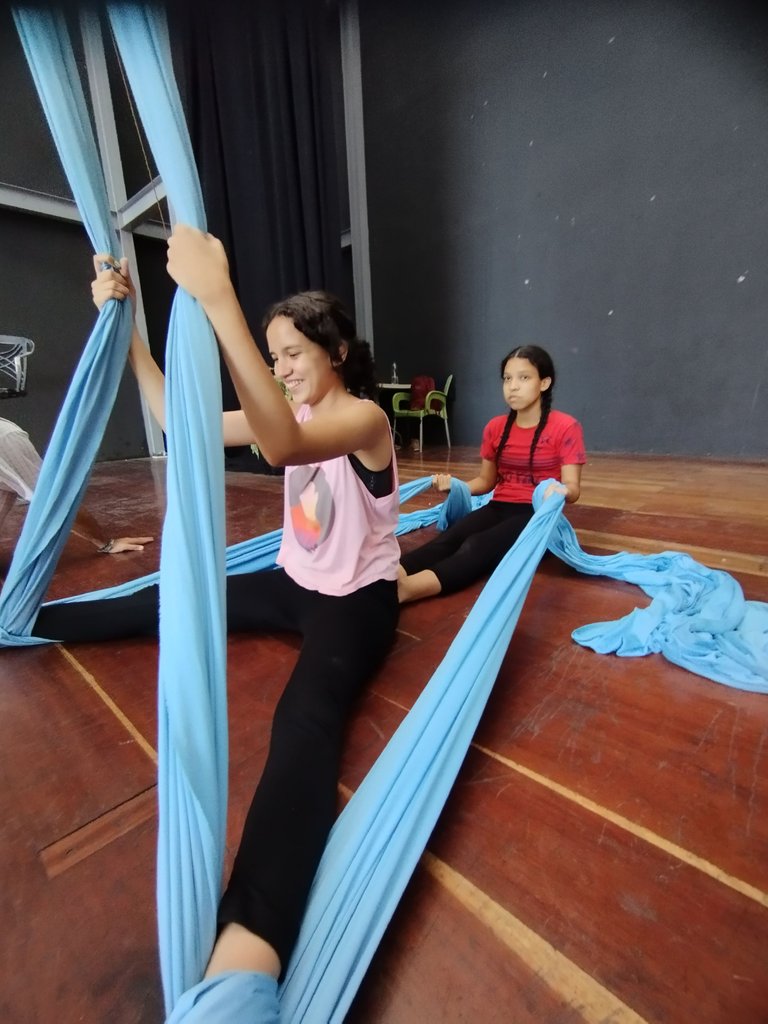 ---
Las telas acrobáticas te ayudarán a tener más flexibilidad y mejor coordinación. Un ejercicio idóneo para personas con dolores de columna, contracturas y malas posturas. Entrenar la flexibilidad promueve la relajación muscular. En particular, la flexibilidad en el grupo de músculos conectados a la pelvis reducen el estrés en la zona baja de la espalda. Aumento del flujo sanguíneo y de nutrientes hacia los tejidos: El estiramiento para mejorar la flexibilidad aumenta la temperatura del tejido muscular, que a su vez aumenta la circulación y el transporte de nutrientes. Esto permite una mayor elasticidad alrededor de los tejidos ayudando a la mejora del rendimiento. Estudios demuestran que la velocidad de impulso nervioso (que es el tiempo que necesita un impulso para viajar desde el cerebro al músculo y volver a sistema central nervioso) se mejora con los estiramientos.
Acrobatic webs will help you have more flexibility and better coordination. An ideal exercise for people with spinal pain, contractures and poor posture.Flexibility training promotes muscle relaxation. In particular, flexibility in the group of muscles connected to the pelvis reduces stress on the lower back.Increased blood and nutrient flow to the tissues: Stretching to improve flexibility increases the temperature of muscle tissue, which in turn increases circulation and nutrient transport. This allows greater elasticity around the tissues helping to improve performance. Studies show that the speed of the nerve impulse (which is the time it takes for an impulse to travel from the brain to the muscle and back to the central nervous system) is improved by stretching.
---
Las fotos y la información son de mi propiedad.
Photos and information are my property.
---
---