I WILL TAKE REVENGE, YOUR HANDS WILL NOT BE ABLE TO DEFEAT US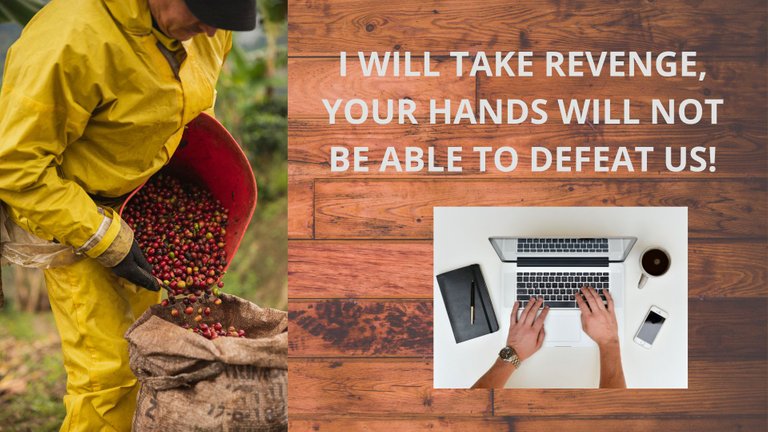 It is three o'clock in the afternoon and Eva was patiently waiting for her grandfather who was returning from La Culata, that was the name of the family's coffee plantation; Don Roberto was his name, Eva's heart was startled by having to share that afternoon with her grandfather, one of the worst news that could be expected; for her father had stolen what her grandparents had treasured for years; it was a painful and shameful situation for her because her own father did something against her grandfather, whom her father should have respected.
The Facts...
One night in a bar in the city, Michelle was a charming woman sitting at the bar, dazzling but very observant, Julian, Eva's father, upon entering the place, looked at her and went to sit next to her, after several drinks, he began to tell her that he was a failure, that he would never be like his father, (rich and intelligent) because he only liked to play and drink, but that night he swore before a stranger that he would have it all; The woman suspiciously began to inquire and Julian succumbed to her charm and told her his plans; that bitter night Eva's father had revealed the secret they had kept for generations, the recipe for a coffee-infused cocktail that Don Roberto's great-great-grandfather had created; that would be the end of the family tradition.
Michelle was an influencer who took advantage of selling the recipe to a franchise, it was believed that this would be enough to end so many years of work of Eva's family, as soon as everything was discovered a legal battle began to discover the truth of who was the real owner of the original recipe. Eva confronted her father, who was ashamed of everything and decided to tell the truth and declare what he did, but it was not enough, they would have to do something else to win.
Don Roberto had a letter kept with him, that nobody knew about, because his recipe was prepared with a special coffee bean that was cultivated by him, which nobody could imagine, that way he could demonstrate that the original recipe was his property. Thus they were able to recover their credibility, but Julian was left as the worst of the sons who fell to the lowest, putting in the hands of a bad influencer the future of his family.
In the end, Eva was able to take revenge on Michelle, but she was happy because it was all about her father, whom they forgave and made her understand that success is achieved with honest work.
The image was designed with canva
---
---