The BENEFITS TECHNOLOGY WILL BRING TO EDUCATION
When talking about technology, the impact it has had on education can never be overemphasized; it has literally changed the face of studies and made reading, researching, learning, and teaching a whole lot easier for both the learners and their tutors. But despite its good qualities, technology has some lapses that could hinder the willingness to learn if care is not taken.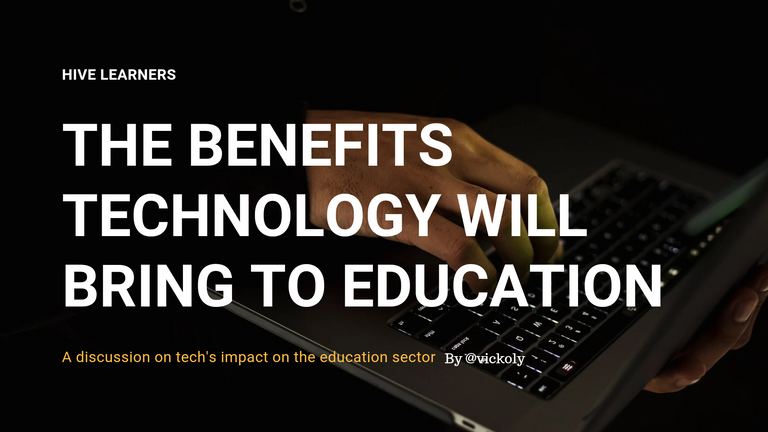 The impact of technology on education is enormous, and the beauty of it is that it keeps improving on a daily basis. You can imagine the thought of reading through almost an entire book because you're looking for a certain keyword or so; in these generations with the invention of the eBook, you can easily swipe into any page or section you want by entering the keywords you needed, and the same goes for researchers done in the past that required a lot of traveling and investigation when it can be easily googled in this present age.

So in this post today, I'll be taking you through my personal experience of how I fared with technological devices during my schooling days, if they were helpful or not, and how it's presently affecting my job as a teacher who imparts knowledge to students. I'll also take a look into what I believe is the future of technology in education.

MY EDUCATIONAL EXPERIENCE WITH TECHNOLOGY
During my schooling days there were lots of technology gadgets and equipment, although they were not as advanced as they are now. If I'm to be truthful with how I most used them during my undergraduate days, then I'll say it was more of a distraction than a medium through which I used it to improve my learning.
That doesn't necessarily connote the fact that I didn't use it for activities that promote my learning and academic success, but when both effects were to be compared, I'm certain how it served as a distraction would win, because most times when I ought to read or concentrate on my studies, I ended being distracted by notifications coming in on my mobile phone, or I'll most likely be playing different games on my PC.
These as affected me a lot because I spend most times on my smartphone and pc doing all related tasks like chatting or playing games, then at the end of the day when the examination approaches, I start to panic and try to assimilate all when I could have taken one at a time on a gradual pace prior to the examination or any forms of evaluation.
On the long run, when I realized its effects on how poorly my results were depreciating, I came to a consensus with myself and had a lasting change that minimized watching movies, chatting, and playing games, after which I inculcated the habit of reading more often and as well as using the technology gadget to enhance my studies, which had a very positive change on my results.
---
THE FUTURE OF EDUCATION WITH TECHNOLOGICAL INNOVATION
The impact technology has had on education can never be overemphasized. Despite some of its downsides, we can't downplay how well it has improved the medium of learning and impacted knowledge on both learners and their tutors via the enormous benefit it brought, and with that in mind and the new innovations happening on a daily basis, I see it taking education to the next level.
With the advent of different AI algorithms and innovation, I see it having a positive impact on education, because using Chat GPT as a case study, we've seen how these AI have been programmed to enhance learning, easy writing, researchers, and much more, to name a few. If these are to be given the green light, it'll definitely improve the more.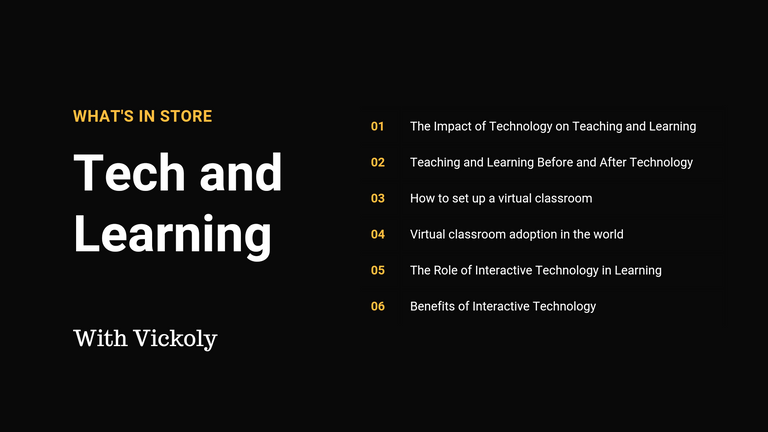 Despite the many developments and improvements that GPT and other AI promise to bring to education, there might be some downsides, which could include the likelihood of students wanting to do so thorough research or putting effort into their studies when an AI can easily give them an answer to almost all of their questions.
But overall, I believe education will be in a safe space under the guidance of technology, because it has changed its face and made it much easier. Now we have electronic boards where you can easily show practical examples while you're teaching, so it won't just be like the contemporary norms of using mouth or just pictures to explain when the board can easily be programmed to display practical videos or the subject matter and much more.
---
That's about all from me today on the impact technology has had on me academically, how it once was a distraction and how I made it work for me in the long run. As I stated, I also believe it has a lasting future that will enhance education much more than we can envision in the nearest future. The examples of the electronic board and AI are just the tips of an iceberg, because there is much more it has in store to improve education.

I'm grateful that you've stayed with me thus far. I hope you had a great read. Writing on this topic of the impact technology has had on education and me personally was prompted by a kronias write-up in the Hive Learners Community. Do check it out to see all the necessary information.
---
NOTE: All images were designed by me on canva.
---
Thanks so much for reading, have a blessed and productive day ahead.
---
---