Making These Beautiful Footwear For A Mother And Her One Year Old Daughter
GREETINGS MY FELLOW NEEDLEWORKER AND FRIENDS
Happy new week to everyone, it's my prayer that this week will be a remarkable and eventful one, that ushers in goodies into our businesses and dealings in all ramifications, but pending the time we anticipate it manifestation, I'll love to take you through how I made these lookalike beautiful footwear for a mother and her young daughter.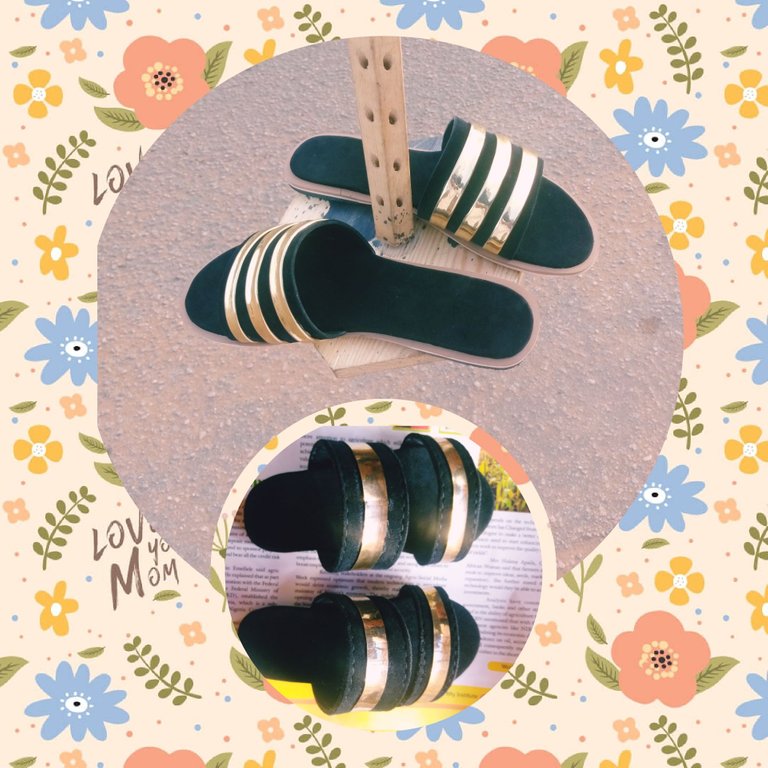 I got to acquire this project when the woman approach my store and ask that I show her some samples of Footwear's I've made before, and I shew her the images of those I have on my phone, after then she chose a style and as that I help make the same design for her and her daughter, stating that they both are going for a phone shoot in few days, and the pictures were meant to mark her daughter one years Birthday.
So after evaluating what the materials will cost and my workmanship, I told her they prize, and after several bargaining we concluded on an amount and below is how I made the footwear for them.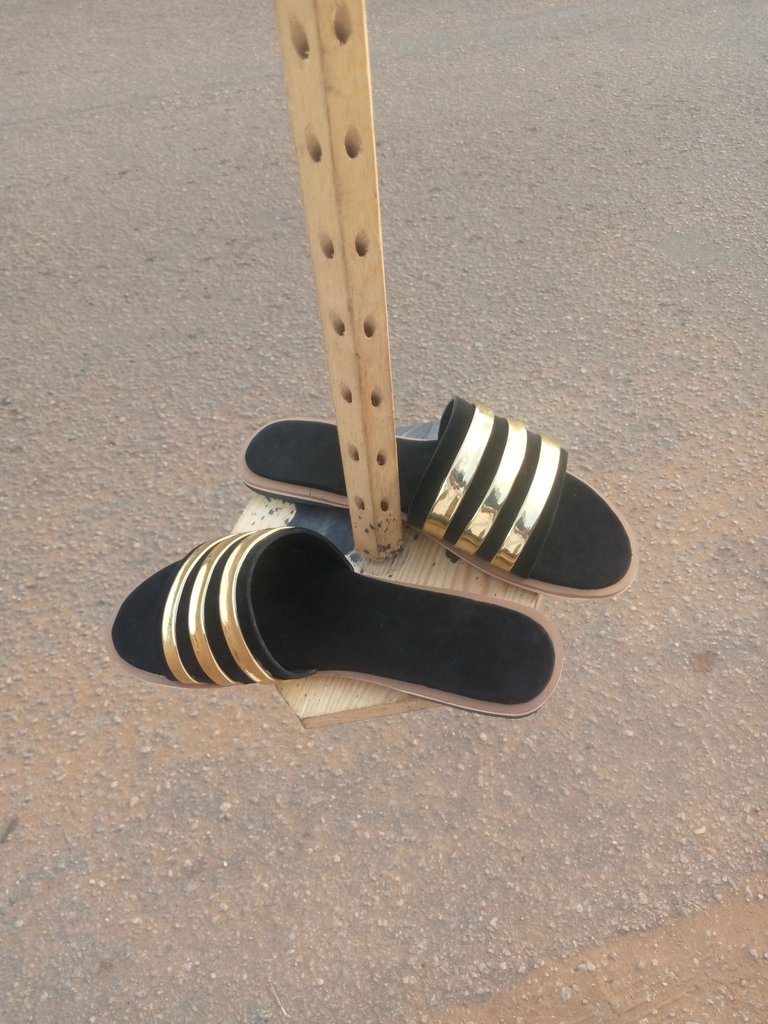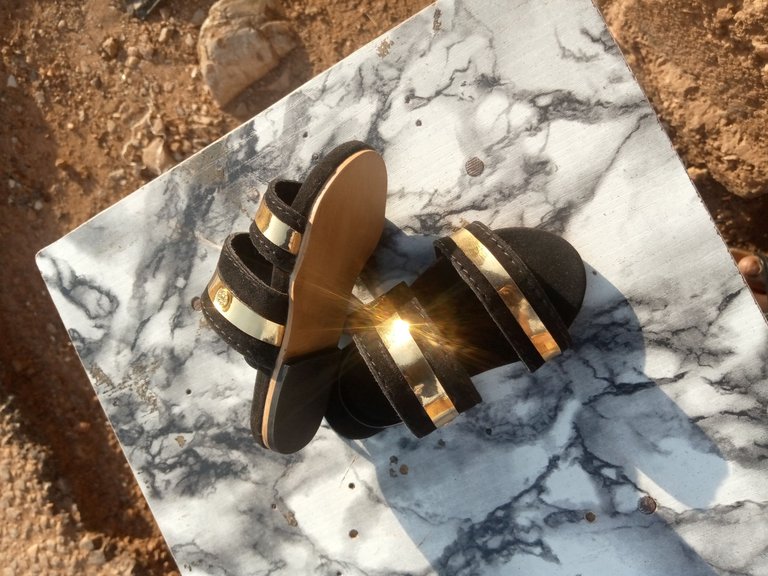 The processes below comprises of how I made that it the daughter, and when thoroughly followed, you can easily archive that of the mother as well.
---
MATERIALS USED
Black suede material
Golden leather material
Nora outsole
Marco insole
Suede lining
Gum
---
MAKING PROCESSES
I started by cut the suede material into the appropriate shape, after which I folded it and then place the golden leather material in-between and then sew both edges of the suede Material.
I also cut the Nora and the Marco into the right shape, them apply gum on the marco and Suede linning, which was later joined together.
| Sewing | Joining |
| --- | --- |
| | |
---
Once those were completed, I made the back of the Nora and Marco wrong with a grinding machine,after which I rub gum at the back and the edges of the upper, and I join both together.
| Guming | Joined |
| --- | --- |
| | |
---
Once joined, I rub on the Nora, and the back of the insole, and place it aside to dry for about 5minute, then I join both together.
| Lasing | Finishing |
| --- | --- |
| | |
---
Below is how gorgeous the footwear looks after I completed both that of the daughter and her mother.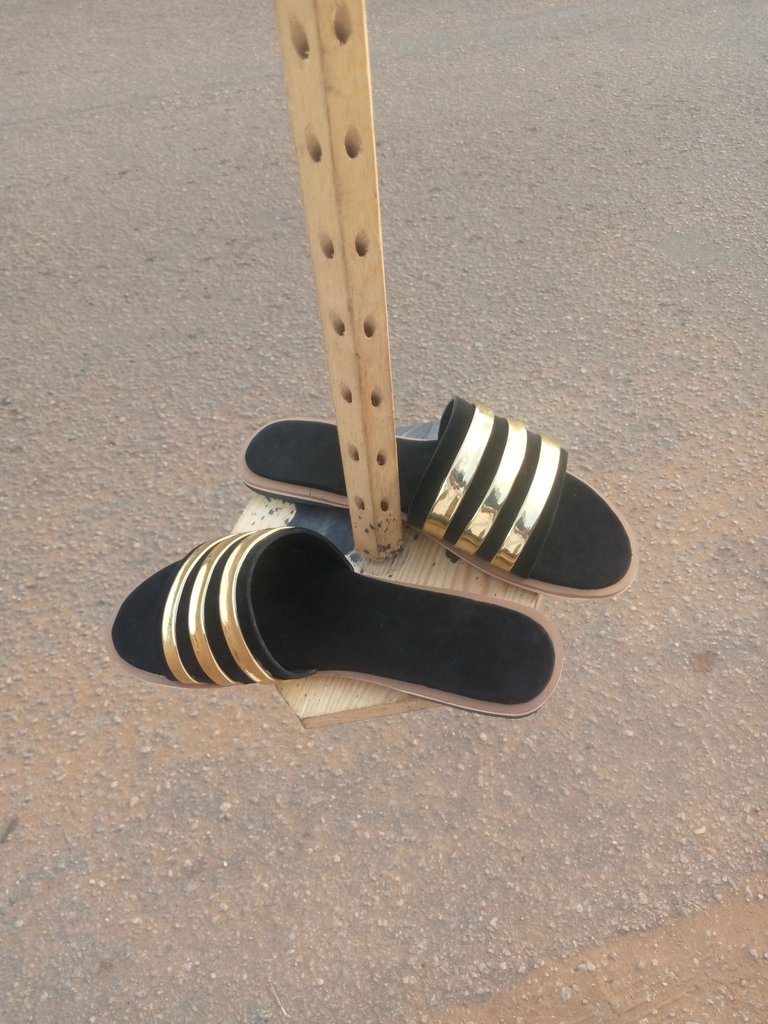 ---
I really appreciate the fact that you stay with me till this point, I hope you get to grab a thing or two from my tutorial, have a pleasant and pleasurable experience throughout this week.
---
---