Making A Flat Women Casual Sandals
Good day everyone, I hope you are doing well. A few days ago, I was discussing with a female colleague of mine whose husband planned to take her to the beach to celebrate the forthcoming Valentine, and she was talking about the need for her to get her attire, which includes clothing like a bikini and casual sandals that'll ease free movement through the sand, and I decided to make these for her.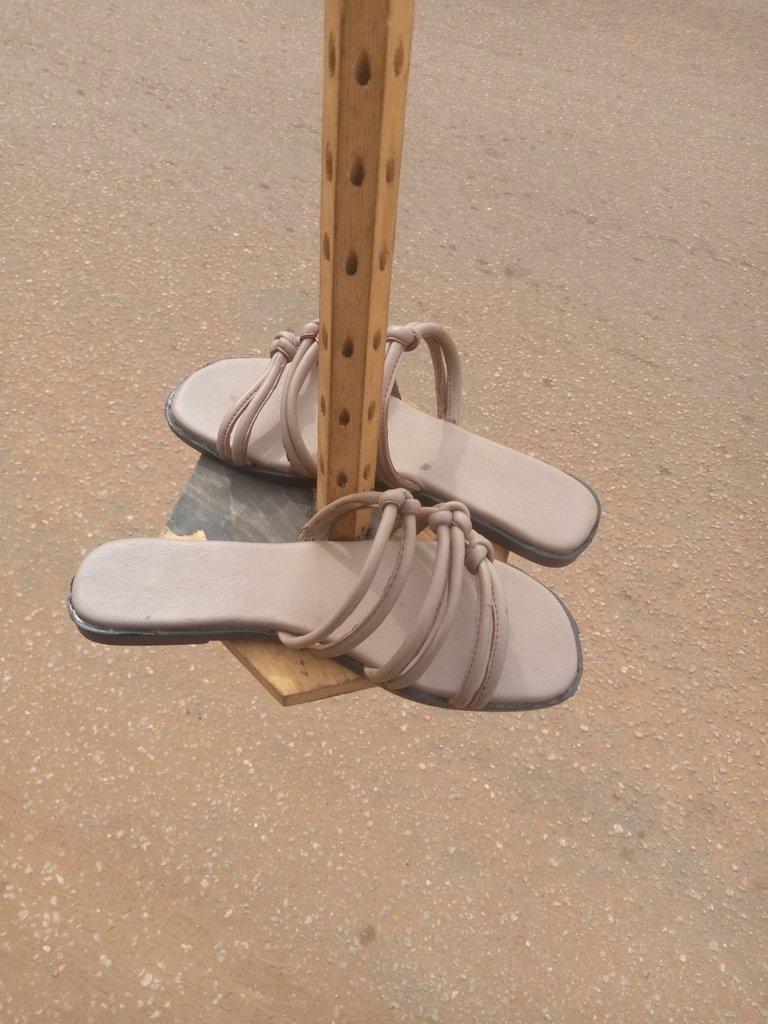 I actually had to do some research online to see a particular style that is much commonly worn to the beach, and after that I had to choose a color; for these I don't think much has to be said; I simply went for a nude color given the fact that most ladies here love anything in that color, and after my findings, I still needed to put into consideration the type of items to use in order to keep them from being damaged by water, so below are the items and the making process.

LIST OF ITEMS USED
Nude colour leather
Marco size 4
Lining
Sewing machine and thread
oci gum
Super glue
Polyurethane soles

MAKING PROCESS
As I was saying earlier, the materials used had to be unique given the fact that it'll be worn in a sandy place like the beach, so I use one of the most original skin leathers. Also, to avoid getting damaged by water, I had to go for the polyurethane outsole because it's one of the best choices when you're in search of a water-resistant sole.
---
First thing was to cut the nude colour skin leather to an equal shape and length straight line, after which I rub the oci gum all over the inner part, then I folded it neatly till it becomes tiny.
| Cutting | Folding |
| --- | --- |
| | |
---
After folding it neatly into a straight line, I took it to the sewing machine and sewed one side of each one, after seeing, I tied two together with each pairs having a knot in the centre.
| Sewing | Tied |
| --- | --- |
| | |
---
When I got through with tying of the knots, I join the lining to the Marco for the insole, after that last the tied upper to the insole with my oci gum.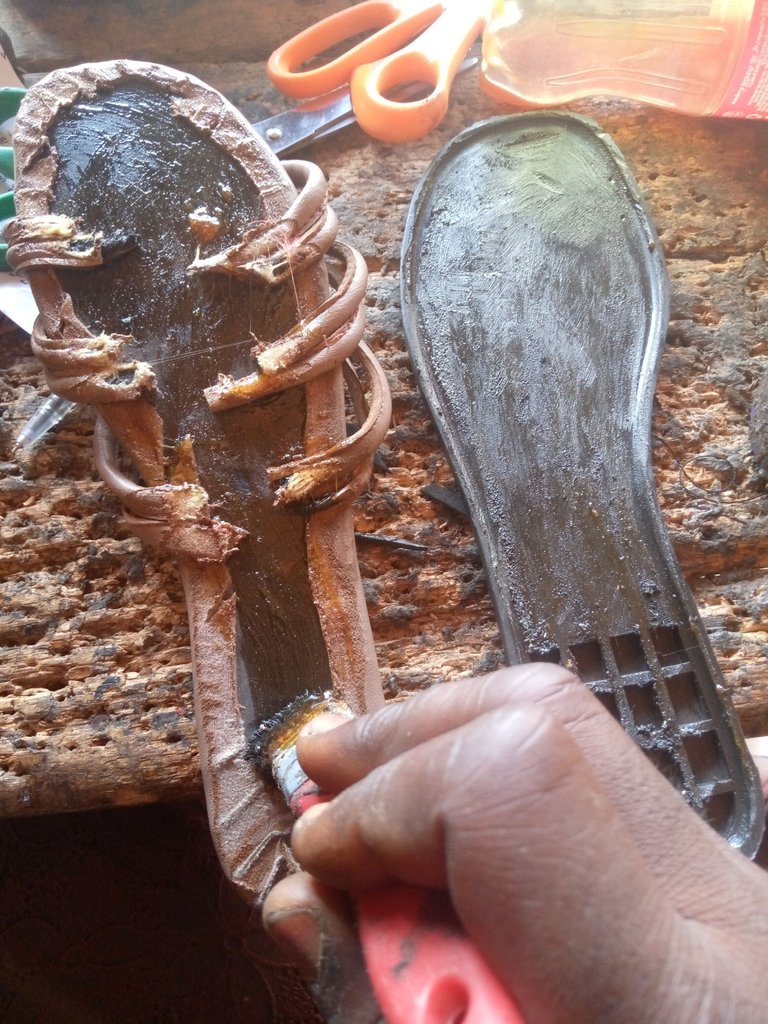 ---
The last thing was to join the insole to the polyurethane outsole, but to do this, aside using the oci gum, I had to put lot of super glue so it'll join together very well and not get opened by water easily.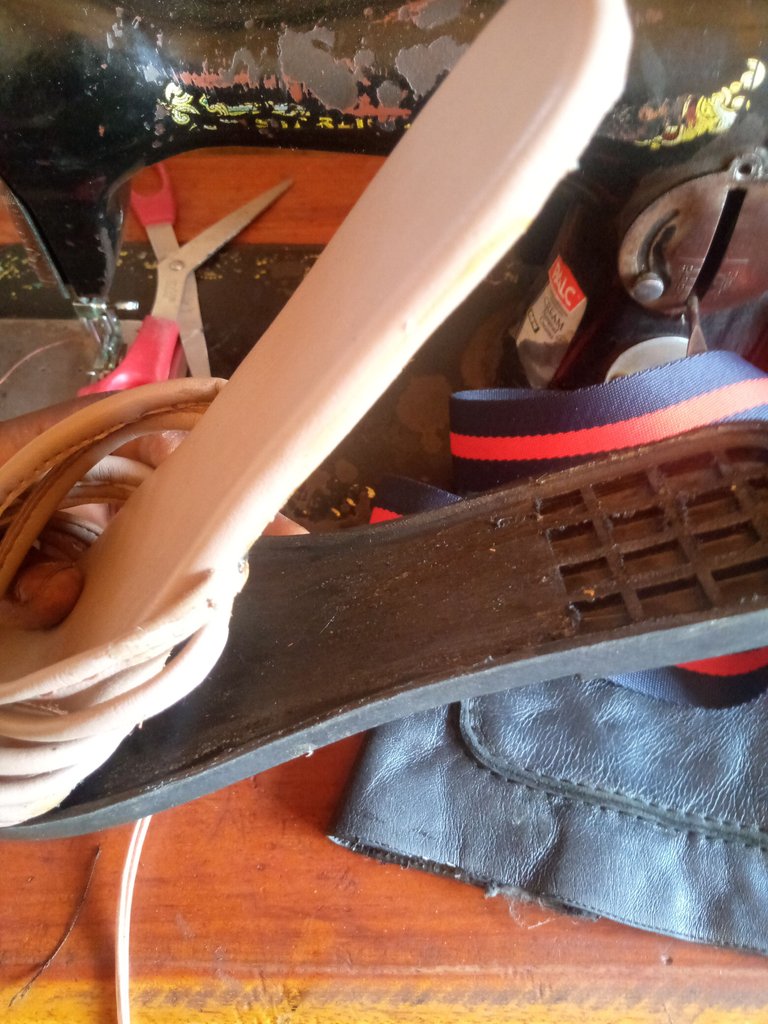 ---
These is the casual sandals I made for her and she definitely loves it for how comfortable it's and the look.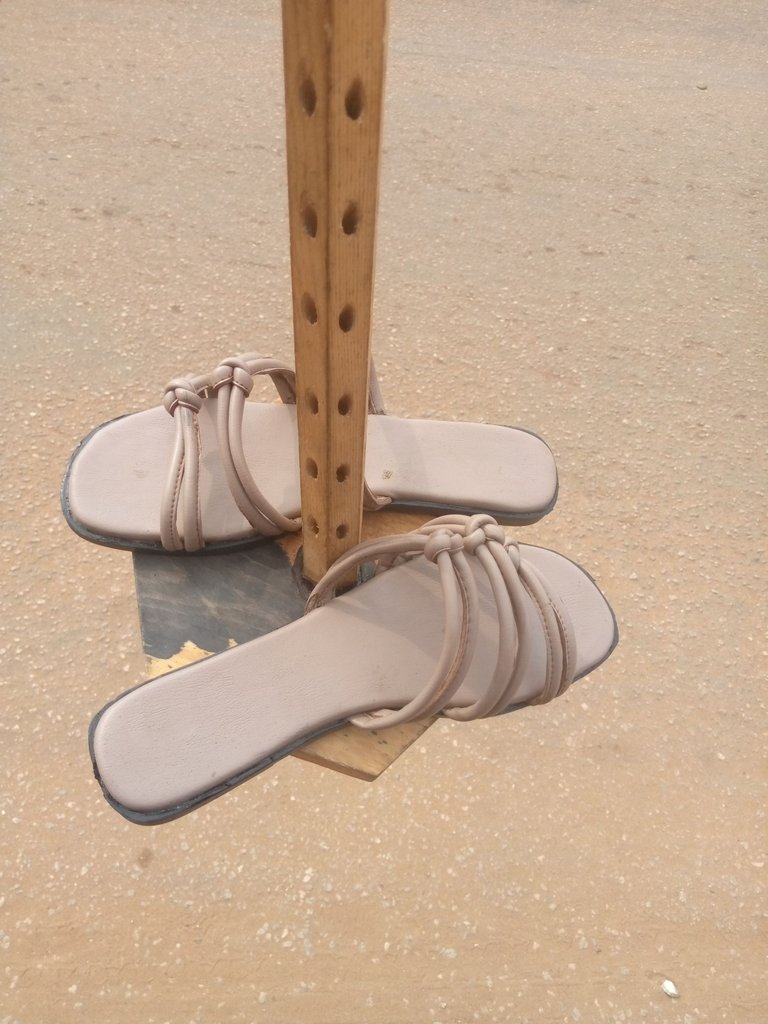 Thanks for checking out my blog post, if you want to know who @vickoly is😉, I'm a shoemaker, who is also into fashion designing and other related craft, to know more about me you can check out my Introduction post on hive, thanks once again, have a blessed and productive day ahead 🥰🥰.
---
---