IMPACT OF THE CHANGE OF CURRENCY AND ITS ABSENCE IN CIRCULATION ON CITIZENS
It's no longer news that the Nigerian government has redesigned the Naira note, and ever since it launched to the general public in December 2022, it has become a scarce commodity rarely seen by the citizens due to its lack of circulation; in fact, the deadline to stop the usage of the old note had to be rescheduled due to the fact that many are yet to lay their hands on the new note.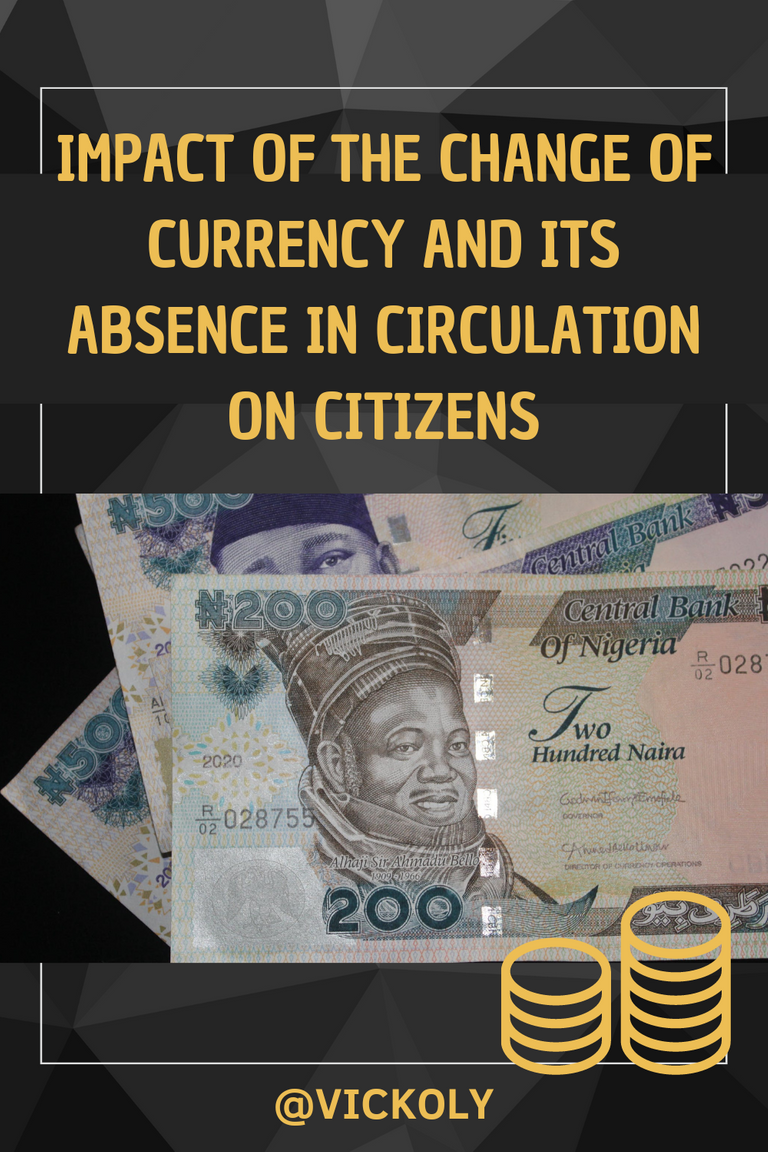 thumbnail design by me on canva and image gotten from
pixels
I for one have only laid my eyes on one copy of the new note since it was launched over 60 days ago. There are many factors that made it not circulate as it ought to, and the impact of its non-circulation has led to a disheartening experience for the citizens, and this is capped alongside the non-availability of fuel, which led to the stations having to sell at a huge price and the drivers charging a ridiculous amount.
As citizens of the nation, we're unsure of what to do at the moment, because aside from the lack of secularity of the new note, there are other things militating against us, and if we were to decide to solve any of them, each would take at least a day to solve.
Queuing for Fuel: Due to lack of power supply, many have resolved to the usage of generators to get electricity for their homes and work places, but fuel itself isn't an easy thing to locate, and the few stations selling it are selling it at a hiked price, and yet you'll need to queue for several hours before you can get the fuel. It's quite disheartening to know that a nation that exports fuel to other nations can't even supply it in abundance to her citizens.
Queue in the bank To get the new naria note, every citizen has been advised to give their old note to the bank in exchange for the new one, but this is almost impossible because if you get to the bank a minute after 8 a.m., then you might not even get lucky to be attended to throughout the day's working hours because you'll definitely meet nothing less than 500 people on the line at that time. Another problem is that most banks won't even let you withdraw more than a particular amount of the new month after depositing the old one.
These have made many resort to patronizing the pos vendors, but this idea is more of a steal, because every pos presently charges you 10% of anything you want to withdraw, so even if you want to withdraw 1 million naira, you'll have to pay a charge of 100 thousand naira. That's an outrageous amount, but who can we blame? The bank is probably getting a share from the pos vendors, because how come these vendors have the new note in excess yet common citizens don't?
PVC Queue: The general election to usher in a new president and others will be coming up later this month and early March, and it still seems unthinkable that getting our permanent voters card is something hard to come by. I wonder who they want to vote for when they refuse to release the card; you can line up for the whole day without it getting to your turn; there are days you even get there and you're told those who ought to issue the voters card also went to the bank to queue in order to get the new note.
Rejection of the old note: Most like local stores around me no longer want to collect the old Maria note, because they don't want to be the ones who ended up with the note when it became useless, although the government has extended the deadline of its usage to February 10th, but getting into the bank to deposit it is something that will take an entire day to achieve, and if you decide to avoid that aspect, then you must be ready to pay the extra 10% charges these local POS vendors charge for either withdrawal or deposit.

We're presently unsure of what to do next. Initially, I decided to stop withdrawing and only buy things in stores that will accept transfers via the bank mobile app. Now, both the bank app and their USDT code are not even going through. Imagine being in need, having money to pay for your basic needs, and yet you can't seem to access those funds to attend to your needs. That's the state where most of us are presently, and we're unsure of when it'll really come to
It's our hope that things will get better soon, although it's alleged that one of the major reasons for changing currencies is to make things hard for the opposing party as an election approaches. And once the election is over, money will circulate.
Hardly way it goes, I hope I'll be able to Scape through alongside those around me, thanks fir reading through, have a blessed and productive February ahead.
---
---