Legendary Raptors Brawl #8 % #9 - Moving Up! [DE-EN]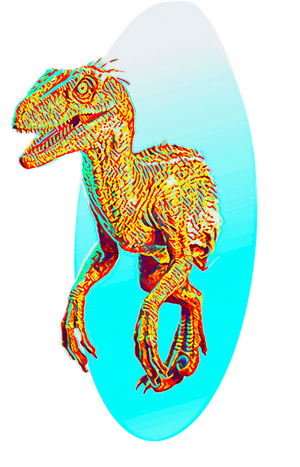 Jetzt wird's Ernst
Nach zwei relativ erfolgreichen Brawls (Platz 3 & 2) und der überraschenden Änderung bei der Verteilung von Brawlrewards, haben wir uns entschlossen den Schritt in Tier 2 zu wagen.
In knapp 6 Stunden erfahren wir die Ergebnisse des ersten Aufeinandertreffens mit den Top-Gilden in Splinterlands. Leider sind wir direkt auch auf unsere Freunde, die Legendary Whelps gestoßen.
Auf Kameraden verwandter Gilden zu treffen lässt sich allerdings schwer vermeiden, daher wünsche ich uns allen in diesen Situationen einfach nur viel Erfolg und lasse einen Konkurrenzgedanken gar nicht erst zu.
Doch näheres im nächsten Brawlbericht.
Hier die Statistiken unserer vorerst letzten zwei Brawls in Tier 1.
It's getting serious
After two relatively successful brawls (place 3 & 2) and the surprising change in the distribution of brawl rewards, we decided to take the step into tier 2.
In about 6 hours we will find out the results of the first clash with the top guilds in Splinterlands. Unfortunately, we also ran directly into our friends, the Legendary Whelps.

Meeting comrades of related guilds is hard to avoid though, so I just wish us all good luck in these situations and don't even allow me a competitive thought.
But more details in the next Brawl report.
Here are the statistics of our last two brawls in Tier 1 for now.

Brawl 8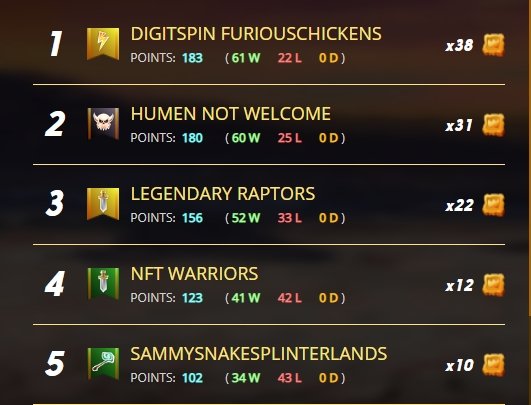 Brawl 9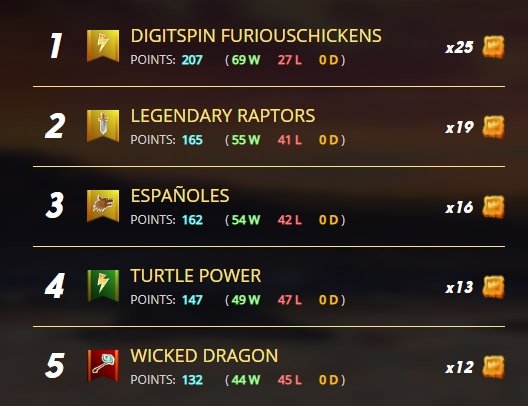 In beiden Brawls mussten wir uns den Furiouschickens geschlagen geben, aber können trotz allem mit unserer Leistung zufrieden sein.
Die Win/Loss Ratios blieben in beiden Fällen positiv, nur die Rewards waren zuletzt extrem gering, was einen Aufstieg in Tier 2 letztendlich fast unausweichlich machte.
In both brawls we had to admit defeat to the Furiouschickens, but can be satisfied with our performance despite everything.
The win/loss ratios remained positive in both cases, only the rewards were extremely low in the end, which made a promotion to Tier 2 almost inevitable.


Die Ausbeute
Die Änderungen sind stark spürbar. Nur 1169 Merits gab es für den 2. Platz im letzten Brawl.

Davor bekamen wir immerhin noch 1354 Merits für den 3. Platz ein paar Tage zuvor.
Jeder von uns ist heiß auf neue Gladiatoren, um die Sammlung zu erweitern und zu vervollständigen. Insbesondere goldene Gladis sind begehrt, da sie einige CPs mit sich bringen und für die Goldfoil Frays extrem wertvoll sein können.
In Tier 2 erhoffen wir uns mehr Merits abstauben zu können, selbst wenn wir nicht in der Top 3 am Ende landen. Außerdem ist es das optimale Trainingslager, da hier die Top-Gilden vertreten sind und unseren Erfahrungshorizont stark erweitern werden.
The loot
The changes are strongly noticeable. Only 1169 Merits were given for 2nd place in the last Brawl.
Before that, we still got 1354 Merits for 3rd place a few days earlier.
Each of us is hot for new gladiators to expand and complete the collection. Gold Gladis in particular are coveted, as they bring some CPs and can be extremely valuable for Goldfoil Frays.


In Tier 2 we hope to be able to dust off more Merits, even if we don't end up in the top 3 at the end. It is also the optimal training camp, as the top guilds are represented here and will greatly expand our experience horizons.
---
Brawl 8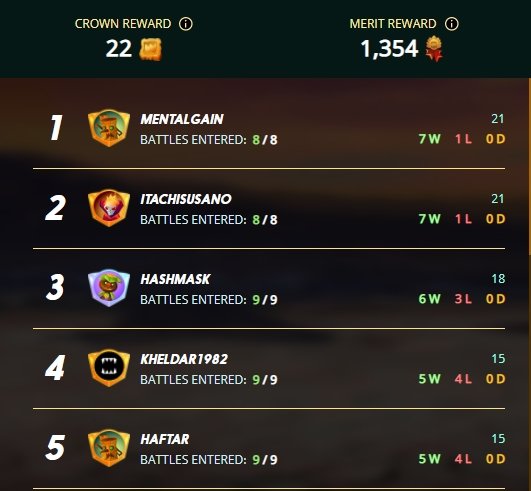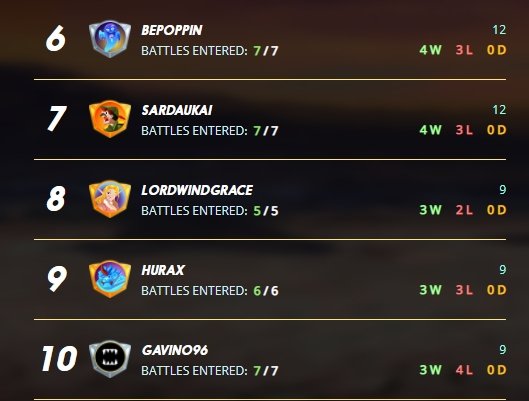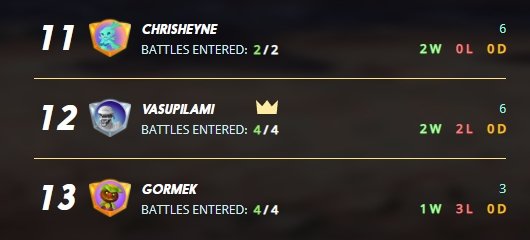 Brawl 9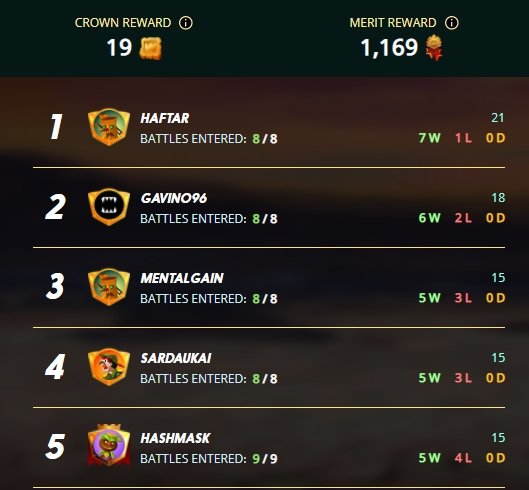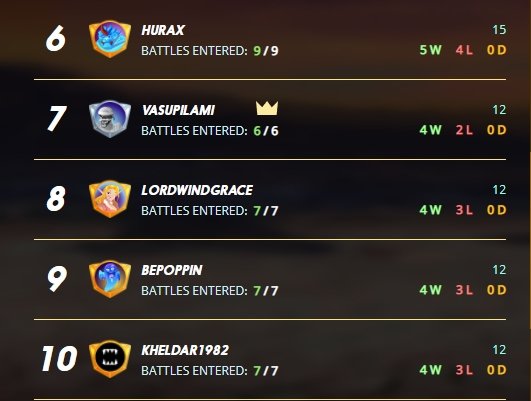 Ein Highlight meiner Battles
Heute gibt es keine Analysen meiner Battles, aber ganz ohne kann ich den Bericht dann doch nicht abschließen. Daher teile ich euch einfach einen Link zu einem überraschenden Win gegen ein goldenes Llama.
Das zeigt: auch mit (fast) CL only Karten ist so gut wie alles möglich
https://splinterlands.com?p=battle&id=sm_E5rmf911BiE7kfZh3SXV&ref=vasupi

Danke fürs Lesen!
Das war es mit dem aktuellsten Brawl-Bericht der Legendary Raptors!
In der Legendary Dragons Community, die mit ihren 13 Gilden und über 200 Membern, größte deutschsprachige Community in Splinterlands, suchen wir immer wieder nach Verstärkung!
Auch wenn du dich noch nicht bereit für eine Gilde fühlst, ist hier der richtige Anlaufpunkt für dich. Hier findest du Spieler mit teilweise jahrelanger Erfahrung, die gerne bereit sind ihr Wissen mit dir zu teilen!
Interesse? Dann kommentiere hier doch einfach oder tritt unserer Community über Discord bzw. Hive bei!
Thanks for reading!
That's it for the latest Legendary Raptors Brawl Report!
The next one will follow in a few days

Thinking about starting with Splinterlands or Rising Star and want to support me?
By entering through these Referral links you can do both! ♥️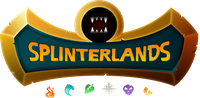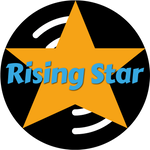 ---
---