The struggle is Real!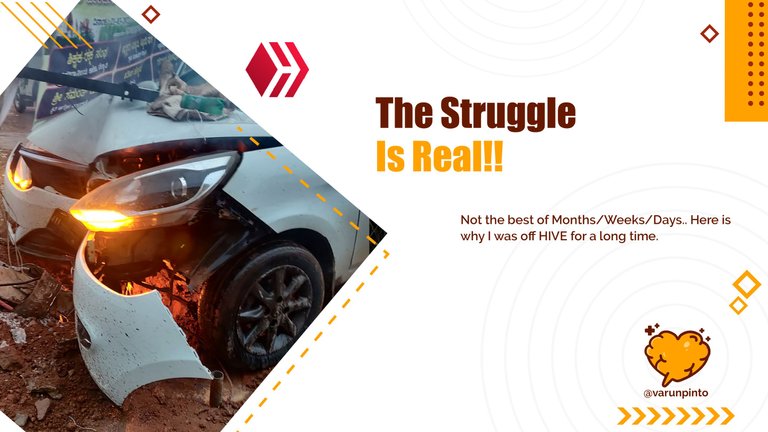 It's always easy to say "Look at the brighter side".. But, it actually doesn't work that way.. After going through series of health issues, losing some friends and a hell lot of other issues, just when I felt things might get better, I'm here wide awake in the middle of the night just because I can't sleep due to the pain.. A slight movement of the back and I feel like someone has electrocuted me..
Firstly would love to thank @waybeyondpadthai for this generosity at my times of need.. Really means a lot..

Need to also thank @littlenewthings.. Sometimes a small gesture too is a big thing..
Accident Update:
I have zero updates on my car because I'm still dealing with the cops who expect me to pay them $525 for no reason.. Somehow managed to get in connection with a few other cops and hopefully tomorrow will be able to get an FIR copy and the required details to submit my case in court and apply for a petition to release my car..
Also realised that the cops who were asking me for money have nothing to do with my case as the case is registered in a complete different station.. A lot of complications in India regarding which area falls under which station.. I met with an accident right behind a police station but my case has to be registered in some other station.. LOL!!
Health Update:
Like I said, I'M FUCKED!!
The back pain is unbearable.. Not sure how long I can stay strong and handle it.. Have adjusted with the hand pain but sometimes I forget and try to do regular activities which screw me up more.. But need to do some work to arrange some cash and get something running for me.. Just the estimate given to me as of now amounts to $1973.. And that's a huge amount.. And this is just for the first week.. If I don't get better I need to stay for some more days in the hospital..
The previous post about my accident didn't do really great.. But I need to keep posting and updating so that I could make enough to handle at least my medical bills as of now.. Will start posting photography related posts soon as I think those would make some better earnings.. Let's see..
---
---