[Esp/Eng] ✨Pollo con mostaza al horno. // Baked Mustard Chicken. ✨
✨🍗🍽️¡Hola amigos amantes de la comida! Espero estén pasando un gran día.🍽️🍗 ✨
Espero todos hayan pasado una excelente semana y pasen un fin de semana bastante descansado. En esta ocasión les comparto una deliciosa receta de pollo al horno con mostaza. Desde hace un tiempo he visto mucho por las redes que hacen recetas de pollo con mostaza al horno y aunque me gusta un punto de mostaza en algunas comidas, tampoco quiere decir que sea la más fan de esta salsa. Sin embargo, noté que varios familiares lo han probado y dicen que da un sabor bastante delicioso al pollo, así que me animé a prepararlo.
Hay distintas formas de prepararlo, pero en mi caso, quise hacer esta receta al horno, ya que tengo tiempo sin comerlo de esta manera y se me antojaba muchísimo. Así que me puse manos a la obra y el resultado me sorprendió bastante, sin duda es una receta que recomiendo muchísimo y que volveré a preparar próximamente.
🔸A continuación, los dejo con el paso a paso:
✨🍗🍽️¡Hello food loving friends! I hope you are super well on this day.🍽️🍗 ✨
I hope everyone had a great week and a restful weekend. On this occasion I share with you a delicious recipe for baked chicken with mustard. For some time now I have seen a lot on the internet that there is a recipe for baked chicken with mustard and although I like a touch of mustard in some dishes, it does not mean that I am the biggest fan of this sauce. However, I noticed that several family members have tried it and say that it gives the chicken a pretty delicious flavor, so I decided to make it.
There are different ways to prepare it, but in my case I wanted to make this recipe in the oven, since I hadn't eaten it like that in a while and I really wanted to. So I got to work and the result surprised me quite a bit, it is undoubtedly a recipe that I highly recommend and that I will prepare again soon.
🔸Next, I leave you with the step by step:
---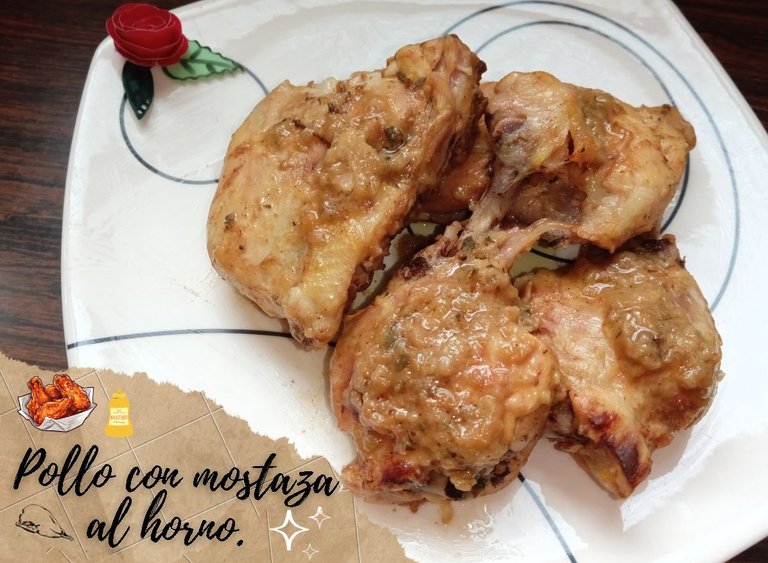 ---
♥️Espero les guste. ¡Comencemos!
♥️I hope you like it. Let's get started!
---

🍽️ INGREDIENTES | 🍽️ INGREDIENTS

4 piezas de pollo.
½ cebolla.
½ limón.
2 cds de mostaza.
½ cdta de pimienta negra.
1 cdta de orégano.
1 cda colmada de sal.
4 pieces of chicken.
½ onion.
½ lemon.
2 tbsp mustard.
½ teaspoon black pepper.
1 teaspoon oregano.
1 heaped tablespoon of salt.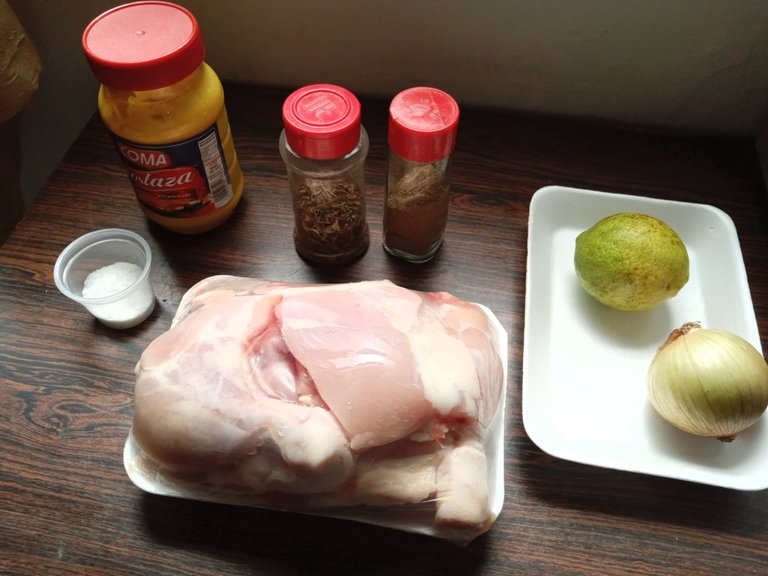 🍗 PREPARACIÓN | 🍗 PREPARATION

- PASO 1:
Lo primero que debemos hacer es rallar ½ cebolla grande y exprimir el zumo de ½ limón. Agrega la cebolla a un recipiente hondo junto con ½ cucharadita de orégano, ¼ de cucharadita de pimienta y 1 cucharada colmada de sal.
- 1 STEP:
The first thing we must do is grate ½ large onion and squeeze the juice of ½ a lemon. Add the onion to a deep bowl along with ½ teaspoon oregano, ¼ teaspoon pepper, and 1 heaping tablespoon salt.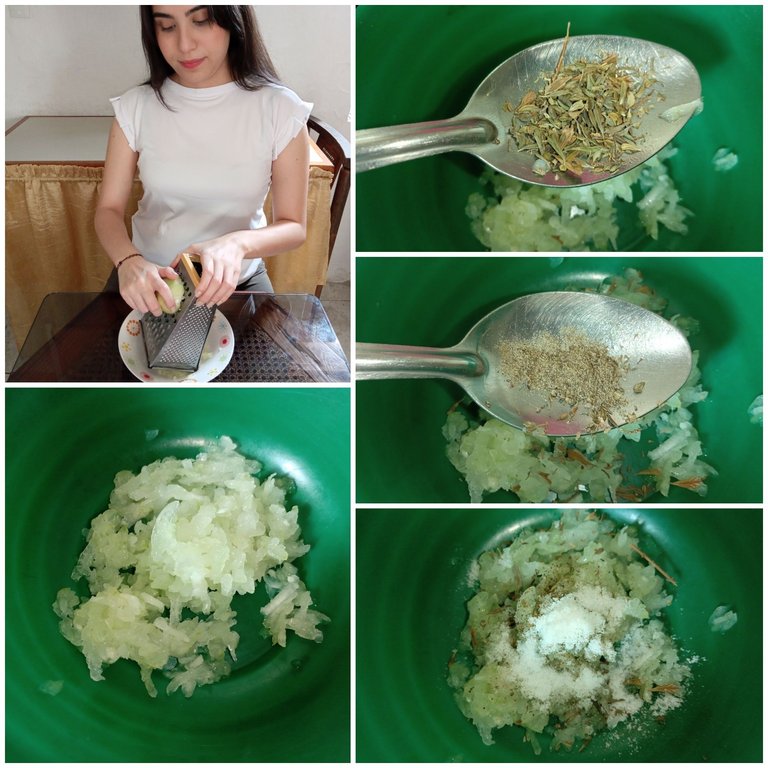 - PASO 2:
En el mismo recipiente agrega el jugo de ½ limón, mezcla un poco todos los ingredientes y por último, las 2 cucharadas de mostaza y mezcla nuevamente.
- 2 STEP:
In the same container add the juice of ½ lemon, mix all the ingredients a little and finally, the 2 tablespoons of mustard and mix again.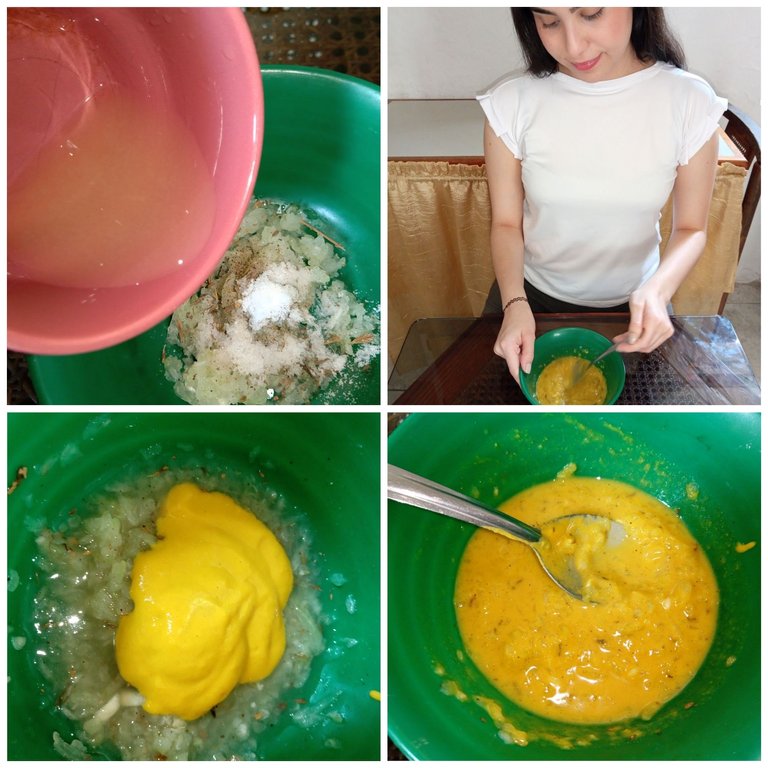 - PASO 3:
Luego, colocar las piezas de pollo en una bandeja o molde, agregar la mezcla que preparamos en el punto anterior y untamos muy bien todas las piezas de pollo por ambos lados. Si los untas con las manos, mucho mejor.
📌 Dejamos reposar por unas 2 horas o de un día para otro. Mientras más tiempo se deje reposar más va a agarrar los sabores del adobo y será más delicioso. Sin embargo, si gustan, pueden prepararlo enseguida.
- 3 STEP:
Then, place the chicken pieces on a tray or mold, add the mixture we prepared in the previous point and spread all the chicken pieces very well on both sides. If you spread them with your hands, much better.
📌 We let it rest for about 2 hours or overnight. The longer you let it sit, the more it will absorb the flavors of the marinade and the more delicious it will be. However, if you wish, you can prepare it right away.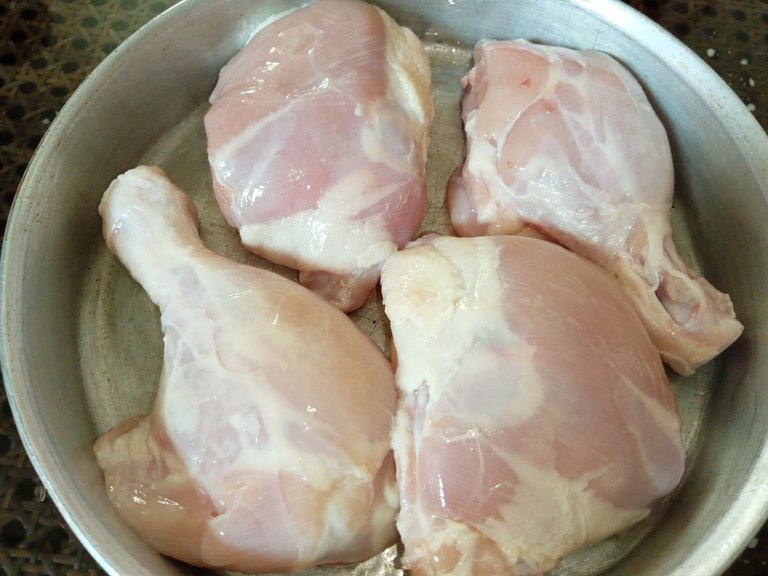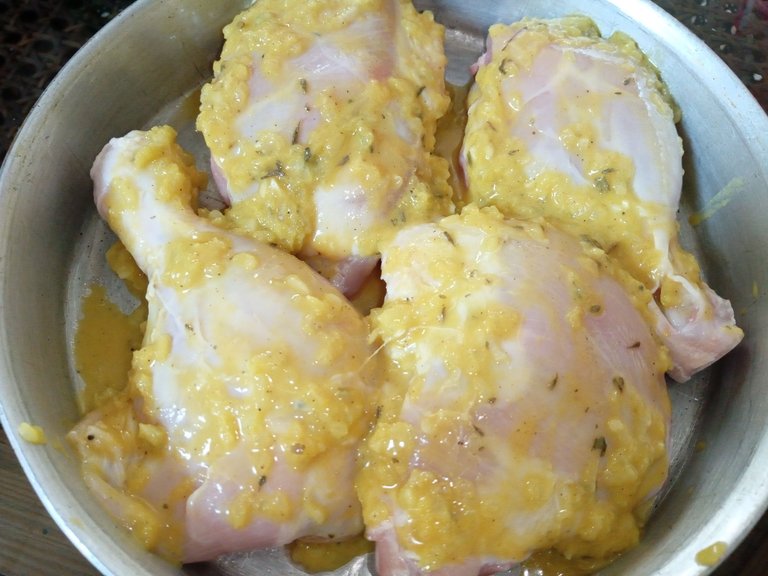 - PASO 4:
Pasado el tiempo, tapar y llevar a horno precalentado a 180 °C. El tiempo depende del horno, en mi caso, me llevo 1 hora con 30 minutos. Hay que sacarlos cada 30 minutos para darle la vuelta y con ayuda de una cuchara, agregar el mismo adobo sobre las piezas de pollo para humedecer.
📌Cuando lo veamos dorado por ambos lados, ya es momento de apagar el horno. Dejar enfriar un poco y listo.
- 4 STEP:
After time, cover and place in the oven preheated to 180°C. The time depends on the oven, in my case it took me 1 hour and 30 minutes. You have to take them out every 30 minutes to turn them and with the help of a spoon add the same marinade to the chicken pieces to moisten them.
📌 When we see it golden on both sides, it is time to turn off the oven. We let it cool a little and that's it.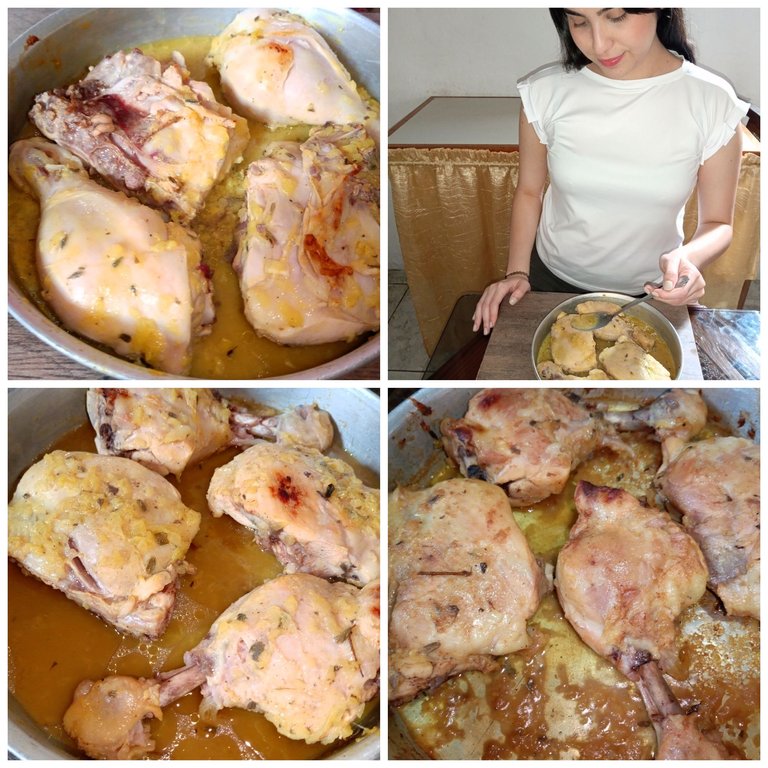 ✨¡Y listo!✨ Así es como podemos preparar este delicioso pollo con mostaza, seguramente muchos ya lo han probado, si es así, cuéntenme un poco cómo lo preparan ustedes. Para los que no han probado esta delicia, se los recomiendo. Luego intentaré preparar la receta con ajo, pero en ese momento no tenía en casa, así que será la próxima. Espero les haya gustado la receta y se animen a prepararla.
❤️Hasta la próxima publicación.
✨¡And ready!✨ This is how we can prepare this delicious chicken with mustard, I'm sure many have already tried it, if so, tell me a little about how you prepare it. For those who have not tried this delight, I recommend it. Later I will try to prepare the recipe with garlic, but at that time I didn't have it at home, so that will be next. I hope you liked it and are encouraged to prepare this recipe.
❤️Until the next post.

✨RESULTADO: | ✨RESULT: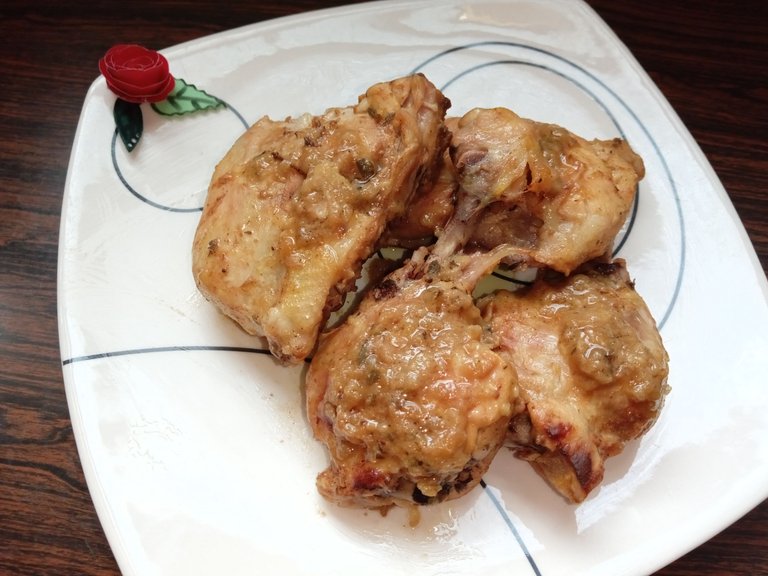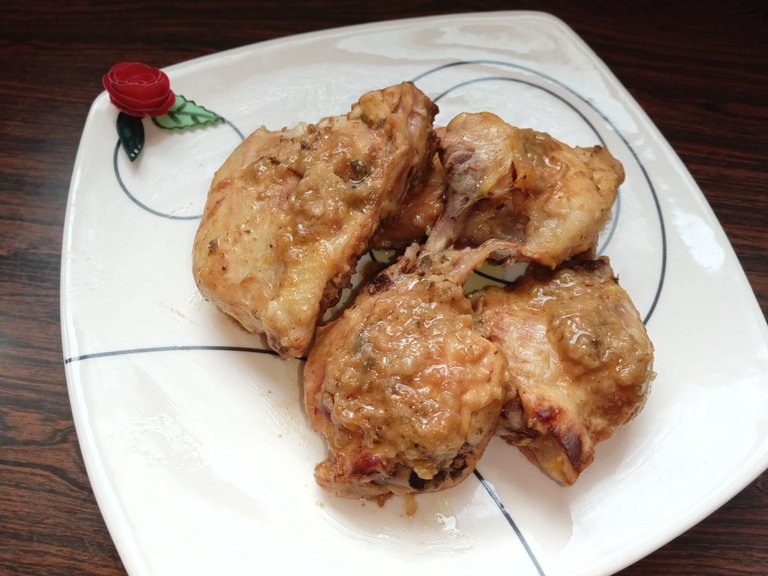 ---
📱 Twitter
---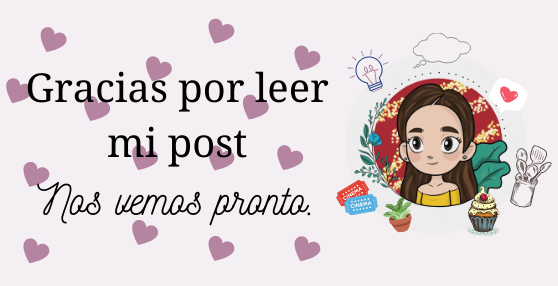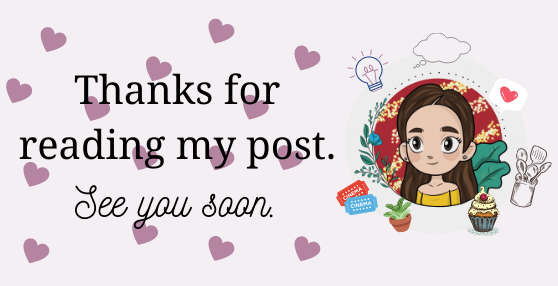 ---
!TE DESEO UN GRAN DÏA¡
Todas las fotografías son de mi propiedad.
Separador y Fotos editadas en Canva
!I WISH YOU A GOOD DAY
All photographs are my property.
Photos edited in Canva
---
---