Experimenting with beeswap.dcity.io liquidity pools thanks to @dalz & @dibblers.dabs

Welcome to BeeSwap! - Thanks to @dalz talking about the UI for BeeSwap being better than TribalDex, and because of a conversation I had with @dibblers.dabs I decided to checkout BeeSwap, and mess around with a liquidity pool since I had some extra DEC lying around. After looking at all of the APR's I think I need to make the decision to hop into one of the other pools that have an average APR of above 100% Because the Swap.Hive:DEC pool has a pitiful APR of .376%
Convert
this is the first screen you see when opening the site, it's a little confusing because the only two options you see rite away is Convert & Swap, but with a little bit of clicking around you find more options available once you click on the swap option you'll see and extended dropdown menu. Here the world of pools and providing liquidity are opened up to you, on a fast and feeless blockchain (Yes there is a %.25 fee for depositing, but that is it). Using this application is a breath of fresh air, compared to metamask and Binance's rug-pull chain.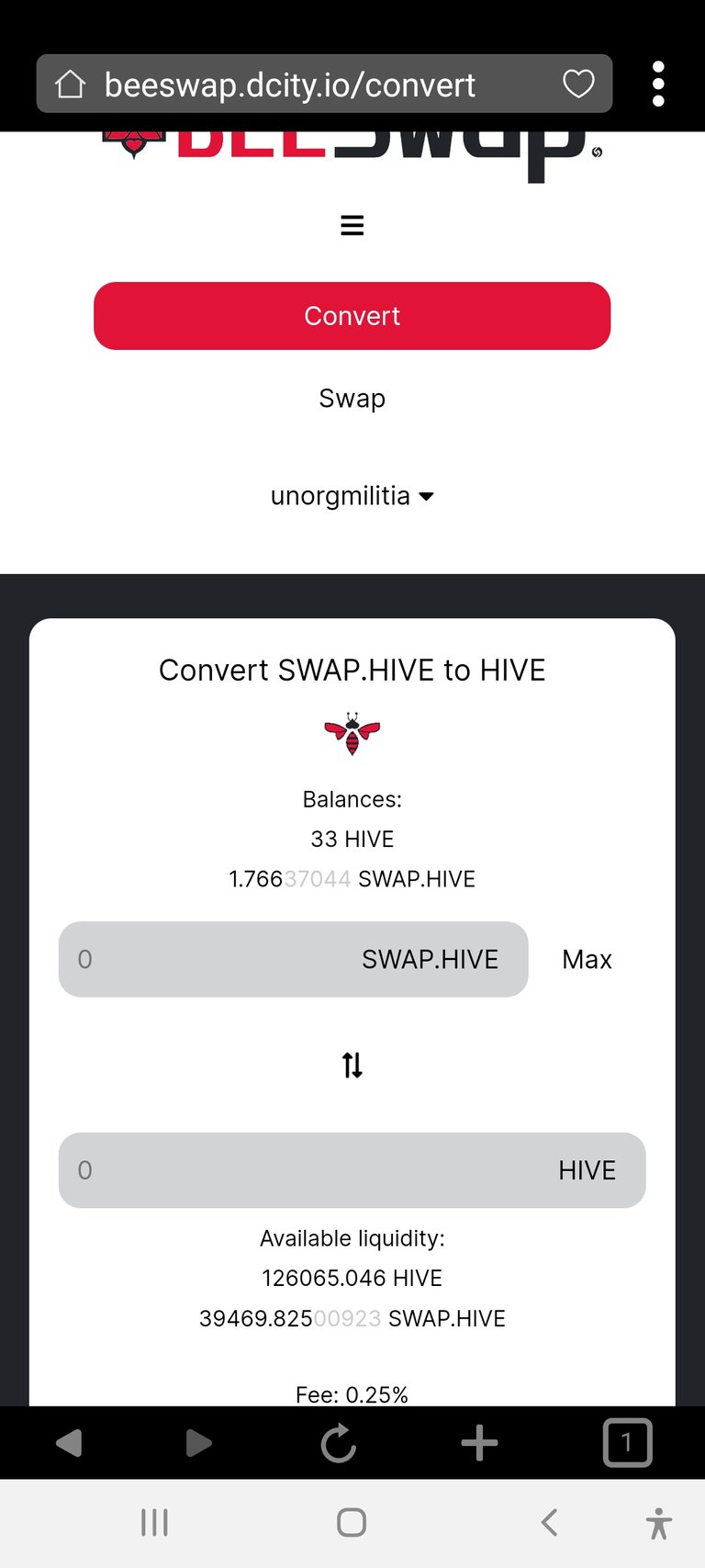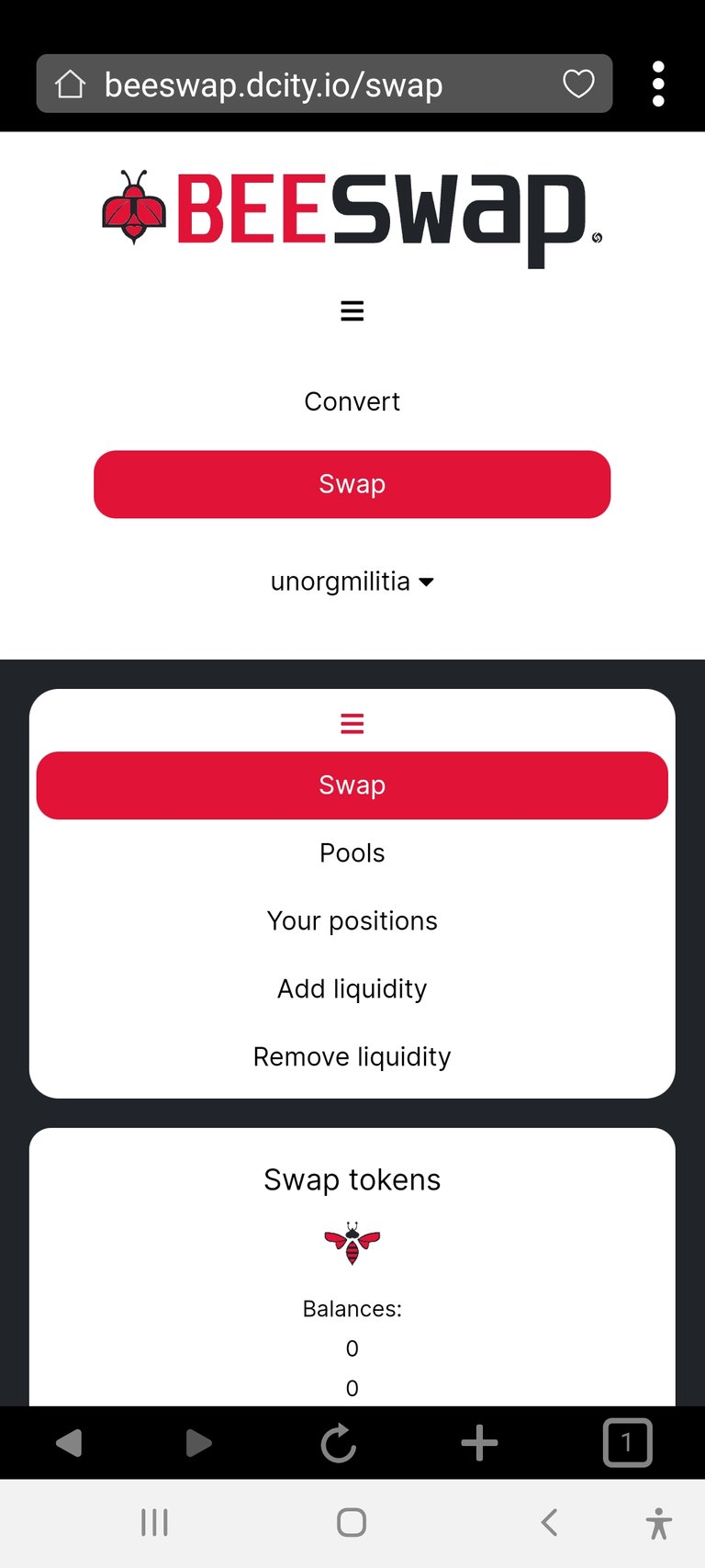 BeeSwap
This is the "Swap" page and it seems similar to the convert page, and that's where it gets a little confusing for my little squirrel brain. but once you use it for the first time you understand that convert is where you convert your Hive to Swap.Hive and pay the %0.25 and convert is where you can use BeeSwap similar to how you'd use the CubDefi or the PancakeSwap "exchange" rather than going to hive-engine and manually putting in sell or buy orders, you can go here and set the slippage and have an "automated market maker" perform the acquisition of the tokens for you. (I have no idea how any of this works)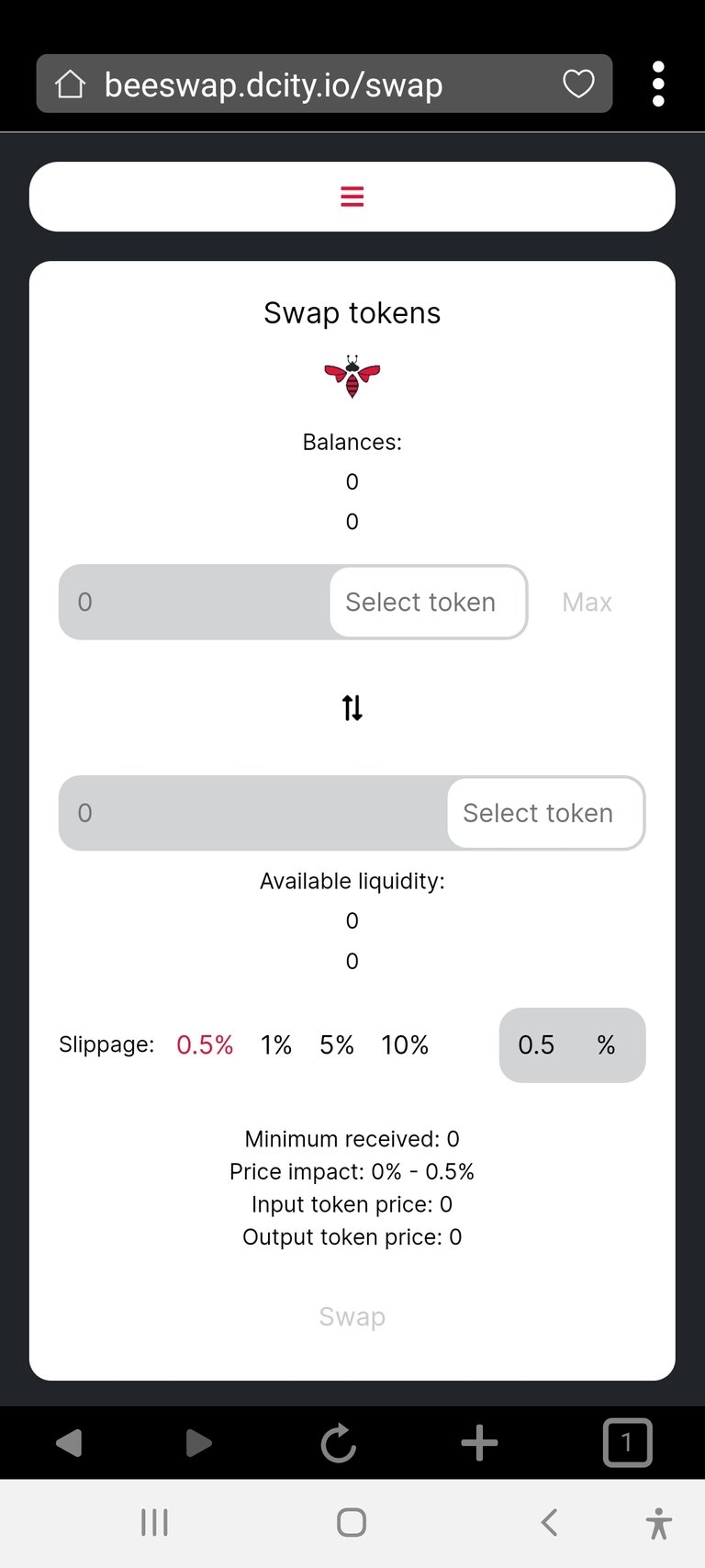 Pools
this section is where you can view the various pools available on this application in total there is ~60 different pools available, and I am positive there are better ones than the Swap.Hive:DEC pool that I initially went into.
Some notable pools are: Swap.Hive:LIST Average APR 698.172% / Swap.HBD:CENT - 251.92% / PIZZA:STARBITS - 421.733% / PIZZA:DEC - 532.662% / CENT:LEO 213.33% / CENT:POB 164.26% / BEE.SWAP:USDT 115.722% / BEE.SWAP:HBD 105.159% / SWAP.HIVE:LASSECASH 301.027%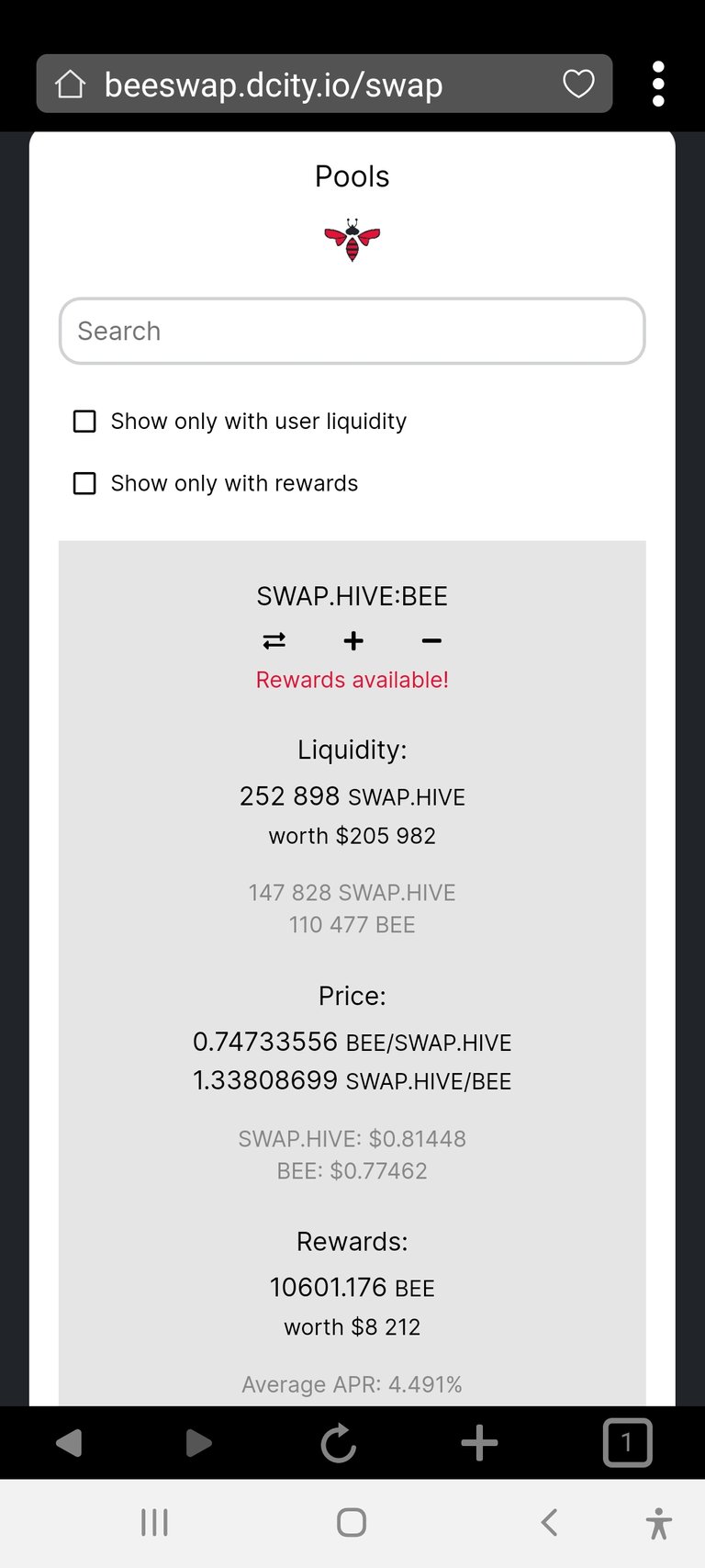 Add Liquidity
This is where you can add liquidity to the various pools, and what that means is that your coupling 2 different resources together, in order to be entered into the liquidity pool of your choice, and participate in the "give and take" ecosystem that is an automated market maker.
Unlike PancakeSwap and MetaMask, where you are given "LP tokens" and have to pay upwards of 3 TX fees (purchasing either asset, pooling, depositing, claiming, and re-pooling or selling) pooling 2 assets together on BeeSwap is free, and doing so immediately makes you a participant in that pool.
When adding liquidity the application will automatically calculate and show you what you are pooling and how much you need in order to pool, as well as show you the prices of both assets in comparison to each other, which I think is pretty convenient.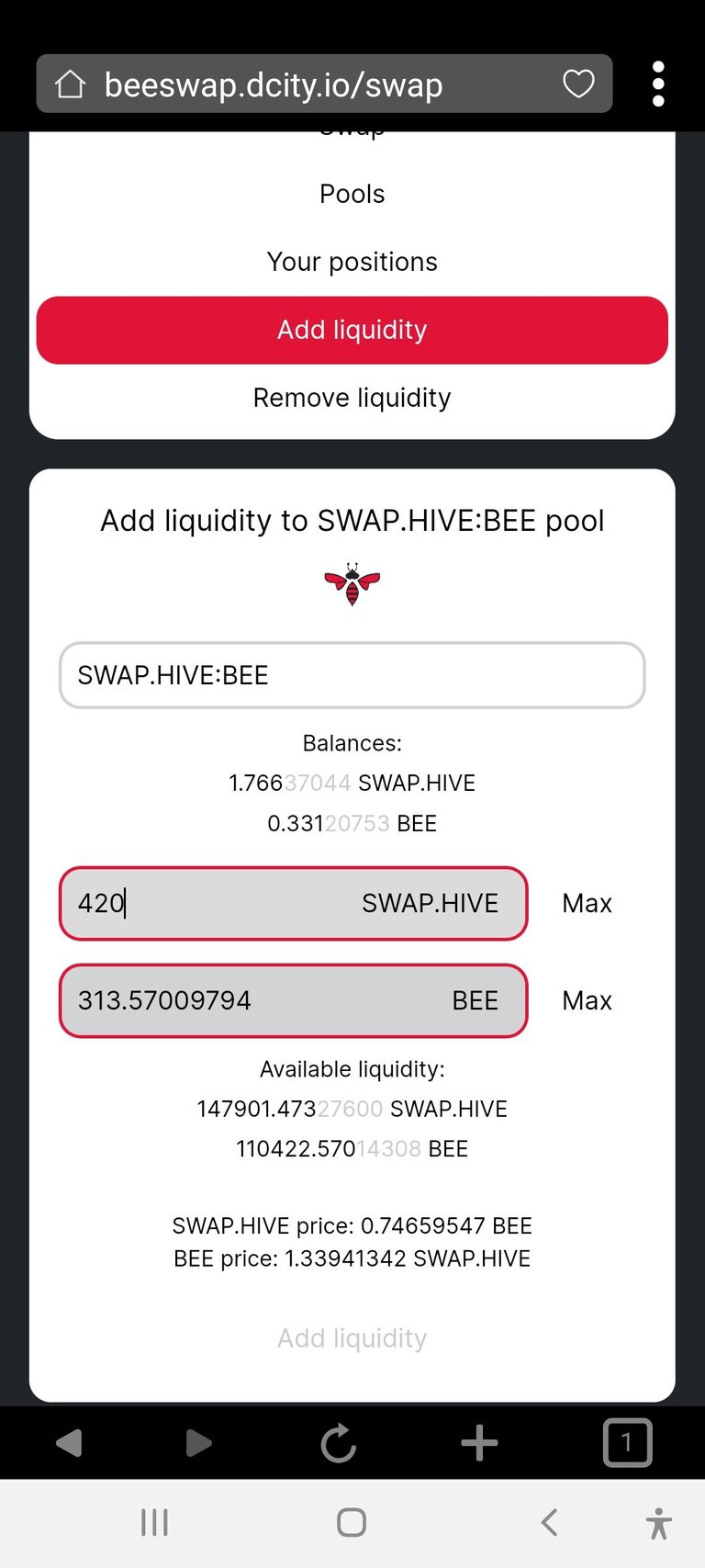 "Your positions"
This section is where you can view all of the liquidity pools that you are actively participating in. and see the rewards that you have gained so far.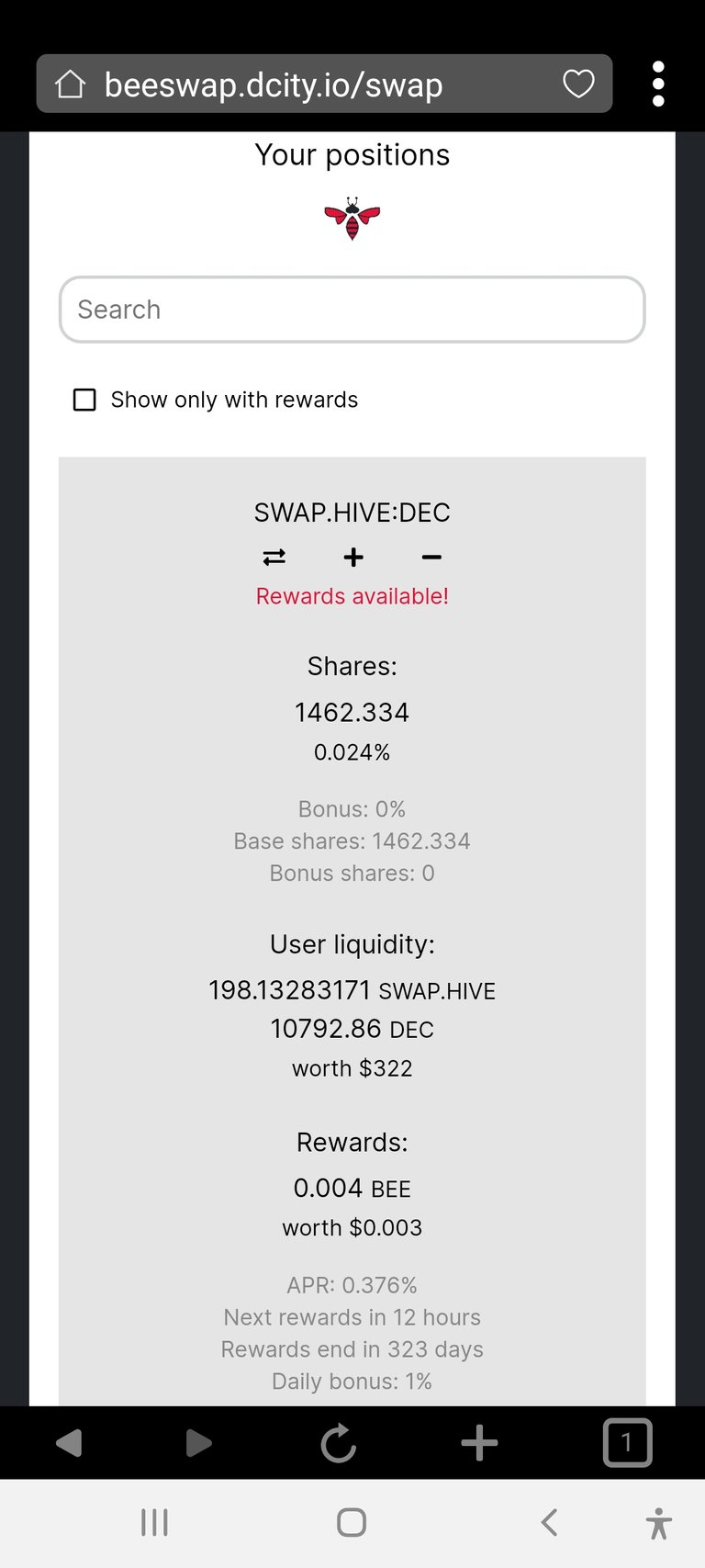 My initial investment - 198.73162955 Swap.Hive / 10757 DEC
After looking at all the pools, and seeing the APR's that are above 100% I am seriously considering exiting this pool.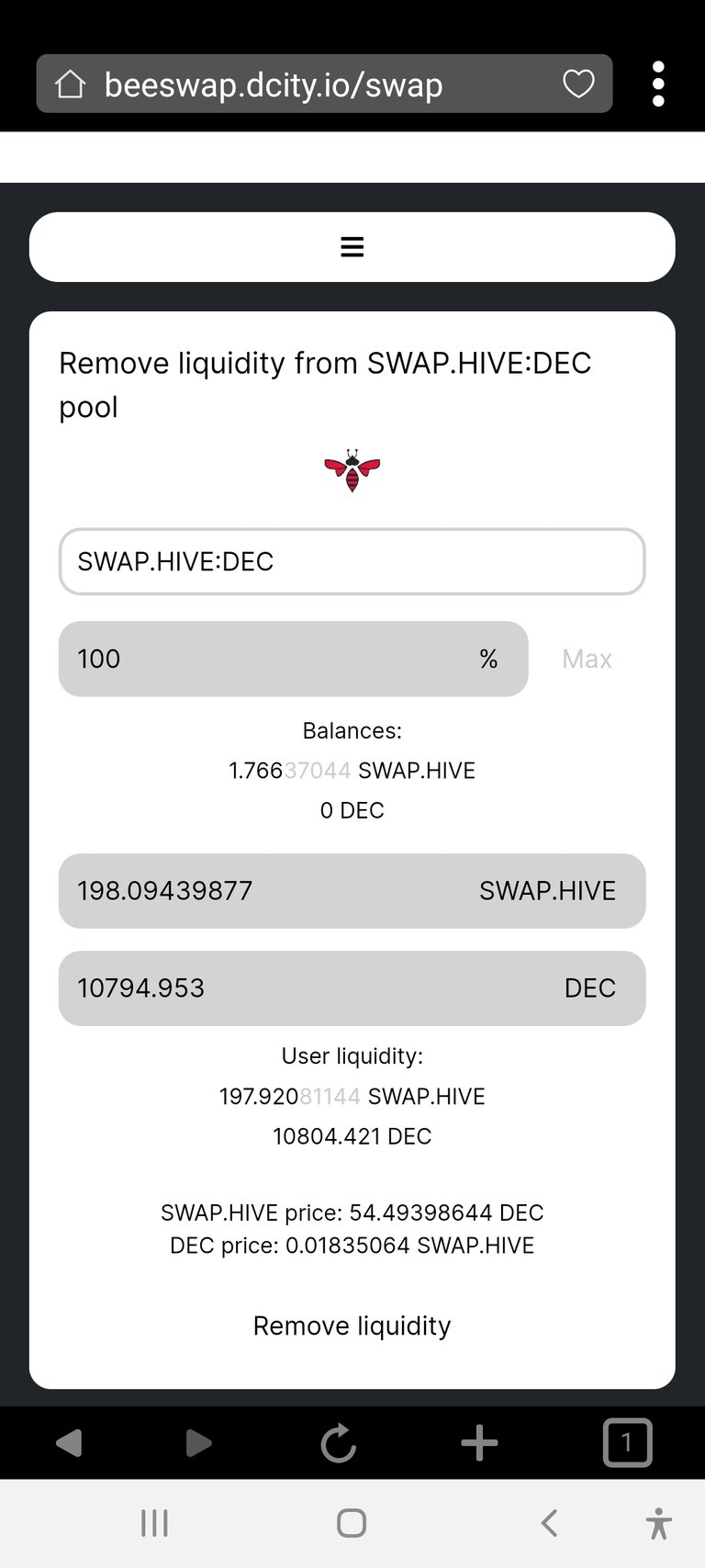 checkout beeswap.dcity.io/swap and see what you think
Posted Using LeoFinance Beta
---
---