Champagne, not all wine that bubbles is the same.
Happy New Years!
Lots of people are popping corks on bottles of bubbly, but not all them are Champagne... do you know the difference?
A sparkle in the glass, a celebration, a toast, a touch of magic. That classic coupe glass, a drink loved by writers, actresses, rap stars, and prime ministers. It's something special to open up a bottle of Champagne. But it's not all the same.
Starting back in 1882, a committee put together some of the strongest AOC (appellation d'origine contrôlée) rules in France that have been added to and updated throughout the years. They control all aspects from vineyard to bottle, and everything in between. Champagne is a protected namesake that is heavily regulated and prosecuted against fraudulent use to protect the image they have created globally.
Grape varieties grown, vine density per hectare, maximum yields per hectare, pruning techniques, minimum alcohol potential, pressing yields, minimum time of bottle age, and labelling regulations are just some of the restrictions put on the region.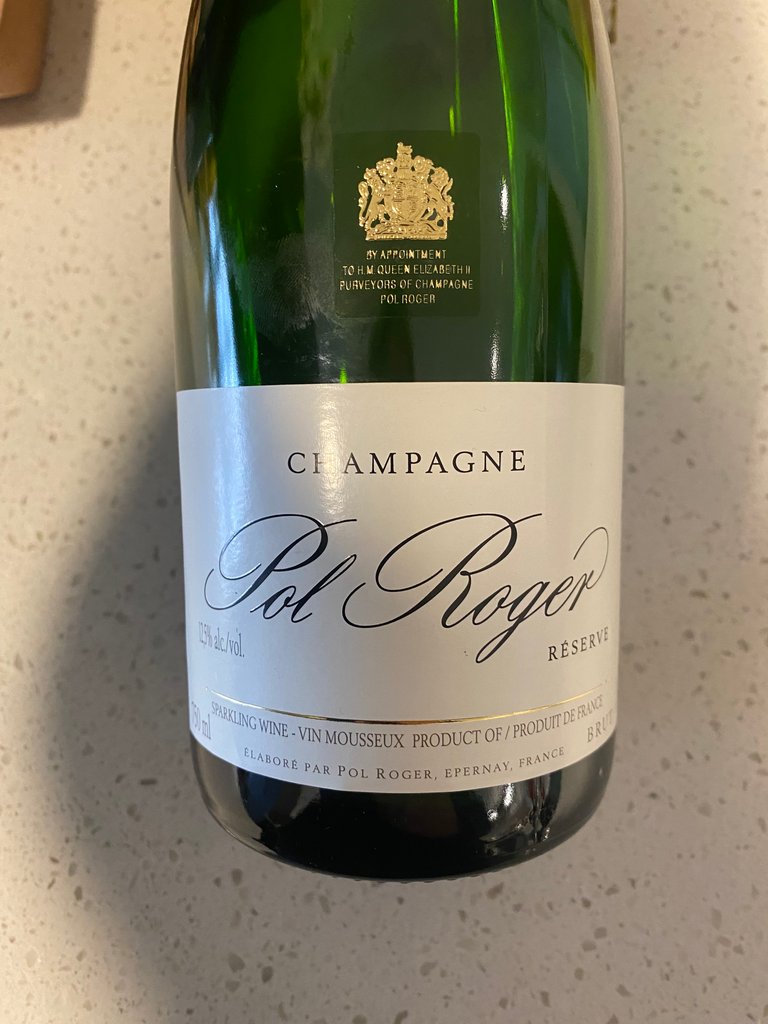 "A single glass of champagne imparts a feeling of exhilaration. The nerves are braced; the imagination is stirred; the wits become more nimble."
-Winston Churchill
Champagne is produced in the traditional method or méthode champenoise, fermented in bottle, carbonation naturally as fermentation happens. Other sparkling wines can be made in the same way and offer great value, but can not be called Champagne unless it is produced in the region of Champagne.
Grapes are harvested at a lower sugar level or Brix than most wines. They are pressed and fermented similar to still white wine, creating a base wine. After January 1st, the wine is bottled under a crown cap/beer cap adding a calculated amount sugar called a dosage. This additional sugar in the dosage produces a secondary fermentation in the bottle where carbon dioxide is trapped, un-released, forcing itself into the wine. Bottles are laid down for tirage for a minimum of 15 monthes for Non Vintage Champagne and 36 monthes for Vintage Champagne. After tirage, the wine is riddled. A process of getting the lees from the horizontal side of the bottled, gathered into the head of the bottle, resting on the cap. Ready for disgorgement where the lees are frozen, ejected and removed from the bottle. The bottles are than topped up, labelled and ready to be out enjoy!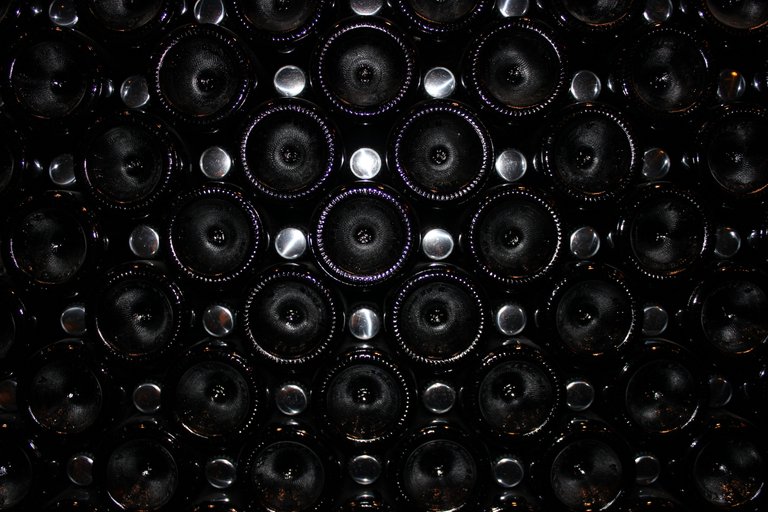 Bottles laid down head to toe, stacked ceiling to floor for tirage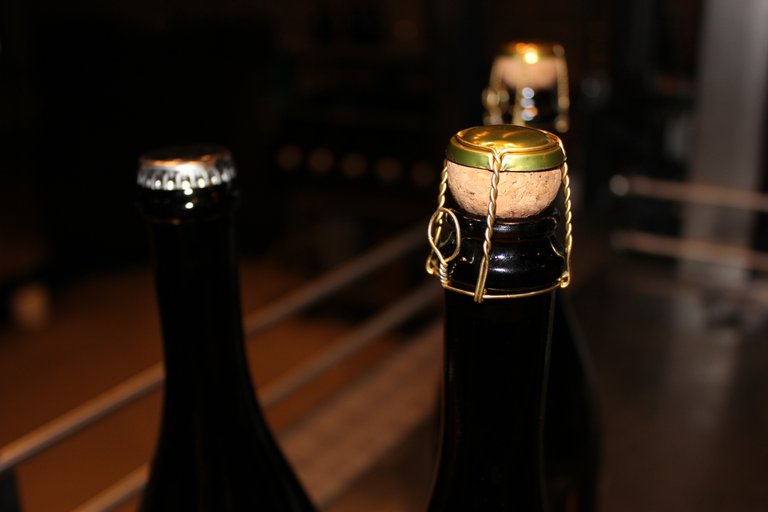 Crown cap on the left, and cork and cage on right
Fun fact, historically they never refilled the bottles, so they had the long capsule to cover up the fact that the bottle was not completely full
Others methods of sparkling wine produced are made in pressurized tanks and bottled under pressure, charmat method. Or force carbonated upon bottling like most commercial north american beers.
Classically the grapes are Pinot Noir, Chardonnay, and Pinot Meunier.
Vintage champagne is only produced from exceptional growing seasons
"I drink champagne when I win, to celebrate... and I drink champagne when I lose, to console myself." - Napoleon Bonaparte
....Basically, drink Champagne all the time!
Cheers!
---
---