Love and Sexuality Podcast #2- Misconception on exposing children to sex education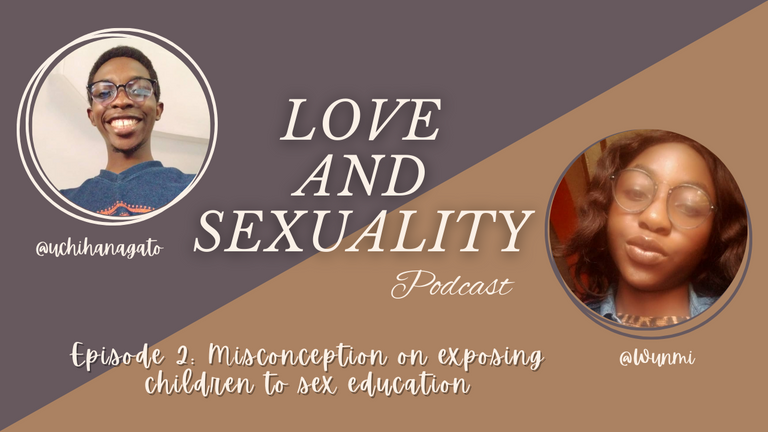 ---
Today I and a friend of mine (@wummi) had a brief talk on the misconception of exposing children to sex education.
I have come across several parents with the mentality that exposing their children to sex education is an indirect way of giving them the 'go-ahead' to perform sexual activities. Unfortunately this is a very wrong idea.
Providing our children with sex education curbs the risk of teenage sex (sex before adulthood), unwanted pregnancies and sexually transmitted diseases, addiction and emotional damage from being involved in sexual activities for the sake of exploration.
Sex Education is not limited to sexual activities alone but children need to be educated before hand on identifying their sexuality, sexual anatomy, the concept of safe sex as a preventive measure, and changes that may and will occur in their body as soon as they hit puberty.
The concept of sex education can be taught across children of all ages by using examples and materials tailored for their ages and level of understanding. For instance, children from age 2 to 5 should be taught to identify the parts of their body including their private parts and should be made to know that these private parts are for them only and shouldn't be touched by anyone else, and that alarm should be raised if anyone touches them as such.
Children at such age have a strong sense of right and wrong especially when instructed by their parents hence will adhere to this strictly and will even report their closest friends as soon as he or she attempts touch them in those places.
Excusing these necessary information from children can be really risky considering that the internet will provide it to them for free but from the unsafe perspective. Children these days are smarter and we see even two year olds with smartphones already accessing the internet without restriction or parental guidance, thus allowing them to see more than they should. What comes next is experimentation as children tend to imitate what they see out there.
Hence, regardless of some religious values which may consider talking about those things a taboo, parents shouldn't exclude sex education from topics to be discussed with their children as they grow since it a part of their lives they cannot run away from.
They should remember that if they don't teach their children, friends are people out there will teach them and will take advantage of their naivety and ignorance.
Thumbnail created using Canva!
Regards
uchihanagato!
---
▶️ 3Speak
---
---