FILL THE HEAT//INKWELL PROMPT

source
"Why the push? Why the pressure? Why the worries?" I said to myself, as I tried to reflect on my mistakes and failures in my life.
That thought had me feeling like a loser, worthless, and not productive in life. Like I am drunk on my potion. Now, I start to think of the warnings my parents gave me when I was still younger. But no, I listened to pleasure, fun, and peer influence, wasting my youthful life on a meaningless adventure.
After spending seven years in a Nigeria University for a course meant for five years. But the school management strike actions added extra years for me, making dreams impossible to achieve. And in those times, I kept searching for faster ways of making legit money, but there isn't a shortcut to legit wealth, you can't bypass the process, even when my parents advised me to learn a skill that will expand my knowledge and at the end be a source of income for me. I let my ignorance overshadow me, leading me to a dark path, all thanks to peer pressure.
I could remember when I was eleven years old, I had a big dream of becoming a civil engineer, one that will be famous for their work. I told mum, I will build her a house no one has ever imagined and take care of everyone. Now, here I am trying to find my daily bread. Trying to survive on the path I lead myself to. It wasn't all like this.
It was seven years ago. At the University, in my second year studying civil engineering, I was so energetic. In class, I was known for my smart intellect, my smartness drew a lot of people to me, both the good and bad ones. The lecturers came fond of me, always giving me special treatment and respect. I didn't have anything to worry about finance. But little did I know, it won't last for a long time.
One night I got a call from mum, telling me my sister is sick and all money is directed to her for recovery, and that cost my father's business. So I need to mind the way I spend and avoid unnecessary expenditures. I tried to. Yes, I did try. But the more I tried, the more I saw myself spending more than my budget. Little by little, I have acquired a lot of debts in my name. And when I sought help from my friends, they set me on the wrong path because of my desperation and anxiety. I did shit things.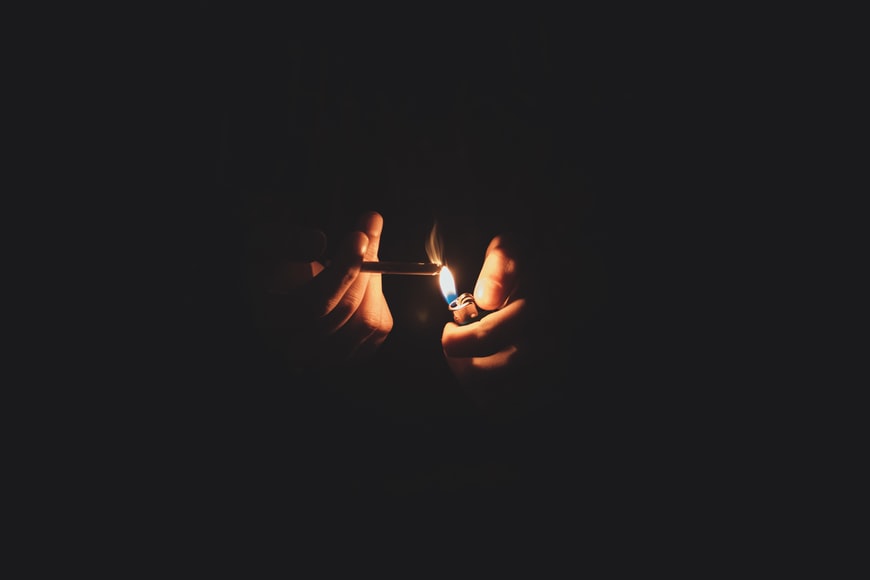 source
I remember the night I was shown internet fraud. How it works, who to chat with, and how to reply. But to do this, they needed to stay awake at night. "Stay awake at night?" I said to my friends. "It's not difficult for me " I replied with so much confidence, as they smiled and rolled a paper filled with green mashed leaves inside it, then they gave it to me. A lighter pointed at the bottom of the paper tip.
"Take and smoke it." One of them said as he held the lighter.
"I don't smoke, it's against my principles." I refused. They all laughed at me like they expected such a reply.
"In here, if you want to learn this you must stay awake at night and smoking helps do the magic. So you must smoke, else you leave." He said as he placed the handmade cigarette in my hand forcefully.
At that moment, I knew this isn't what I stood for, I was going against everything I was taught. But if I refuse I will be left with my financial crisis and worries. My worries won't change anything. So I placed the handmade cigarette in between my left index and middle finger, as shown. Then I lifted my hand to my mouth. He lit it, as I smoked it. Oh! What I felt was strange.
The terror, cramping, limiting like hands around my throat, a tight hot band around my chest. A sharp kick in the gut. It's cold hands digging around inside me, freezing me and still heating me to the spot. My lungs felt much too small, my windpipe reduced to the width of a straw, coughing while all sorts of delusions filled my head.
The world and people around me fade into shades of grey and disappear and melt away like smoke into nothingness, leaving only me and the worries that fill me up like water in a glass.
Now, it ends and the relief after the terror releases me from its painful grip is amazing, to be able to breathe again, the pain in my chest fades and the world returns in its full color. Now, I feel alive, until the day my worries return to claim me, as their victim once again.
Thanks for reading my post.
---
---