Your Money(Leo token/Hive)? Or Your Life?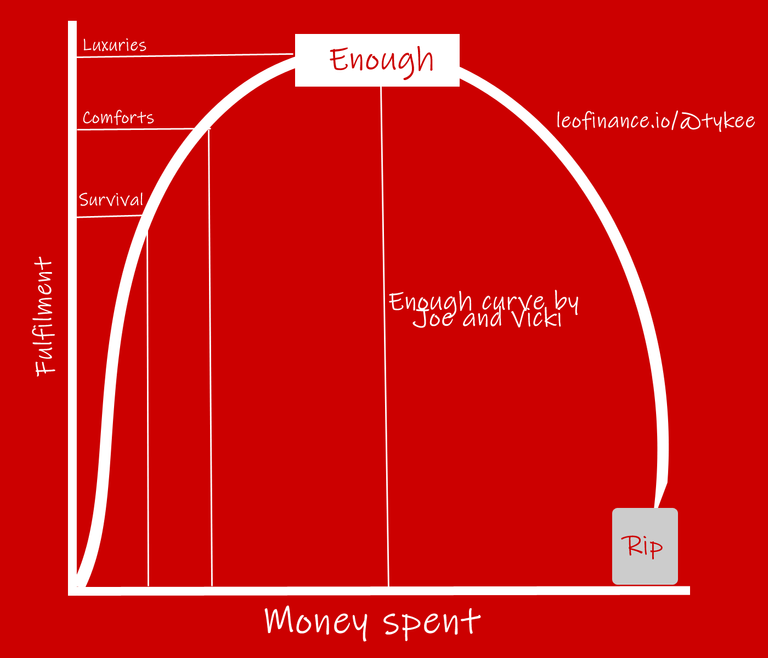 Who has seen, read, listened or remembered the Jack Benny Program in 1950 where a criminal points a gun at him.
The gunman said: "Your money or your life"? Jack was silent. The man asked again, your money or your life, then Jack replied, "I think it is over".
It is a comedy show, and that made people laugh. Because how would someone choose money over life. How would you spend the money when you don't have a life?
No one would choose money over their life but... before I proceed, I want to ask this question again.
Your money or your life? You have nothing to worry about. I am not a mugger and I don't know where you stay but there is more to this question than just answering at a gunpoint.
Most of us value money over our lives. We put more attention into making money. We exchange our time for pay. We do more than we are supposed to because of money and sometimes we give less attention to our life because of money.
Joe Dominguez and Vicki Robin published the book Your Money or Your Life in the year 1992. There is a lot about the story of Joe. He was a smart man that aimed to retire early in life. He found his way into Wall Street firm and made a whopping amount of $100,000 and retired 31 years. I believe $100,000 in 1960 is not the same as today.
However, sadly for Joe, he died of cancer in 1997, age 58. A day before he died, he wrote to his family that.
"Joe Dominguez has been given a clean bill of death. Please direct your attention to the living and to the things that need to be done."
The book is not about knowing how to manage money, but about building the right relationship with money.
In this book, Vicki and Joe explained the ideas behind money with:
Energy: Money makes you trade your time.

Psychological/lifestyle: A means to define self-worth, rich or poor, good or bad, and a winner and loser.

Material: Money is for the transaction. Bitcoin, cash or credit cards.
A few days ago, I shared concepts about how much is enough?. Which is based on an individual mindset toward money. Vicki and Joe shared what is enough in the book.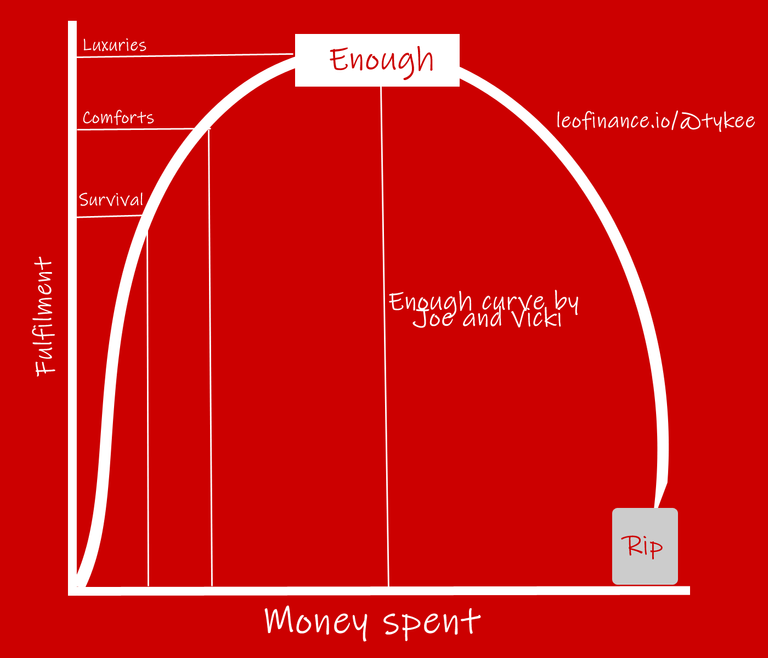 We live in a society of more. We always need more money no matter what we have. The chart above shows what we really need to check.
Survival is a state in which you have all you need to survive, but not all you want. Comfort is a place where you live with want and need. You feel living in a 2 bedroom is not enough with your family of 4 and you get a 6 bedroom duplex.
The truth is after the level of survival + good health; you are already rich, but your mindset would determine that based on your sense of gratitude.
The book addressed a lot about how financial independence can be achieved. But I will take the part that discusses time and money.
How money is earned and spent matters, thus we have to ask ourselves these 3 questions to know if you are spending in the right direction as your value and life.
Will my earning give me fulfilment, satisfaction and value in measure to the energy used?

I am putting the right energy into my purpose and value or I am just making money in the random efforts?

What would happen if I didn't have to work again for money?
Most people's idea behind financial independence is more = better. The more money you make, the money secured you are, but the idea behind the financial book by Joe and Vicki is enough can be enough.
Your money or your life?
A purpose-driven man is better than a feeble man with money.
---
Other posts you might like to read
Hodl(Hodl On For Dear Life) or TP(Take Profit)

Money Misconceptions That Can Limit You. (A Must Read)


My name is @tykee (Barlogun Michael), a web developer, Civil engineer, content writer and the founder of Meshboc Technology & Digital Services Limited. I am using my content to share my opinions on tech, lifestyle, and finance, to promote myself and impact my readers. I always like to learn. Education is the most thing I cherish.
Contacts
Twitter
Instagram
Discord: tykee#8770

Posted Using LeoFinance Beta
---
---