Newbies: How To Post, Explore Communities & Use Tags Through Hive. blog

RULE 1: DO NOT COPY/PASTE. BE ORIGINAL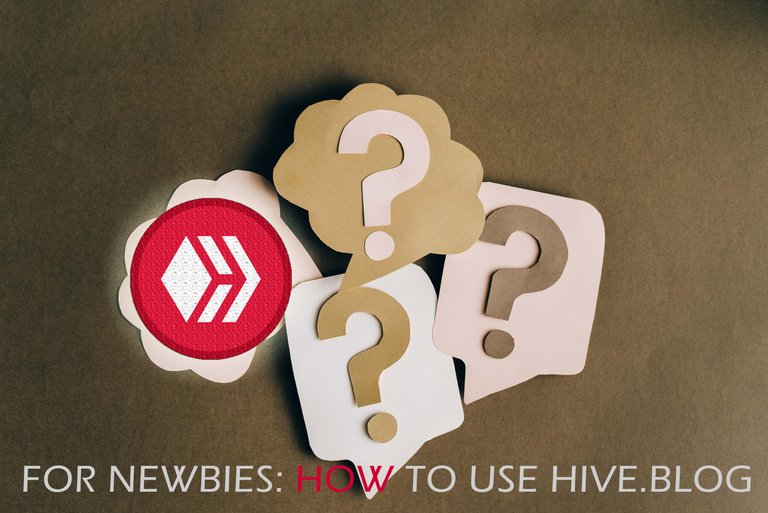 This doesn't seem like a new thing, but I have been onboarding people on Hive recently, I am facing random questions I have to answer, and I think making posts about them will make it easy. Also, I want to make this simple with few words.
So, without further ado, let's get to it.
Hive Communities
There are many communities on Hive. Some of these communities have their interface, which you can also post from and earn the community token aside from earning the Hive coin. However, there are ways to post in these communities without using their UI. You can reach them with tags or posting in the community directly through Hive. blog
Some of the communities
And many more.
These communities have their purpose and interest. They focus on a kind of content and you should use them based on the content you are producing. The Leofinance is for finance-related content. Gems is a collective curation community by some whales(accounts with plenty Hive tokens), like @rocky1 and you can post about almost anything creative and original.
Hive Gaming is for gamers. All the communities have descriptions in them, so ensure you read the description before posting in any community.
The screenshot below shows the Hive. blog interface. The Trending communities on the blockchain are listed on the right side of the screen. You can click on them and subscribe to them. Once you do, you will see posts from the communities and you will be able to post in them.
The list of communities you subscribed to will show on the left side of the screen.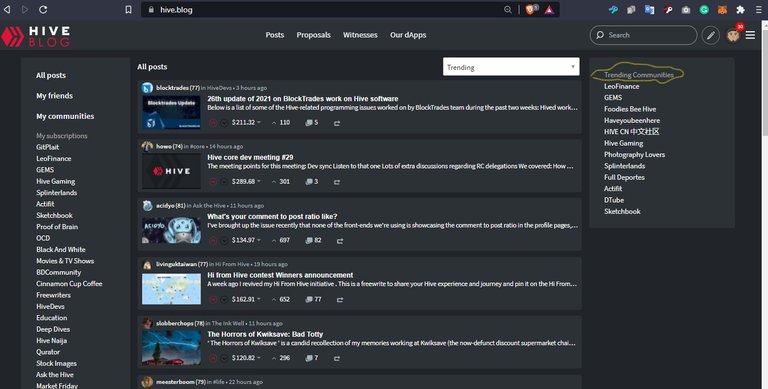 The button Explore communities... takes you to a place to see all the communities available on Hive. You will see the subscriber buttons and descriptions of the communities.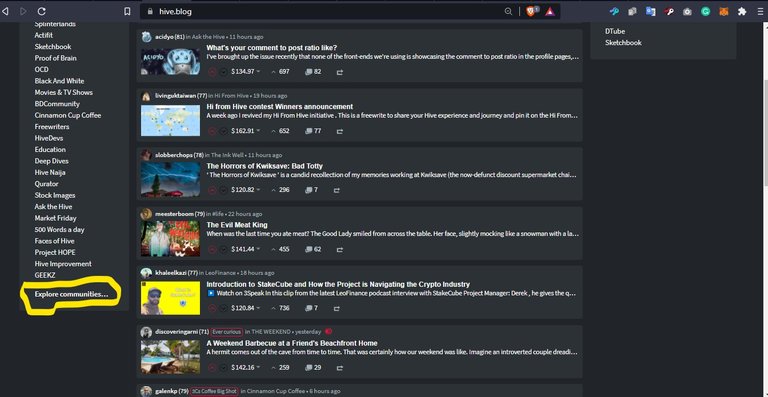 You will see all the communities on this list and their descriptions. There is also a search and a sort of functionality there. You will be able to filter communities based on Rank, subscribers and new.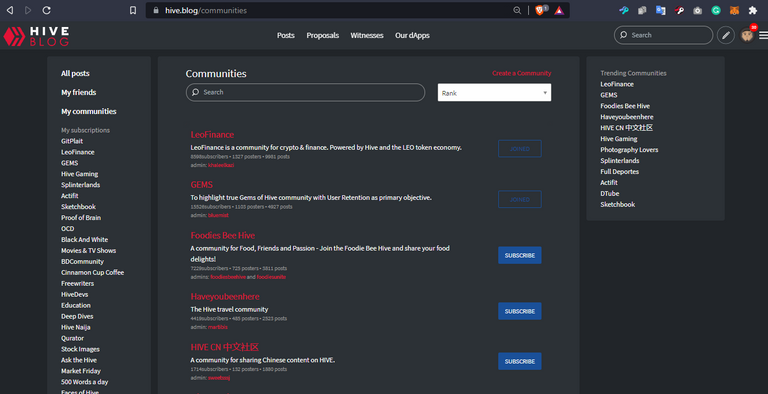 Posting is quite easy. You just need to click the pencil icon close to your profile picture at the top right. A click will take you to the posting editor.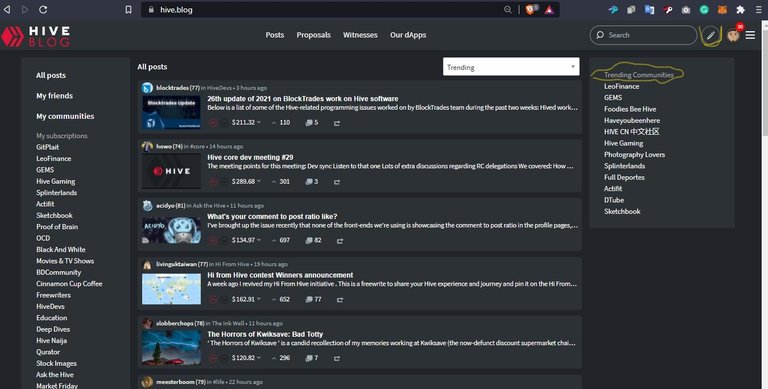 I displayed the editor below. The First input space is for your post title. Always choose a catchy title.
The big Textarea or input is where you will put all your post contents and images. The red Select them text is used to add images to your post. You just need to click to add image(s). Everything is quite simple.
The post summary input field is used for search engine optimization. You just need to put the overview of your post there for visibility.
The tag field This is very important. If you don't use the proper tags, your post may not get the right visibility as well.
How to use tags on Hive.blog
You can use only 8 tags on Hive.blog

All tags should be in lowercase.

You can use tags to make your post-show in more communities, depending on your content. Tags to show you post in communities... proofofbrain leofinance neoxian cent ctp palnet

You must give a space after each tag.

Use tags that go in line with your content.
Note: Do not use these tags randomly. Check the communities to know the kinds of contents they curate(they want and vote on).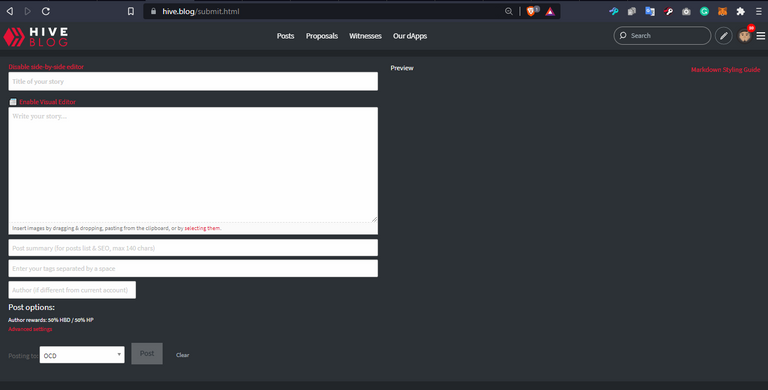 Post options:
This feature helps you to set how you want to get your payout. You can click the button Advanced settings to change it. But I recommend you leave it as it is by default for now. You can also add beneficiaries if you want more people to share from the post payout.
Then you can select a community you want to post among the communities you subscribed to. Once you select the community, click on the post button. Your post will be live on the chain within a few secs.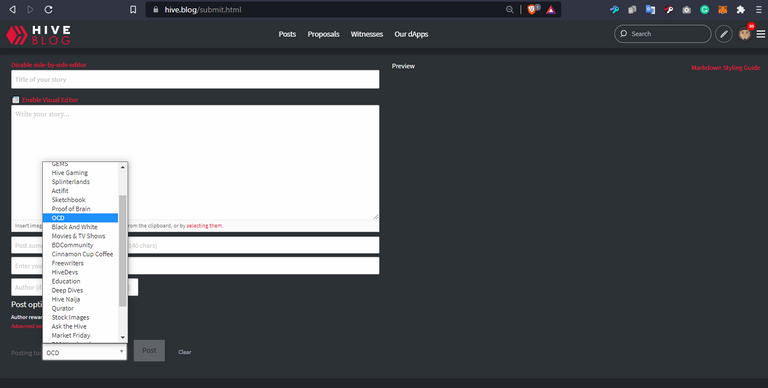 You can go to your profile by clicking on your image icon section to see the lists of your posts. If you post in a community, your post will be on the posts tab on your profile. If you want it to show on the Blog section, you just need to click the circled arrow button as shown in the image below.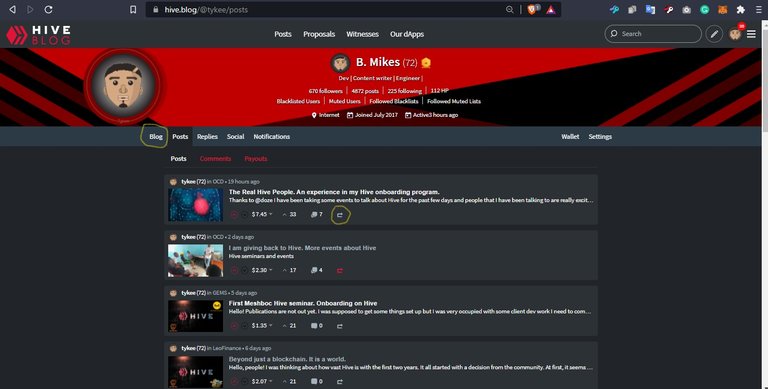 With the information above, you should be able to post with the right tags and in the right community on the Hive blockchain.
Enjoy your adventure!
---
Posted via proofofbrain.io
---
---