I hope you aren't tired of rainforests yet!
I'm back with a few more rainforest images from British Columbia, Canada. If you're tired of them, I sincerely apologize because I have a lot more to share still 😅
---
Sleepy Hollow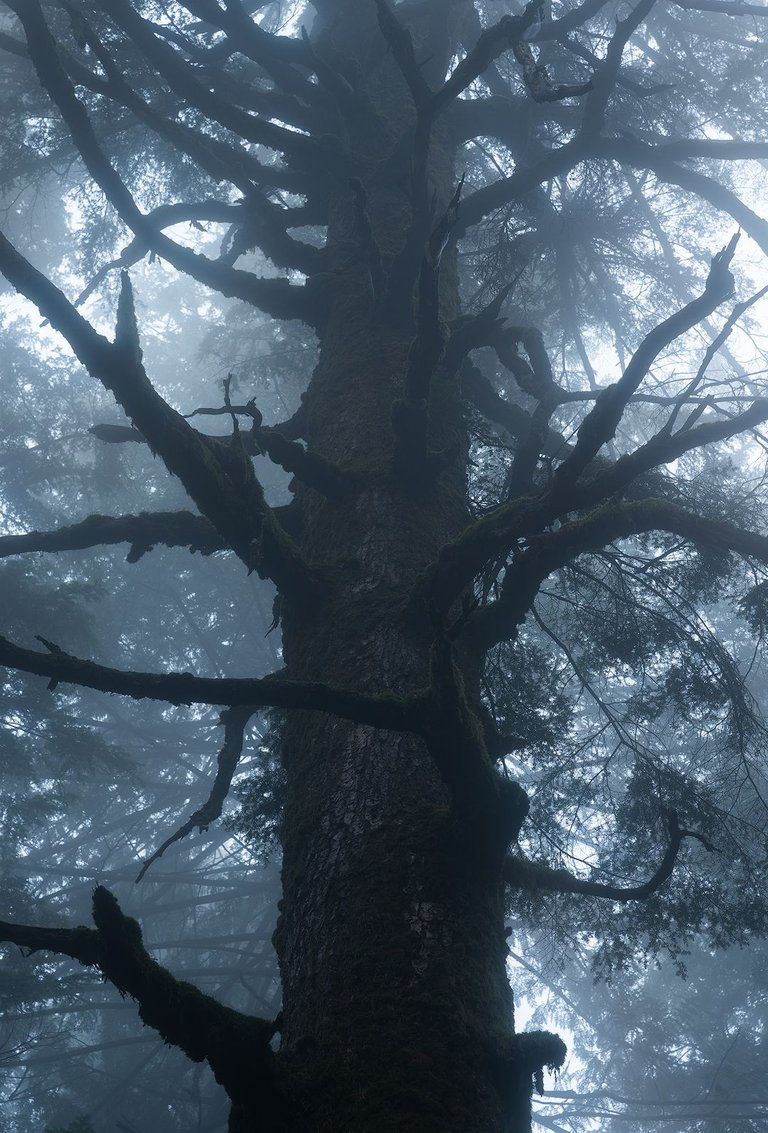 "I kept wondering why you were always looking up!"
My friend @blakerandall and I went for a foggy hike, but I was struggling to come up with any 'regular' compositions of the forest. But then I noticed this rather formidable looking tree that looked like it came right from a horror story. The sharp and jagged branches were like evil spikes.
I paused to give it a look before setting up my camera. I don't typically like to look straight up in the forest, as you get a lot of distracting sky in the image, but the fog appeared thick enough to solve that issue.
When I got home, I was feeling quite good about this shot, so I edited it right away. Typically my forest images revolve around greens and yellows, so it was refreshing to work with a different color. My gut feeling was right and it was by far my favorite image of the day!
---
Secrets of the Forest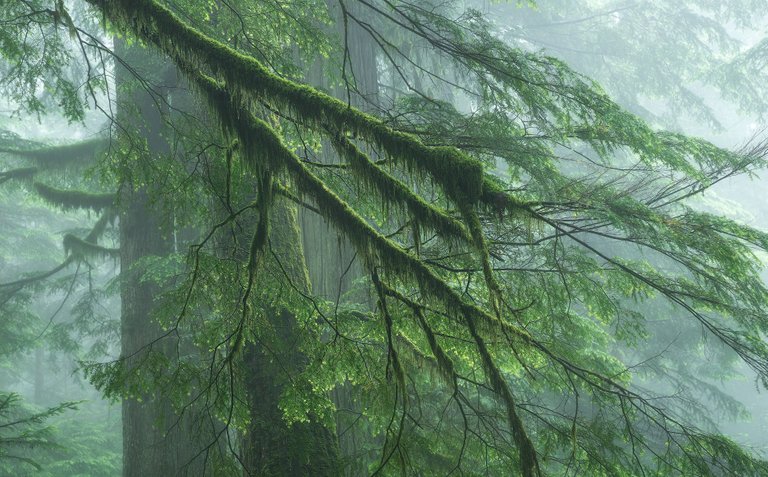 I find certain things in the forest are much harder to photograph than others, even if both are stunningly beautiful. For example, mossy tree branches. I always find myself admiring them while hiking through the rainforest, but it took me a very long time to figure out a way to translate them into a photograph.
The main problem is that forests are very messy. Without fog, it can be difficult to get the right kind of light needed to make an image that isn't a total disaster. It can also be difficult to get the entire subject in focus. Photographing tree branches means zooming in and dealing with a shallower depth of field. To make it work, you need the tree branch to mostly exist in one plane of focus, otherwise visual flow will be disrupted.
Suffice to say I felt quite lucky when I came across this tree branch on a beautifully foggy day!
Also, this was another hike with Blake, and yet another where we got amazing light. For some reason the forest gods seem to love us.
---
Wooly Mammoth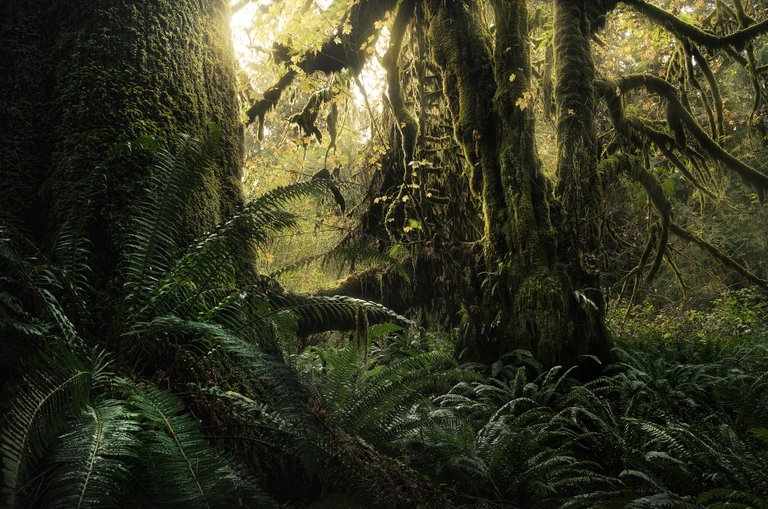 A wooly mammoth. That's what this tree reminded me of. The moss is its thick coat, the low branch its trunk. Although most of that branch is out of frame, most of its 76 feet in length cut off by the foreground tree!
There was something fitting about an ancient forest having a tree that resembles an ancient animal.
Sometimes I feel like I went too heavy with the editing on this one, but other times I'm extremely happy with how the colors and luminosity turned out. It can be fun to get creative and let your artistic side shine!
---
Autumnal Beauty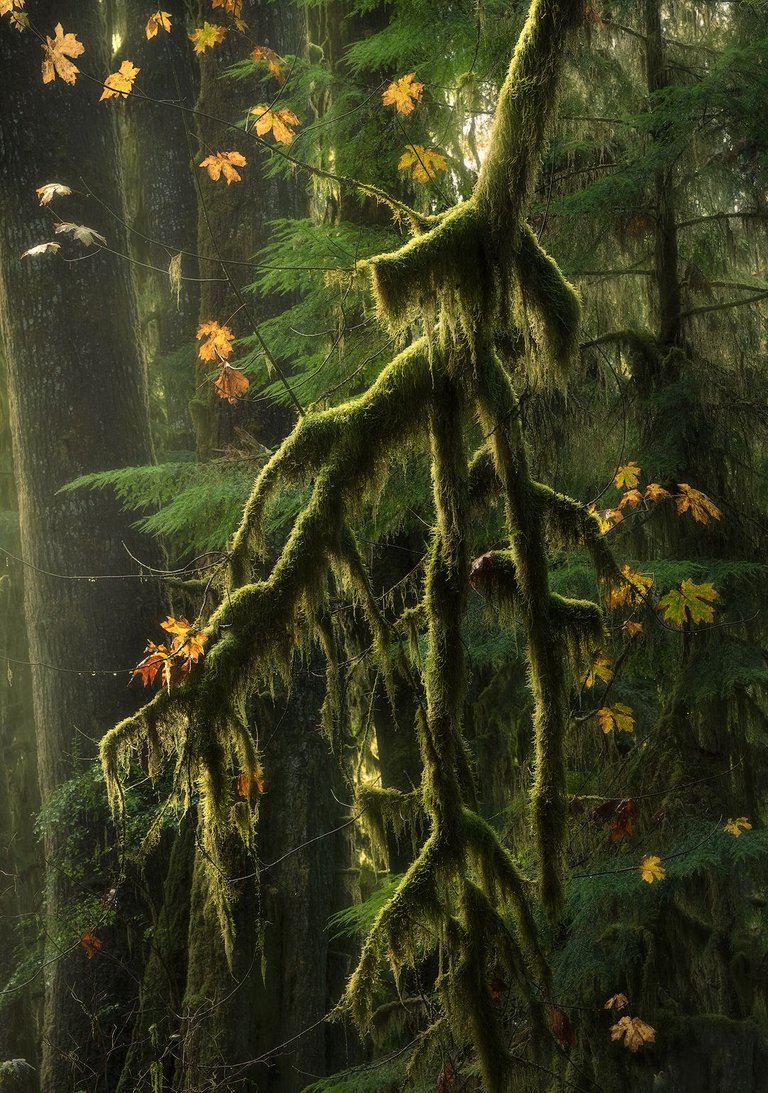 Autumn on the west coast may not be as vibrant as it is on the east coast, but it's certainly still beautiful. You have all of your usual lush greens, plus a nice dusting of fall colors around the forest! It's a subtle difference, but one I appreciate greatly as a photographer. This is another one of those images where I got quite lucky and found the perfect, low-hanging tree branch to use as a subject.
Thanks again for browsing my images and reading my blog. Let me know which is your favorite! For my next blog post, I'll be featuring some mountains! Until next time...
Tristan
---
Find me elsewhere on the web:

Website: https://www.tristantodd.photography/
Twitter: https://twitter.com/tristan_todd_
IG: https://www.instagram.com/tristan.todd/

Want to watch me edit my photos? Check out my recently launched Patreon!
https://www.patreon.com/tristantodd
---
Want to join a Discord community for landscape photographers?
Come join 800 other awesome folks in Landscape Photographers Worldwide!
https://discord.gg/rwz4xxmY
---
---