Ever been to Vancouver, Canada during a snowstorm? We got a good one recently!
Vancouver is known for its mild winters. But not this winter! We've had days where the windchill hit -20c, and we've had a couple snowstorms. I took advantage of the most recent storm and spent the night wandering around downtown. In my opinion this is when the city is at its most peaceful: sounds are muffled and people stay inside where it's warm.
I took these images while wandering around from 10pm to midnight. I'll start this off with three favorites from the night that made it into my portfolio!
---
---
Broken Down. Taken at Granville & W Pender. The local public transit authority, TransLink, runs a large fleet of electric trolleybuses. This one appears to have broken down. Unfortunate timing for some folks on a snowy night!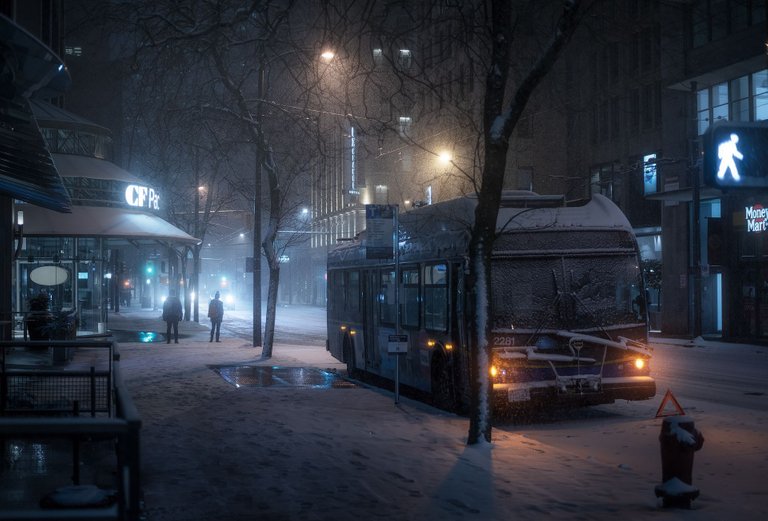 ---
Snowstorm. Also taken at Granville & W Pender, this time looking east. The trolleybus in this image takes a rather meandering route to the University of British Columbia.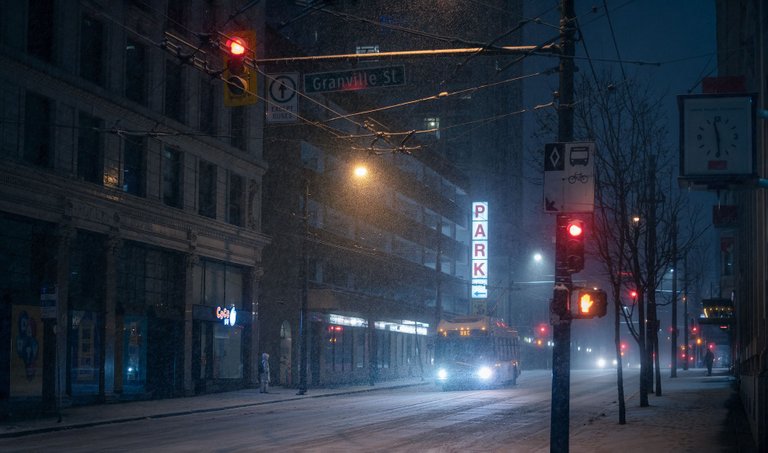 ---
The Belmont. Granville & Nelson. This part of Granville St used to be home to many beautiful neon signs, but few remain. The Samesun Backpackers sign is one of them!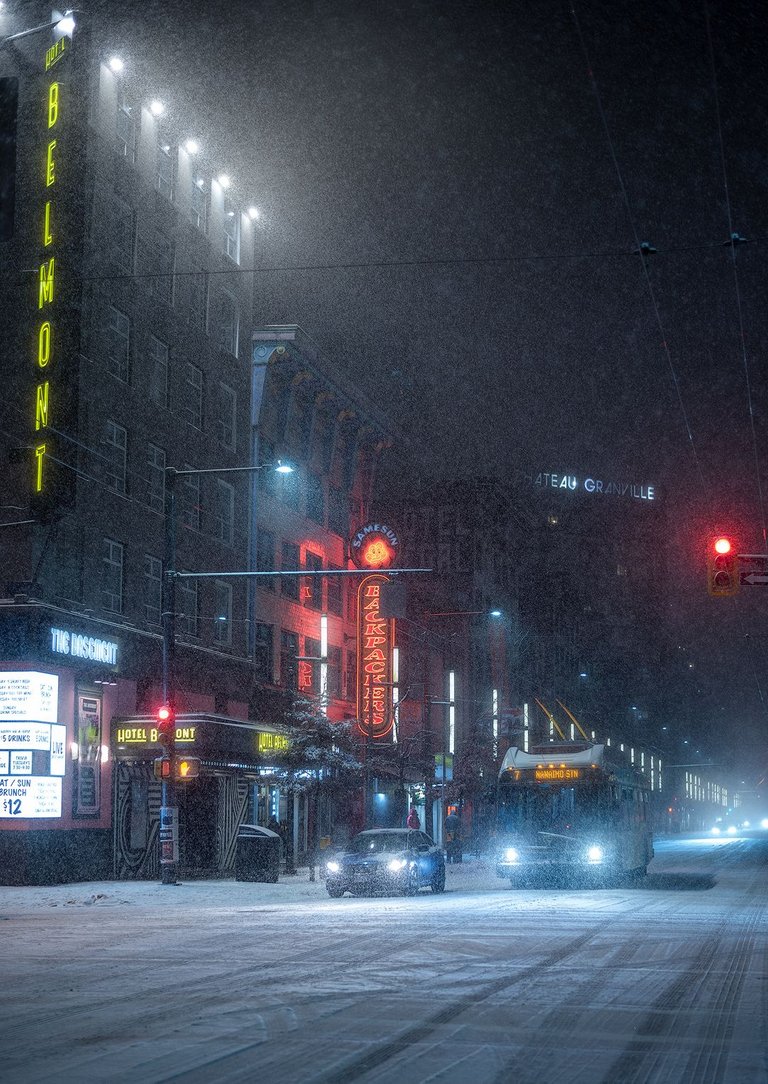 ---
---
That is it for what I consider my portfolio images. The following images are effectively my b-roll - images that didn't quite work out, but I still lightly edit and keep for the sake of memories!
Best Buy, at Granville & Robson. This area is pretty much the heart of the Granville Strip. The pandemic has not been kind to the businesses in this area, but it's still beautiful for photography, particularly in the snow!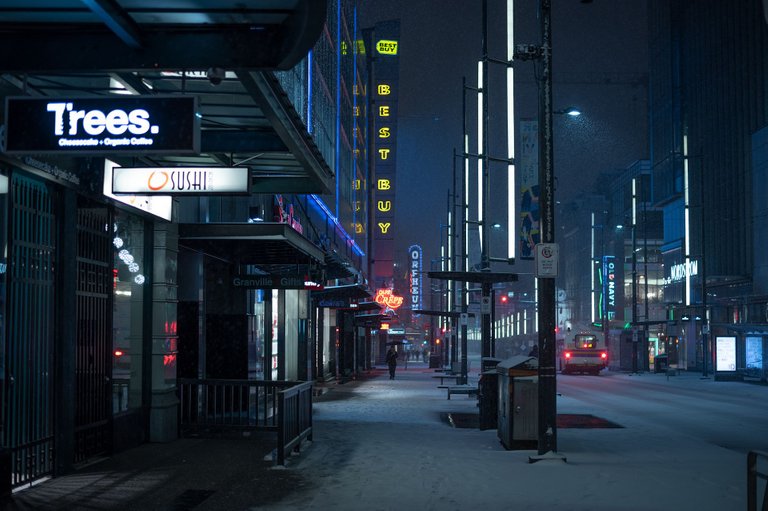 ---
Granville & W Georgia. If you've been to Vancouver, chances are you've been at or through this intersection! This area is Vancouver's busiest transit hub, featuring two SkyTrain lines and nearly 50 bus routes. SkyTrain is Vancouver's driverless subway or metro system. Because of the automation, trains depart with extreme frequency - in some cases every 120 seconds. The bus in this photo features TransLink's old livery, as it has been in service since the year 2000.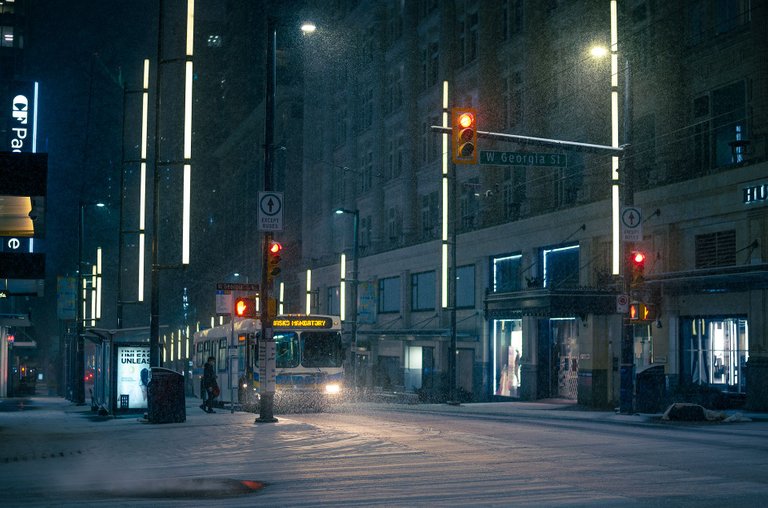 ---
Seymour & Dunsmuir. A couple walks in front of one of the many 7-11s.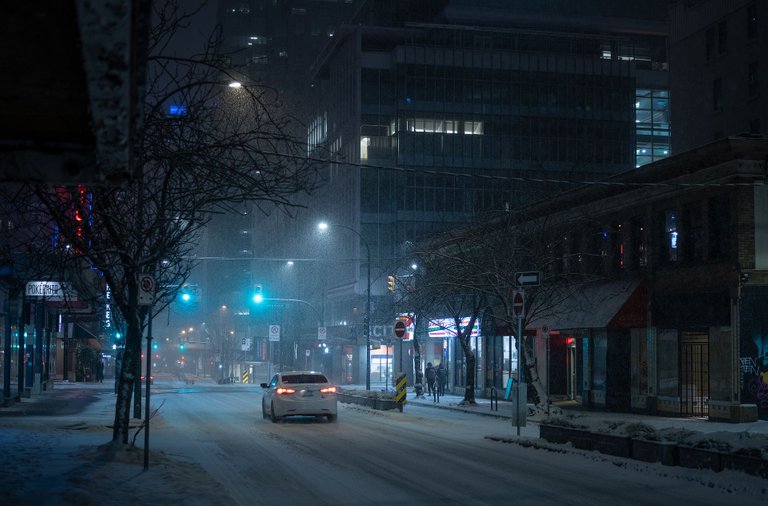 ---
Alleyway near Burrard & W Pender. A lone figure walks in the distance.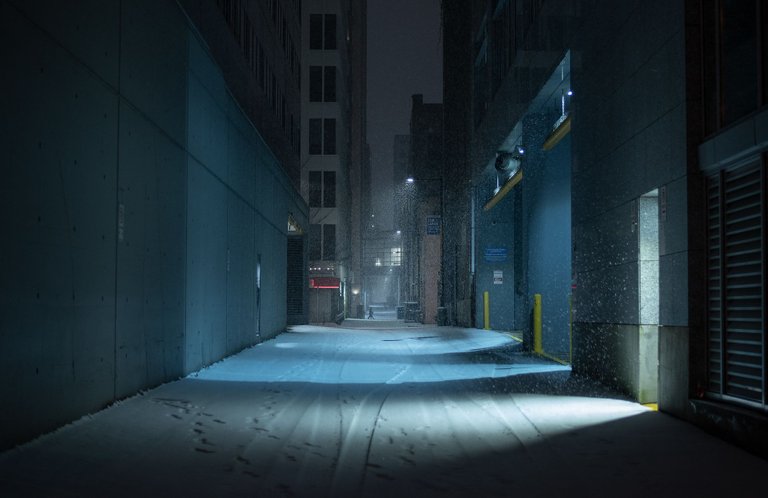 ---
Granville & W Hastings. A couple people getting off the R5 bus. This is one of Vancouver's RapidBus routes, with high frequencies and only select stops. It goes from downtown Vancouver through the Downtown Eastside to the Simon Fraser University in nearby Burnaby.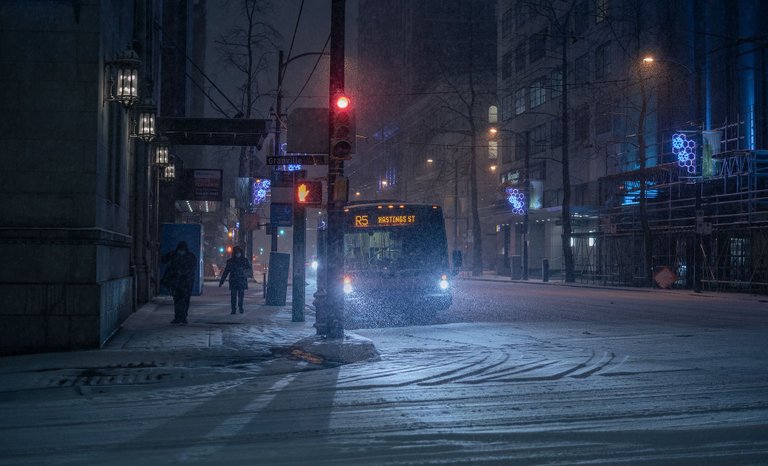 ---
Granville & Smithe is probably the most famous section of the Granville Strip, home to the Orpheum Theatre. These neon signs harken back to many decades ago, when the street was lined with them. The Orpheum opened in 1927, making it 95 years old. If you ever get a chance to see a show there, it's highly recommended - the interior of the building is incredibly beautiful and has been used as a film set.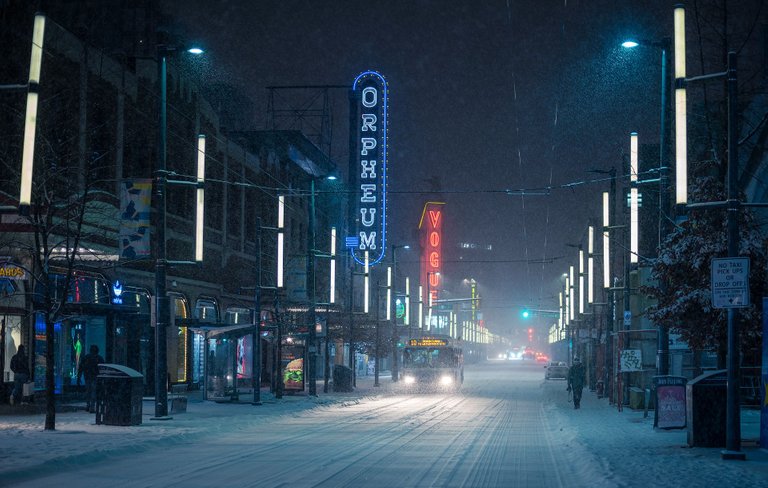 ---
The Woodward's Building. This rotating W is a Vancouver icon. This building was originally constructed in 1903 and the chain of department stores is no longer in business, having gone bankrupt nearly 30 years ago. The bus in the image is one of TransLink's Christmas buses, decorated as Rudolph the Reindeer!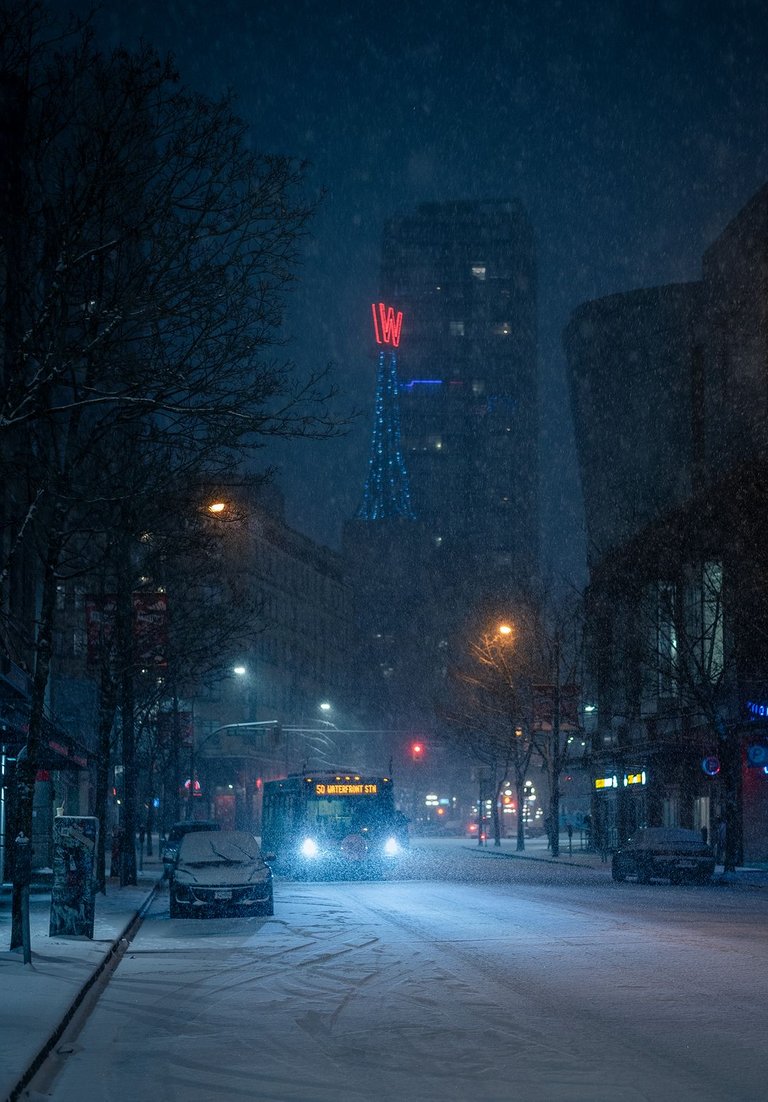 ---
If you're ever in Vancouver around Christmas time, it can be fun to grab a ride on the Rudolph bus, as during the peak holiday season it's also decorated with Christmas lights! The driver probably thought I was nuts and following him around the city, but I walk fast and it was a complete fluke that I ran into him again.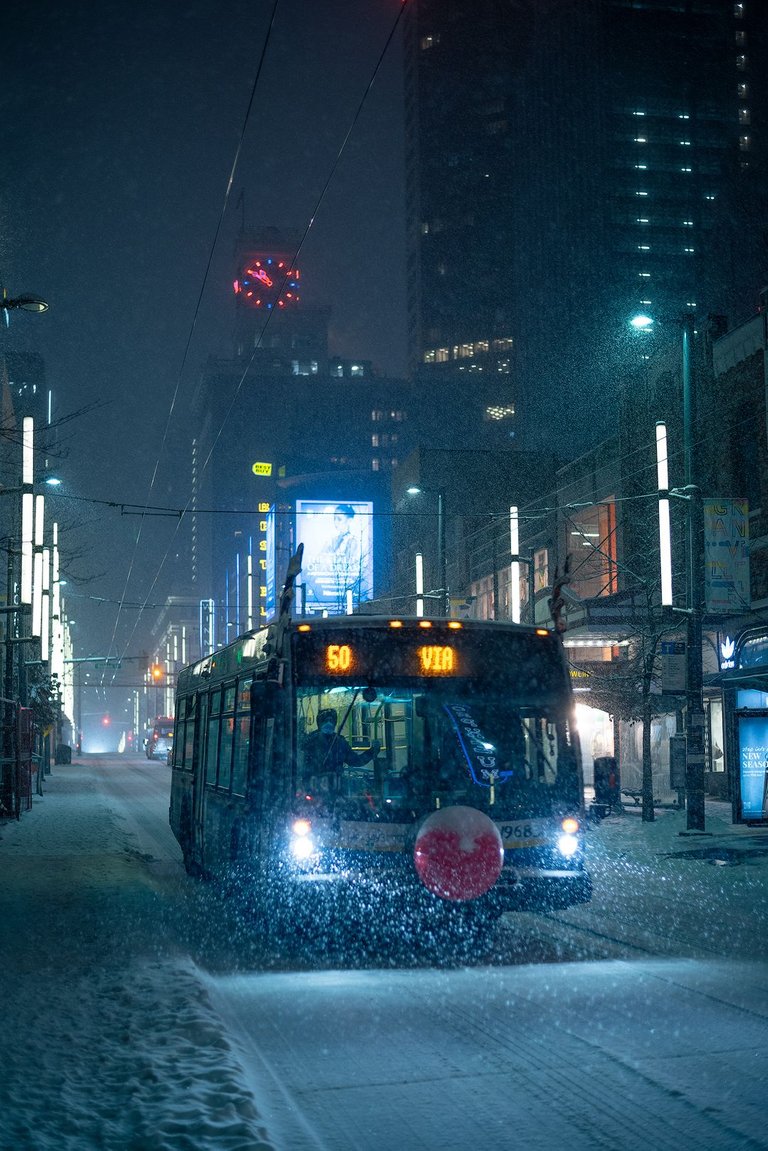 ---
I hope you enjoyed this look at Vancouver in its winter coat. We don't always have snowy winters in the city, so it's always a treat when it happens. Let me know if you've ever wandered these streets!
---
---