The 3 Bikes [PhotoChain Challenge - 69th Edition]
Good afternoon, friends!
Here is my entry for the PhotoChain Challenge - 69th Edition hosted by @davidesimoncini. The keywords for this week are Wheels and Number, picked by the previous winners of the challenge: @melinda010100 and @adinapoli.
(My personal keyword is... Motorcycle.)
You might be thinking that this photo has nothing special about it... and you're 100% right. The only reason I took this photo was to be able to remember where I was, later on. As you can see, to the left of the bikes there's a door and a little plaque with the exact address: 12 Magdalenenstraße.
This is a little habit I have. This way, I can browse my photo album, look at old photos and, if needed, recall the exact point in the map where I took some of them. It is very useful when you want to pinpoint your shots on Pinmapple 😉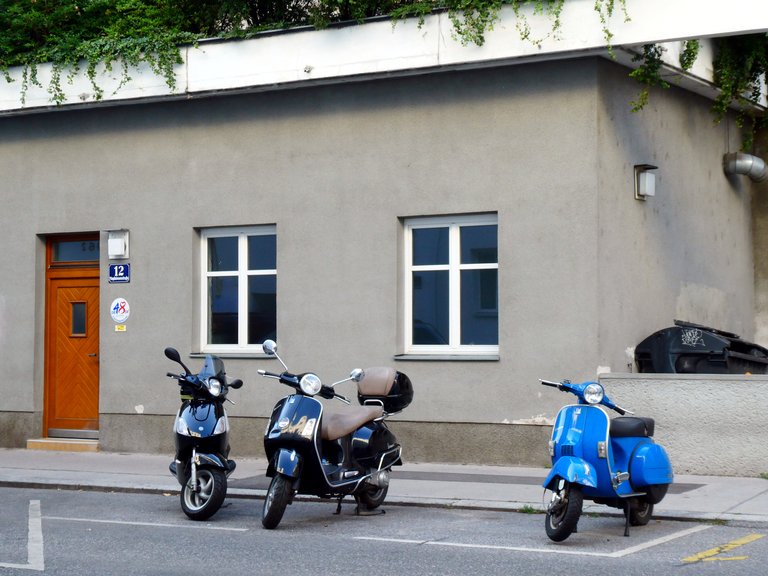 Open Full Sized Photo In New Window
It's funny how all motorcycles are facing the same direction, as if they were looking at something which was going on to their left. Or maybe both black bikes were jealous of the blue one, who was ignoring them both altogether. What do you think? 🤭
I hope you enjoyed these photos. Leave a little comment below.
---
| | |
| --- | --- |
| Location | Vienna - Austria |
| Camera | Panasonic Lumix DC-TZ90 |
| Photo | Edited with GIMP |
---
If you wish to enter the contest, the announcement link is here:
PhotoChain Challenge - 69th Edition.
---

---
---