[Esp/Eng] Hasta que te encontré. (Mi historia de Amor) 💘 Until I found you. (My Love Story)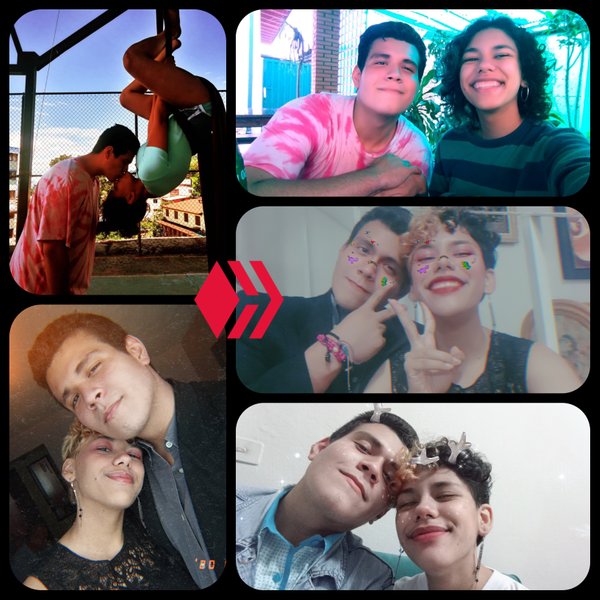 Fotos sacadas de mi galería y editadas por Befunky
Photos taken from my gallery and edited by Befunky
---
"Hasta que te encontré" Fue lo primero que te dije cuando nos vimos por primera ves. Pensar que nos topamos un día cualquiera, yo saliendo del trabajo y tu acompañando a una amiga mía a un cumpleaños, en ese momento vi algo en ti, algo que me atrapo al instante, tus lindos ojos, tu suave mirada, tu hermoso cabello, lo pequeñita que eres.. Físicamente me atrajiste al instante
Recuerdo cuando me despedí y no pude ni decirte un "HOLA!" o "ADIOS!", pero me hechizaste en el momento en la que gritaste la canción de una de mis bandas favoritas. En ese corto momento sentí algo mágico, algo que no experimentaba desde hace tiempo, no paraba de sonreír en todo el camino hacia mi casa, quería conocerte, saber tu nombre, hablar contigo y decirte "Hola!".
Ese mismo día en casa decidí buscarte en Redes sociales, te encontré, pero tenia miedo en enviarte la solicitud, hasta que tome fuerzas y te la envié, me impresiono ver que a los pocos minutos me aceptaste la solicitud.
No sabia si escribirte, tenia muchos nervios. Pero cuando vi que al rato me llego un mensaje y vi que era el tuyo me sonroje y quería gritar de la emoción.
"Until I found you" was the first thing I said to you when we met for the first time. To think that we ran into each other one day, I was leaving work and you were accompanying a friend of mine to a birthday party, at that moment I saw something in you, something that caught me instantly, your beautiful eyes, your soft gaze, your beautiful hair, how tiny you are.... Physically I was instantly attracted to you
I remember when I said goodbye and I couldn't even say "HELLO!" or "ADIOS!", but you enchanted me the moment you shouted the song of one of my favorite bands. In that short moment I felt something magical, something I hadn't experienced for a long time, I kept smiling all the way home, I wanted to meet you, to know your name, to talk to you and say "Hello!".
That same day at home I decided to look for you on social networks, I found you, but I was afraid to send you the application, until I took strength and sent it to you, I was impressed to see that in a few minutes you accepted my application.
I didn't know if I should write to you, I was so nervous. But when I saw that after a while I got a message and I saw that it was yours, I blushed and wanted to scream with emotion.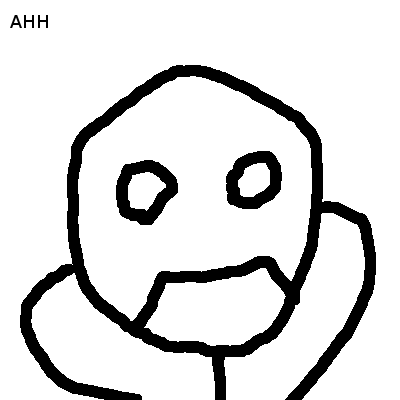 Source: Giphy
Comenzamos a hablar como personas que se querían conocer, nos preguntamos nuestros nombres, nuestras edades, nuestros gustos y muchas cosas mas.
A los meses que estuvimos hablando decidí ir a verte, te pedí tu dirección y me prepare para ir ese día. Estaba muy nervioso, mis manos temblaban y sudaban, mi corazón estaba muy acelerado y estaba sudando, te compre un brownie de chocolate y paletas. Cuando llegue al portón de tus edificio y te vi, mi corazón estaba que explotaba por lo hermosa que te veías ese día, mi sonrisa estaba en lo mas alto y de mi boca no salía palabras, cuando me abriste lo primero que hice fue abrazarte..
Decidimos caminar, estuvimos hablando toda la tarde, me impresiono mucho tu forma de ser, tus gustos, y es que tienes unos gustos idénticos a los míos!!
Estuvimos saliendo y viéndonos por un buen tiempo, cada día descubríamos mas cosas de nosotros, comíamos juntos, reíamos juntos, discutíamos de temas muy interesantes para los 2, y veíamos como nos enamorábamos mas y mas cada segundo que pasábamos juntos.
We started talking like people who wanted to know each other, we asked each other our names, our ages, our likes and dislikes and many other things.
After a few months of talking I decided to come to see you, I asked you for your address and I got ready to go that day. I was very nervous, my hands were shaking and sweating, my heart was racing and I was sweating, I bought you a chocolate brownie and popsicles. When I arrived at the gate of your building and I saw you, my heart was exploding because of how beautiful you looked that day, my smile was at its highest and my mouth was full of words.
We decided to walk, we were talking all afternoon, I was very impressed by your way of being, your tastes, and you have identical tastes to mine!
We were going out and seeing each other for a long time, every day we discovered more things about each other, we ate together, we laughed together, we discussed very interesting topics for both of us, and we saw how we fell in love more and more every second we spent together.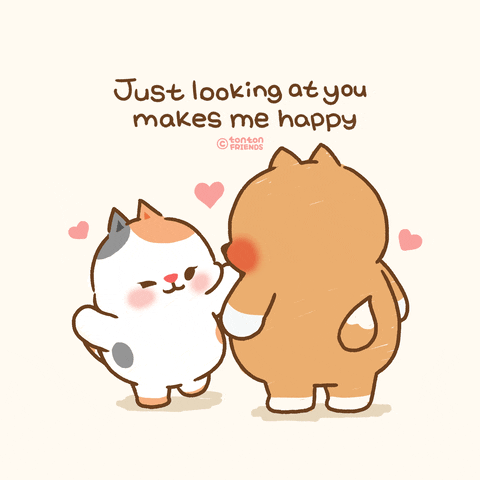 Source: Giphy
Fue hasta que un 10 de Julio del 2020, decidí en decirte y confesar mis sentimiento al 100%, recuerdo que te lleve tizana y dulces, estaba muchos mas nervioso de lo normal, mis palabras no salían, pero tu me diste la mano y me dijiste "Vamos, dime c':". El ver tu ojos y sentir tu mano me dio muchas fuerzas y ahí fue cuando te dije "Me gustas mucho!! ¿Puedo ser tu novio?. Creo que tu respuesta era mas que obvia, pero si, me dijiste "SI". Desde aquel momento he sido la persona mas feliz del mundo c':.
Mi pareja sufre de Ansiedad y aunque la gente llegue a pensar que si es difícil estar junto a una persona que sufre de eso, déjame responderles. No lo es, claro que cuesta adaptarse desde los inicios, pero si tú de verdad amas a tu pareja estarás en todo momento para ella, la amo mucho, a pesar de su ansiedad y de su leve autismo la amo demasiado, gracias a ella he aprendido muchas cosas y aparte me ha enseñado muchas cosas hermosas en la vida.
Hemos pasado nuestros cumpleaños juntos, pasamos año nuevo juntos, hemos comido y disfrutado cada momento que estamos uno al lado de otro, claro que hemos llorado, peleado y discutido, pero como pareja que se quiere y desea seguir adelante hablamos lo que pasa y nos disculpamos.
Hasta el día de hoy disfrutamos nuestra relación, amo mucho a mi novia y queremos llegar muy lejos. Por cierto, mi novia se llama Lu 💜. Esperamos pasar un hermoso 14 de febrero juntos. Gracias por leer este post, y a todos les deseo un hermoso día del amor y la amistad!!.
Gracias por dejarme participar en la iniciativa de "Your Love/Friendship Story", de la gran y hermosa comunidad de Blogging Challenge. Espero que esta pequeña historia sea de su agrados, un gran saludo y abrazo a todos los jurados ❤
It was until July 10, 2020, when I decided to tell you and confess my feelings 100%, I remember that I brought you some tea and sweets, I was much more nervous than usual, my words didn't come out, but you gave me your hand and told me "Come on, tell me c':". Seeing your eyes and feeling your hand gave me a lot of strength and that's when I told you "I really like you! I think your answer was more than obvious, but yes, you said "YES". Since that moment I have been the happiest person in the world c':.
My partner suffers from anxiety and although people may think that it is difficult to be with a person who suffers from it, let me answer them. It is not, of course it is hard to adapt from the beginning, but if you really love your partner you will be there for her at all times, I love her very much, despite her anxiety and her mild autism I love her too much, thanks to her I have learned many things and she has taught me many beautiful things in life.
We have spent our birthdays together, we spent new year's together, we have eaten and enjoyed every moment we are next to each other, of course we have cried, fought and argued, but as a couple who love each other and want to move forward we talk about what happens and apologize.
To this day we enjoy our relationship, I love my girlfriend very much and we want to go very far. By the way, my girlfriend's name is Lu 💜. We hope to spend a beautiful February 14 together. Thank you for reading this post, and I wish you all a beautiful love and friendship day!!!.
Thank you for letting me participate in the "Your Love/Friendship Story" initiative, from the great and beautiful Blogging Challenge community. I hope this little story is to your liking, a big hello and hug to all the jurors ❤.
---
No me importa que pasen las horas, los días y los años; lo único que deseo es que todo ese tiempo que pase sea a tu lado.💘
Fuente de la frase
---

---
---