[Esp/Eng] F.E.A.R La increíble saga infravalorada 🎮F.E.A.R. The incredible underrated saga
Hola comunidad Gaming!!. El día de hoy les hablare sobre "F.E.A.R" un juego muy infravalorado, que desde mi punto de vista es un juego con muy buenos gráficos, jugabilidad única, y una gran historia.
Agarren sus palomitas y su refresco favorito porque hoy les hablare de..
Hello Gaming community! Today I will talk about "F.E.A.R" a very underrated game, that from my point of view is a game with very good graphics, unique gameplay, and a great story.
Grab your popcorn and your favorite soda because today I'm going to talk about....
---
Desarrollo//Development
F.E.A.R Es un juego de genero, F.P.S, Horror, y supervivencia, desarrollado por la compañía Monolith Productions y distribuido por Vivendi Universal. Fue lanzado el 18 de octubre del 2005 para las plataformas de PC, XBOX y Playstation.
F.E.A.R is a game of genre, F.P.S, Horror, and survival, developed by the company Monolith Productions and distributed by Vivendi Universal. It was released on October 18, 2005 for the PC, XBOX and Playstation platforms.
Fuente//Source
---
Argumento del juego//Game Story
La historia de F.E.A.R comienza Tú como "Point Man" miembro de "F.E.A.R" First Encounter Assault Recon, te envían como misión investigar a Paxton Fettel, hombre que se verá visto por primera vez en la 1.ª cinemática del juego, la principal misión es localizar a Fettel en las instalaciones de Armacham Technology Corporation. El jugador al adentrarse a estas instalaciones en busca de Fettel se topará con muchas entidades y fenómenos paranormales, entre esos las alucinaciones creadas por una niña vestida de rojo llamada "ALMA"
Alma es un experimento de "Project Origin" proyecto que le oculta muchos secretos al personaje principal y a Paxton Fettel, secretos que iras conociendo al ir avanzando en la historia.
El jugador al adentrarse por las instalaciones se encontrará con soldados y guardias de ATC (Armacham Technology Corporation) y un montón de enemigos variados.
The story of F.E.A.R begins You as "Point Man" member of "F.E.A.R" First Encounter Assault Recon, you are sent as a mission to investigate Paxton Fettel, man who will be seen for the first time in the 1st cinematic of the game, the main mission is to locate Fettel in the facilities of Armacham Technology Corporation. As the player enters these facilities in search of Fettel, he will encounter many entities and paranormal phenomena, including hallucinations created by a girl dressed in red called "ALMA".
Alma is an experiment of "Project Origin" project that hides many secrets to the main character and Paxton Fettel, secrets that you will learn as you progress through the story.
The player will find soldiers and guards of ATC (Armacham Technology Corporation) and a lot of varied enemies.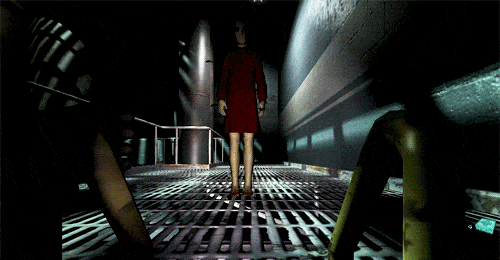 Fuente//Source
---
Ambientación del Juego//Game Environment
La ambientación del juego es increíble, ya que tiene grandes inspiraciones por el horror japonés. La producción confiesa que hicieron lo posible para mantener ese "terror psicológico" que el jugador sienta el pesado ambiente del terror. Y que su mente lo mantenga alerta en cada situación, combinando habitaciones con falta de luz, desaparición de sonidos, y voces paranormales de fondo.
El audio de FEAR fue creado por Monolith Productions e inspirado al estilo de películas Japonesas de Horror, utilizando gran cantidad de bajos, y graves en la ambientación, los mismos productores confiesan que añaden momentos en la que la música desaparece para añadir tensión al jugador y que cuando menos se los esperen aparezca ALMA para romper ese tenso y escalofriante silencio.
The setting of the game is incredible, as it has great inspirations from Japanese horror. The production confesses that they did their best to keep that "psychological terror" that the player feels the heavy atmosphere of terror. And that your mind keeps you alert in every situation, combining rooms with lack of light, disappearance of sounds, and paranormal voices in the background.
The audio of FEAR was created by Monolith Productions and inspired by the style of Japanese Horror movies, using lots of bass, and bass in the atmosphere, the same producers confess that they add moments in which the music disappears to add tension to the player and when least expected ALMA appears to break the tense and chilling silence.
Fuente//Source
---
Opinión Personal//Personal Opinion
Personalmente puedo decir que FEAR es un increíble juego de terror que muchos otros juegos no han logrado, combinando una gran parte de acertijos, plataforma, disparo, y gran parte de horror, no usan esa táctica de asustar con imágenes repentinas, a lo contrario implementan un terror a base de escenas, visiones, y sonidos muy tétricos. Los gráficos son increíbles a pesar de ser un juego del 2005, el gran uso de falta de iluminación causa escalofríos al no saber que habrá al frente tuyo. La gran Inteligencia Artificial en la versión de PC es muy notable, trayendo enemigos en escuadrón, adaptándose al ambiente haciendo tu misión más difícil de conseguir. Amaba que el juego implementara el SlowMotion, ya que te servía para evitar grande ataques de enemigos. El disparar a los enemigos y ver como descuartizabas sus cuerpos era algo que de pequeño me impacto mucho, las armas que te daban el juego tenían unos gráficos increíbles, ofreciéndote desde Pistolas comunes, hasta rifles de rayos eléctricos. Misiones largas con una gran historia y un modo multijugador divertido. La verdad es que la gente que nunca ha jugado esta joya de juego se los recomiendo.
F.E.A.R cuenta con 6 juegos, 2 siendo no canon en la historia, y los otros 4 siguiendo la línea de tiempo en el juego.
Personally I can say that FEAR is an incredible horror game that many other games have not achieved, combining a large part of puzzles, platforming, shooting, and much of horror, do not use that tactic of scaring with sudden images, on the contrary implement a terror based on scenes, visions, and sounds very gloomy. The graphics are incredible despite being a game of 2005, the great use of lack of lighting causes chills not knowing what will be in front of you. The great AI in the PC version is very noticeable, bringing enemies in squads, adapting to the environment making your mission harder to accomplish. I loved that the game implemented SlowMotion, as it helped you avoid large enemy attacks. Shooting the enemies and seeing how you dismembered their bodies was something that impacted me a lot as a kid, the weapons that the game gave you had incredible graphics, offering you from common pistols to electric ray rifles. Long missions with a great story and a fun multiplayer mode. The truth is that people who have never played this gem of a game I highly recommend it.
F.E.A.R. has 6 games, 2 being non-canon in the story, and the other 4 following the timeline in the game.
---
---
Espero que les haya gustado este post hermosa comunidad!!. Vayas y jueguen al FEAR que sin duda es un juego que vale la pena probar 😉. ¡¡Me encantaría recibir vuestro apoyo y comentarios para mejorar, nos vemos en un proximo post!!
I hope you liked this post beautiful community!!!. Go and play FEAR it's definitely a game worth trying 😉. I would love to receive your support and feedback to improve, see you in a next post!!!

Source:
---
---