Torrey's #HivePizza #BrawlReport - Brawl Ending 9-30-2021

This is my second Splinterlands brawl report. It's even more exciting than the last one. Read on to hear about the gory gladiatorial combat. Chimney Wallstop wants to know: are you not entertained?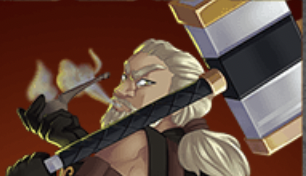 Image source: Tenor

Overall Brawl Result
I brawl with the guild called "Pizza 1 The Stuffed Crust". Our guild took 1st place this brawl, by a healthy margin.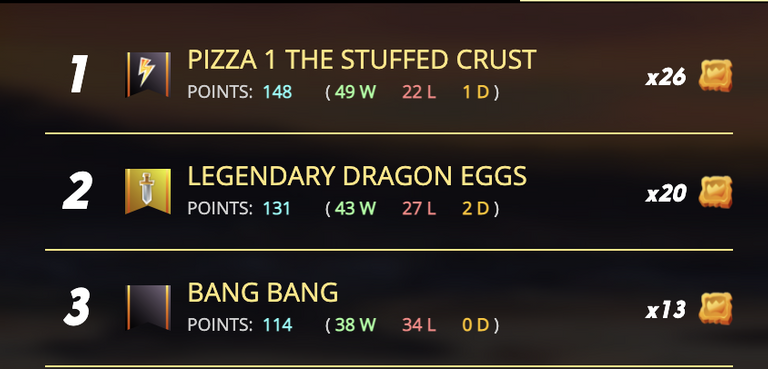 ---
Battle Breakdowns
I went 8-0 W/L ratio in this brawl, with one opponent who failed to submit a team. I brawled in Fray 4, which has rules allowing only Alpha/Beta cards and limits all cards to Level 1 (Novice league). The new brawl-only gladiator cards aren't technically Alpha/Beta, but they are allowed (maximum one per team). As you will see, Gladiators have become common in my brawl battle teams, as they are very strong!
Battle 1. Win! Brawl rules: Equalizer, Close Range, 18 Mana cap.
The first battle was nothing crazy. I think the opponent had only starter pack cards, and thus didn't have any epic cardsto play, so choose Grumpy Dwarf in a position where he cannot attack unless he is the 2nd to last card standing. My team dished out 3 more damage per round compared to the enemy, so it was solid victory.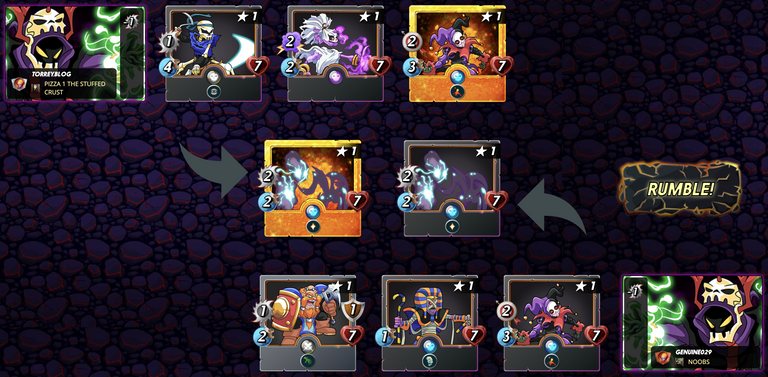 Watch the full battle.
Battle 2. Win! Brawl rules: Healed Out, Explosive Weaponry, 26 Mana Cap.
I feel a little bad for the opponent... Chimney Wallstop!!! He may be my new favorite card. I joke that the other cards were just there to temper his ego and remind him he is only a mortal. This gladiator card initially deals 5 melee damage, while having 8 health and 3 shield, abilities Reach and Bloodlust. He is a badass bruiser!
The blast ability from Explosive Weaponry fueled his bloodlust like NoS. Chimney claimed multiple double-kills, and bloodlist triggered 5 times. He ended the battle with 10 damage, 7 speed, 4 shield, and 13 health. Wall-unstoppable!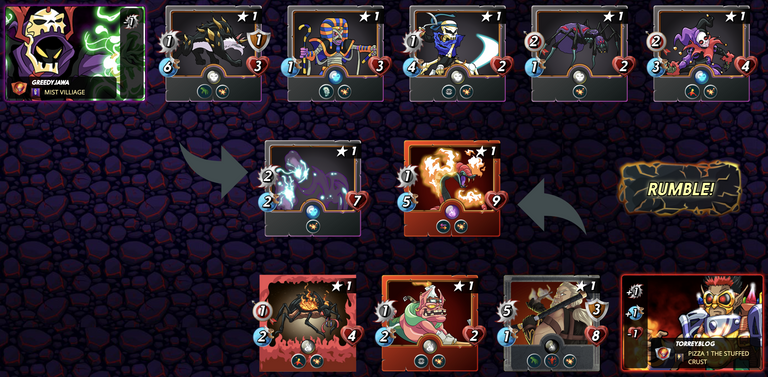 Watch the full battle.
Battle 3. Win! Brawl rules: Target Practice, Odd Ones Out, mana cap 16.
I find myself playing Witch of Warwick often in death brawl teams. The life leech and bloodlust give it nice sustainability and any kills buff its damage thanks to bloodlust. The opposing team could not keep up with damage we dished out. Solid win.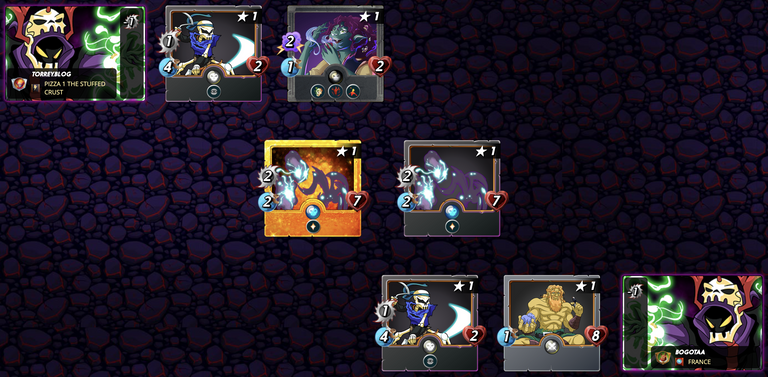 Watch the full battle.
Battle 4. Win! Brawl rules: Silenced Summponers, Reverse Speed, mana cap 48.
This one is my favorite team this brawl. Frost giant up front soaking up damage and tearing up the enemy tank, while getting topped up by Crustacean King. Gold foil Isgald Vorst (gladiator) picking off low-health enemies with Opportunity ability, and playing back up bruiser-tank. Mermaid and Magi burning up 4 health on the enemy front line per round. Hydra chilling in the back healing through any sneak attacks.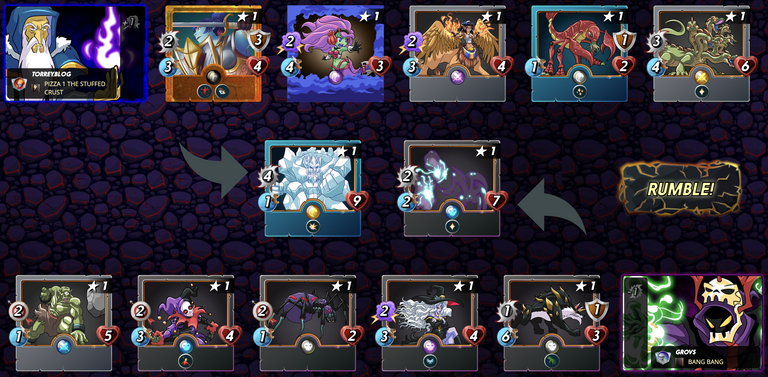 Watch the full battle.
Battle 5. Win! Brawl rules: Silenced Summoners, Noxious Fumes, mana cap 48.
Did you know poison ticks trigger the enrage ability? I went with Lord of Darkness up front this time, with Haunted Spirit as a back up tank, and Hydra again watching our backs. Witch of Warwick's Life Leech and Bloodlust (x3) ability helped it survive through the poison ticks. Lord of Darkness kicked some butt up front and opened up the victory.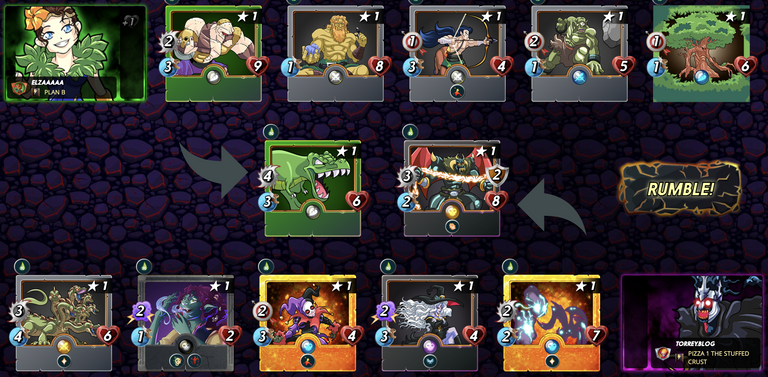 Watch the full battle.
Battle 6. Win! Brawl rules: Holy Protection, Odd Ones Out, mana cap 40.
Same mosters as #4, this time with Valanor as our coach for that +1 to magic, speed, health. The opponent doesn't stand a chance.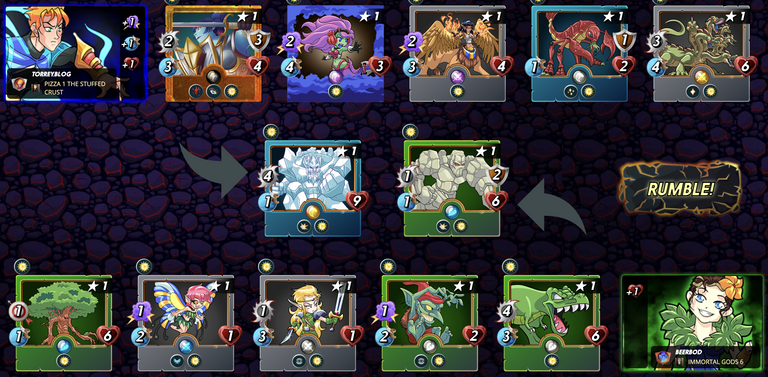 Watch the full battle.
Battle 7. Win! Brawl rules: Fog of War, Stampede, mana cap 26.
In this battle, Crypt Mancer made an appearance. The opponent played 3 melee cards in front, meaning 2 of them couldn't attack in the first round. Crypt Mancer's summoner debuff nerfed their damage as well. Without a healer, they couldn't keep up with the damage dealt by my team: 6+ magic damage per round vs. their 2magic+1ranged. Solid win, with Witch of Warwick's bloodlust triggering 3 times.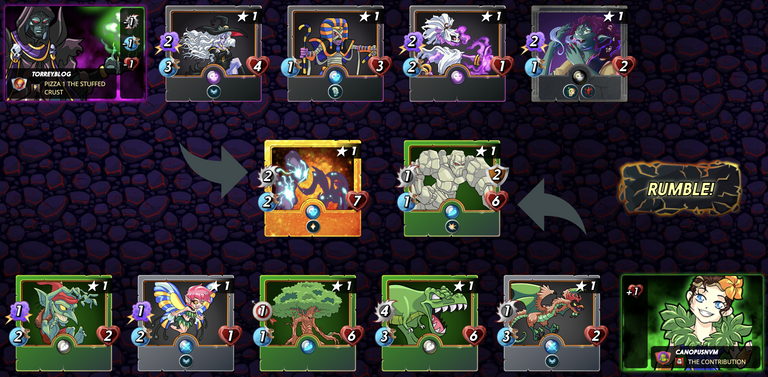 Watch the full battle.
Battle 8. Opponent fled
Womp, womp.
Wrapping Up
No losses this time! It was exciting trying out some new, powerful gladiator cards. Keep stacking those merits!
Thanks for reading. I've had a lot of fun compiling this brawl report, and I hope you enjoy it, too.
Shout out to fellow Pizza guildies who killed it in this brawl! @kuzuri27 all swept up Fray 3, scoring 6 wins and 0 losses.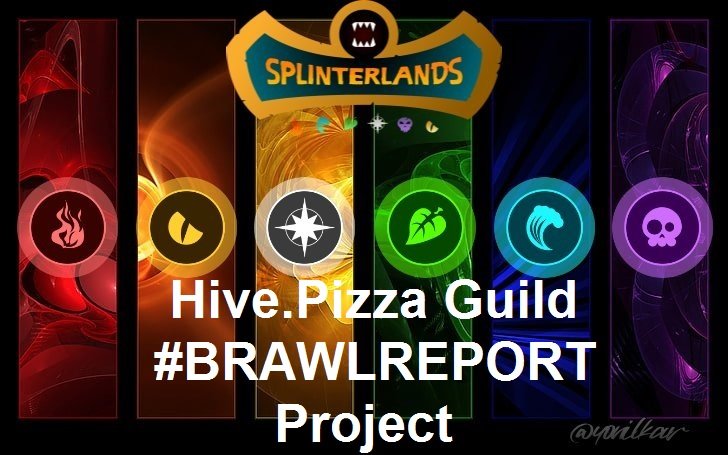 Image by @kennysgaminglife/ @kennyskitchen
---
---