Warrior.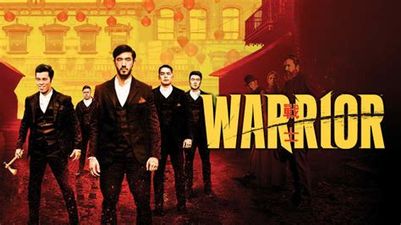 Source
Before I get on the more recent movies and series, I'll like to mention a few older stories. Have you seen the series Warrior?
---
Honestly, I just shoved it aside the first time I saw it, and that was about 3 years ago! Then sometime in October, didn't have much I was seeing, stumbled on it and thought, well, how bad can it be?
---
My goodness! It was great! Great storyline, casting, and screenplay! There was a lot if combat in it, so those who love Kung fu, you're welcome. Trivia; it was based of writings of Bruce Lee!
---
Currently, there are 2 seasons out, waiting on the third, and I gotta say, they are totally on track, they're not fishing for a story, there's a plot in play.
---
Well, yeah, it's rated 18, lots of strong language, sex scenes and nudity. Don't get me started on the gruesome sights of deaths everywhere! If you don't mind all of these, you're gonna love watching Warrior!
---
Oh, yeah, speaking bout language, they did a brilliant thing with it! The movie is about the Chinese just migrating to the USA, so, only a handful of them could speak English, and only 2 could speak it well.
---
So, when the Chinese are speaking to themselves, they made us understand that it's actually Cantonese being spoken, yet we heard English. You have to watch it to appreciate the intelligence. I loved it! 😅
---
Well, totally check it out, lemme know what you think! Thank me later! Enjoy your day!
---
---