Time to balance the portfolio...
I think it's time to balance my investment portfolio in crypto. It's something I do in times of recession and it has worked very well for me for the last 5 years. In principle, I have not become rich, for the moment (LoL), but it has helped me to have sustainable growth that, in the long term, I believe has the potential to ensure and maintain a good return.
A long time ago I published my strategic allocation percentage which I review in the long term and compensate accordingly. I cannot complain about how it has gone for me so far because, to date, I have managed to multiply my total FIAT investment in crypto by 10 times.
Obviously, this return has been a few times higher when the market was at ATH, but I have to say that I am happy to have converted many of the profits made into stablecoin just in time to avoid the debacle.
Essentially, what I do is balance the allocations of the following graph so that they meet the percentages marked.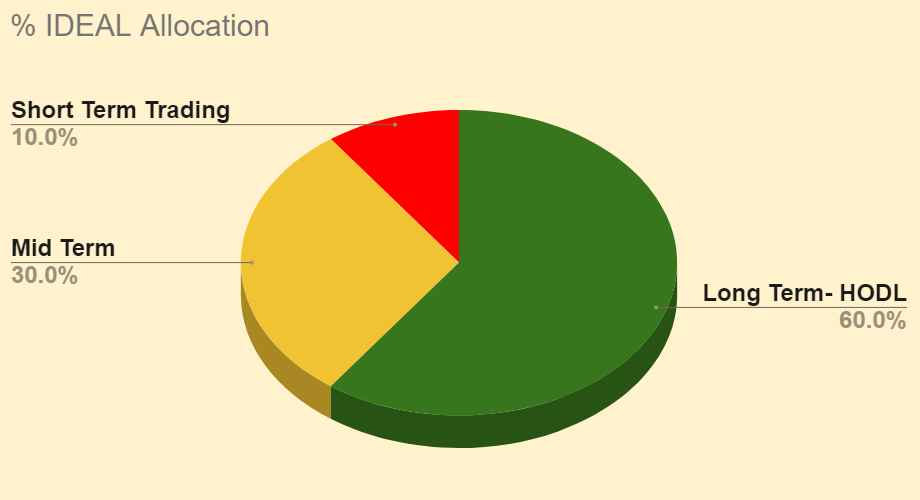 In the LONG-TERM HODL portion I basically have my reserves of BTC, HIVE, and Stablecoin, mostly USDT, HBD, and BUSD.
In the MID-TERM concept, I maintain medium-term investments, those that can last weeks or months and basically serve me to obtain either BTC or Stablecoin that feed the first portion.
In the SHORT-TERM allocation I include my Day-trading and scalping operations in spot the first and in futures the second.
As I have already said, the ideal graph has to be compensated from time to time and what I do is "deflate" the part of stablecoin accumulated in the LONG-TERM HODL "wallet" to feedback the other two (MID-TERM and SHORT-TERM ).
The chart I have today shows the following ratios: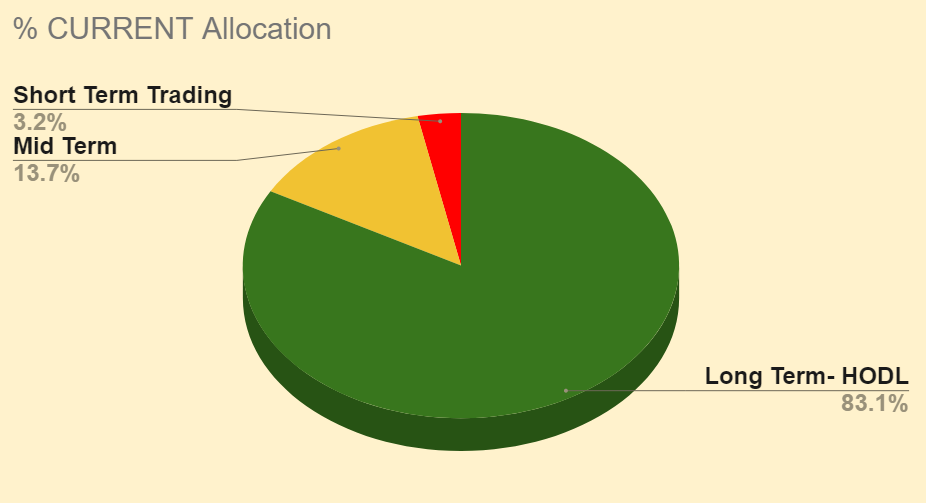 As you can see, it is quite unbalanced but I can already shape the proportion that I want to dedicate as an investment for the new cycle.
Now that I know what I have to reinvest, I am clear about how much I will allocate to the SHORT TERM portion in the form of stablecoin and how much to MID-TERM.
For the SHORT TERM, where the risk is higher, the strategy is obvious, everything depends on the short-term TA and how I manage the risk so, I can feed my spot/futures account with the new investment.
For the MID-TERM, I'm still not sure what shitcoins to invest in that will hold me up a bit, I still think that POLKADOT is a gem that still has to be exploited but I also believe that RUNE can give a lot to talk about... obviously, ETH is always good shitcoin option too... but I don't see what other projects offer promising horizons beyond DeFi...
I have to study more I suppose but, shill me your projects and I will have a look if they fit me.
Posted Using LeoFinance Beta
---
---