The wet meadow and swamp
---
I have just discovered a wonderful huge area of ​​a wet, partly overgrown meadow.
Fantastic place I thought. Perfect for wildlife photography that I love so much.
Additionally, the weather was fantastic that late afternoon. Spring temperatures bring lots of animals to life.
---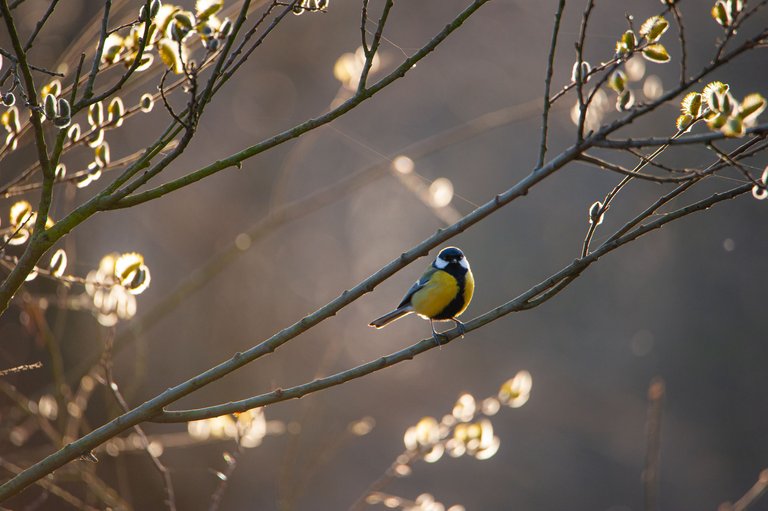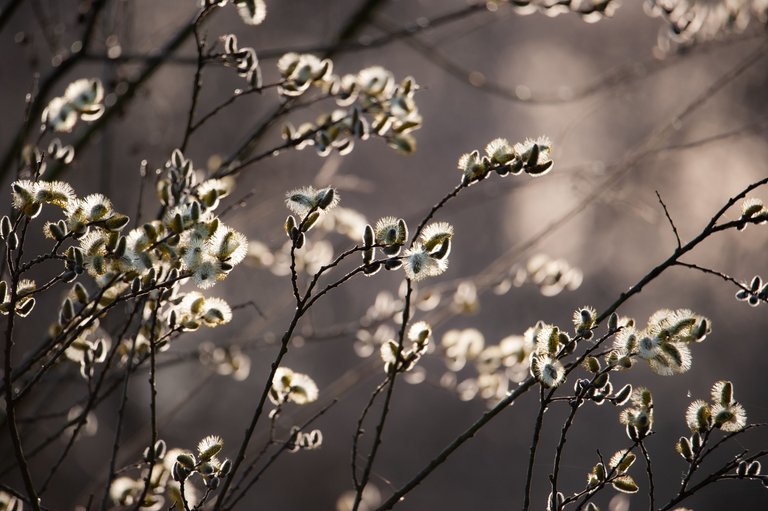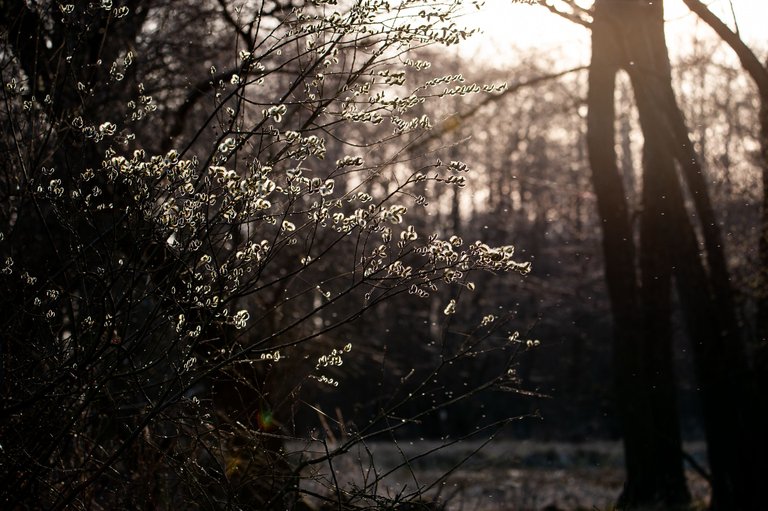 ---
Almost immediately after driving several dozen meters from the car, I heard the scream of the cranes.
Yess ... 😃 I thought.
Now I have the main topic of this session.
It turned out that the voice carried quite far in that beautiful, wet meadow among the trees. So, before I got to the place from which I could see them, it took several dozen more minutes of careful and silent walking.
On the way, I saw two wild geese basking in the sun, near a small hollow filled with water. But they were too far. Out of range of my lens. I did not want to deviate from the marked path to get closer. After all, they were not my goal 😉
After another ten or so meters, I finally saw them.
Almost at the same moment a young deer appeared to my eyes which with several long strides was moving towards my pair of cranes.
And unfortunately .. They jumped up. Screaming they flew over the small group of trees to the far side of the open meadow.
And that's all I saw them 😟
So I went in that direction in the hope that I might be able to see them before sunset. Unfortunately .. Lost somewhere.
As I walk quietly along the lines of the trees over which the cranes flew I suddenly see some movement in the distance between the trees. Something is racing through the grass.
So I pick up the camera, put my eye to the viewfinder and ...
---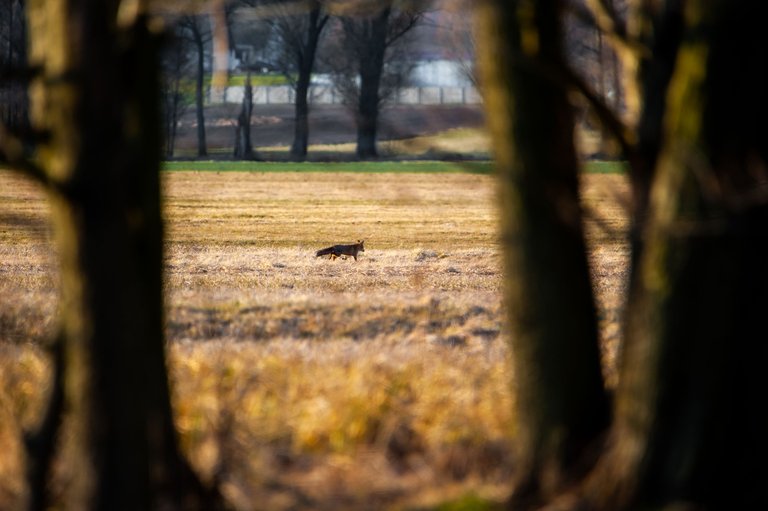 I can not believe it. The fox runs at the right, fast pace, right in the direction of the deer lying at the other end of the meadow.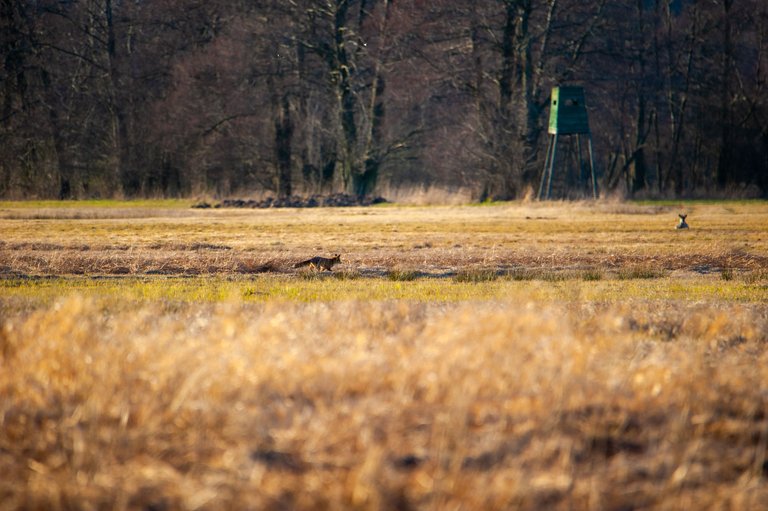 ---
Of course there was no chance of composing a nice filled frame. Too far.
So I thought that I would go in the same direction along this line of trees, without going out into the meadow. Perhaps I will be able to meet him in a dozen or so minutes in a closer distance.
So as I thought I did. Quietly, which was not easy due to the multitude of dry twigs lying there, I walk, watching a small dot moving among the grasses. At one point, unfortunately, I was no longer able to follow him with my eyes. Disappeared.
But I proceed carefully. Maybe not all is lost yet.
After another ten minutes, however, I decided that I don't think we'll meet today yet.
Oh well. I guess I have to come back slowly. I had already moved a considerable distance from the car during these approaches.
Tired of this walk on the marshy terrain but very happy I went back to the car.
The wonderful atmosphere of the setting sun ended this beautiful and emotional evening.
I took a few more frames in this fantastic light.
---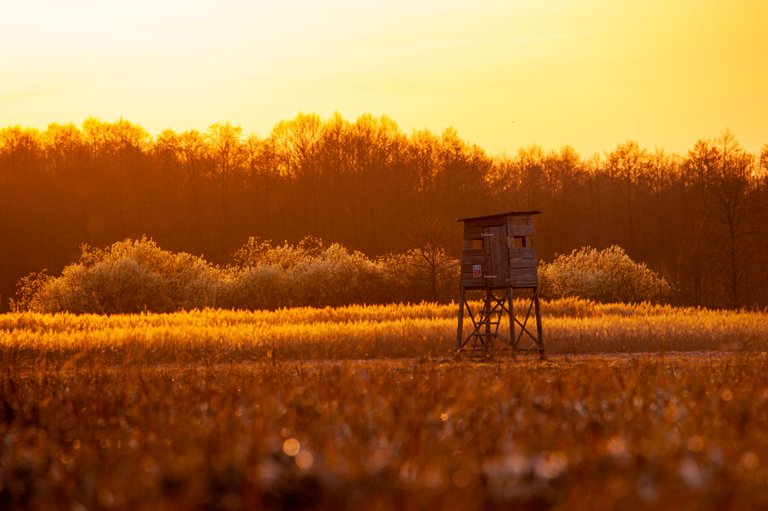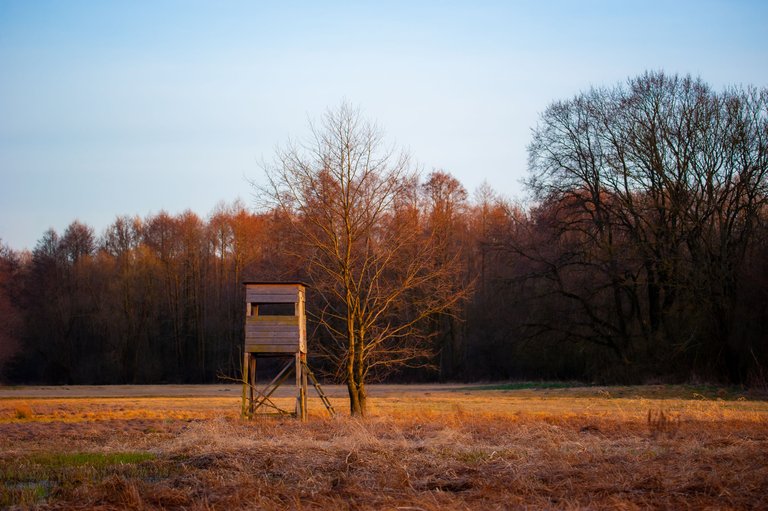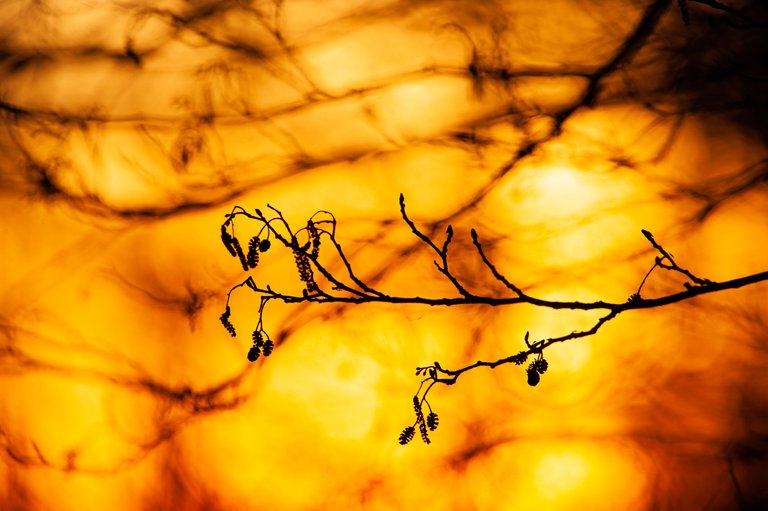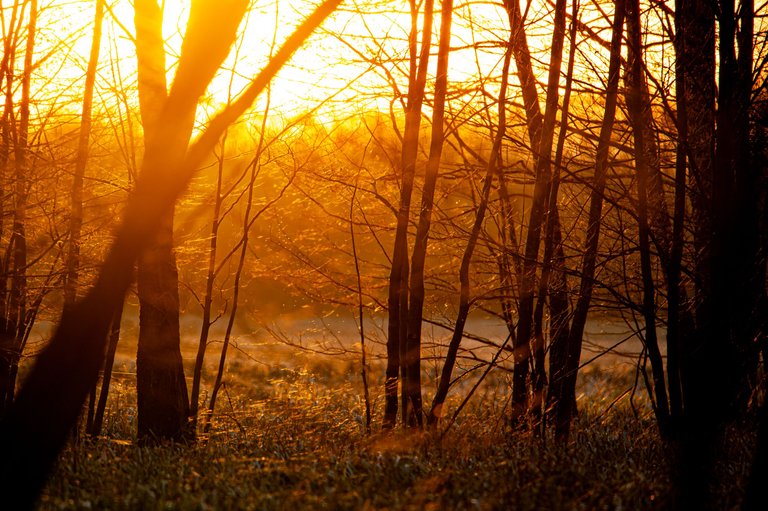 ---
It was a truly wonderful evening.
I will definitely come back there soon. I will not miss such opportunities for fantastic photos in such a beautiful area and among its inhabitants.
See you out there... 😊
---
---