Was It Profitable To Convert HIVE>HBD In The Last Pump?
Good day Hiveians!
Join me in analyzing the crypto markets!
TL;DR Yes!
In fact I am quite shocked how much profitable it was. Let's first have a look what happened.
HBD pumped to over $3 and then dumped in a matter of 24 hours back to $1. In other words, the rally lasted only for a very short time with HBD quickly stabilizing again.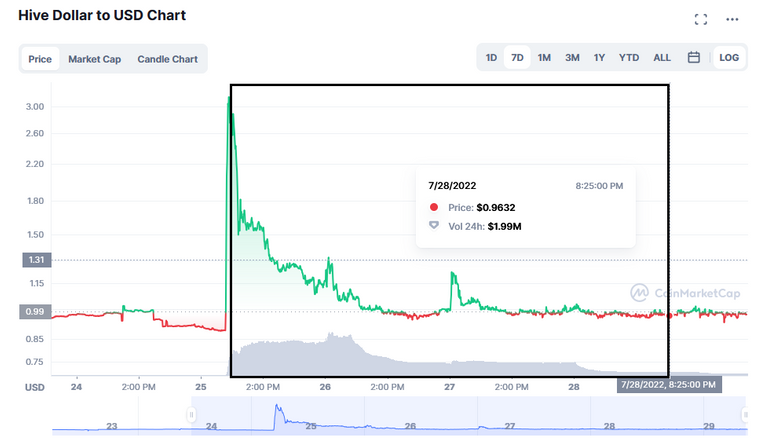 Converting Hive>HBD is a profitable action when HBD is above $1.05 (as there is a 5% fee). But since HBD was only briefly significantly above $1, the profitability of converting Hive into HBD was largely dependent on when this conversion took place since the conversion itself takes 3.5 days to complete.
The black box in the chart above was the time frame when I made the conversion. I got lucky since I started the conversion almost immediately after the pump at around $2.6. But since I expected HBD to dump hard I also didn't convert too much since I didn't know if it was going to be very much profitable. In the chart you can also see on the vertical axis where I think the average price for HBD was in that time frame (by eye balling the chart). I think it might be around $1.3. So the conversion should have been profitable. Note, I actually don't know if it would always be a profitable action when one starts the conversion at a price above $1.05 or what happens when the price only briefly goes above this threshold and for example stays 99% of the time at $1 or under it for the remaining conversion time window (if you know let me know :)
Since one gets 50% of the amount of the conversion back instantly in HBD one can redo this process until the HBD received is too low. I started with 185 Hive for which I immediately received 38.5 HBD. I then sold this HBD on the internal market for 132 Hive.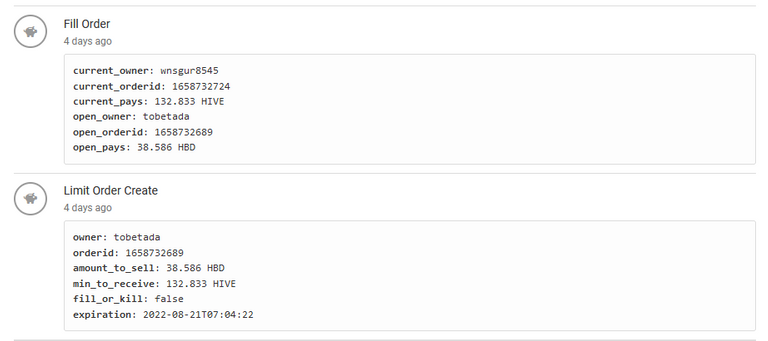 I continued this process until my HBD was at around 3. So I got 7 conversions in total form my original 185 Hive.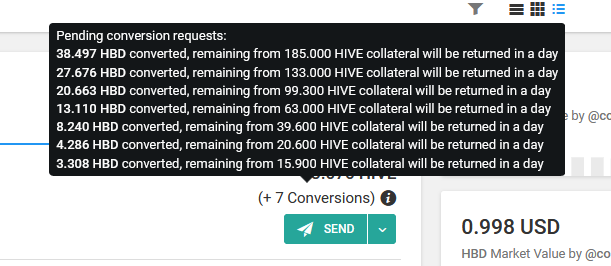 You can see it here in my wallet as well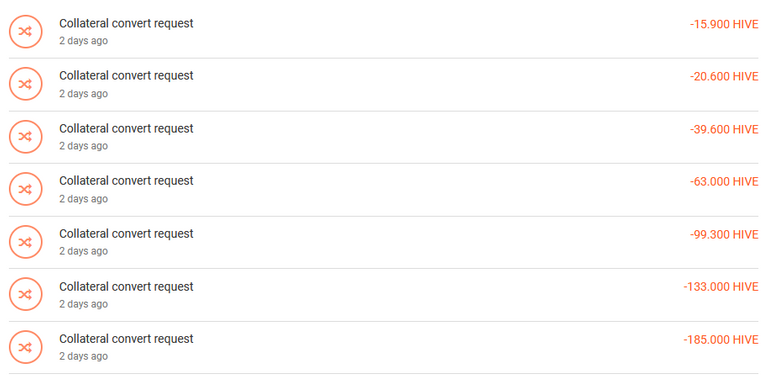 So the big question: I started with 185 Hive; with how much Hive did I end up with after 3.5 days?
When we add the amount of Hive received from the end of the 3.5 days conversion period we end up with...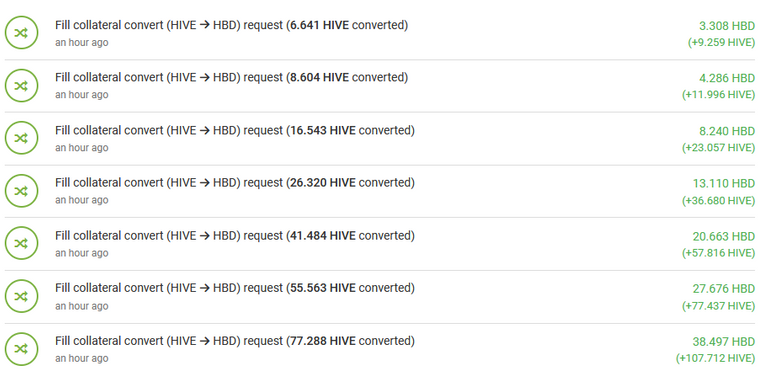 ~323 Hive!
This means I got a 138 Hive profit from this. Pretty good I would say, since this is a 75% profit in a matter of 3.5 days! If HBD was often above $1.05 this would be the most profitable thing to do in the Hive ecosystem by far. The APR would be off the charts!
Tagging @edicted here since he questioned in one of his posts whether it would be profitable to do the conversion for this pump.
---
As a general reminder: Please keep in mind that none of this is official investment advice! Crypto trading entails a great deal of risk; never spend money that you can't afford to lose!

⛅🌦🌧🌦🌧🌨☁🌩🌦⛅🌧☁🌤🌥🌪🌧🌨🌩⛅🌦☁🌤🌥🌤⛅🌤⛅🌦⛅

⛅🌦🌧🌦🌧🌨☁🌩🌦⛅🌧☁🌤🌥🌪🌧🌨🌩⛅🌦☁🌤🌥🌤⛅🌤⛅🌦⛅

---
---