R.I.P. (Poly)Cub?
Catchy Title, But I have to make my (last?) (P)Cub Rant Post
First off, let me just be clear that I love the team behind (Poly)Cub with @khaleelkazi being incredibly hard working and innovative. I hope for all of Hive that the Leo Team is successful; the Threads add on we recently saw is just another great development with amazing potential!
That being said /Rant Start
This is not my first Cub post. I made it clear after 1 week of the PolyCub airdrop that I was skeptical about the whole project, since CUB had been a huge disappointment for many who bought into it. Which brings up another point I want to make clear: I am not blaming the team for the 99%+ price decline of CUB and probably soon PolyCub; it is the "investors" that get greedy and ruin it for everyone else by just extracting value. But this is how the market works... and for now there are not enough people believing in the project to counteract that effect.
My initial joke and prediction turned out to be quite true:
If there is one thing certain in this uncertain world currently, it is that pCUB will be down a further 10% by the end of next week
While there have been price swings between about 13 cents and 24 cents over the last months, PCUB is now scraping 10 cents. Ouch! That is also about a 99% loss in value from its ATH.
We can see a couple of stats in the next graph:

Market Cap of $43k which is basically nothing. Even a trade worth a couple of 100 $$$ will make a big price swing. Trading volume at $8k which is also nothing. We can simply see that PCUB is currently a dead token. Nobody wants it and only a handful of people are trading it and hodling it.
Of course that doesn't mean that it will stay like that! PolyCub really does have potential. But the argument that PCUB has a small supply, therefore it is valuable is complete rubbish. I argued before that a token or coin is only valuable when it has actual utility. While there are many things to come, right now it's just not there.
So it boils down to the question whether you believe in this project and team to deliver and create value. Of course this can be said about any project out there, but you actually really have to ask and answer that for yourself. For me, it is not worth currently gambling on that outcome. I decided to take the little money I have left and spend it on KOIN. I just see more potential and a faster realization of the project as well as a bigger and safer profit opportunity. This is a personal decision of course, it might also be a better decision to leave it stakes as XPolycub and come back when it sits at $2... Hindsight is of course best...
My trade selling PolyCub left a big mark on the market! I didn't think so, but here you have it: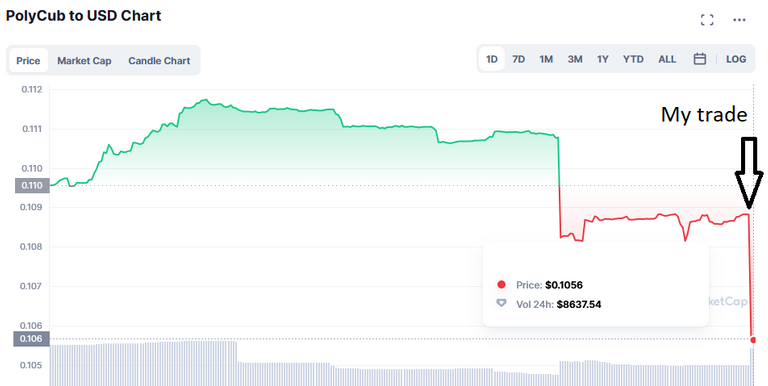 Again, the low Market Cap makes almost all trades visible in the price chart, but this tells me just how little liquidity there is currently here.
My original plan of dollar cost averaging PCub turned out to be not the best strategy. I think my average was still at around 40 cents or so before I sold which is a 75% price decline to current levels (and about a $5000 loss!) @edicted probably had better advice when he said that one should reenter at about 15 cents. But that's still a 50% loss to about 10 cents now! Of course just a couple of buyers of PCub could easily bring price back to 20 cents or more. It's just that I don't want to wait and be surprised when price goes to sub 10 cents.
So there you have it. What's your story/experience with (P)Cub?
---
As a general reminder: Please keep in mind that none of this is official investment advice! Crypto trading entails a great deal of risk; never spend money that you can't afford to lose!

⛅🌦🌧🌦🌧🌨☁🌩🌦⛅🌧☁🌤🌥🌪🌧🌨🌩⛅🌦☁🌤🌥🌤⛅🌤⛅🌦⛅

⛅🌦🌧🌦🌧🌨☁🌩🌦⛅🌧☁🌤🌥🌪🌧🌨🌩⛅🌦☁🌤🌥🌤⛅🌤⛅🌦⛅

---
---