Crypto Analysis | What's the Future of DEC?
Good day Hiveians!
Join me in analyzing the crypto markets!
Dark Energy Crystals have seen tremendous growth this year
But with them being soft pegged at $0.001 can this stark deviation last much longer?
We saw the first major deviation in July of 2021 when prices went to $0.008 - an 8x increase. But that only the beginning with DEC reaching as high as $0.016! This run on DEC was mainly caused by their ability to count towards the SPS airdrop which is still ongoing and is going to last until summer of 2022. Now half way into this airdrop we see DEC at $0.005 again - a decline of 70% from the peak.
In this chart you can see price at the non-log scale which makes DEC's fractals more visible. I have marked 3 fractals in the ellipses. You can see that they all follow the main basic shape which you can see at the top left.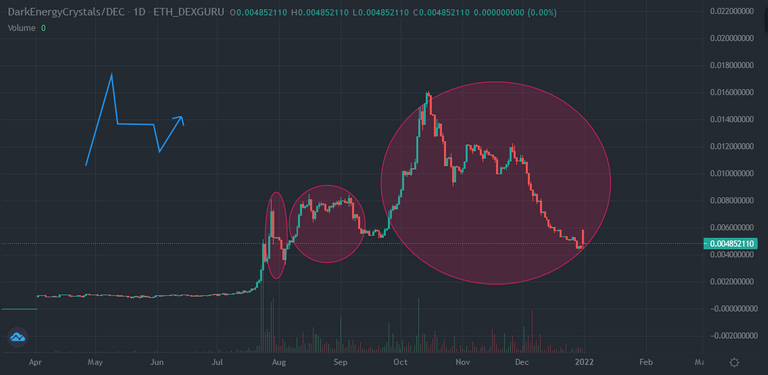 Now let's look at the log chart and put in some trend lines. It always amazes me how more organized these charts become by just adding some very basic details: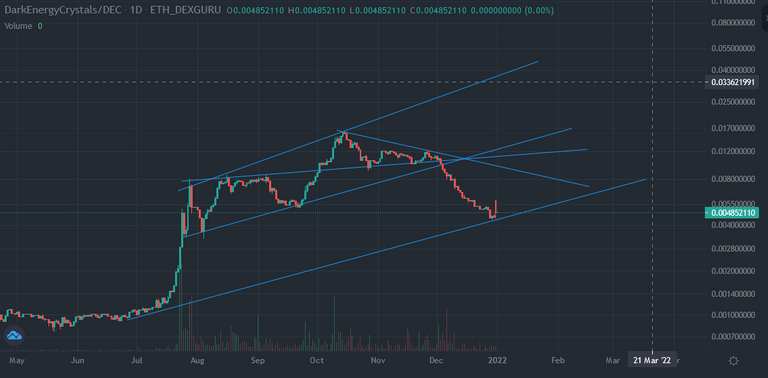 We can see that DEC is moving in an upward parallel channel which can be sectioned into different parts. There is a strong resistance in the middle of the channel. Below that there are more resistances coming from the peaks.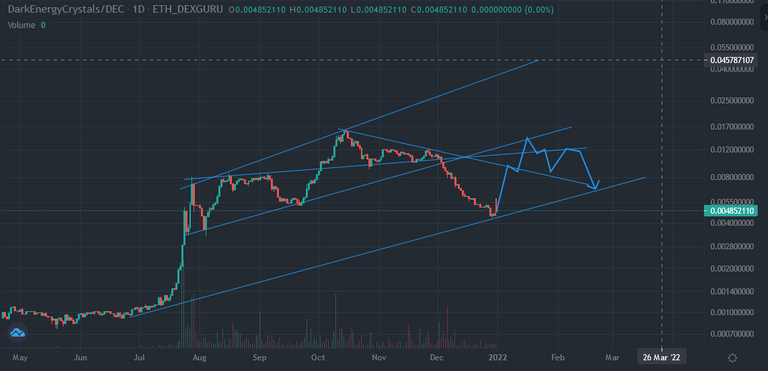 The chart suggests to me that after a 70% correction there is room to the top side. Now we apply the fractal we identified earlier to this chart. The question now is: how will this fractal exactly play out? The answer: we don't know. However!, we can still expect its shape to play out in some way. Personally, I don't think that DEC will continue higher than the $0.016 it reached in October as it is not meant to operate at this level. But it is also unlikely that it will just go back to $0.001. It would therefore make sense for DEC to do something like seen in the chart above. This would mean that there would be some rebound to about 0.01 before ultimately going back to <0.005
It is also important to point out the almost perfect correlation with SPS. If you compare the peaks and troughs of both charts you can see how closely they move together. This then is another argument for a higher moving DEC price since SPS is very likely to now start its upward movement again.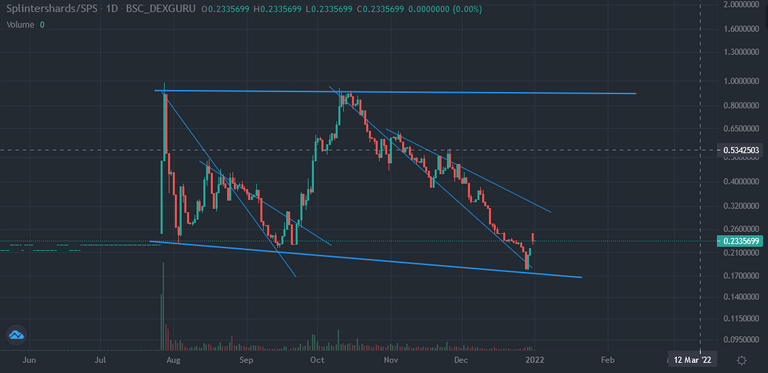 On a finishing note we should also acknowledge that DEC's inflation will be soon expanded by the introduction of the wild and modern format of splinterlands. This will of course put selling pressure on DEC. However, we also will see the general sale of the Chaos Legion packs start at the same time. I therefore think that this will for the beginning balance out this selling pressure as a lot of DEC will be burned to buy CL packs. Moreover, the SPS airdrop is still only half way completed, which means that DEC still holds a lot of value.
---
As a general reminder: Please keep in mind that none of this is official investment advice! Crypto trading entails a great deal of risk; never spend money that you can't afford to lose!

⛅🌦🌧🌦🌧🌨☁🌩🌦⛅🌧☁🌤🌥🌪🌧🌨🌩⛅🌦☁🌤🌥🌤⛅🌤⛅🌦⛅

⛅🌦🌧🌦🌧🌨☁🌩🌦⛅🌧☁🌤🌥🌪🌧🌨🌩⛅🌦☁🌤🌥🌤⛅🌤⛅🌦⛅

---
---