Crypto Analysis | Hive Chart Looks... Awful
Good day Hiveians!
Join me in analyzing the crypto markets!
No way to sugarcoat it, Hive is in a bad spot right now
But... there are two silverlinings which I will be talking about at the end.
Hive has made a lower low on most exhanges and is continuing to drop like a stone. The big exception is Upbit on which Hive has not made a lower low. I have tried to explain this discrepancy in part by the Mandala exchange rerollout which has added additional selling pressure on the market. But Hive is just barely holding above the previous low and around 15% from the ATL for this cycle. For Binance this is only 7%... it's not something I'd bet on that it will hold. Worse still, the "macro support" does not seem to carry any relevance at all. That's a bit shocking honestly, since we need to hold these levels if we do not want to drop back to the dreaded 10-15 cents levels which are now in reach's grab.
This "support" is not a support at all as we can see now. I have therefore marked it as a dotted line. All previous levels have failed to hold this line afloat, which means that Hive currently does not have a good support. It could fall into the sub 20 cents area easily. Additionally, the red resistance is incredibly strong. While price has broken out of it a couple of times it has just extended the price movement a bit to the right and then kept rejecting attempts to push beyond it. We have a "strong ceiling and a weak floor" one could say I guess.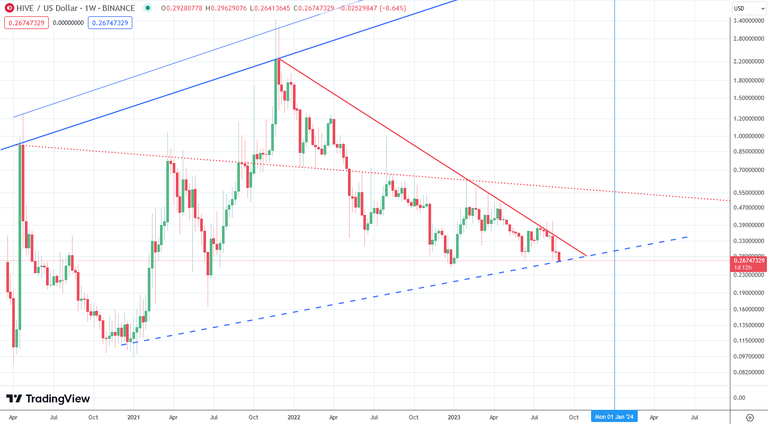 Hive's pattern has suggested this all along
There is a clear pattern for Hive. A bigger peak and 2 smaller ones. This next chart looks messy, but bear with me. You can see the subwaves in blue as well as the larger one in black as well as the pattern itself on the top right: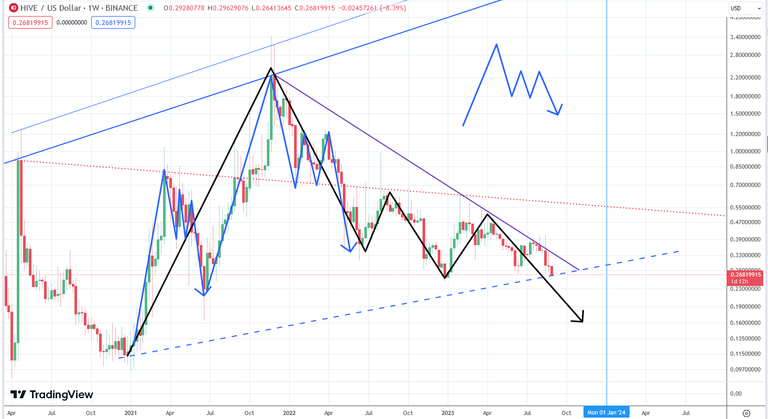 If this pattern once again plays out, we would see HIve's price dip to around 16 cents again. If you look closely we already had 16 cents back in 2021 and it was a bit of an anomaly. It was an extremely harsh correction which might again get revisited soon. Of course the good news is that should this pattern come to an end, we should once again enter a much larger wave upwards.
Silverlinings
As promised some good news to end the post. @digi-me pointed out that we are seeing a bull divergence atm. Should price not dip much lower it should hold and could lead into an upward momentum taking us back perhaps to the 40+ cents levels.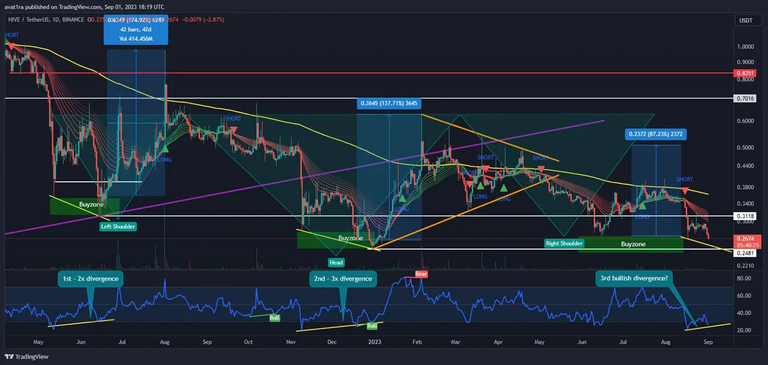 The other thing to note is that the Hive/BTC chart looks as if the pattern could be completed there very soon as well. I spoke about this in my last post and it could lead to a trend reversal:
---
As a general reminder: Please keep in mind that none of this is official investment advice! Crypto trading entails a great deal of risk; never spend money that you can't afford to lose!

⛅🌦🌧🌦🌧🌨☁🌩🌦⛅🌧☁🌤🌥🌪🌧🌨🌩⛅🌦☁🌤🌥🌤⛅🌤⛅🌦⛅

⛅🌦🌧🌦🌧🌨☁🌩🌦⛅🌧☁🌤🌥🌪🌧🌨🌩⛅🌦☁🌤🌥🌤⛅🌤⛅🌦⛅

---
---